Some flavor combinations go really well together: tomato and basil, peanut butter and bananas, strawberries and chocolate.
Make chocolate-covered strawberries can expensive, if strawberries aren't in-season. Not to mention that if your strawberries aren't dry enough, you run the risk of seized chocolate.
These chocolate-covered strawberry meringue cookies are the answer to that problem. They provide intense strawberry flavor, with a coating of dark chocolate. With only six ingredients, they are also inexpensive to make.
Meringue is not difficult to make in terms of technique, but it is finicky. Your bowl must be spotlessly clean. If even a smidgen of fat (butter, oil, egg yolk, etc.) remains in the bowl, the whites will not whip to stiff peaks.
And the bonus? Without the chocolate coating, the cookies are fat-free. And the thin coating of chocolate adds only a minimal amount of fat.
Keep a close eye on the meringue while it is whipping. It can take a few minutes to get to stiff peaks, but once it gets there, it can quickly go too far, and the meringue will break (the liquid will separate from the solid). Once that happens, it cannot be saved. You'd need to start over again.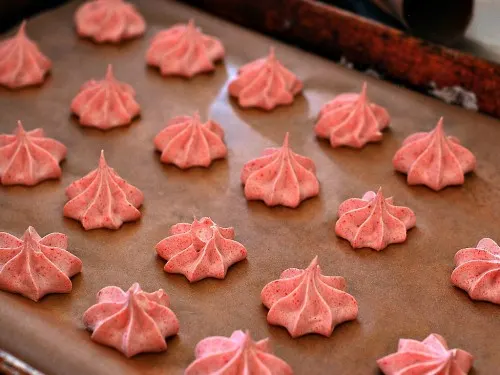 Chocolate-Dipped Strawberry Meringue Cookies
Adapted from The Craving Chronicles
Ingredients
2 large egg whites
pinch of table salt
½ teaspoon vanilla extract
½ cup sugar
½ ounce freeze-dried strawberries (available at Target or Trader Joe's)
4 oz dark chocolate, melted and slightly cooled
Directions
Preheat the oven to 200 degrees. Line two baking sheets with parchment paper. Set aside.
Place the freeze-dried strawberries in the bowl of a mini food processor. Pulse until the strawberries are reduced to a fine powder. Set aside.
Place the egg whites and salt in the bowl of a stand mixer fitted with the whip attachment. Whip on high speed until frothy.
With the mixer running, gradually add the sugar, then add the vanilla. Continue whipping on high speed until the meringue is shiny and forms stiff peaks (the meringue will peak when the beaters are lifted, and the peaks will stand up straight without falling over).
Remove the bowl from the mixer. Sift the strawberry powder over the meringue, one tablespoonful at a time, folding the powder into the meringue before adding the next tablespoonful.
Scrape the meringue into a disposable piping bag fitted with a large open star tip. Pipe the meringue into 1-inch star shapes.
Bake for about two hours, rotating the pans back to front and top to bottom halfway through baking. The cookies are done when the meringue appears dry and the cookies lift easily off of the parchment. Set the cookies aside to cool completely.
Dip the bottoms of each cookie in the melted chocolate and set back on the parchment. Place the sheets in the refrigerator to set the chocolate.
Store in an airtight container at room temperature.
Yield: about four dozen cookies