Did you know April is Grilled Cheese month? Before the month is over, I wanted to bring you a "fancy" grilled cheese sandwich.
Grilled cheese is one of those foods that always takes me back to my childhood. I can remember going out to play in the snow, in thermal underwear over my snowpants, two pairs of socks inside my snow boots, and still coming back inside after a while with frozen hands and feet. My parents would make us grilled cheese and soup (chicken noodle for me; tomato for my brother).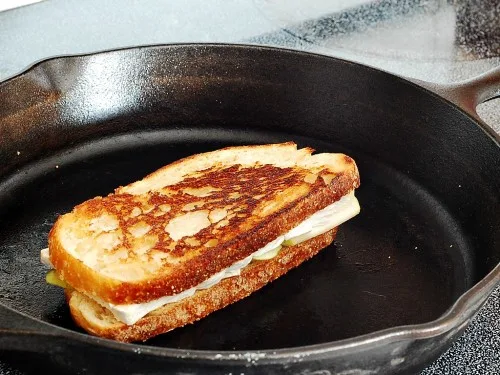 Grilled cheese was always made with American cheese. As we got older, my dad would urge us to try different versions of the sandwich: grilled cheese with Muenster, grilled cheese with a slice of ham or tomato. I'd turn them down, preferring my good old American grilled cheese sandwich.
This brie-and-pear grilled cheese is actually the first time I've ever strayed from my beloved American grilled cheese. The sandwich is inspired by an appetizer I had at a restaurant in Allentown, PA, which is sadly no longer on the menu. It was a brie and pear quesadilla, and it was absolutely delicious. So when brainstorming ideas for a "fancy" grilled cheese, I decided to incorporate those flavors.
This sandwich would be perfect for lunch, or serve with a soup or salad for a quick and easy dinner.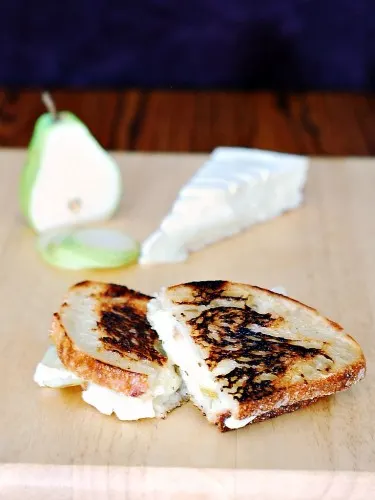 Brie and Pear Grilled Cheese
Inspired by a dish at Allentown Brew Works
Ingredients
4 slices sourdough bread
1 tablespoon salted butter, softened
4 oz brie, sliced thin
1 pear, sliced very thin
Directions
Preheat a skillet or griddle pan over medium to medium-high heat.
Spread butter on one side of each slice of bread.
Place two slices of bread (or one, if skillet is small) in the skillet butter-side down, then layer a slice of Brie, a layer of pear slices, then another layer of Brie on each piece of bread. Top with second piece of bread, butter-side up.
Cook until the bottom slice of bread is golden down. Carefully flip each sandwich and continue cooking until the second side is golden brown and the Brie is melted.
Remove from the skillet and serve hot.
Yield: two sandwiches