It's almost Cinco de Mayo, the unofficial holiday of tacos and margaritas! Okay, it's really the commemoration of American freedom and democracy in the American West by Mexican Americans. Or, like Saint Patrick's Day when everyone is a little bit Irish, it's the day that everyone is a little bit Mexican.
Did you know that the margarita is NOT the most popular beverage of Mexico? No, according to some sources, it's actually the Paloma, a cocktail traditionally consisting of tequila, grapefruit-flavored carbonated soda and lime juice.
I don't like grapefruit, so I decided to switch up the flavor and use pomegranate instead. I luuurve all things pomegranate. I was quite sad that I was pregnant during my sister-in-law's bachelorette party back in 2011, and I was not able to indulge in a pomegranate mojito at a Cuban restaurant.
So anyway, this Monday, kick back and enjoy your favorite Mexican dish, and maybe serve a pomegranate Paloma instead of a margarita. Or both! I won't tell.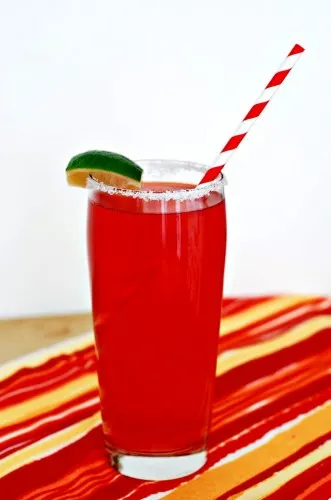 Pomegranate Paloma
Adapted from Bon Appetit
Ingredients
Kosher salt or margarita salt
1 large lime
1 shot (1 ½ ounces) pomegranate juice
1 teaspoon simple syrup or agave syrup
1 shot (1 ½ ounces) silver tequila
Sparkling water or club soda (about 1 ½ cups)
Directions
Cut the lime in half lengthwise (pointy end to pointy end). Set one half aside, cut the other half into two wedges.
Place a palmful of kosher salt or margarita salt in a shallow dish. Use one lime wedge to wet the rim of a highball or collins glass. Dip the rim of the glass in the salt.
Squeeze the juice out of the reserved half of the lime into the glass. Add the pomegranate juice and simple syrup, stir well.
Add the shot of tequila, then top off the glass with the sparkling water.
Garnish the glass with the remaining lime wedge.
Yield: one cocktail