Many years ago, I visited Detroit. While I was there, my hosts took me to an authentic Mexican restaurant. It was there that I had sopapillas for the first time.
Sopapillas are delicious, pillowy, sugar-coated puffs of goodness. The dough is simple to make, and easy to cook, even if you don't have an electric deep-fryer.
To set up a stove-top deep fryer, you'll need a heavy pot, preferably a cast-iron Dutch oven, and a candy or deep-fry thermometer. These thermometers have a clip on the back that allows you to keep the thermometer in the liquid while cooking. A slotted spoon for flipping and retrieving the sopapillas is also helpful.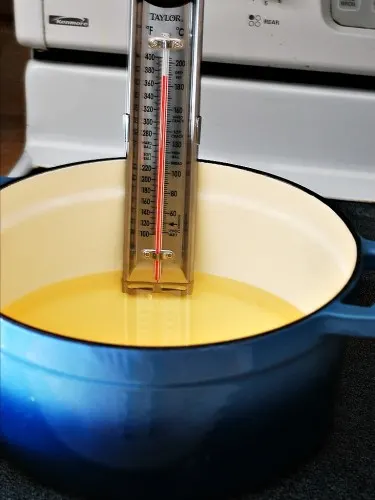 From looking at others' descriptions and photos, sopapillas should puff up with a hollow center, and as you can see in my photo above, mine did not. I think I may have rolled my dough too thick. Mine still cooked through, and were still tender and delicious.
If you try these, and do get a hollow center, sopapillas are traditionally served with honey, which is drizzled into the hollow center. I simply drizzled honey over the top of each pastry.
Finally, do not pour your oil down the drain after you're done frying your sopapillas. Cool the oil down, then pour it into a glass or plastic bottle or jar. If you think you might want to re-use the oil, filter it through a coffee filter or cheesecloth, then freeze the oil (be sure to leave enough head room in the storage jar!). Otherwise, simply discard the oil in the storage jar.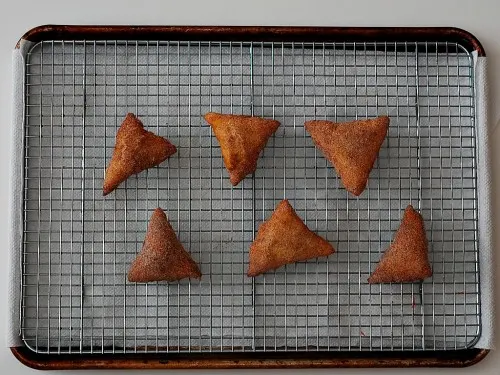 Sopapillas
Recipe source: FoodNetwork.com
Ingredients
1 cup all-purpose flour
1 teaspoon baking powder
1 ½ teaspoon sugar
½ teaspoon salt
1 tablespoon shortening
¼ cup plus 2 tablespoon warm water, plus more as needed
Canola oil, at least 1 quart, for frying
½ cup cinnamon sugar (½ cup sugar + 1 tablespoon cinnamon)
Honey, for serving (optional)
Directions
In a medium bowl, stir together the flour, baking powder, sugar and salt.
Add the shortening and ¼ cup plus 2 tablespoon water to the bowl, and work the liquid into the dry ingredients. Add more water, one teaspoonful at a time, if the mixture seems dry.
Gather the dough into a ball, and pat into a round disc. Wrap in plastic wrap and refrigerate at least one hour, up to overnight.
Unwrap the dough, and roll it out on a floured surface to a quarter of an inch in thickness. Use a pizza cutter to cut the disc into 6 wedges.
Heat at least two inches of canola oil in a heavy-bottomed Dutch oven over medium-high heat to 375 degrees.
Gently add the sopapillas, two at a time, to the hot oil, and fry for two minutes on each side, keeping a close eye on the oil temperature, adjusting the burner heat to keep the temperature as close to 375 as possible.
Use a slotted spoon to remove the sopapillas to a wire rack set over two layers of paper towels to drain. Let cool for a minute or two, then toss in cinnamon sugar. Repeat with remaining sopapillas.
Serve warm with honey, if desired.
Yield: 6 sopapillas