You can't get this at your local pizza joint: pizza with fontina, tomatoes, olives and prosciutto! Delicious!
Piiiizzzzaaaaa!!!
I love pizza. Bet you couldn't tell, seeing as I've written a pizza post in April, May, and now June.
Regular pizza, white pizza, plain, extra cheese, meat toppings, veggie toppings. And like I mentioned in my last pizza post, when you make pizza at home, you can get flavor combinations that you can't get at the corner pizza joint.
I used Roma tomatoes on this pizza. I put them in the refrigerator the morning I planned to serve the pizza. This made them firm and very easy to thinly slice with a paring knife. Alternatively, you could use a mandoline, if you have one, or the slicing attachment of a food processor.
This one rivals Smells Like Home's three-cheese pizza with rosemary and pepperoni as my all-time favorite. It is seriously AWESOME.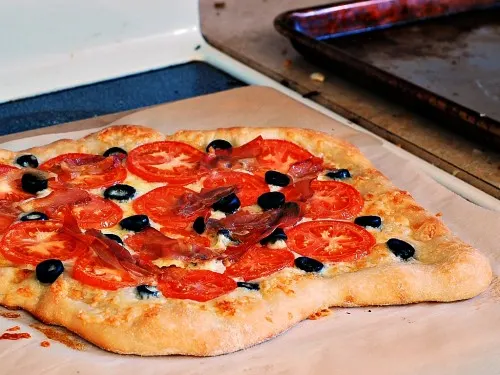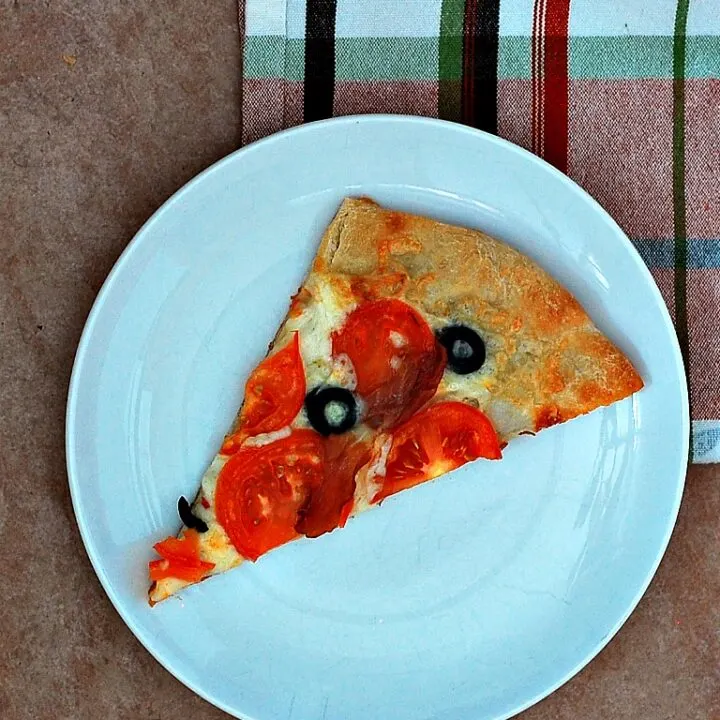 Pizza with Fontina, Tomatoes, Olives and Prosicutto
Ingredients
1 lb pizza dough, storebought or homemade
2 Roma tomatoes, sliced very thin
1 cup Fontina cheese, 4 ounces
2 tablespoon to 4 pitted black olives, sliced
2 slices to 4 thinly-sliced prosciutto, torn into 2-inch pieces
Oregano
Instructions
Place a pizza stone or baking sheet in the oven. Preheat the oven to 500 degrees.
Sprinkle cornmeal all over a pizza peel or other sturdy, flat, moveable surface.
On a lightly floured surface, roll and stretch the pizza dough into a 12-inch circle. Gently transfer the dough to the peel and reshape if necessary.
Sprinkle the fontina cheese over the crust, leaving a ½-inch border around the edge.
Spread the tomato slices in a single layer over the cheese. Sprinkle the olives on the pizza, then arrange the torn pieces of prosciutto over the top. Sprinkle oregano to taste.
Bake for 15 to 20 minutes. Let rest for 10 minutes, then cut into 8 wedges.
Recipe adapted from Cooking Light