Baked blueberry oatmeal bars are delicious and filling, making them a great option for breakfast or a mid-day snack.
When my son was in daycare, the school encouraged families to contribute to snack share, to give the kids an opportunity to share their favorite healthy home snacks. My son shared some whole grain cinnamon chips, which were a huge hit with his fellow toddlers.
I had a lot of fun scouring the Internet each week, looking for something easy, healthy, and nut-free to send along as a snack. It's not easy to please a room full of picky toddlers!
Another time, I decided to slightly adapt a recipe from Iowa Girl Eats for baked oatmeal squares. The daycare is completely nut-free as a safety precaution, due to allergies, so I eliminated the almonds from the bars.
I also toasted the flax seed to increase the nutty flavor. You can find flax seed in the bulk bin section of your grocery store, or at stores like Whole Foods or Trader Joe's. Flax seeds are high in omega-3 fatty acids, a good fat, but that fat can go rancid quickly, so store any leftover flax seed in the refrigerator.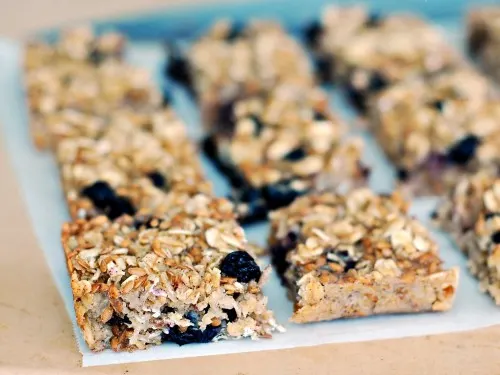 I actually made two batches of the recipe below. The toddlers got the batch that used dried blueberries. The second batch was made with dried cranberries, which I kept at home for myself. They are delicious and filling, making them easy to grab and eat on my commute to work.
Feel free to substitute your favorite dried fruit! Just make sure to chop up any dried fruit bigger than a raisin. Cut these bars into small squares for snacks, or larger bars for a quick, on-the-go breakfast!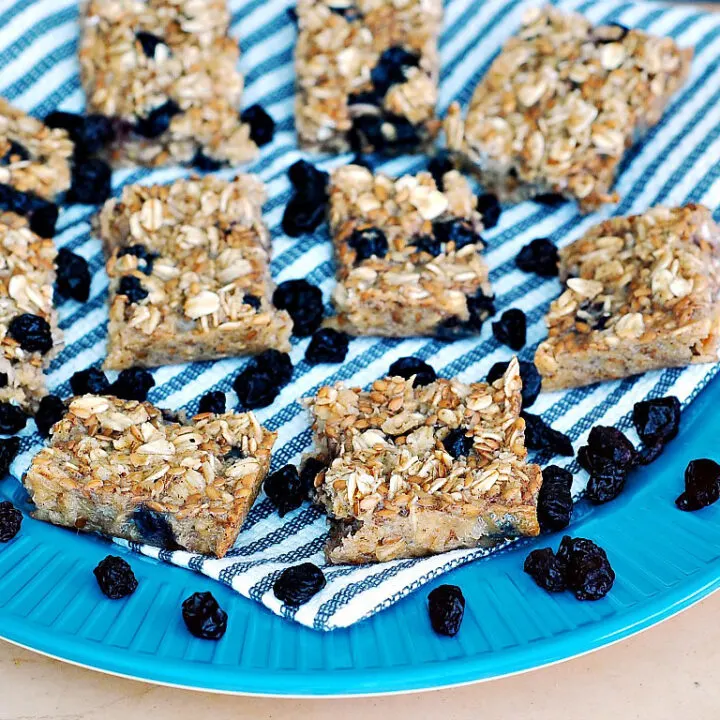 Baked Blueberry Oatmeal Bars
Yield:
20 (1 ½-inch by 2-inch) snack-sized bars
Baked blueberry oatmeal bars are delicious and filling, making them a great option for breakfast or a mid-day snack.
Ingredients
1 ½ cups (5 ¼ oz) old fashioned oats
½ cup dried blueberries
¼ cup flaxseed
¼ cup packed dark brown sugar
1 teaspoon salt
½ teaspoon cinnamon
1 ¼ cup whole milk
1 large egg
1 teaspoon vanilla extract
Instructions
Preheat the oven to 375 degrees. Place the seeds in an even layer on a baking sheet, and toast in the oven for 5 to 10 minutes. Set aside to cool completely.
Lower the oven temperature to 350 degrees. Line the bottom of an 8-inch by 8-inch baking sheet with a long sheet of parchment, so that an inch or two of parchment hangs over the sides of the baking sheet. Spray the pan and parchment with nonstick cooking spray.
In a large bowl, stir together the oats, dried blueberries, toasted flaxseed, brown sugar, salt and cinnamon.
In a separate, smaller bowl, whisk together the milk, egg and vanilla extract. Pour the wet ingredients over the dry, and stir together until all of the dry ingredients are moistened. Pour into the prepared baking sheet, and spread evenly.
Bake for 25 to 30 minutes. Remove from the oven and let the pan sit on a cooling rack for ten minutes.
Use the parchment overhang to gently lift the oatmeal out of the baking pan. Let cool completely.
Use a knife or pizza cutter to cut the oatmeal into bars. Store in a zip-top bag at room temperature.
Recommended Products
As an Amazon Associate and member of other affiliate programs, I earn a small percentage from qualifying purchases.
Nutrition Information:
Yield:

20
Serving Size:

1
Amount Per Serving:
Calories:

47
Total Fat:

2g
Saturated Fat:

0g
Trans Fat:

0g
Unsaturated Fat:

1g
Cholesterol:

11mg
Sodium:

128mg
Carbohydrates:

6g
Fiber:

1g
Sugar:

3g
Protein:

2g
I am not a certified nutritionist. This nutrition information is automatically calculated by third party software and is meant as a guideline only.
You might also like: