Liam's daycare recently implemented "Snack Share Wednesday" — every Wednesday, each child in the class brings a healthy snack to share.
This is the third week of Snack Share, and I thought I would share the snack that Liam is sharing today. It's one that kids and adults alike would love.
When we recently went out for brunch on Mother's Day, Liam surprised us by asking to dip his tortilla chips in salsa. It seems they've been encouraging the kids at daycare to eat their veggies by dipping them in different dips and sauces.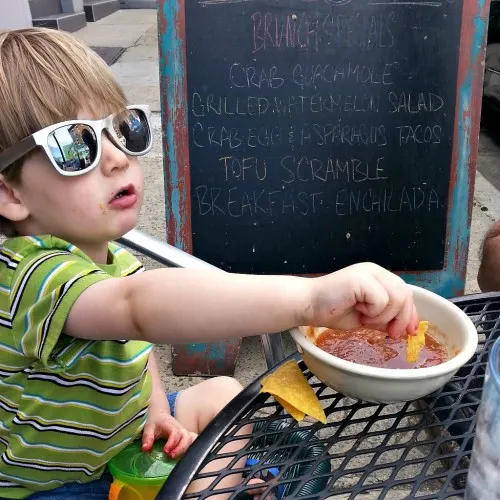 These cinnamon pita chips are super easy to make, and so is the dip. You can make both in about 30 minutes!
I used whole-grain pitas from Trader Joe's. Since the pita chips are coated in honey or agave syrup, there's no need to add refined sugar. The dip gets flavor from the vanilla extract, and also contains no added sugar. You do get protein from the Greek yogurt. So snack away!
For more ideas for toddler- and kid-friendly meals and snacks, check out my new Pinterest board!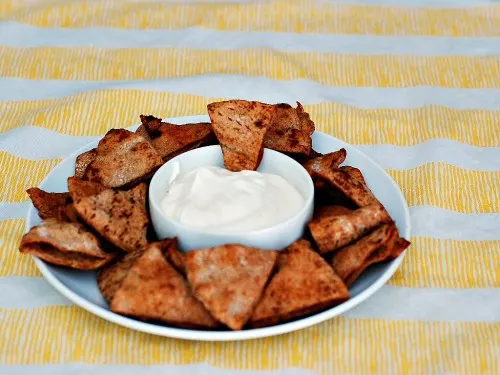 Cinnamon Pita Chips
Adapted from Food52.com
Ingredients
8 (6-inch) whole-grain pitas
2 tablespoon honey or agave syrup
1 ½ tsp cinnamon
Directions
Preheat the oven to 350 degrees. Line a baking sheet with parchment paper or a Silpat baking mat.
Cut each pita into eighths. Place the wedges in a large mixing bowl.
Sprinkle the cinnamon over the pita wedges, toss to coat.
Drizzle the honey over the pita wedges, toss to coat.
Arrange the pita wedges in a single layer on the baking sheet. Bake for 15 minutes.
Let them cool until hard on the baking mat. Store at room temperature in a zip-top plastic bag.
Cream Cheese Yogurt Dip
Adapted from Better Homes and Gardens
Ingredients
8 ounces light cream cheese, at room temperature
8 ounces low-fat plain Greek yogurt
1 teaspoon vanilla extract
Directions
Place the cream cheese and Greek yogurt in a medium mixing bowl. Stir vigorously with a whisk until smooth.
Add the vanilla extract and stir until combined.
Store in the refrigerator.