Life got a little crazy. We fell into a food rut, then went through a period where we'd completely forget to defrost something for dinner, and had quite a few nights of spaghetti, or take-out, or breakfast for dinner (eggs, or pancakes).
My birthday was almost two weeks ago, and my parents made a delicious brunch — omelets, cinnamon buns, pancakes, sausage, bacon, fruit salad ... Brunch is my favorite meal! For my birthday, I received a tabletop fluorescent light, which will hopefully help improve my blog photography (since my apartment doesn't get great natural light), AND I got tickets to Phantom of the Opera!
I am a geek for musicals, and Phantom was the first one I ever saw, twenty years ago. I was thrilled to go see it again at the Academy of Music in Philadelphia. Dave and I had dinner beforehand at City Tavern, a restaurant that serves dishes inspired by the cuisine of 18th century Colonial America. I started with the mushroom toast (sauteed mushrooms on a thick slice of toast, smothered in Bearnaise sauce) while Dave had cornmeal-fried oysters. For my main course, I had the medallions of beef tenderloin with mashed potatoes and asparagus; Dave had the medallions of venison with leeks, mixed vegetables and a rosemary-bourbon mushroom sauce. For dessert, we split a slice of triple-chocolate mousse cake. Everything was delicious!
Since then, it's been back to life as usual, with one happy thing: spring weather seems to have FINALLY arrived! Time for Easter eggs, fresh asparagus, Cadbury Caramel Eggs, sweet cherries, chocolate bunnies, hoodie weather and countdown to summer!
I'm looking forward to bringing you recipes with fresh spring produce, but for now, I want to share this pizza with you. I think I love homemade pizza better than takeout. Sure, it's more work, but you can get flavor combinations that you'll never see at the corner pizza joint.
I only just tasted leeks for the first time about a year ago, but I love the mild onion-y flavor (they are in the onion family). Ground lamb is an "exotic" alternative to ground beef, and after having this 3-cheese, rosemary and pepperoni pizza, I don't think I'll ever have a pizza without rosemary again! I love it!
This pizza takes a bit of advance planning, cooking the ground lamb and leeks ahead of time, but it's definitely worth it. Each bite is bursting with flavor. It's inspired by a recipe from The Way the Cookie Crumbles, but I decided not to make the meatballs, because I thought it would be easier for Liam's toddler-sized mouth to eat ground meat instead of meatballs on a pizza.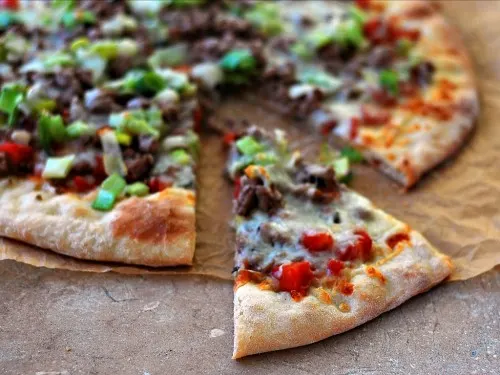 Pizza with Ground Lamb, Leeks and Rosemary
Inspired by The Way the Cookie Crumbles
Ingredients
8 ounces ground lamb
salt
freshly ground black pepper
2 tablespoons olive oil, divided
1 leek (white and light green parts only), rinsed, halved and sliced ¼-inch thick
about 1 lb pizza dough (store-bought or homemade)
1 (14-ounce) can no-salt-added whole or diced tomatoes packed in juice, drained
Pinch of red pepper flakes
4 to 6 ounces shredded mozzarella (depends on pizza size)
2 stalks fresh rosemary
Directions
In a large nonstick skillet, heat 1 tablespoon oil over medium-high heat. Add the ground lamb and cook, breaking up clumps with a wooden spoon or spatula, until fully browned. Remove from the skillet to a paper-towel-lined plate to drain the fat. Wipe out the skillet.
Heat the remaining tablespoon of oil in the same skillet over medium heat; add the leeks and a pinch each of salt and pepper, and cook, stirring frequently, until the leeks are soft, about 8 minutes.
Place a pizza stone in your oven and preheat the oven to 475 degrees. Roll or stretch the dough into a 12- to 14-inch circle.
Season the diced tomatoes with salt, pepper and red pepper flakes. Strip the rosemary leaves off of the stems; discard the stems. Roughly chop the leaves.

Line a pizza peel or the back of a baking sheet with parchment paper, and dust generously with cornmeal. Carefully transfer the circle of dough to the peel. Spread the tomatoes in a thin layer over the dough, leaving a half-inch margin around the outer edges. Sprinkle half the mozzarella over the tomatoes, then sprinkle on the chopped rosemary. Transfer the pizza to the hot pizza stone. Bake for 8-10 minutes, until the cheese is bubbling and the crust starts to appear dry. Partially remove the pizza from the oven, very carefully sprinkle the ground lamb and leeks over the pizza, then sprinkle on the remaining half of the mozzarella cheese, and return the pizza to the oven to bake another two to four minutes, until the top layer of cheese has melted and the crust is golden brown.

Remove the pizza from the oven, let it cool for about 5 minutes before slicing and serving.
Number of servings (yield): 4 (2 slices per person)