To help raise money for Cookies for Kids Cancer, I've partnered with OXO and made these pumpkin cut-out cookies, iced in cinnamon cream cheese frosting!
This year marks the fourth year that OXO has partnered with Cookies for Kids Cancer, a 501(c)3 non-profit that raises funds for research into new treatments for pediatric cancer. Cookies for Kids Cancer was started by two OXO employees after their son was diagnosed with pediatric cancer.
I'm thrilled to partner with OXO for this #OXOGoodCookies campaign. I've been a fan of OXO tools for years — longer than I've been blogging. If you see the following symbol on any OXO cooking tools, you'll know that for each one purchased, OXO will donate 25 cents to Cookies for Kids Cancer, up to $100,000!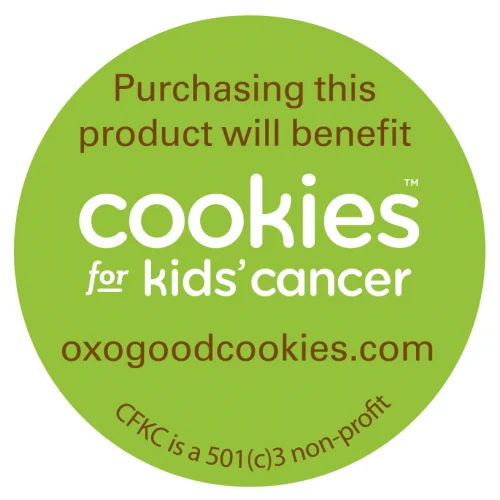 So, on to the cookies. Delicious pumpkin cookies. Covered in cinnamon cream cheese frosting. These took some trial and error. Pumpkin puree makes things soft and moist, which is exactly what you DON'T want in a cut-out cookie recipe.
The resulting cookie has a subtle pumpkin flavor, since adding more pumpkin to up the flavor ante resulted in cookie dough that was impossible to work with. Still, it's a very pleasant, warmly-spiced pumpkin flavor. I had a really hard time not eating the cookies before I photographed them. They're not soft, but they're not crisp — they're somewhere in the middle.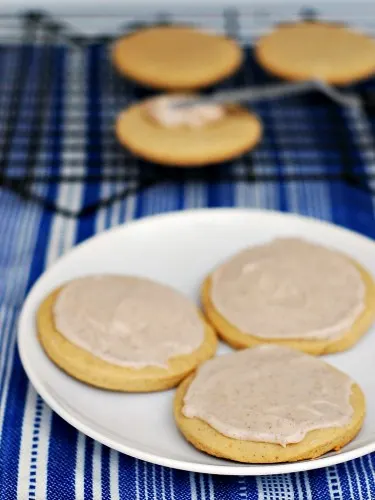 I refrigerated my dough for two days, just out of convenience. Rolling the cold dough is hard, so you could let it warm up for about five minutes, but if you let it warm up TOO much, your dough will be too soft and sticky, and your cookies won't hold their shape.
The yield for this recipe will vary depending on the size of the cookie cutter you use. The cookies pictured are about 3 ¼ inches in diamater. A smaller cookie cutter will yield more cookies. If you do use a smaller cookie cutter, don't forget to reduce the baking time!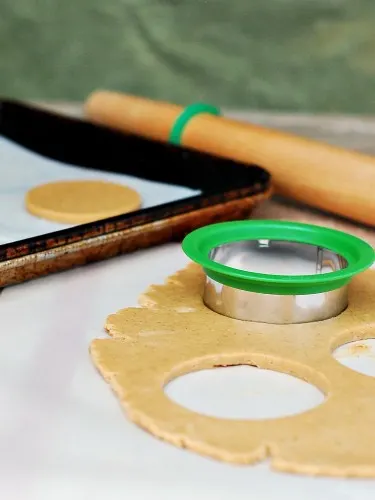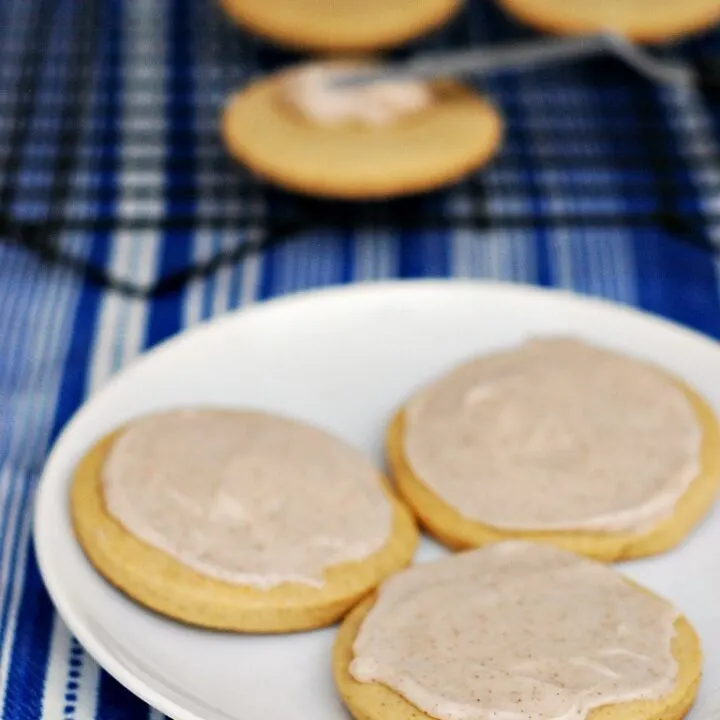 Pumpkin Cut-Out Cookies with Cinnamon Frosting
Ingredients
For the cookies:
4 cups all purpose flour
1 teaspoon baking powder
1 teaspoon cinnamon
¼ teaspoon ground ginger
¼ teaspoon allspice
⅛ teaspoon ground cloves
⅛ teaspoon nutmeg, freshly grated if possible
1 cup unsalted butter, at room temperature, 2 sticks
⅔ cup white sugar
⅓ cup dark brown sugar
¼ cup pumpkin puree
1 large egg
1 teaspoon vanilla extract
For the icing:
2 oz cream cheese, at room temperature
4 tablespoon unsalted butter, at room temperature
¾ teaspoon ground cinnamon
½ teaspoon vanilla extract
2 ½ cups powdered sugar
1 tablespoon heavy cream
Instructions
Preheat oven to 350 degrees. Line two baking sheets with parchment paper.
In a large mixing bowl, stir together the flour, baking powder, cinnamon, ginger, allspice, cloves, and nutmeg until evenly mixed and aerated. Set aside.
In the bowl of a stand mixer, cream together the butter, sugar and brown sugar until light and fluffy. Scrape down the bowl.
Add the pumpkin, egg and vanilla, and beat until thoroughly combined. Scrape down the bowl.
Gradually add the flour-spice mixture to the dough, mixing on low just until combined.
Place two pieces of plastic wrap on a clean surface. Divide the dough between the two pieces. Shape each into a ball, then flatten into a disc, and wrap in the plastic. Refrigerate for at least 30 minutes, up to 48 hours.
Lightly dust a clean surface with flour. Roll the dough out to ¼-inch thickness (thinner if using a small cookie cutter). Cut shapes with a cookie cutter and carefully transfer the cookies to the baking sheet using a small offset spatula.
Bake for 10 to 12 minutes for large (~3 inch) cookies, less for smaller cookies, just until cookies begin to brown along the bottom edge.
While cookies are baking, gather scraps into a ball and flatten into a disc and allow to rest in the refrigerator. Pull out the second dough disc and repeat rolling and cutting, resting in the fridge while baking and rolling the first disc of dough, until you can't get any more cookies from the remaining dough.
Allow cookies to cool for a minute or two on the baking sheet, then transfer to a wire rack to cool completely.
While cookies are cooling, in a stand mixer, beat the cream cheese and butter. Add the cinnamon, vanilla and powdered sugar, and beat on low speed at first until all the sugar is absorbed, then on medium-high until fluffy. Add heavy cream and beat until absorbed. If icing is too thick, add more heavy cream, a teaspoon at a time, until desired consistency is achieved.
Store in a zip-top bag in the refrigerator, stacking between sheets of parchment or wax paper.
Cookie recipe adapted from Glorious Treats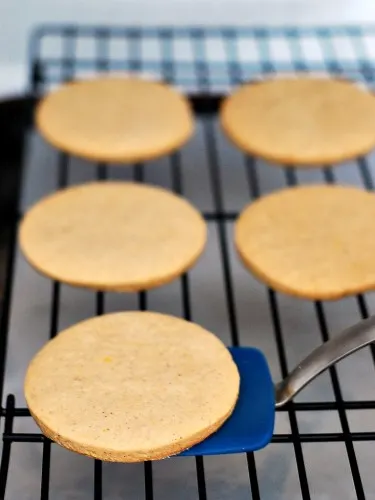 You can find OXO & Cookies for Kids' Cancer on social media
Twitter: @OXO / @Cookies4Kids
Instagram: @OXO / @Cookies4Kids
Facebook: facebook.com/OXO / facebook.com/CookiesForKidsCancer
Pinterest: pinterest.com/OXO / pinterest.com/Cookies4Kids
*In 2014, OXO will donate up to $100,000 to Cookies for Kids' Cancer through specially marked baking tools, bake sale matches and other fundraising efforts. Cookies for Kids' Cancer is a recognized 501c(3) public charity duly incorporated under the laws of the state of New Jersey. Your donations are tax deductible to the fullest extent allowable by law. 100% of proceeds raised by Cookies for Kids' Cancer fund pediatric cancer research.
Disclosure: This post is sponsored by OXO to benefit Cookies for Kids' Cancer. I was not compensated monetarily, but did receive free baking tools.