Lamb korma: lamb shoulder braises in a spicy, creamy sauce with veggies, and is served over Indian rice.
I have tried Indian food at least three times, but was never that happy with the dishes I'd tried (except naan bread — how could anyone dislike naan bread??).
I'm not averse to spicy foods, so it wasn't the heat that bothered me, but I just wasn't a fan of the combination of flavors.
Until last week. At my new office, we all ordered Indian food to celebrate a coworker's last day. I asked someone what they'd recommend to someone unfamiliar with Indian food. They recommended the chicken korma.
As you're probably guessing by this post, I loved it! "Korma" means "to braise," which is when you cook meat by immersing them in simmering liquid. Lamb stew meat that comes from the shoulder area is perfect for this recipe, because it's a tougher meat, which becomes tender with braising. It's not the leanest part of the animal, but it is a more inexpensive cut. The recipe is "bulked up" even more with the addition of chickpeas.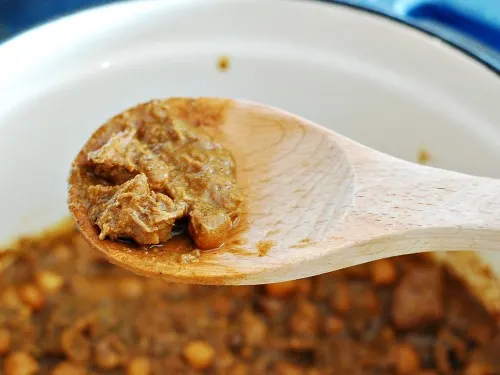 I did laugh a bit because the menu described the dish as "mildly spiced," and in India, it probably is considered mild. It's not make-your-mouth-water spicy, but if even mild salsa is too much for you, this is not the dish for you.
It's served over basmati rice, an Indian variety of long-grain rice, and topped with low-fat yogurt. You could use fat-free if you choose, but the small bit of fat in the low-fat variety helps mitigate some of the heat of the korma.
This braises for a while, so it's not something you can throw together after work. But, you can make it on the weekend, and reheat it after work, because this is one dish that tastes even better the next day!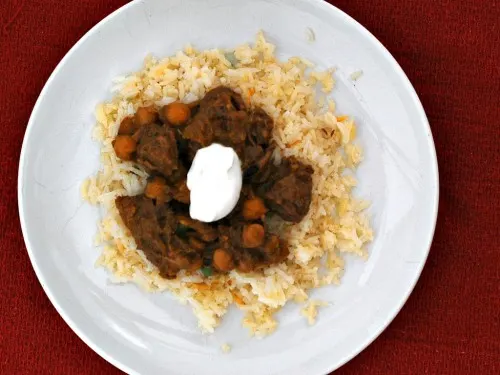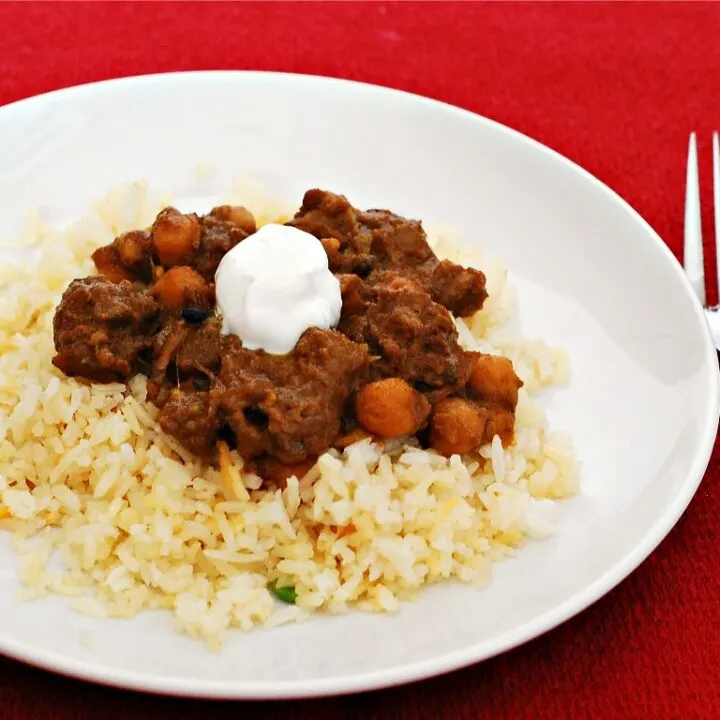 Lamb Korma
Ingredients
1 tablespoon peanut or canola oil
1 pound cubed lamb stew meat, preferably from the shoulder
1 cup diced red bell pepper
½ cup chopped yellow onion
1 ½ tablespoon all-purpose flour
½ inch an of fresh ginger root, peeled and grated
3 cloves garlic, grated
1 teaspoon ground cumin
¼ teaspoon ground coriander
¼ teaspoon turmeric
¼ teaspoon ground cinnamon
¼ teaspoon cayenne pepper
1 teaspoon garam masala
½ teaspoon salt, divided
2 cups vegetable broth
¼ cup water
½ cup coconut milk
¼ cup diced roma tomato
¼ cup frozen green peas
¼ cup canned chickpeas, drained and rinsed
4 cups hot cooked basmati rice
¼ cup plain low-fat yogurt
Instructions
Preheat your oven to 250 degrees. Heat the oil in a Dutch oven over high heat. Add the lamb stew meat and brown the cubes on all sides, working in batches if necessary. Once browned, remove the lamb to a plate.
Reduce the heat to medium-high, and the bell pepper and onion to pan; sauté for 2 minutes. Add the flour, ginger, and garlic; cook 1 minute, stirring constantly.
Add the spices (cumin through garam masala), and ¼ teaspoon of the salt; cook for 30 seconds, stirring. Stir in broth and ⅓ cup water; bring to a boil.
Stir in the coconut milk and tomato; reduce the heat, and simmer 5 minutes. Add peas, chickpeas, browned lamb meat, and remaining salt and stir until the lamb meat is coated in the sauce.
Place the Dutch oven in the preheated oven, and simmer for at least an hour, or up to 90 minutes, until the lamb is just cooked through.
To serve, spoon ⅔ cup of basmati rice on a plate or in a bowl, and top with some of the lamb and sauce, and a dollop of yogurt.
Nutrition Information:
Yield:

6
Amount Per Serving:
Calories:

472
Sodium:

486mg
Carbohydrates:

40g
Protein:

18g
Adapted from Cooking Light