Mini ginger blueberry pies are little pre-portioned treats! Classic blueberry flavor with a zing of fresh ginger and a hint of lemon.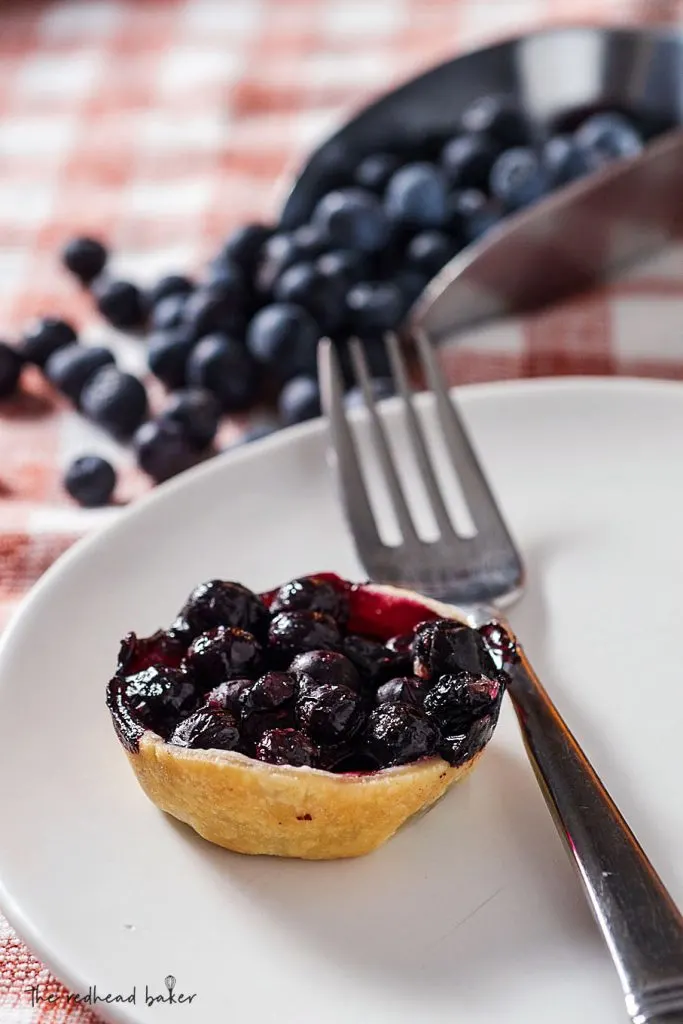 Are you like me? Can you not control yourself around pie? I mean, I have a monster sweet tooth, and it's hard to control myself around any dessert.
That's why mini desserts are so handy. They're already pre-portioned. That doesn't stop me from eating two ... or three ... but that's not the point.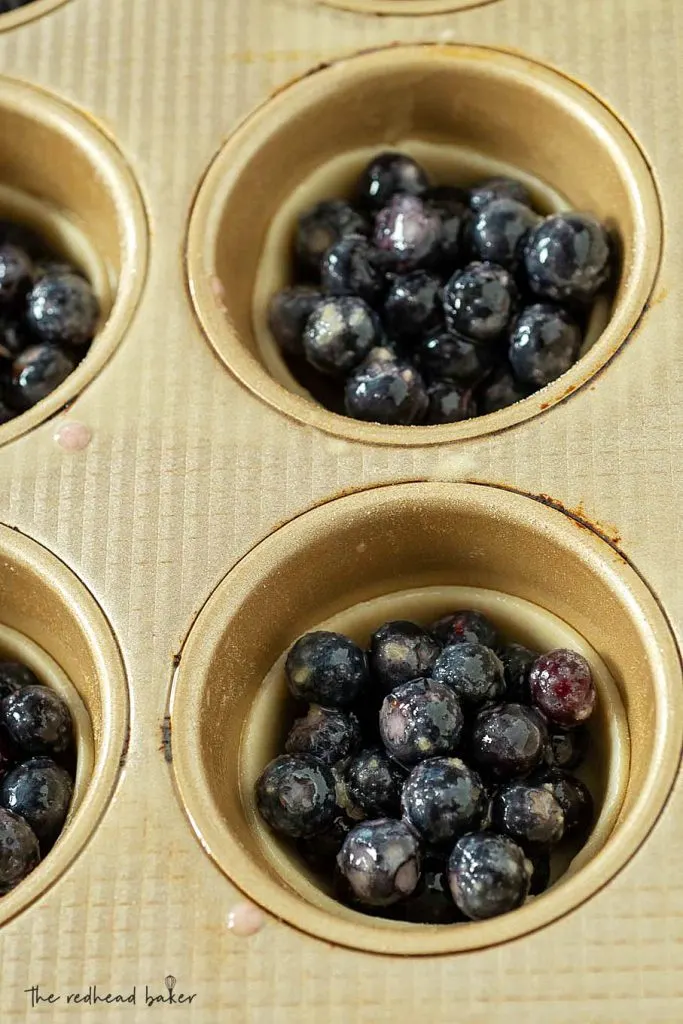 Anyway, Happy Pi Day! Every year on this day, I post a pie recipe. Or its close relative, a tart. Pi Day is the day to celebrate all kinds of filled pastry shells, sweet or savory.
These little pies are filled with plump, fresh blueberries, tossed with a little bit of sugar, fresh ginger, and lemon zest.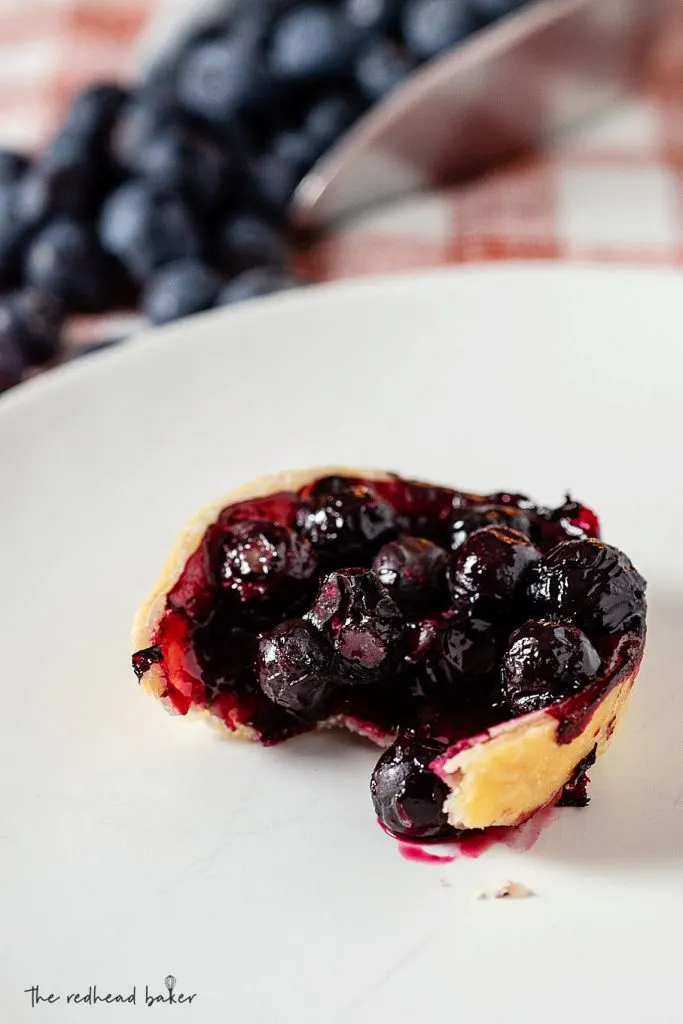 What's the secret to a tender, flaky pie crust?
Most pie crust recipes will tell you to cut the butter into the flour mixture until it resembles crumbs. But whether you do that with a pastry cutter, two forks, or your fingers, that results in a lot of over-worked flour (more gluten, which means a less tender crust) and warmer butter (less flakiness).
That's why I use a food processor to cut the butter into the flour. Yes, a food processor generates heat. But it cuts the butter into the flour faster, so the butter has less time to heat up.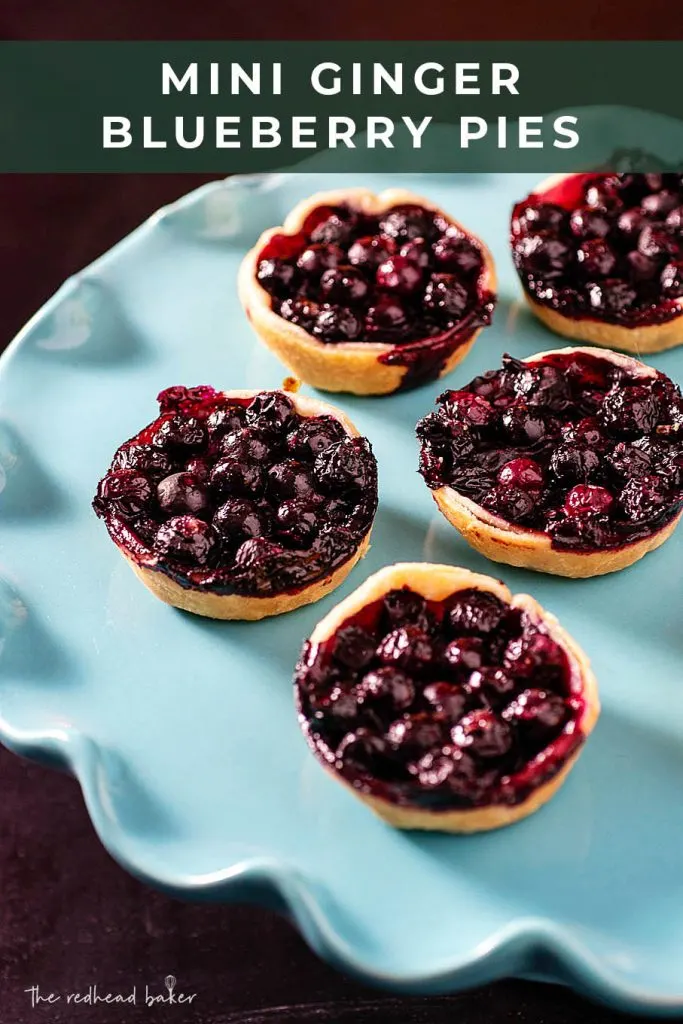 That leads me to my next tip: seriously, use ice-cold water. Fill a measuring cup with water, add a few cubes of ice. When it's time to add the water, measure out the needed tablespoons.
And finally, handle the pie dough as little as possible. The heat from your hands will warm up the butter, and working it too much with the rolling pin will lead to the formation of more gluten. Let the pie dough relax as much as possible, this will loosen any gluten strands that have formed.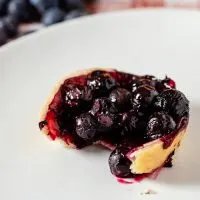 Mini Ginger Blueberry Pies
Total Time:
1 hour
50 minutes
Mini ginger blueberry pies are delicious little pre-portioned treats! Classic blueberry flavor with a zing of fresh ginger and a hint of lemon.
Ingredients
For the crust
2 cups (12.5 oz) all-purpose flour
¾ teaspoon salt
¾ teaspoon sugar
5 to 6 tablespoon ice water
¾ cup (1.5 sticks or 6 oz) unsalted butter, cut into cubes, very cold
For the filling
2 ½ cups (1 lb) fresh blueberries, rinsed and patted dry
2 ½ tablespoon brown sugar
1 teaspoon grated fresh ginger*
½ teaspoon grated lemon zest
¼ teaspoon fine sea salt
1 ½ tablespoon cornstarch
Instructions
Place the flour, salt and sugar in the bowl of a food processor. Quickly pulse two or three times to evenly distribute.
Add the cubes of butter to the flour mixture, and quickly pulse 8 to 10 times, until the mixture resembles a coarse meal.
Add 4 tablespoon of the ice water, and pulse two or three times. Check to see if the mixture now resembles large, moist clumps. If not, add another tablespoon, and pulse two more times, then check, and add another tablespoonful of ice water if needed.
Place a piece of plastic wrap on the counter. Empty the bowl of the food processor onto the plastic. Press the dough into a mound, then flatten into a disc. Wrap the plastic wrap around the disc, and refrigerate while you make the filling.
In a large bowl, toss the blueberries with the sugar, salt, ginger, and lemon zest. Sprinkle the cornstarch over the blueberries, and toss until everything is coated.
Preheat your oven to 375 degrees. Spray two muffin pans with nonstick baking spray.
Take the pie dough out of the refrigerator. On a clean work surface lightly dusted with flour, roll the dough out into a large rectangle, about ⅛ of an inch thick.
Use a 3-inch circle cutter to make 18 circles of pie dough.
Divide the circles between the two baking pans, gently pressing the dough circles into the wells of the pan.
Fill each dough circle with about two tablespoons of blueberry filling.
Bake for 18 to 20 minutes.
Place the baking pans on a wire cooling rack.
Once cool enough to handle, run a mini offset spatula all the way around the edges of the pies to loosen them from the pan, then use the spatula to lift them out.
To store, place pies on a plate or in a baking dish. Cover with plastic wrap and store in the refrigerator for up to 5 days.
Notes
* I use Gourmet Garden Ginger Paste, available in most major grocery stores in the produce section near the fresh herbs. It's pre-grated fresh ginger in a tube. It's more expensive than fresh ginger root, but it's easier to use (no peeling and grating!), and lasts longer in the refrigerator.
Recommended Products
As an Amazon Associate and member of other affiliate programs, I earn a small percentage from qualifying purchases.
Nutrition Information:
Yield:

18
Serving Size:

1
Amount Per Serving:
Calories:

64
Total Fat:

1g
Saturated Fat:

0g
Trans Fat:

0g
Unsaturated Fat:

0g
Cholesterol:

1mg
Sodium:

135mg
Carbohydrates:

13g
Fiber:

0g
Sugar:

2g
Protein:

1g
I am not a certified nutritionist. This nutrition information is automatically calculated by third party software and is meant as a guideline only.
Discover more Pi Day Recipes