**Taking a semi-break from food talk today. If you're here for the recipes only, please stop back on Wednesday!**
I'm now 16 weeks along! According to TheBump.com, our little Pumpkin (our nickname for the baby since he/she is due in late October) is the size of an avocado.
I've had a much easier time eating lately, and when I get hungry, boy do I get hungry! I polished off a QDoba Craft2 (two tacos plus a smaller serving of Grilled Chicken Mango Salad) for lunch the other day, and polished off an entire foot-long cheesesteak plus a side of onion rings for dinner the next night.
For Mother's Day, Dave took me out for brunch at Cuba Libre, a Cuban-themed tapas-style restaurant. Liam was sick, and stayed home with his grandparents. I'd been there once before, for my sister-in-law's bachelorette party, but never for brunch before.
The restaurant is designed to make you feel like you're at a Cuban restaurant, with large ceiling fans, and palm trees outside the "windows" inside the restaurant. Their are two floors, and the center of the lower floor is meant to resemble an outdoor patio.
Tapas-style means that the restaurant serves a smaller portion on each plate, and encourages you to order 3 t0 4 plates for your meal. Cuba Libre offers an "unlimited tapas" option, which means for the average cost of four plates, you can order as many of the dishes as you can eat. That was we opted to do.
We started off with cappuccinos and a "Latin breakfast bread basket," which included a churro, a chocolate muffin, a slice of banana bread, a coconut-berry muffin, and a breakfast pastry called a "hojaldre", which is triangle-shaped like a scone, with lots of layers like a croissant, and filled with guava jam and cream cheese, accompanied by 3 condiments: cinnamon-mango butter, guava marmalade and dulce de leche.
My first dish was the Churros con chocolate. Churros are similar to donuts, but they are straight sticks, rather than round. These were crispy, and coated in cinnamon sugar, and served with chocolate sauce for dipping. YUMMY!
Dave started off with the Crab Cake Benedict Croqueta (not surprisingly — eggs Benedict is one of his favorite dishes!). This consisted of a crab cake atop a potato cake, topped with a poached egg and tomato Hollandaise sauce.
For my next dish, I went a little adventurous, and tried the "sweet omelet": a two-egg omelet topped with a lemon-crème fraîche custard, with warm cinnamon-dusted tomatoes on the side. It was . . . odd. I couldn't say that I liked it; yet, I didn't dislike it.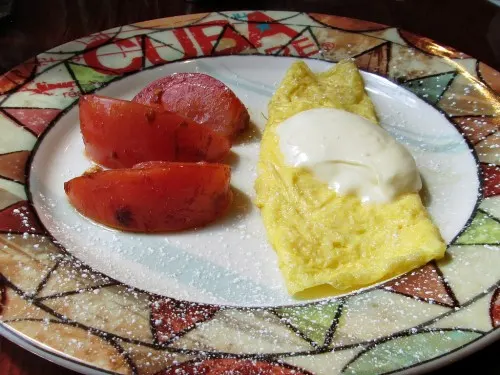 Dave had the chorizo and potato omelet, which I tasted, and enjoyed more than my omelet. Wasn't surprised by that, since I love chorizo. I didn't get a picture of his omelet.
Then I had the French toast a la Cubana, a very thick slice of brioche bread, topped with sweet plantains, whipped cream and maple syrup. It was delicious, but RICH.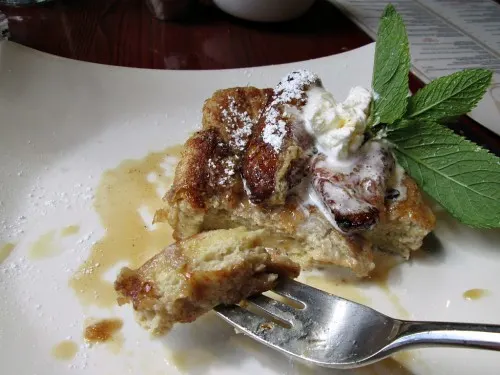 Dave had the Cuban Sandwich spring rolls (sorry, no picture), which were essentially Cuban sandwiches — marinated pork, salami, ham, Provolone and Swiss cheese — in spring roll form, served with a spicy mustard sauce.
Then I got spinach and manchego cheese puffs, served with a goat cheese-ranch dipping sauce. I expected to like them more than I actually did, though they were by no means bad. Just different.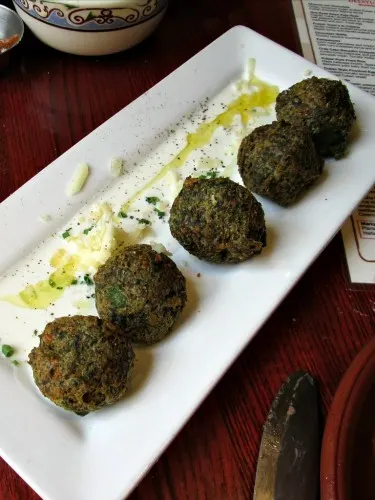 And my last dish was the Croquetas: smoked bacon and apple croquettes topped with an onion-cilantro salad and Pimenton vinaigrette. This was my least favorite of all my dishes. I didn't taste any apple or bacon at all in the croquettes.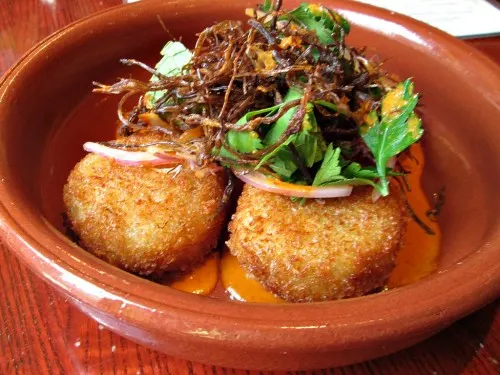 Dave's last two dishes were the Yuca frites and the Crispy Pork Belly Skewers.
Yuca is a starchy root vegetable. Yuca frites are prepared like French fries. Cuba Libre serves them with a cilantro-caper aioli dipping sauce. I remember eating the Yuca frites are my sister-in-law's bachelorette party, and enjoying them, but not so much at this visit. I didn't care much for the dipping sauce.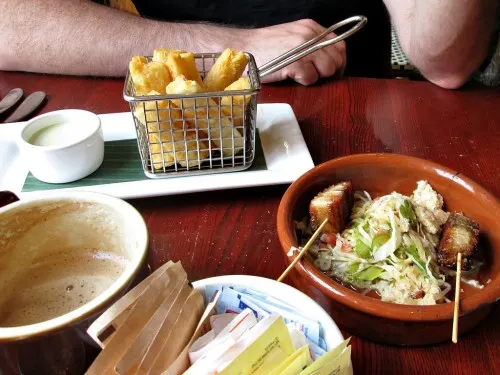 The Crispy Pork Belly Skewers? HOLY YUM!!! That was my favorite dish of the day. It's a very fatty cut of meat, so it's totally unhealthy, but, SO delicious.
There were still other dishes we wanted to taste, but by that point, you practically had to roll us out of the restaurant. We were STUFFED.
And now, it's back to work. In a couple of weeks, it'll be time to celebrate Memorial Day, and then I'll have another prenatal appointment, and Liam will have his 18-month checkup.