Boo! Scare your Halloween dinner or party guests with these easy-to-make white chocolate mummy truffles made with white chocolate ganache!
Welcome to #ProgressiveEats, the online dinner party where each blog hosts a different course of the meal! This month is hosted by Heather of All Roads Lead to the Kitchen, and we're having a Halloween-themed dinner!
I'm making one of the desserts, decadent white chocolate truffles decorated to look like mummies. They're easy to make but will surely scare your dinner guests! After you check out my mummy truffles, be sure to scroll to the bottom of the post to see links to the rest of the dinner party.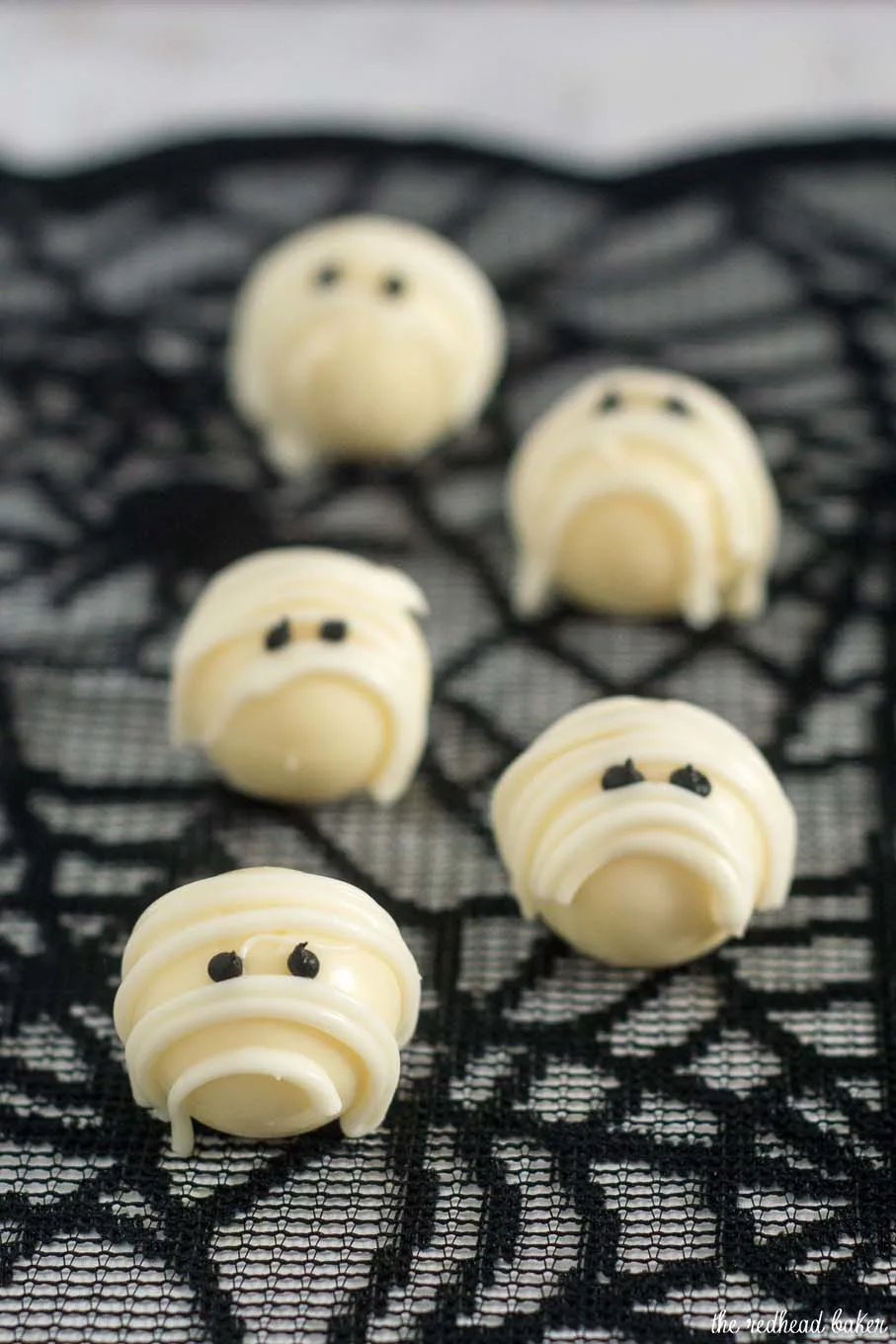 The center of each truffle is made of white chocolate ganache. Ganache is so simple, yet rich and very versatile. Ganache is simply heavy cream and chocolate, though this ganache includes corn syrup as well, which gives is a nice shine. Pour warm heavy cream over chopped chocolate, let sit for a minute, then stir until smooth.
At that point, you can use the resulting liquid ganache as a glaze for cake or other desserts. If you chill the mixture, you can scoop it, as directed in this recipe, and roll into little balls of truffles. If you whip chilled ganache, you can use it as frosting.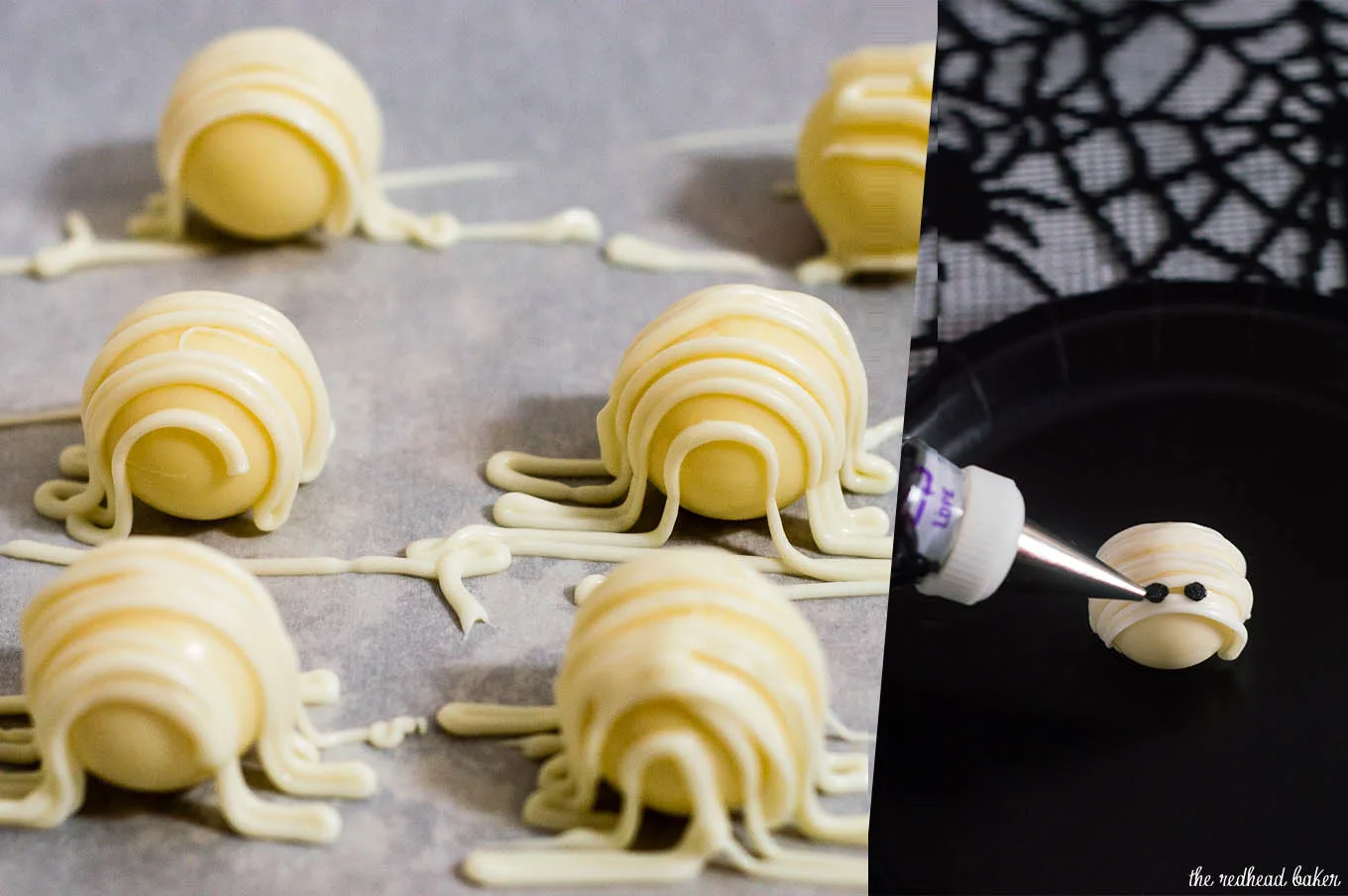 You can make ganache out of any kind of chocolate: semisweet, dark, milk, or white chocolate. If you plan to whip your ganache, ensure the heavy cream doesn't boil — this alters the protein chains, and it will never whip up.
If you're not a white chocolate fan, you can use any kind of ganache for these mummy truffles. I prefer white chocolate ganache, because it's easier to coat in melted white chocolate. With milk or semisweet chocolate ganache, if you don't at least double-dip the truffles, the filling can show through.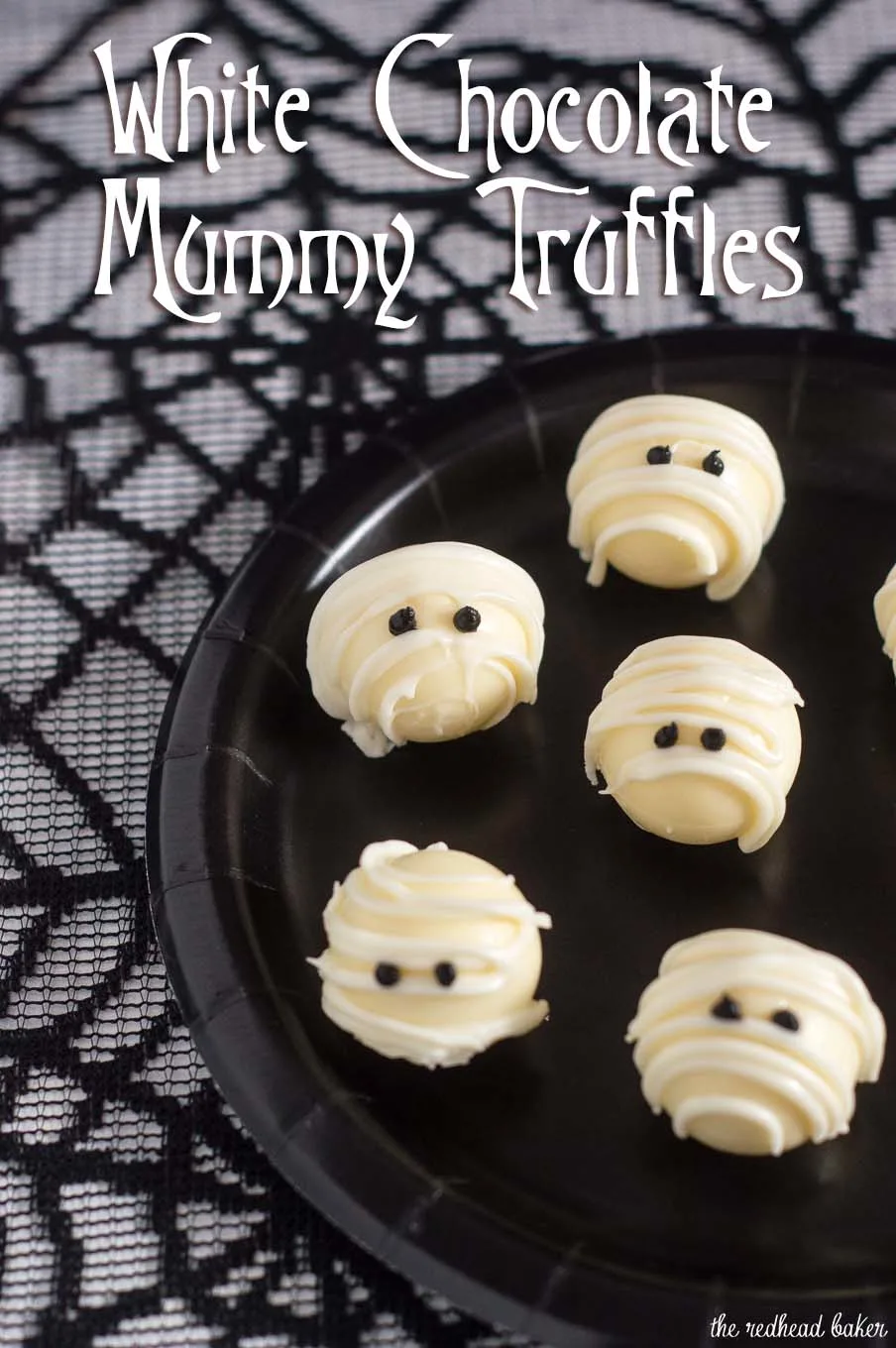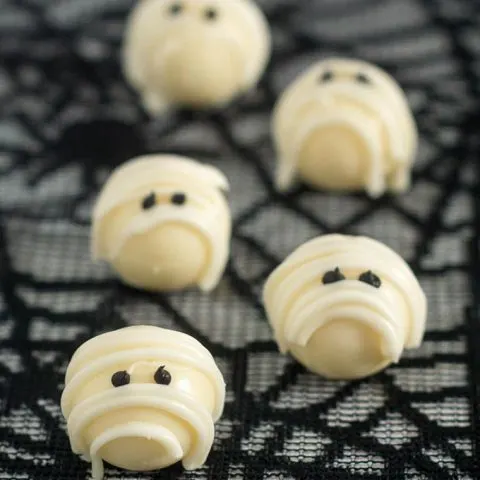 White Chocolate Mummy Truffles
Ingredients
6 oz white chocolate, chopped
½ cup heavy cream
1 tablespoon light corn syrup
½ tablespoon unsalted butter
32 oz white chocolate or white candy coating, melted
Black decorating icing, store-bought or homemade
Instructions
Place the chopped chocolate in a mixing bowl.
Place the heavy cream and corn syrup in a small saucepan and bring to scalding (the point at which small bubbles form at the edge of the saucepan).
Once scalding, pour the heavy cream mixture over the chopped white chocolate. Let stand for 1 minute, then stir until smooth. Allow to cool to room temperature, then cover with plastic and chill for at least 4 hours, or overnight.
Use a small cookie scoop to portion out the chilled ganache onto a wax-paper lined sheet pan. Roll each portion between your palms into a ball. Chill for at least an hour.
Use a dipping tool or a fork to dip each ball of ganache in the melted white chocolate. Replace onto the wax-paper lined sheet pan. Chill until the white chocolate shell is set.
Scrape the remaining melted white chocolate into a piping bag. Snip off the tip. Pipe horizontal lines of chocolate over the truffles. Chill until set.
Using a small plain round tip, pipe two dots of black decorating icing as eyes onto one side of each truffle. Chill until set, or ready to serve.
Recipe by The Redhead Baker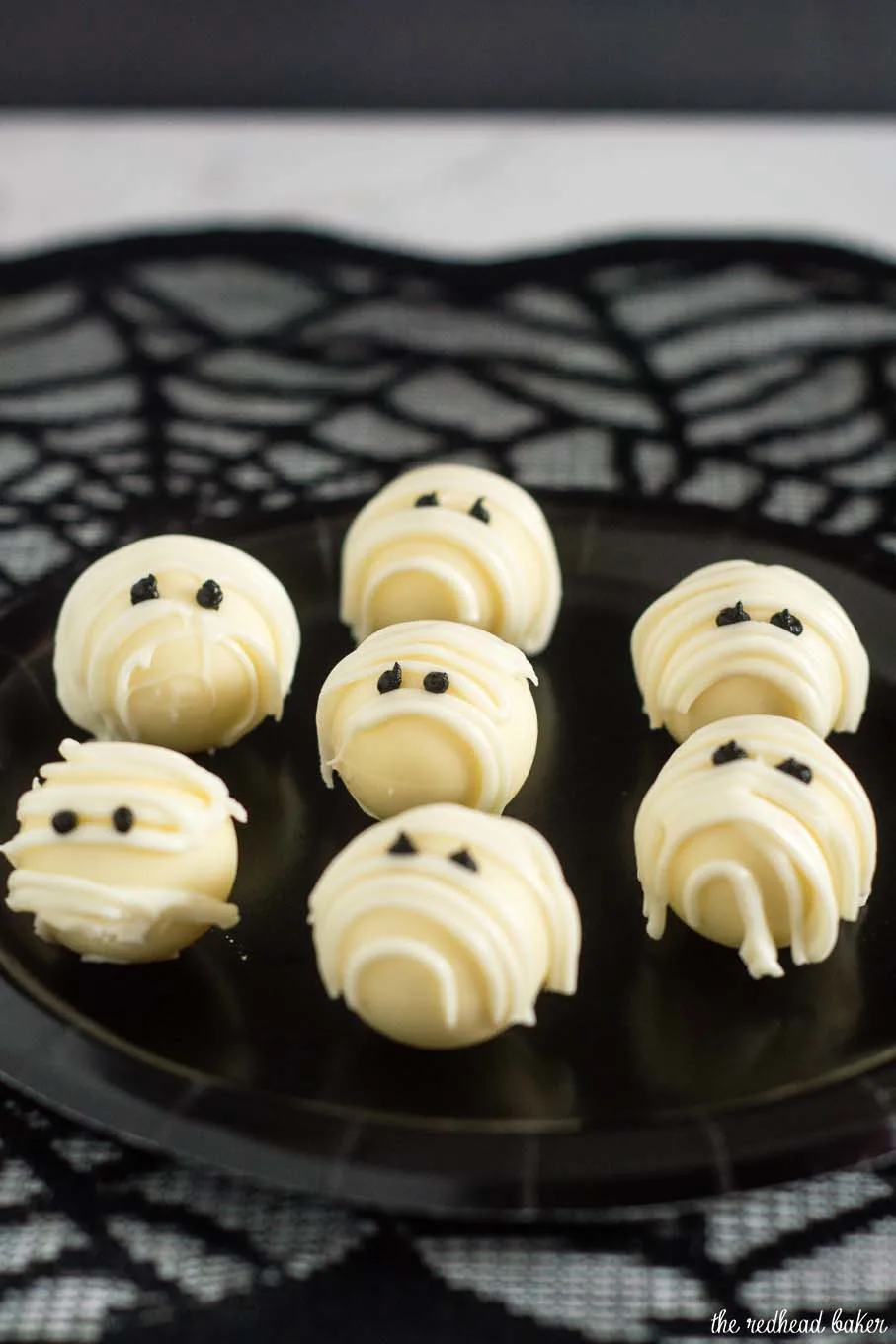 Progressive Eats Halloween Menu
Welcome to Progressive Eats, our virtual version of a Progressive Dinner Party. This month we're sharing a Halloween Menu, and our event is hosted by Heather, who blogs at All Roads Lead to the Kitchen. We have dishes that show off the colors associated with Halloween, as well as some cute and creepy ideas. No matter your level of Halloween spirit, you'll find something delicious to add to your repertoire this season!
If you're unfamiliar with the concept, a progressive dinner involves going from house to house, enjoying a different course at each location. With Progressive Eats, a theme is chosen each month, members share recipes suitable for a delicious meal or party, and you can hop from blog to blog to check them out.