Pavlova is a dessert that's naturally low in calories and fat. This one is filled with cherry-lime curd and an assortment of fresh fruit.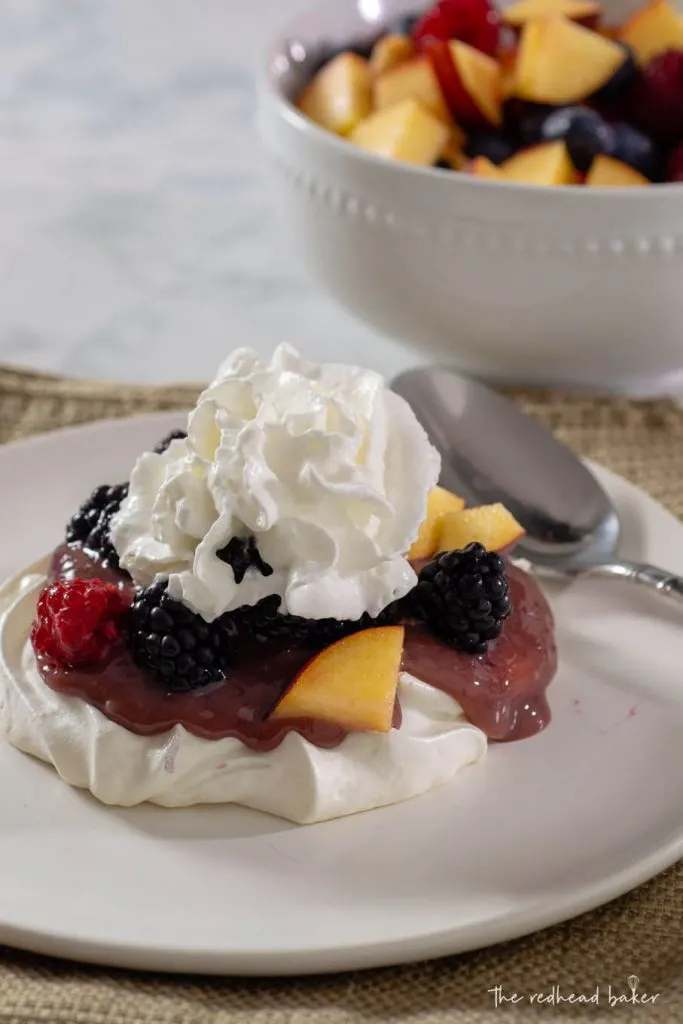 Late spring/early summer time is one of my favorite times when it comes to food. Cookouts, ice cream, and best of all, fresh produce.
The best desserts this time of year are ones that let the flavor of fresh fruit shine, and pavlovas are one great option that does just that.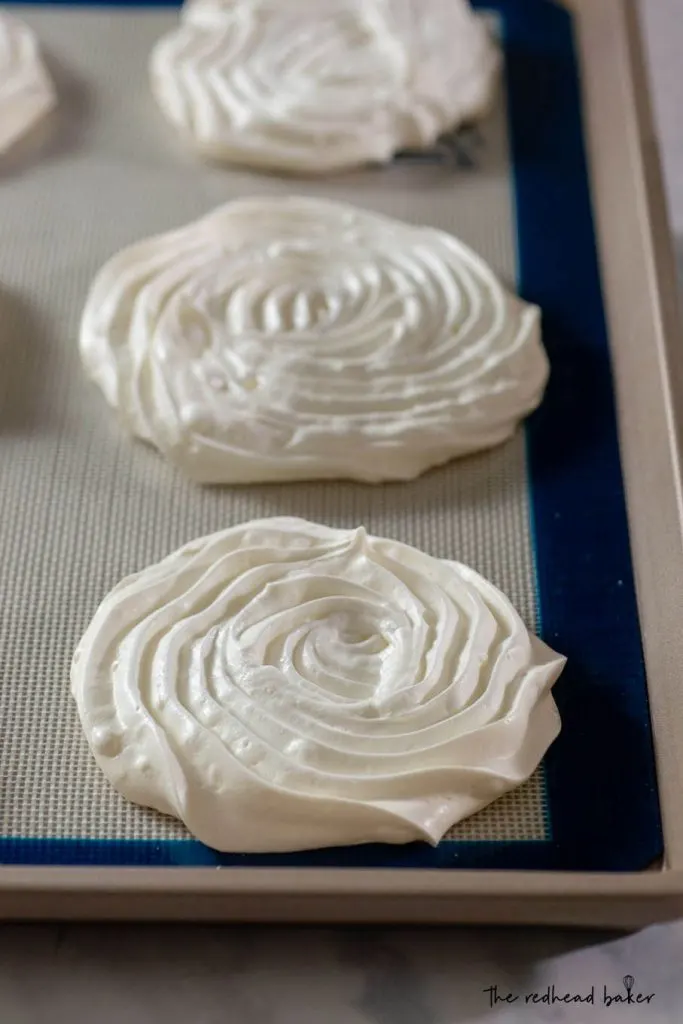 Pavlovas aren't as popular as they used to be, so if you're not familiar, it's a dessert that was named for a Russian ballerina, Anna Pavlova, because the meringue mimicked her light and fluffy tutus.
Pavlovas can be filled with any kind of fruit curd, or whipped cream. The unfilled meringue shells can be prepared a day or two ahead of time and stored at room temperature in an airtight container. The curd can also be prepared a day or two ahead of time, and stored in the refrigerator with a piece of plastic wrap pressed onto the curd to prevent a skin from forming.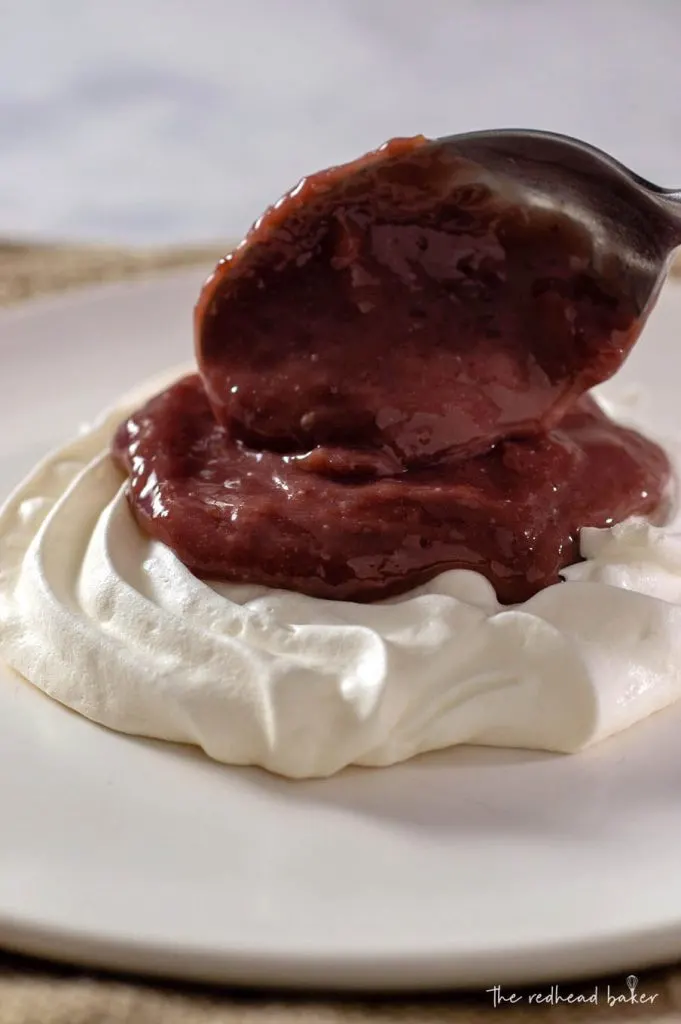 Almost everyone has heard of lemon curd, but curd (the term for a mixture of fruit juice, sugar, egg yolks and butter) can be made with almost any kind of fruit. In cases where you can't juice the fruit directly (like most citrus), you cook the fruit with sugar until you can separate the juice from the skins by pressing it through a fine-mesh sieve. The juice is then thickened with egg yolks and butter.
Because there is a higher proportion of fruit juice than, say, fruit jam or jelly, it has a stronger fruit flavor (similar to the strength of flavor of a fruit butter, but unlike the fruit butter, the curd contains egg yolks and butter).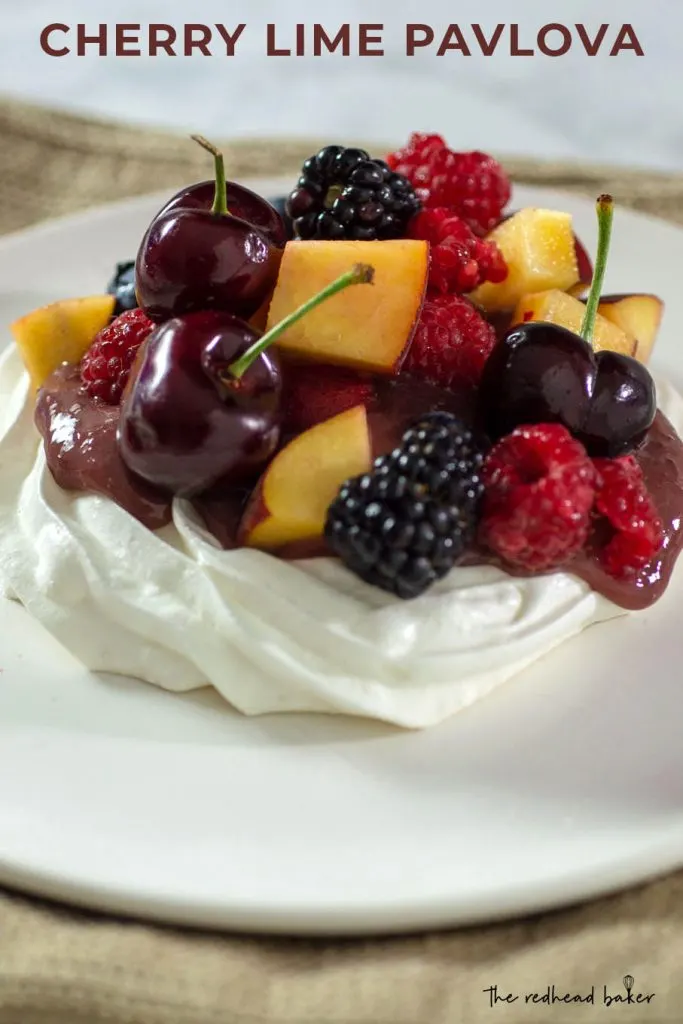 Some pavlovas are served as one big cake, which is then sliced, but I made mine as individual pavlovas. They are then filled with cherry lime curd (cherries and limes go so well together, don't they?) and topped with fresh fruit. I chose plums, more cherries and a mixture of berries, but you can choose any fruit you think would pair well with the curd.
Serve with a dollop of sweetened whipped cream or a light dusting of confectioners sugar and enjoy!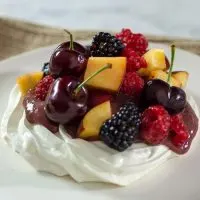 Pavlova with Cherry-Lime Curd
Yield:
12 (3-inch) pavlovas
Total Time:
3 hours
20 minutes
Pavlova is a dessert that's naturally low in calories and fat, and lets the taste of summer fruit shine on a bed of airy meringue.
Ingredients
For the cherry-lime curd
12 oz pitted sweet cherries (12 oz after pitting)
Zest of 1 lime
Juice of 1 lime (about a tablespoon)
¾ cup sugar
6 egg yolks (from large eggs)
6 tablespoon unsalted butter
For the meringue
6 egg whites
½ teaspoon cream of tartar
Pinch of salt
1 cup sugar
1 teaspoon vanilla extract
For the topping
1 cup chopped plums
1 cup mixed sliced berries
1 cup fresh cherries, pitted
2 cups sweetened whipped cream
Instructions
Make the cherry-lime curd:
In a medium saucepan, combine the cherries, lime zest, lime juice and sugar. Stir to combine. Cook over medium-high heat, stirring often, until the mixture comes to a boil. Cook at a boil for 2 minutes.
Press the mixture through a fine-mesh sieve into a medium mixing bowl. Press down firmly to extract all of the juices and pulp, until only the skins remain in the sieve. Discard the skins.
In a separate mixing bowl, whisk together the egg yolks. While whisking, slowly drizzle in about half a cup of the hot cherry/lime mixture (this is called tempering the egg yolks). Once fully mixed, add the rest of the cherry/lime mixture. Whisk to combine, and scrape everything back into the saucepan.
Cook the mixture over medium heat, stirring constantly with a wooden spoon, and slowly add the butter, 1 tablespoon at a time, waiting until each has melted and incorporated before adding the next. Continue stirring until the mixture thickens and coats the back of the wooden spoon.
Scrape into an airtight storage container and place a piece of plastic wrap to prevent a skin from forming. Cool to room temperature. Once cool, cover with the container lid and refrigerate until ready to use.
Make the pavlova shells
Place the egg whites in the clean, dry bowl of a stand mixer fitted with the whisk attachment. Whip on high speed until foamy.
Add the salt and cream of tartar and whip until soft peaks form.
Add the sugar, 1 tablespoon at a time, and continue whipping until stiff peaks form.
Preheat the oven to 225 degrees. Line two baking pans with silicone baking mats or parchment paper.
Fit a large piping bag with a large open star tip (such as the Ateco #828), and fill the bag halfway with the meringue. Pipe 3-inch disks of meringue onto the baking sheets (you should be able to fit 6 disks per baking sheet), refilling the bag with more meringue as needed.
Bake the meringue for 1 hour, then turn off the heat and leave the meringue in the oven for another 2 hours. At this point, the meringue disks can be transferred to an airtight storage container if not being used immediately.
Assemble the pavlovas
Place a meringue disk on a plate. Spoon ⅓ to ½ cup of the cherry-lime-curd onto the disk, then top with fresh fruit. Garnish with sweetened whipped cream and serve immediately.
Notes
If desired, you can garnish the pavlovas with a dusting of powdered sugar and a sprig of fresh mint instead of whipped cream.
Recommended Products
As an Amazon Associate and member of other affiliate programs, I earn a small percentage from qualifying purchases.
Nutrition Information:
Yield:

12 pavlovas
Serving Size:

1 pavlova
Amount Per Serving:
Calories:

241
Total Fat:

8g
Saturated Fat:

4g
Trans Fat:

0g
Unsaturated Fat:

3g
Cholesterol:

108mg
Sodium:

44mg
Carbohydrates:

40g
Fiber:

2g
Sugar:

37g
Protein:

4g
I am not a certified nutritionist. This nutrition information is automatically calculated by third party software and is meant as a guideline only.
Cherry-Lime Curd Recipe adapted from Created by Diane
Welcome to Progressive Eats, our virtual version of a Progressive Dinner Party. This month's theme is Spring Has Sprung—Dishes that highlight ingredients and flavors associated with spring, and our host is Laura who blogs at Mother Would Know.
If you're unfamiliar with the concept, a progressive dinner involves going from house to house, enjoying a different course at each location. With Progressive Eats it's a virtual party. A theme is chosen each month, members share recipes suitable for a delicious meal or party, and you can hop from blog to blog to check them out. Come along and see all of the delicious spring inspired dishes!
Spring Has Sprung—Dishes that highlight ingredients and flavors associated with spring
Beverages
Appetizers
Soup
Bread
Main Courses
Side Dish
Desserts