Friday, March 1, was Peanut Butter Lovers' Day (not to be confused with National Peanut Butter Day, celebrated January 24th), and I had intended to share this recipe with you then. Better late than never, right?
Peanut butter cookies are one of The Mister's favorites, so I knew there would be no objection on his end. They were one of the first things I ever baked for him, and he introduced me to flourless peanut butter cookies.
But I didn't want to blog about the standard peanut butter cookie. Everybody knows how to make a peanut butter cookie. I wanted to make it more special.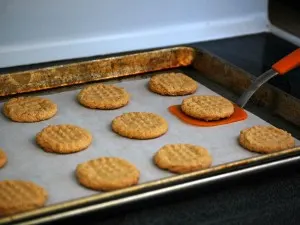 So, I decided I would take two peanut butter cookies and sandwich them together with Nutella, the chocolate hazelnut spread that has nearly taken over the blogging world in recent years. However, I wanted something sturdier than the typical soft peanut butter cookie. I set off to learn what makes cookies crisp. Is it more flour? Higher baking temperature?
Well, it turns out that crisp cookies often contain a higher percentage of sugar. Also, they are baked longer, giving the moisture more time to evaporate. But I also discovered a crisp peanut butter cookie recipe on Leite's Culinaria, so I needn't re-invent the wheel and develop my own version. If my past track record has taught me anything, it's that recipe development is not my forte.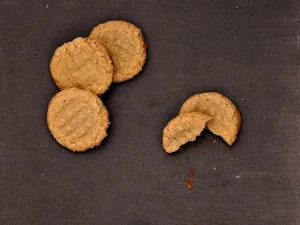 Why crisp peanut butter cookies? Two reasons: 1) I didn't want a very soft cookie to break as I was spreading the Nutella, and 2) the crisp cookie would contrast nicely with the thick, creamy Nutella.
These were a huge hit. The cookie was just crisp enough to stand up to being frosted without breaking, yet tender enough that they didn't crumble completely when bitten. Sandwiched with creamy, chocolate-y Nutella, they are a peanut butter lover's dream.
Peanut Butter Nutella Sandwich Cookies
Adapted from Leite's Culinaria
Ingredients
1 ⅔ cups (7 ounces) all-purpose flour
1 teaspoon baking soda
¼ teaspoon kosher salt
½ cup unsalted butter, at room temperature
½ cup white sugar
⅓ cup packed light brown sugar
½ teaspoon vanilla extract
1 large egg
½ cup plus 2 tablespoon creamy peanut butter
½ to 1 cup of Nutella spread, depending on how thick you want the filling
Directions
Preheat your oven to 350 degrees, and line two sheet pans with parchment paper or silicone baking mats.
Measure out the flour, baking soda and salt. Push through a fine-mesh sieve into a small mixing bowl.
Place the butter, white sugar, brown sugar and vanilla extract in the bowl of a stand mixer. Cream together on medium speed for about 4 or 5 minutes, until light and fluffy.
Scrape down the bowl, add the egg, mix until well-combined, then scrape again.
Add the peanut butter, and mix until fully incorporated and smooth. Scrape down the bowl again.
Add the flour and mix on low speed, just until all the dry ingredients are incorporated.
Roll the dough into balls with a small cookie scoop. Arrange on the cookie sheet at least 2 inches apart. Use a fork to gently press the traditional crosshatch pattern into the top of each cookie, flattening it a little at the same time.
Bake for 10 to 11 minutes, until the cookies are just beginning to brown. Remove from the oven. Leave the cookies on the baking pan for a minute, nthen transfer to a wire rack to cook completely.
Once the cookies are completely cool, use a small offset spatula to spread the Nutella on the bottom of half the cookies. Top with the remaining cookies. Store in an airtight container at room temperature.
Preparation time: 15 minute(s)
Cooking time: 10 minute(s)
Number of servings (yield): 24 sandwich cookies