I spent a day or two, perusing cupcake recipes, looking for a "knock-their-socks-off" flavor combo to bring to a baby playdate. "Why?" you ask, "It's just a baby playdate." That's just how I am. I can't just bring a dessert. I have to bring the OMG-this-is-the-best-EVER dessert.
But I found myself hesitating. What if someone can't eat peanut butter? What if someone doesn't like lemon? What if someone ::gasp:: doesn't like chocolate (do such people really exist?)? So finally, I settled on vanilla.
And sometimes, taking one "boring" flavor, and using great quality ingredients, turns it into an AMAZING flavor.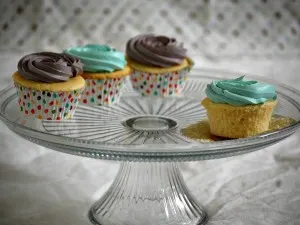 These cupcakes are light, fluffy and moist, flecked with the seeds of the vanilla bean. And I will admit, I've been somewhat of a buttercream snob. I couldn't stand "American" buttercream (butter and powdered sugar — I often found it gritty and way too sweet), and would always recommend Swiss Meringue instead. And while Swiss Meringue will always be my #1 frosting, this Quick Vanilla frosting is delicious. Not gritty, not overly sweet. When I'm rushed for time and don't want to put the effort into Swiss Meringue Buttercream, this frosting is a great backup.
Whipping the buttercream for three minutes at the end ensures an almost pure-white frosting, which takes color beautifully. Just be very judicious with the color. Start with a drop, mix until evenly distributed, then add more if needed. The very first time I tried to color frosting, I was going for pale pink. Added too much food color, and ended up with Barbie pink. You can always add more, but you can't remove it.
My final recommendation is, if you're making these to bring to a get-together, maybe leave one or two at home for yourself. Because after about five minutes, this will be all that's left.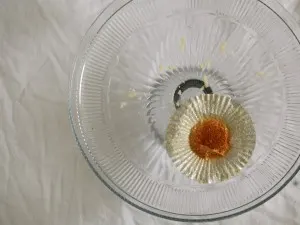 Vanilla Bean Cupcakes
Recipe by Annie's Eats
Summary: Vanilla beans add intense vanilla flavor to these cupcakes, don't leave them out, if at all possible! If you really can't swing the vanilla bean, double the amount of vanilla extract.
Ingredients
3 cups (12 ounces) cake flour
1 tablespoon baking powder
½ teaspoon salt
1 vanilla bean, split lengthwise
1 cup unsalted butter, softened
2 cups sugar
5 large eggs, at room temperature
1¼ cups buttermilk, at room temperature
1 tablespoon pure vanilla extract
Directions
Preheat your oven to 350 degrees. Line two 12-cup cupcake pans with paper liners. Set aside.
In a medium mixing bowl, sift or whisk together the cake flour, baking powder and salt, and set aside.
Place the butter in the bowl of an electric mixer fitted with the paddle attachment. Place the split vanilla bean on a cutting board, and placing the blade of a paring knife perpendicular to the bean, scrape out the vanilla bean seeds. Add them to the bowl with the butter (the pod can be discarded, or buried in a cup of sugar to flavor the sugar with vanilla.) Beat on medium-high speed for 3 minutes, until smooth and light in color. Scrape down the sides and bottom of the bowl with a spatula, then beat for one more minute.
Add the sugar to the bowl ¼ cup at a time, beating for 1 minute after each addition. Mix in the eggs one at a time until incorporated, scraping down the sides of the bowl after each egg is added.
In a measuring cup, whisk together the buttermilk and the vanilla extract.
Add ⅓ of the dry ingredients to the mixing bowl, and stir on low until almost incorporated. Then add half the buttermilk/vanilla mixture and mix on low just until incorporated. Repeat with another third of the dry, then the remaining half of the wet, and then the final third of the dry, mixing on low in between each addition. Scrape down the sides and bottom of the bowl with a spatula and mix for 15 more seconds.
Scoop the batter into the prepared paper liners, filling each about ⅔ of the way full, reserving any leftover batter. Bake for 18 to 22 minutes, or until a toothpick inserted in the center comes out clean. Cool the cupcakes in the pans for 5 to 10 minutes, then transfer to a cooling rack to cool completely. Add new paper liners to the tins, and portion any remaining batter and bake.
Number of servings (yield): 30 cupcakes
Quick Vanilla Frosting
Recipe by Annie's Eats
Ingredients
1 pound unsalted butter, softened
3 ¾ cups (15 ounces) confectioners' sugar, sifted
¼ teaspoon salt
1 tablespoon pure vanilla extract
3 tablespoon heavy whipping cream
Directions
Place the butter in the bowl of a stand mixer fitted with the whisk attachment. Beat the butter at medium-high speed for about 20 seconds, or until smooth.
Add the confectioners' sugar and salt; beat at medium-low speed for about 45 seconds, or until the dry ingredients are moistened. Scrape down the bowl and beat another 15 seconds at medium speed, until mixture is fully combined.
Scrape the bowl again, then add the vanilla and heavy cream, and beat on low for a few seconds, then at medium speed for 10 seconds, until fully incorporated.
Increase the speed to medium-high and beat until light and fluffy, about 4 minutes.
If adding color, add a drop, then beat on medium until evenly distributed. Add more as needed to achieve desired color.