Pomegranate sorbet is a sweet-tart dessert that's naturally fat-free! Garnish with pomegrante seeds and a sprig of mint for a refreshing treat.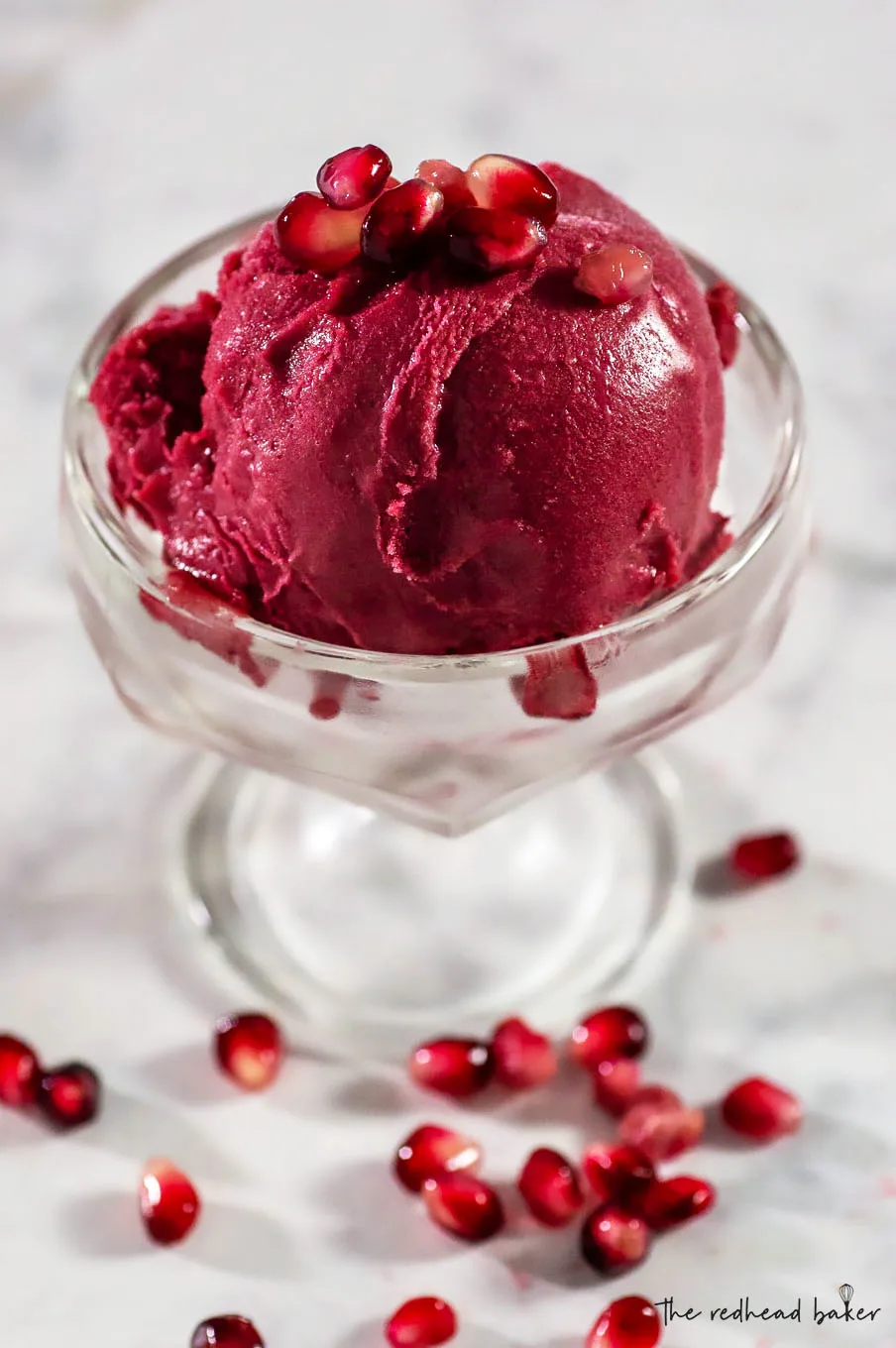 Welcome to this month's Progressive Eats! This month, our entire menu features pomegranate. Pomegranates are grown in Asia, in the region spanning Iran to India.
Pomegranates are high in antioxidants, vitamin C, vitamin E, vitamin K, and folate. Eating the seeds also provides a healthy dose of fiber.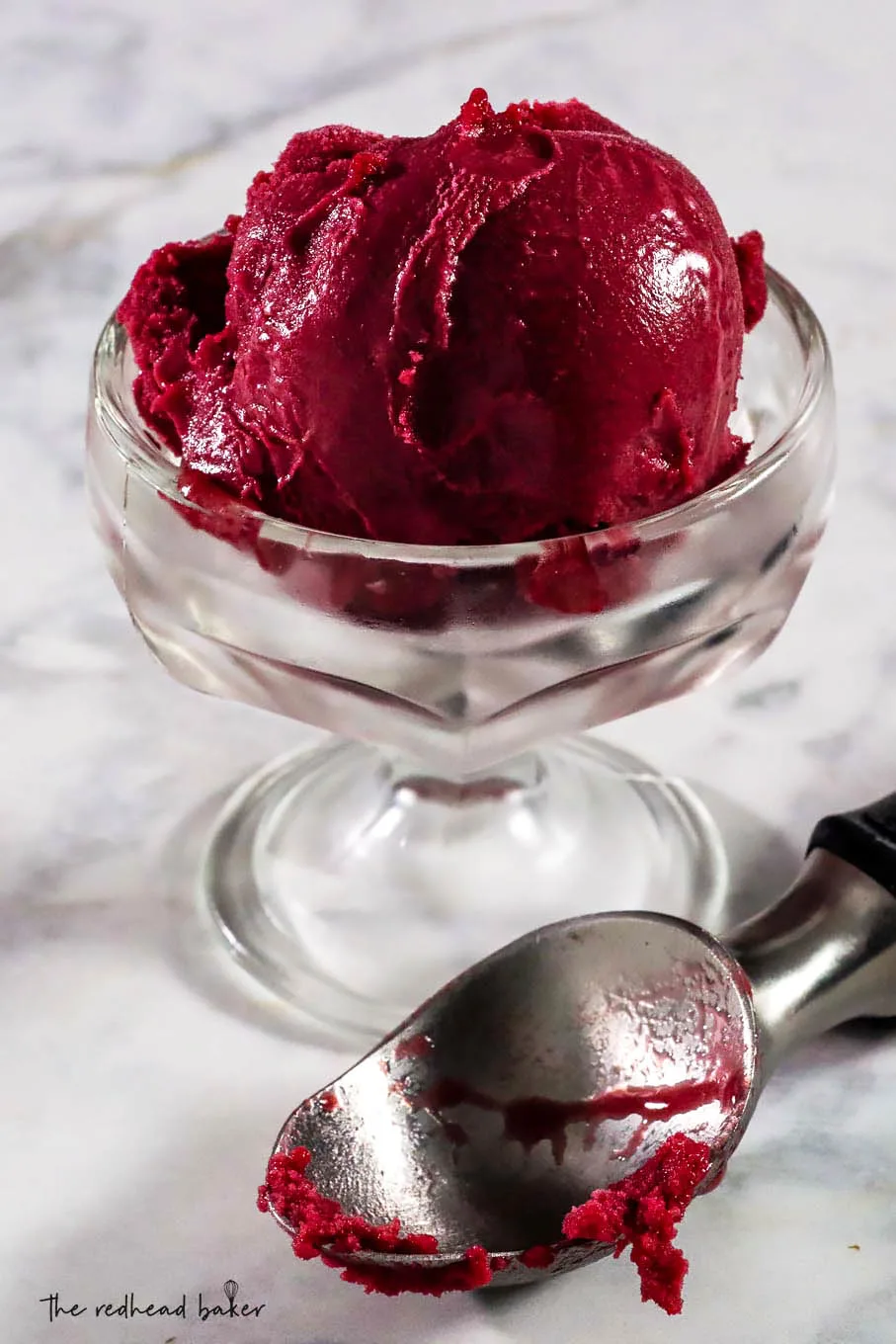 Pomegranate sorbet is made with just three ingredients: sugar, water and pomegranate juice. At its core, sorbet is simply a flavored syrup that's churned in an ice cream maker.
Since there's no dairy or egg, the dessert is naturally fat-free. The sweet-and-sour flavor makes it a great palate cleanser between courses of a meal.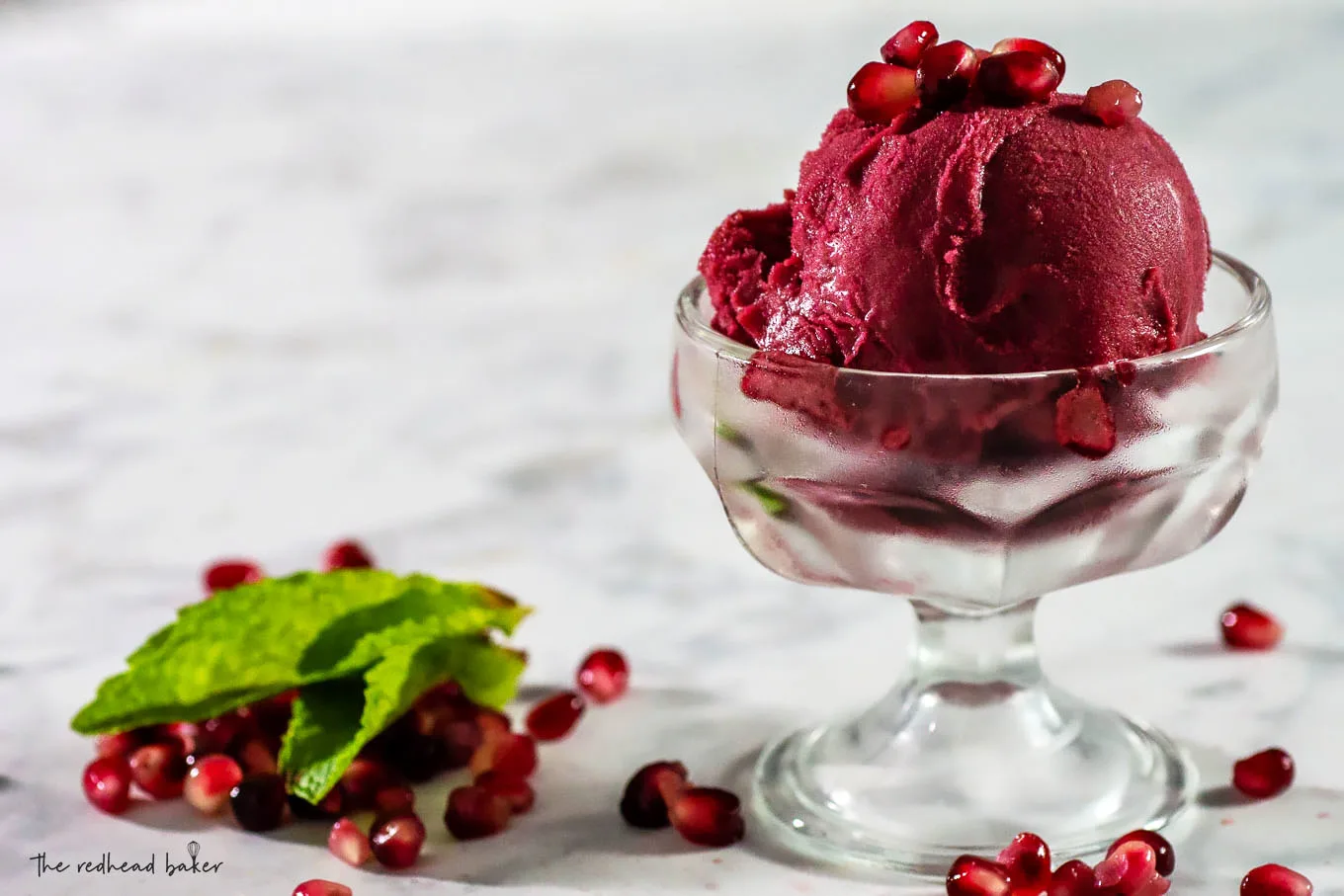 Certain types of fruit are better suited to making sorbet than others, such as those that contain naturally high amounts of pectin or fiber. Pomegranates' fiber comes from the seeds, so we don't get the benefit of the fiber in the sorbet.
That's why I've included about a teaspoon of powdered fruit pectin. Powdered fruit pectin is available at most grocery stores, or any store that sells canning supplies.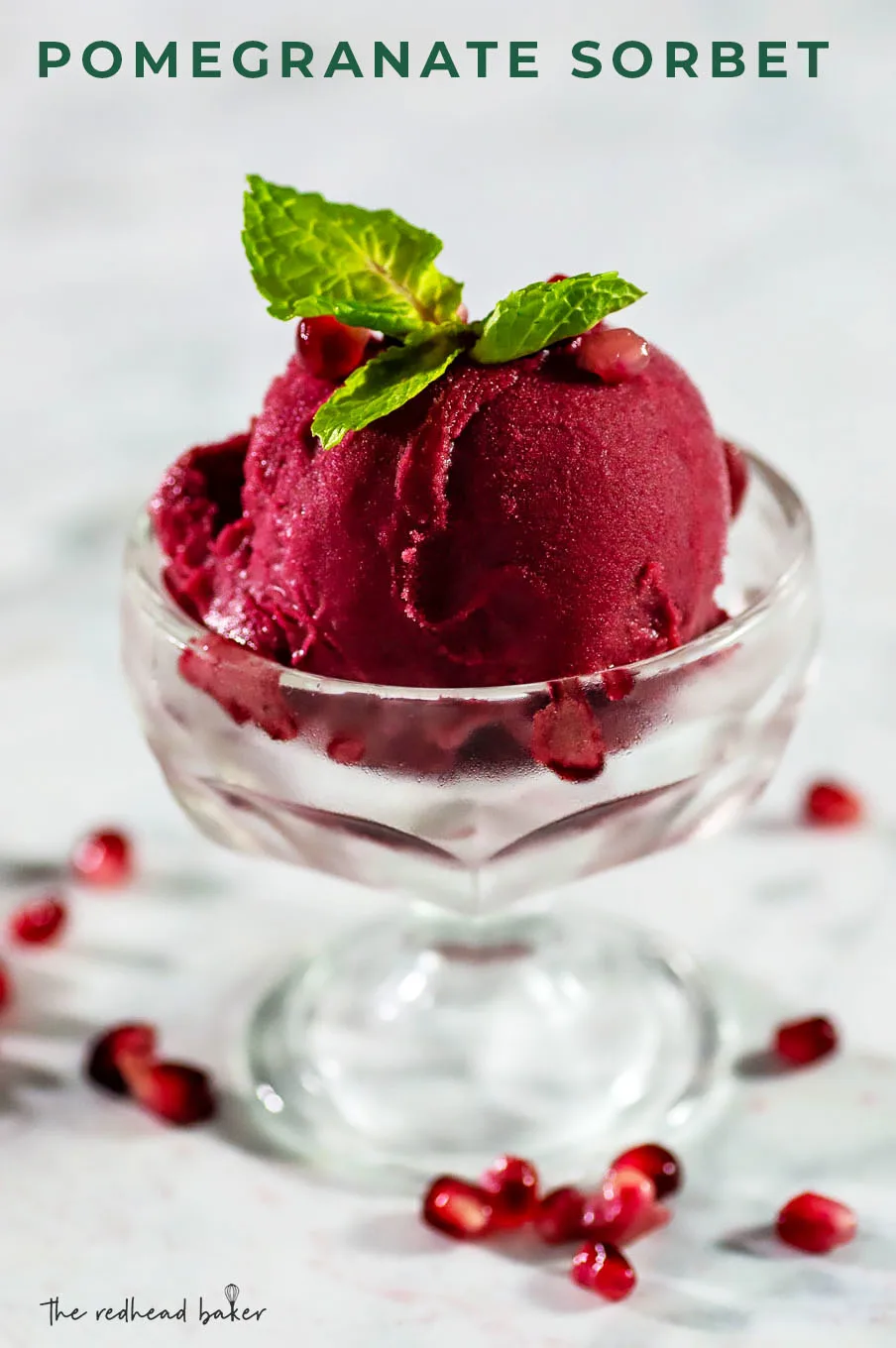 Similar to baking, there is a science to sorbet. You need to have the right ratio of sugar to water. Too little sugar, and you have a flavored block of ice. Too little water, and you get a sloppy mess.
How do you know if you have the right ratio? Perform the egg test! Grab an egg from your fridge. Wash it, then place it in your mixture before you churn it. You want to be able to see about a nickel-sized circle of shell. If the amount of visible shell is smaller, the mixture needs a little more simple syrup.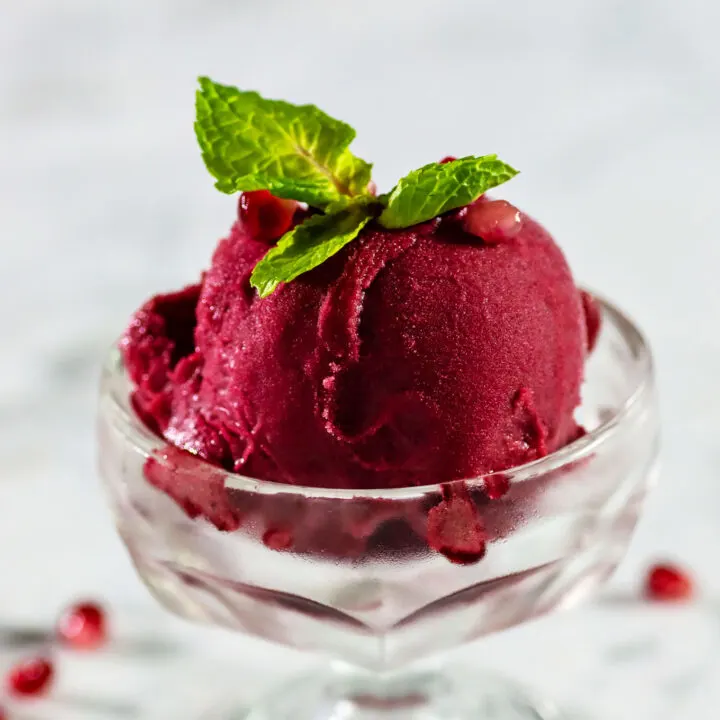 Pomegranate Sorbet
Total Time:
8 hours
20 minutes
Pomegranate sorbet is a sweet-tart dessert that's naturally fat-free! Garnish with pomegrante seeds and a sprig of mint for a refreshing treat.
Ingredients
1⁄2 cup sugar
¾ cup water
3 cups pomegranate juice, divided
1 teaspoon classic fruit pectin
Instructions
Place sugar, water, ½ cup pomegranate juice and the pectin in a large saucepan. Bring to a boil over medium heat, stirring constantly. Cook at a boil for 1 minute.
Remove from the heat, stir in the remaining pomegrante juice, and cool the mixture to room temperature, then chill for at least four hours, preferably overnight.
Process in an ice cream maker according to manufacturer directions. Transfer to a freezer-safe container and freeze at least 4 hours before serving.
Recommended Products
As an Amazon Associate and member of other affiliate programs, I earn a small percentage from qualifying purchases.
Nutrition Information:
Yield:

8
Serving Size:

½-cup
Amount Per Serving:
Calories:

99
Total Fat:

0g
Saturated Fat:

0g
Trans Fat:

0g
Unsaturated Fat:

0g
Cholesterol:

0mg
Sodium:

9mg
Carbohydrates:

25g
Fiber:

0g
Sugar:

24g
Protein:

0g
I am not a certified nutritionist. This nutrition information is automatically calculated by third party software and is meant as a guideline only.
Welcome to Progressive Eats, our virtual version of a Progressive Dinner Party. This month's theme is Everything Pomegranate -- from pomegranate juice to molasses to fresh arils straight from the fruit. Our host this month is Beth Lee who blogs at
OMG! Yummy
. If you're unfamiliar with the concept, a progressive dinner involves going from house to house, enjoying a different course at each location. With Progressive Eats it's a virtual party. We choose a theme each month, members share recipes suitable for a delicious meal or party, and you can hop from blog to blog to check them out. Come along and see all of the deliciousness we've put together for our celebration inspired dishes!
A Pomegranate Party
Cocktails
Appetizers
Salad
Main Courses
Sides
Desserts