I received an email from Nicole of The Giving Table several weeks ago, asking if I would dedicate one post to spreading awareness of childhood hunger. I said yes without hesitation, and she sent me some information, links, and post guidelines.
I have to say, reading the facts about childhood hunger is overwhelming and heartbreaking. One in five children lives in a home that struggles to put food on the table. Nearly 10 million children receive free or reduced-cost breakfast at school daily . . . but another 10.5 million eligible children do not.
Children who don't get enough to eat or adequate nutrition don't do as well in school. They get sick more often. They are less likely to graduate, which negatively impacts their job prospects. And they are less likely to earn enough to feed their own families later in life. It's a vicious cycle, perpetuated by our culture and government policies.
What is the solution? Food banks, while an integral part of the solution, can't do it alone. Children need access to food; low-income families need education on preparing low-cost, healthy meals; and everyone needs to spread awareness of the problem to advocate for policy change at the local, state, and federal levels.
What can you do? Two things:
Write to your Congressperson, and urge them to support anti-hunger legislation; and
Watch the documentary A Place at the Table. Find a screening near you, or via iTunes or Amazon. Educate yourself on this serious problem, and help spread awareness to others.
Current proposals in Congress are calling for cuts to the Supplemental Nutrition Assistance Program or SNAP, which provides limited benefits to those who earn a paycheck, but not enough to keep food on the table. Some recipients are allocated as little as $4 per person, per day for food. These struggling families need every penny they get. Yes, I know we are in troubling economic times, and expenses need to be cut, but cutting funding for families who are struggling to eat is not the place to cut. This will only perpetuate the cycle of poverty.
I disagree with Share our Strength that the solution to the problem of childhood hunger is simple. There are issues contributing to the problem that aren't addressed on their site, such as food deserts (a complete lack of access to fresh, healthy food in low-income areas); lacking the knowledge of how to cook, or not having access to adequate cooking appliances or tools; and lacking time to prepare healthy meals for the family (as many low-income families work more than one job).
But part of our mission of spreading awareness today is to show that it is possible to cook healthy, delicious meals on a limited budget. The recipe below, courtesy of Cooking Light, costs less than $3 per serving. It uses many pantry staples, so no need to run to specialty markets for fancy ingredients. The flavors of pork, pear and cranberry say "autumn," but serving as a salad is perfect for spring or summer. The meal feels light, but it is very filling.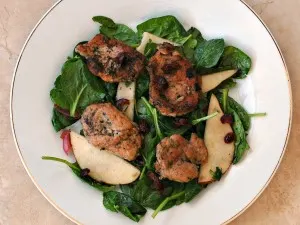 Pork Tenderloin, Pear, and Cranberry Salad
Recipe from Cooking Light
Ingredients
1 tablespoon apple cider vinegar
1 teaspoon Dijon mustard
¾ teaspoon light brown sugar
1 ½ teaspoon minced garlic, divided
1 ¼ teaspoon dried thyme, divided
1 pound pork tenderloin, trimmed and cut into ¼-inch-thick medallions
¾ teaspoon salt, divided
¾ teaspoon ground black pepper, divided
2 tablespoon all-purpose flour
¼ cup olive oil, divided
¼ cup sliced shallots (2 large)
¼ cup dried cranberries
¼ cup cranberry juice cocktail
6 cups baby spinach leaves
1 red Anjou pear, thinly sliced
Directions
Combine vinegar, mustard, sugar, ½ teaspoon garlic, and ¼ teaspoon thyme; set aside.
Combine pork and remaining 1 teaspoon garlic, remaining 1 teaspoon thyme, ½ teaspoon salt, and ½ teaspoon pepper; toss well to coat. Sprinkle pork mixture with flour; toss well. Let stand 5 minutes.
Heat 1 tablespoon oil in a medium saucepan over medium heat. Add shallots to saucepan; cook 3 minutes or until shallots are tender and lightly browned, stirring occasionally. Add cranberries and juice; cook until liquid is reduced to 2 tablespoons (about 2 minutes). Reduce heat to medium-low. Add vinegar mixture; cook 1 minute. Gradually add 1 tablespoon oil, remaining ¼ teaspoon salt, and remaining ¼ teaspoon black pepper, stirring well with a whisk. Cover and keep warm.
Heat 1 tablespoon oil in a large nonstick skillet over medium-high heat. Add half of pork to skillet; cook 3 minutes or until browned, turning once. Remove pork from skillet. Repeat procedure with remaining 1 tablespoon oil and remaining pork. Toss pork with 1 tablespoon warm cranberry mixture.
Combine spinach and pear in a large bowl. Drizzle with remaining cranberry mixture; toss well to coat. Arrange about 2 cups spinach mixture on each of 4 plates; top evenly with pork.
Number of servings (yield): 4
Calories: 360
Fat: 17g
Protein: 25g