This blog has been very quiet lately, and for that, I apologize. As I announced in an earlier post, I am pregnant, and my morning sickness is much worse this time around than with my first child. I'm (finally) in my second trimester, so I'm hoping my appetite will pick up and I'll feel like eating again. I miss food!
I received A Taste of Home Cooking as my blog assignment for the Blogger's Choice swap, who just so happens to host these swaps. Since, ironically enough, my "morning sickness" has been happening in the evening, the one meal each day I'm always up for eating is breakfast. I immediately went to her breakfast label. I considered the breakfast taquitos, originally seen on Pink Parsley, since I'd had those pinned for quite some time. But I kept scrolling, and saw the Egg, Brie, and Prosciutto breakfast sandwiches.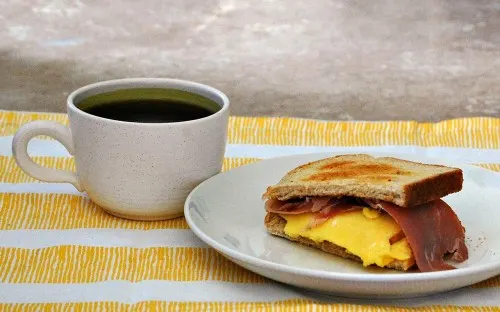 I love breakfast sandwiches. I love brie. I love prosciutto. My recipe choice was a no-brainer.
These were so delicious and came together relatively quickly. The eggs took only about four minutes to cook. These make for an indulgent weekend breakfast, but they are also easy enough to cook on a weekday morning, especially if you make the eggs the night before. Store the cooked eggs in the refrigerator, then warm in the microwave the next morning for about 20 seconds on high heat.
I omitted the scallions called for in the original recipe because I didn't have any on hand. Other than that, I didn't make any changes. I let the Brie sit out at room temperature for about 30 minutes to soften to make it spreadable. I got the prosciutto sliced at the deli counter, though some stores sell it in pre-sliced packages. I bought a pre-sliced loaf of Pepperbridge Farm Sourdough bread, though you could get a sourdough boule (a rustic, bowl-shaped loaf of bread) from a bakery as well and slice it yourself.
These sandwiches elicited a "Wow!" from The Mister, and I definitely enjoyed them as well. I'll be making these often.
Egg, Brie, and Prosciutto Breakfast Sandwiches
Recipe from A Taste of Home Cooking
Ingredients
4 large eggs
½ teaspoon salt
1 tablespoon milk
2 teaspoon olive oil
4 thick slices sourdough bread
4 ounces Brie cheese, at room temperature
4 ounces prosciutto
Directions
In a bowl, thoroughly whisk together the eggs, salt and milk until bubbly.
Heat the olive oil in a large nonstick skillet over medium heat.
Once heated through, drop the heat to medium-low, and add the egg mixture. Let sit in the hot pan for a minute, then gently stir. Let sit another minute until the bottom begins to set. Using a large spatula, carefully flip portions of the cooked egg so that the liquid egg runs to the bottom to cook. Turn off the heat, leaving the pan on the stove, and let the eggs finish cooking.
While the eggs finish, lightly toast each slice of bread. Spread one ounce of Brie on each slice, then cut each slice in half.
Spoon one quarter of the egg mixture onto four of the half bread slices. Layer one ounce of prosciutto on top of the egg, then top with another half bread slice. Serve immediately.
Preparation time: 5 minute(s)
Cooking time: 5 minute(s)
Number of servings (yield): 4 sandwiches
To see more recipes from the What's Cooking Blogger's Choice Swap, click the thumbnails below!