This post is sponsored in conjunction with PumpkinWeek. I received product samples from sponsor companies to aid in the creation of the PumpkinWeek recipes. All opinions are mine alone.
This pumpkin cheesecake Danish braid only looks harder to make than it is. Inside the flaky pastry is a creamy, warmly-spiced pumpkin cheesecake filling.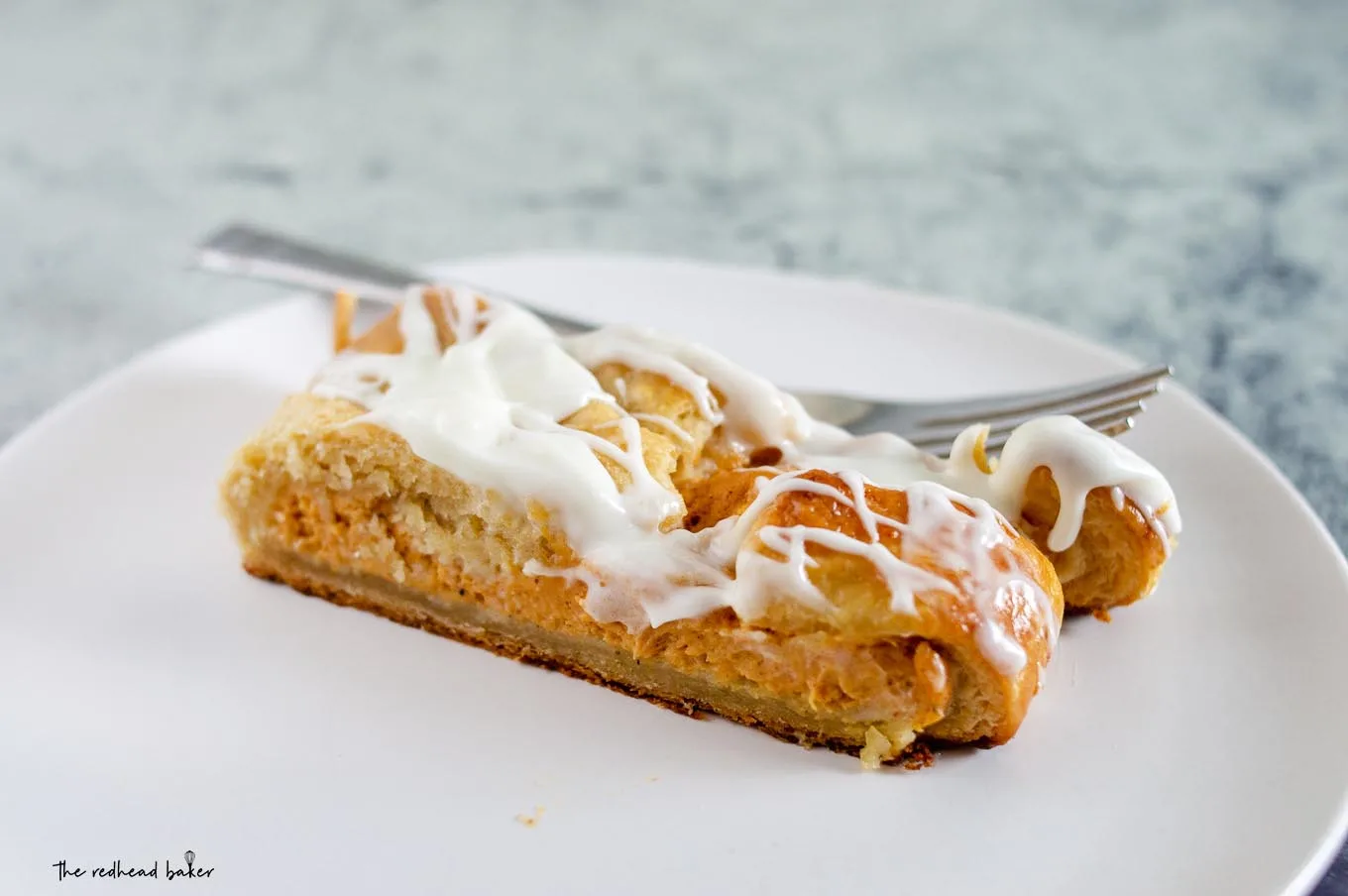 Welcome to Day 2 of #PumpkinWeek! One of my favorite weeks of the year! Did you read about the giveaway prizes and enter to win yet? If not, click on over to Monday's post to get all the info you need.
Today's pumpkin recipe is one of my favorites—a pumpkin cheesecake Danish braid. I made an apple variation on this earlier this year. I use a food processor to help cut down on the time and effort of laminating the butter in the dough. The result is still a tender, flaky pastry.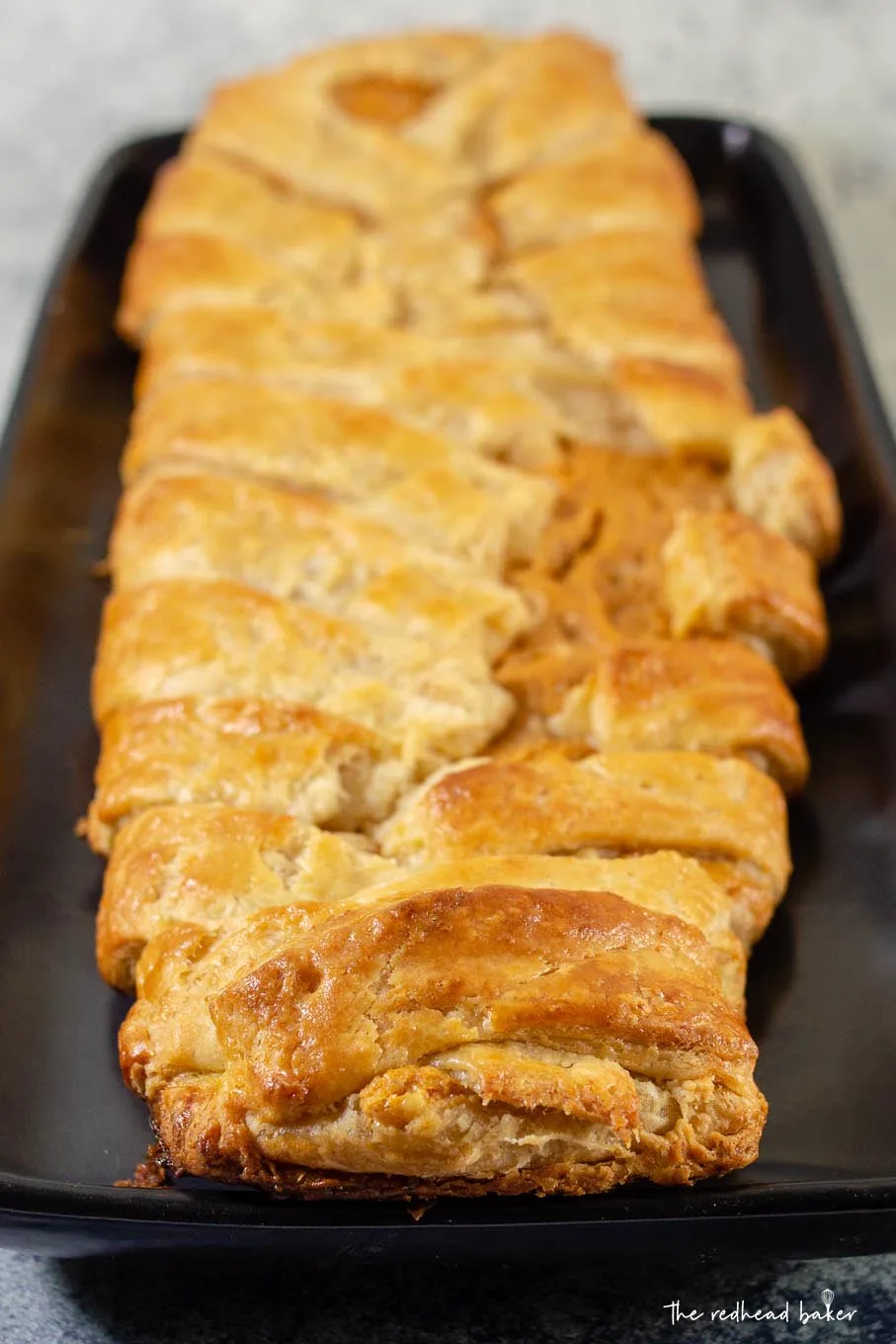 I love making Danish braids, because the presentation is so beautiful, and it looks like it was a lot of effort to make, but it's really not. Yes, there is yeast involved, but the beauty of instant yeast is that you don't need to proof it in warm water, so there's no worries about water temperature being too hot or too cold.
I don't worry too much about rolling my dough to exactly 11 inches by 14 inches, either. I mean, roughly, yes. But I don't break out a measuring tape. Part of the beauty of a Danish braid is that it should look a little rustic. It's better to err on the side of too wide than not wide enough, because as you can see in the photo above, strips that aren't wide enough won't stay in place during baking.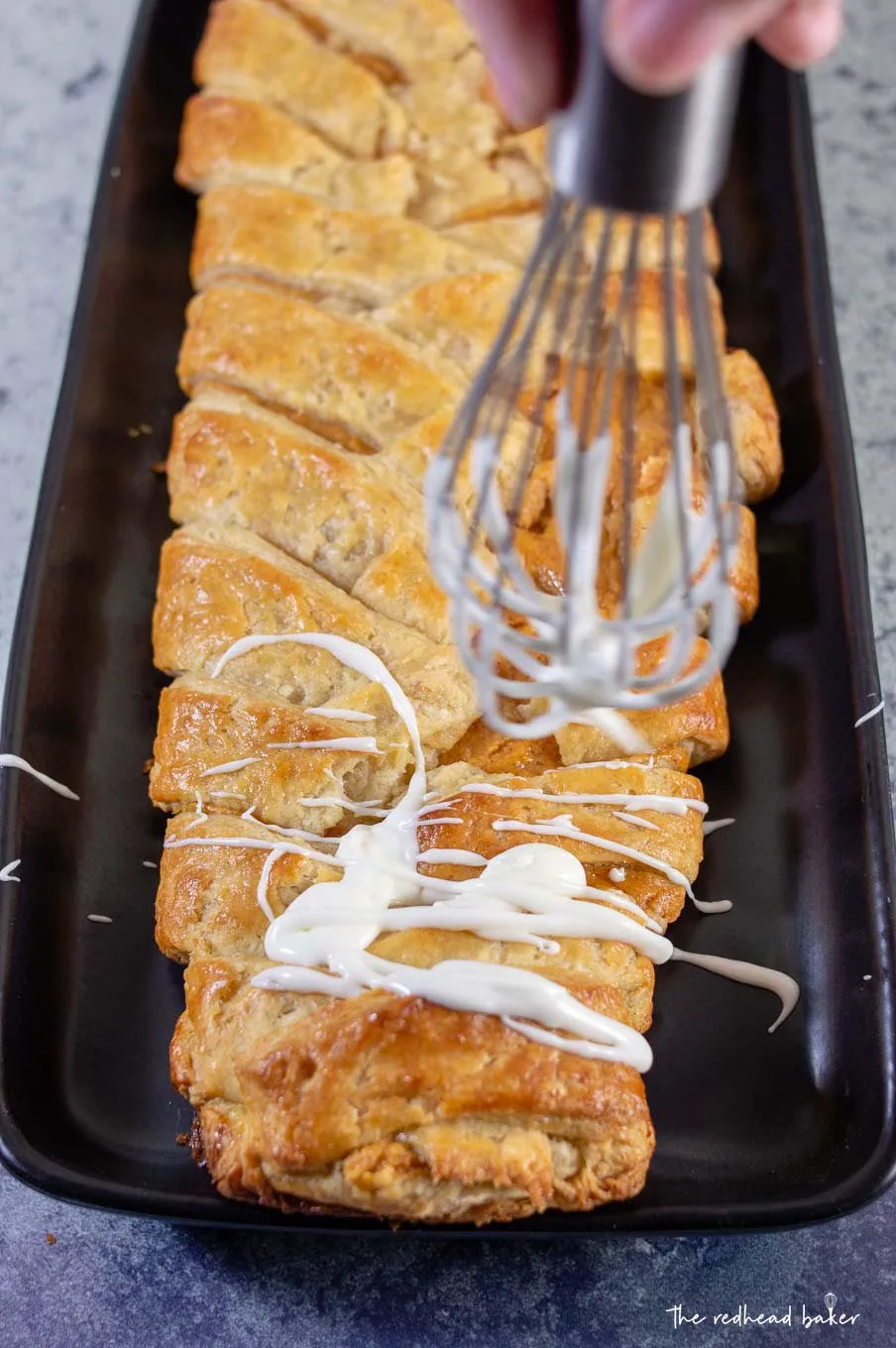 And let's not forget the filling. The creamy, cinnamon-y, pumpkin-y filling. It smells SO GOOD while it's baking. It's much thicker than actual pumpkin cheesecake batter, so that it doesn't run all over while you're trying to spoon it down the center of the pastry during assembly.
The icing is optional; this would also be delicious with a nice coating of sifted powdered sugar. If you choose to go with the icing, use the measurements as a guideline. If your icing is too thick to drizzle, add more cream or milk by the teaspoonful until you get to the desired consistency. Also, if you like, feel free to substitute maple extract for the vanilla, which would complement the pumpkin flavor nicely.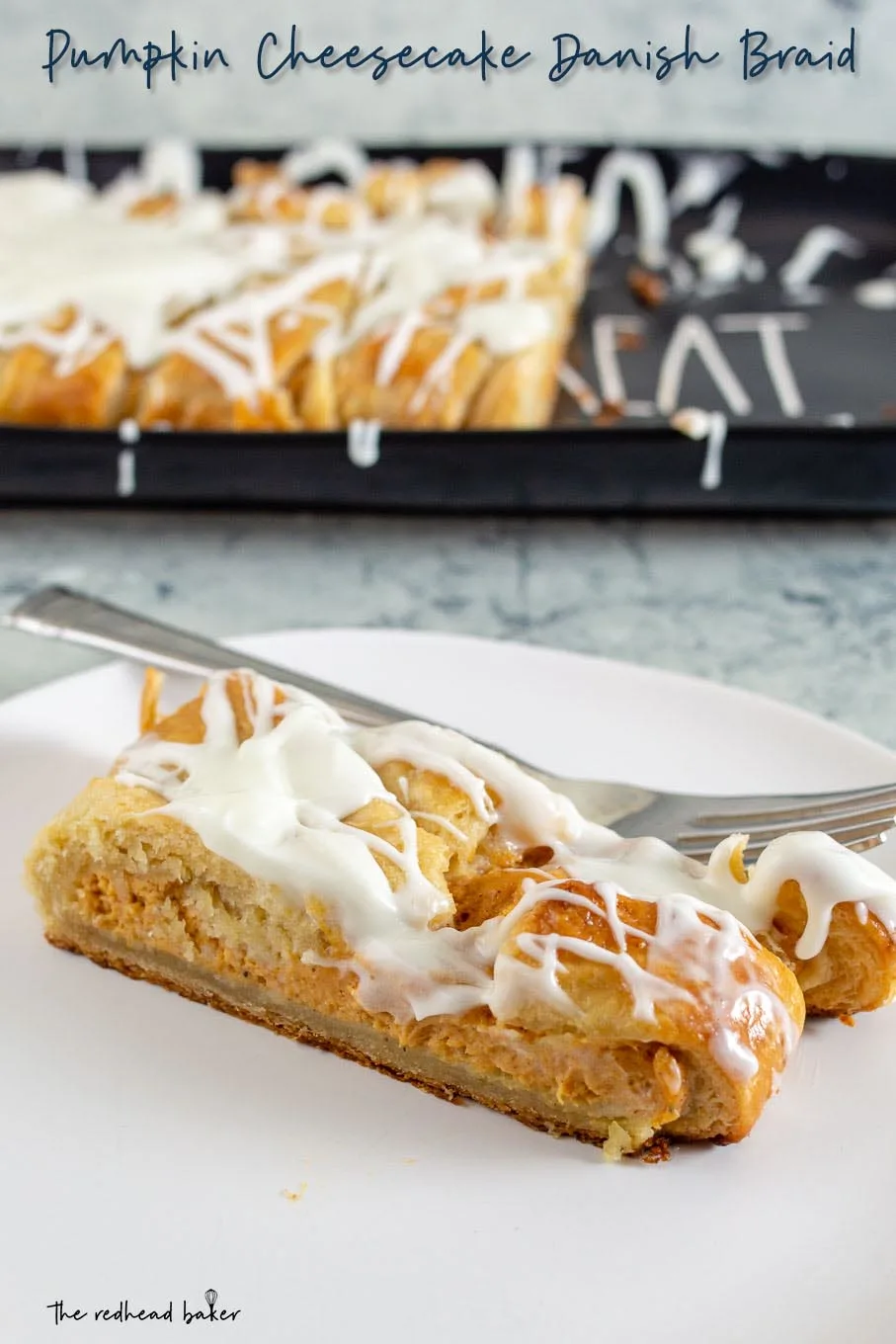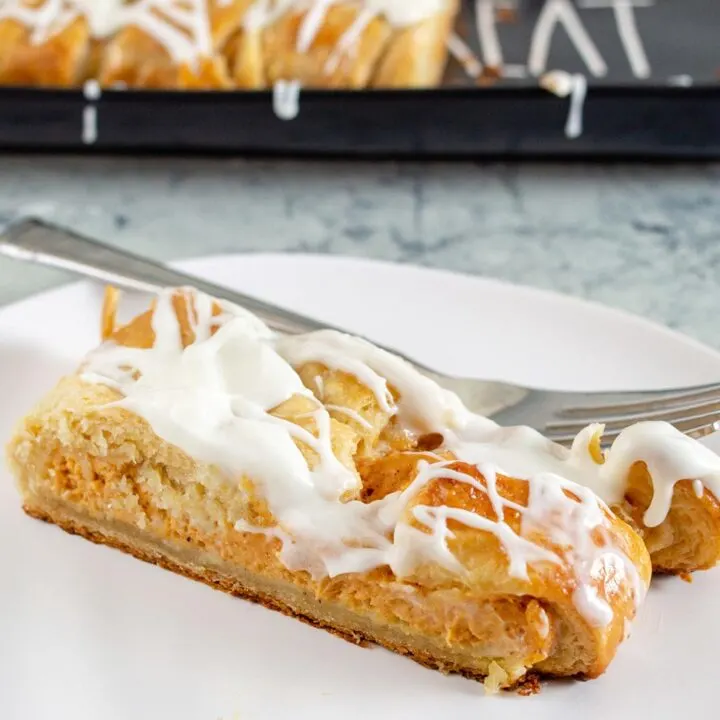 Pumpkin Cheesecake Danish Braid
Total Time:
7 hours
25 minutes
This pumpkin cheesecake Danish braid looks harder than it is. Inside the flaky pastry is a creamy, warmly-spiced pumpkin cheesecake filling.
Ingredients
For the dough
1 ½ cups bread flour , 6 ¾ oz by weight
2 tablespoon Dixie Crystals brown sugar
2 teaspoon instant yeast
¾ teaspoon kosher salt
14 tablespoon cold unsalted butter, cubed, 7 oz by weight
1 large Egglands egg
¼ cup half-and-half
½ teaspoon vanilla extract
For the filling
¾ cup cream cheese, softened, 6 oz by weight
½ cup pumpkin puree, 4 oz by weight
½ cup sugar, 3.5 oz by weight
½ teaspoon cinnamon
¼ teaspoon nutmeg
1 teaspoon vanilla extract
For the egg wash
1 large Egglands egg
1 tablespoon water
For the glaze
⅔ cup powdered sugar, 2 ⅝ oz by weight
4 tablespoon heavy cream
½ teaspoon vanilla extract
Instructions
Combine the flour, sugar, yeast and salt in the bowl of a food processor. Add the butter and pulse to combine. The mixture should be the size of small peas. Transfer this mixture to a medium mixing bowl.
In a measuring cup, whisk together the half and half, egg and vanilla extract. Pour over the dry ingredients and fold with a rubber spatula until the dry ingredients are fully moistened and forming large clumps.
Turn the dough out onto a piece of plastic wrap, shape into a small rectangle, and wrap well. Chill for at least 3 hours, and up to 2 days.
On a lightly floured surface, using a floured rolling pin, roll the dough out to an 8-by-15-inch rectangle. With a short side facing you, fold the dough in thirds like a letter, bringing the top third of the dough down, then folding the bottom third up. Use a dough scraper to help lift and fold the dough if necessary. At this point, the dough will have visible butter pieces; as you roll and fold the dough the pieces will become laminated in flour and no longer visible. Rotate the dough 90 degrees.
Repeat the rolling and folding process, then rotate the dough once more and roll and fold again for a total of three turn-and-folds. As you work, dust the work surface, your hands and the rolling pin with flour as necessary. Wrap the dough in plastic wrap and refrigerate for at least 1 hour or overnight.
Repeat the entire rolling and folding process three more times for a grand total of six turns. If the dough starts to fight you and become difficult to roll at any point, just chill it in the fridge for an extra 10-minute rest. Wrap the dough and refrigerate for at least 2 hours, or overnight.
On the day you plan to bake the braid, make the filling: in a small bowl, beat together the cream cheese, pumpkin, sugar, spices, and vanilla. Set aside.
On a lightly floured silicone baking mat, roll the dough into an 11-by-14-inch rectangle. Arrange so a short side is facing you. With a bench scraper or the backside of a knife, very lightly mark off a 3-inch section lengthwise down the center of the dough. (Don't cut through the dough, you're just creating a guide for yourself.) Cut 1-inch strips perpendicular to the lengthwise guidelines with a bench scraper (never use a knife on a silicone baking mat), on either side of the 3-inch section. Cut off the top and bottom corner strips, leaving the center flap.
Spread the pumpkin cream cheese mixture down the 3-inch section of the pastry, leaving about an ⅛-inch border on all sides.
Fold up the top and bottom ends of the center section to create a barrier for the filling. Starting at the top, fold each strip in at a slight angle over the filling, alternating from left to right. Make sure the strips are overlapping by about ½ inch so they don't open up while baking. Gently slide the silicone baking mat with the Danish braid onto a rimmed baking sheet.
Cover the pastry loosely with plastic wrap and let rest until slightly puffed, about 1 hour. While dough is rising, heat the oven to 425 degrees.
Make the egg wash: in a small bowl, beat together the egg and water. Gently brush the top and sides of the pastry with the egg wash. Bake for 10 minutes then turn the pan 180 degrees and reduce the heat to 375 degrees. Bake until deep golden brown and puffed, another 10 to 15 minutes more.
Remove the pan from the oven to a wire cooling rack. Just before serving, whisk together the icing ingredients. Add more heavy cream by the teaspoonful until it reaches the desired drizzling consistency. Drizzle the icing over the braid with a spoon.
Slice the braid with a serrated bread knife into 8 pieces and serve.
Nutrition Information:
Yield:

1
Serving Size:

serving
Amount Per Serving:
Calories:

497
Saturated Fat:

19g
Cholesterol:

130mg
Sodium:

313mg
Carbohydrates:

45g
Fiber:

1g
Sugar:

26g
Protein:

6g
More PumpkinWeek Recipes:
Savory:
Cheesy Pumpkin Chorizo Burritos from Rants From My Crazy Kitchen
Fall-Flecked Stuffed Grape Leaves from Culinary Adventures with Camilla
Pumpkin Gnocchi with Sage Butter Sauce from A Kitchen Hoor's Adventures
Pumpkin Harvest Stew from Wholistic Woman
Pumpkin Mac N Cheese from Sweet Beginnings
Rosemary Cheddar Pumpkin Rolls from Cookaholic Wife
Baked Goods & Desserts:
Cinnamon Pumpkin French Toast Casserole from Daily Dish Recipes
Easy Pumpkin Spice Pull-Apart Bread with Cinnamon Vanilla Glaze from Family Around the Table
Pumpkin Bundt Cake Recipe from April Golightly
Pumpkin Cheesecake Danish Braid from The Redhead Baker
Pumpkin Cheesecake Milkshake from A Day in the Life on the Farm
Pumpkin Chiffon Pie from House of Nash Eats
Fluffy Pumpkin Cheesecake Dip from The Crumby Kitchen
Pumpkin Dulce de Leche Bread Pudding from The Nifty Foodie
Pumpkin Halwa from Caroline's Cooking
Pumpkin Pasties- Harry Potter Style from Jonesin' For Taste
Pumpkin Tart with Pumpkin Spiced Whipped Cream from Love and Confections
Disclaimer: Thank you PumpkinWeek Sponsors: Dixie Crystals, Cabot Cheese, and Eggland's Best for providing the prizes free of charge. These companies also provided the bloggers with samples and product to use for PumpkinWeek recipes. All opinions are my own. The PumpkinWeek giveaway is open to U.S. residents, age 18 & up. All entries for the winner will be checked and verified. By entering you give the right to use your name and likeness. The number of entries received determines the odds of winning. Three (3) winners will be selected. The prize packages will be sent directly from the giveaway sponsors. The PumpkinWeek Bloggers are not responsible for the fulfillment or delivery of the prize packages. Bloggers hosting this giveaway and their immediate family members in their household cannot enter or win the giveaway. No purchase necessary. Void where prohibited by law. This promotion is in no way sponsored, endorsed or administered by, or associated with Facebook, Instagram, Pinterest, Twitter or any other social channel mentioned in the PumpkinWeek posts or entry.