If you find pre-made pumpkin liqueur too cloying, you'll love this pumpkin pie martini made with real pumpkin and spices.
Welcome to #PumpkinWeek day 4! Hosted by Terri from Love and Confections, 19 bloggers will be sharing 65 pumpkin-filled recipes over the course of the week. Be sure to come back every day to see all the delicious creations - from muffins to cakes, cocktails, breakfast baked goods, savory pastas and stews, and gluten-free recipes too. You can also find these great recipes and more on Love and Confections' #PumpkinWeek Pinterest Board!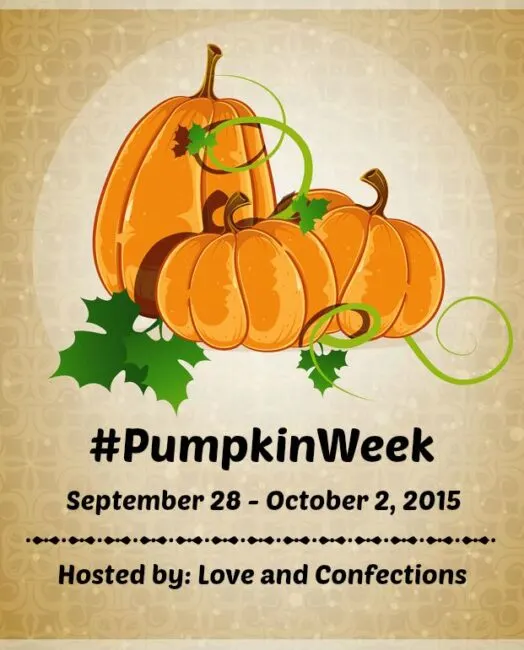 Last year, I was picking up some wine for Thanksgiving when I spied some pumpkin liqueur in the liquor store. I love just about anything pumpkin-flavored, and pumpkin liqueur sounded pretty good. We made pumpkin martinis at my son's third birthday party (yup, we're THAT family, we had a blast!), and while tasty, the pumpkin liqueur was cloyingly sweet.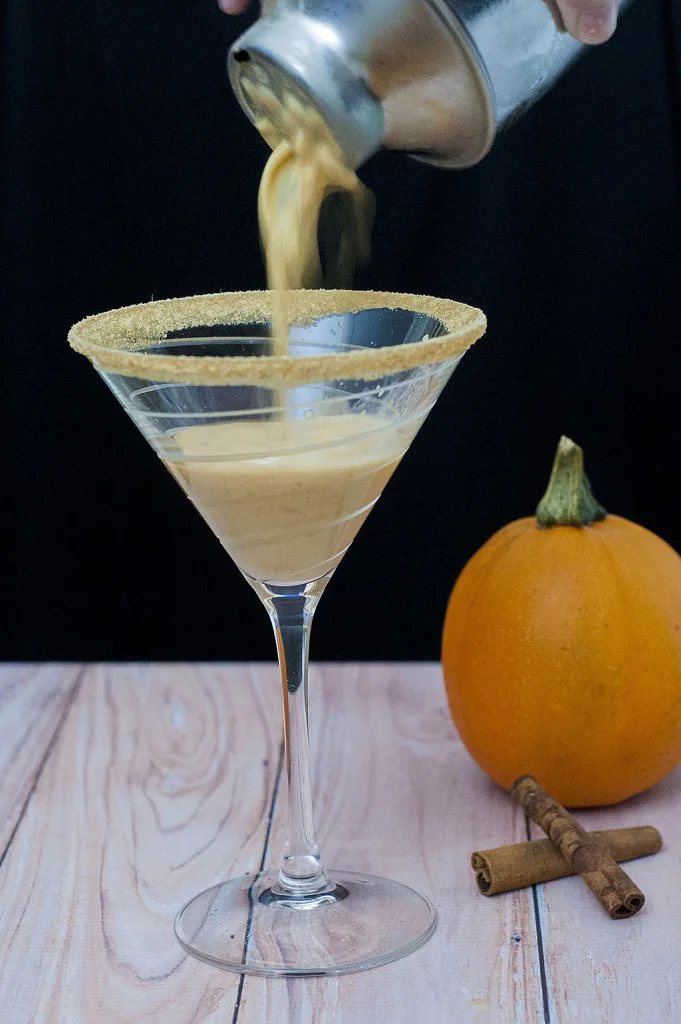 For PumpkinWeek, I set about figuring out if I could make pumpkin liqueur on my own. It's certainly possible, but not only did most not seem to be as creamy as store-bought pumpkin liqueur, most take around 3 months to infuse, and I just didn't have enough time. Then I wondered if I could just add pumpkin to the martini. I stumbled upon a recipe by Real Simple, but made a few tweaks. I'll have you know I drank three martinis (on an empty stomach, no less) in one night trying to get it right.
The resulting martini was a huge success (or maybe I was drunk), if I say so myself. By shaking the pumpkin with the ice and other ingredients in the cocktail shaker, the puree gets broken up and dissolves in the other liquids. I used whipped cream vodka, but you can use vanilla, or just plain old regular vodka if that's what you have on hand.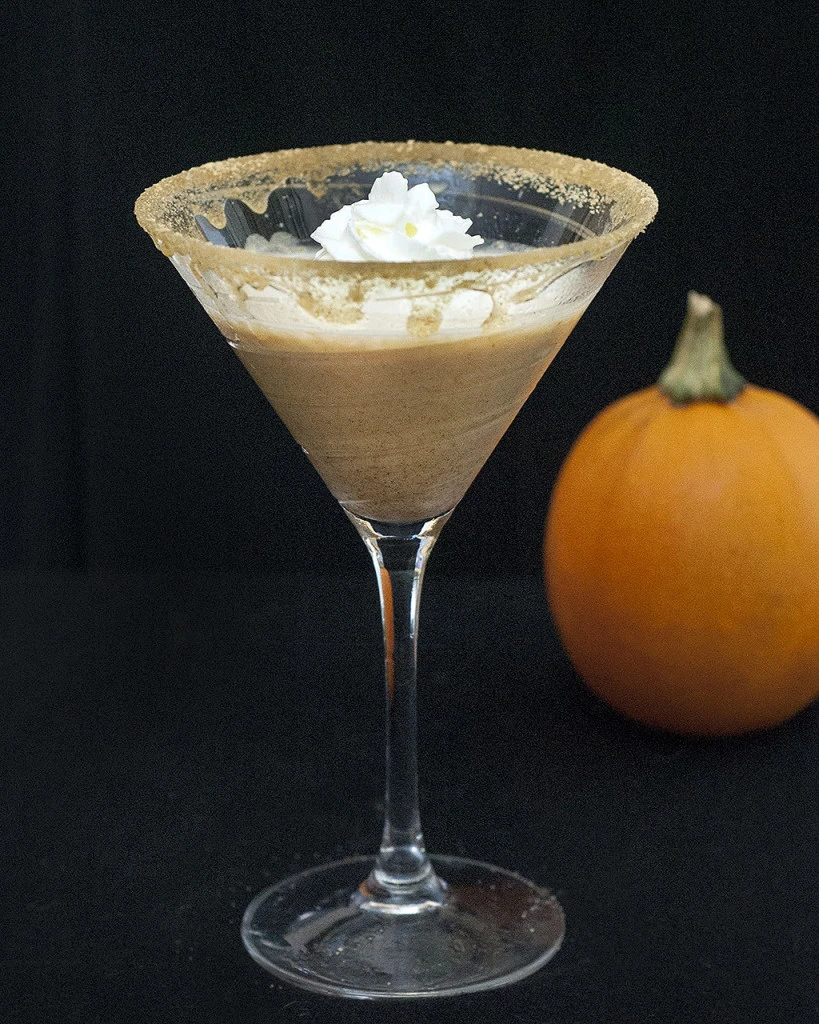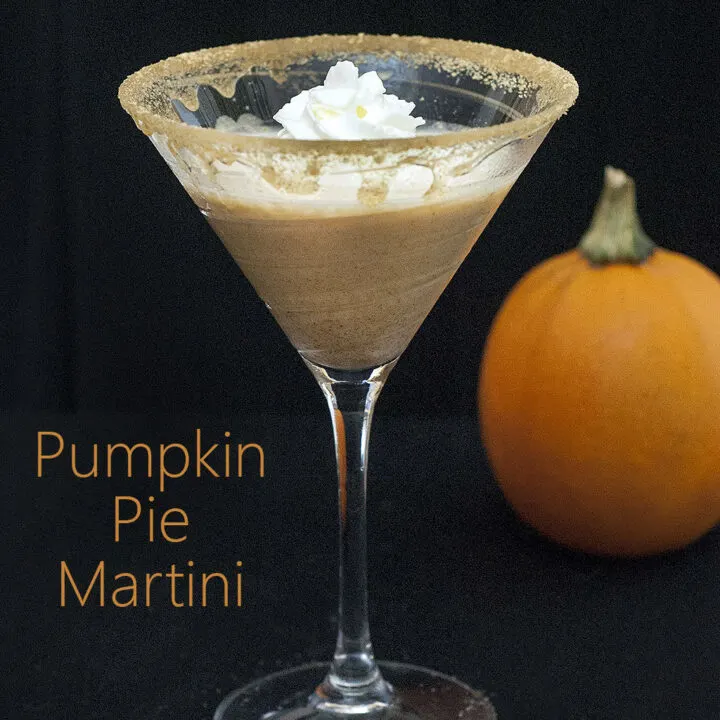 Pumpkin Pie Martini
Ingredients
1 graham cracker sheet
Honey, for rimming glass
¾ cup whipped cream-flavored vodka, 4 shots
½ cup half-and-half
¼ cup pumpkin puree
¼ cup maple syrup or honey
1 ¼ teaspoon vanilla extract
Pinch each of cinnamon, ginger and nutmeg
Whipped cream, for garnish
Instructions
Place the graham cracker in a mini food processor and pulse to fine crumbs.
Place the graham cracker crumbs and honey in separate shallow dishes.
Dip the rims of 4 chilled martini glasses first in the honey, then in the graham cracker crumbs.
Place the remaining ingredients in a cocktail shaker filled with ice. Shake vigorously for 30 seconds, then strain the mixture into the four prepared glasses.
Garnish with whipped cream and serve.
Adapted from Real Simple
#PumpkinWeek day 4 recipes: