Who says pumpkin desserts are just for chilly weather? Blend pumpkin, spices, cream cheese and ice cream for a decadent pumpkin cheesecake milkshake!
Welcome to #PumpkinWeek day 2! Hosted by Terri from Love and Confections, 19 Bloggers will be sharing 65 pumpkin-filled recipes over the course of the week. Be sure to come back every day to see all the delicious creations - from muffins to cakes, cocktails, breakfast baked goods, savory pastas and stews, and gluten-free recipes too. You can also find these great recipes and more on Love and Confections' #PumpkinWeek Pinterest Board!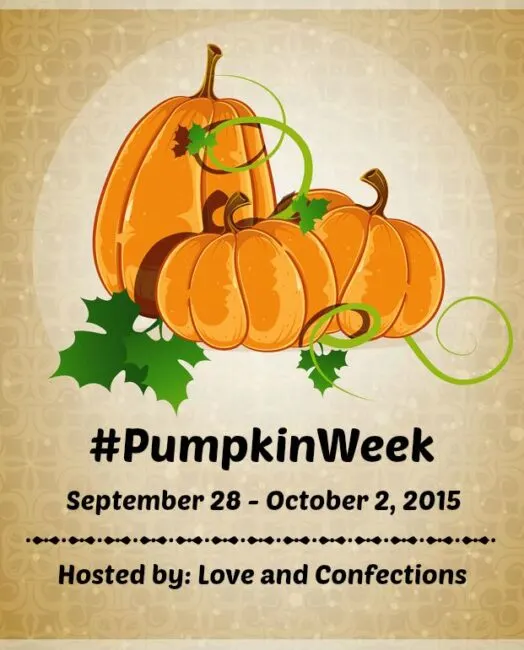 Today's recipe was inspired by a local convenience store. Over the summer, they introduced a line of fruit-flavored cheesecake milkshakes. The strawberry cheesecake milkshake was so decadent and delicious, the perfect snack on a warm summer night. Our weather has started to cool off (there are several days with forecasted highs in the 60s in the local five-day forecast), but no matter how cold it gets, I will never pass up ice cream or milkshakes. So how great would it be to have a fall-flavored cheesecake milkshake?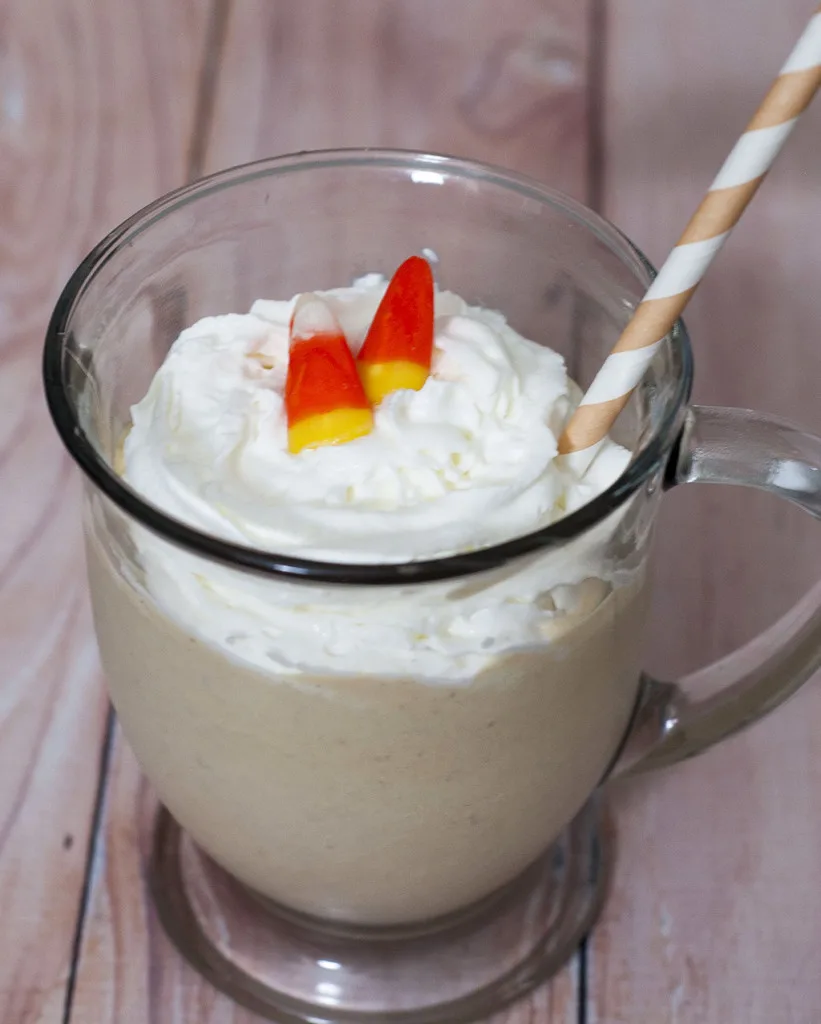 Milkshakes always take me back to my childhood. I'd come inside after a long day of playing with my friends, and get a bath. Then I'd go downstairs and Dad would make me a chocolate milkshake, which I'd drink while we watched the baseball game together. Mine was always chocolate; his was always "black and white," or a blend of vanilla and chocolate.
Even though this is a cold drink, let your cream cheese come to room temperature before blending. Cream cheese is so thick, and having it at room temperature helps it blend better with the other ingredients. If you want to "adult it up," add a shot of rum, brandy, or even whipped cream-flavored vodka. I garnished mine with candy corn, but crumbled gingersnaps or graham crackers would be delicious as well.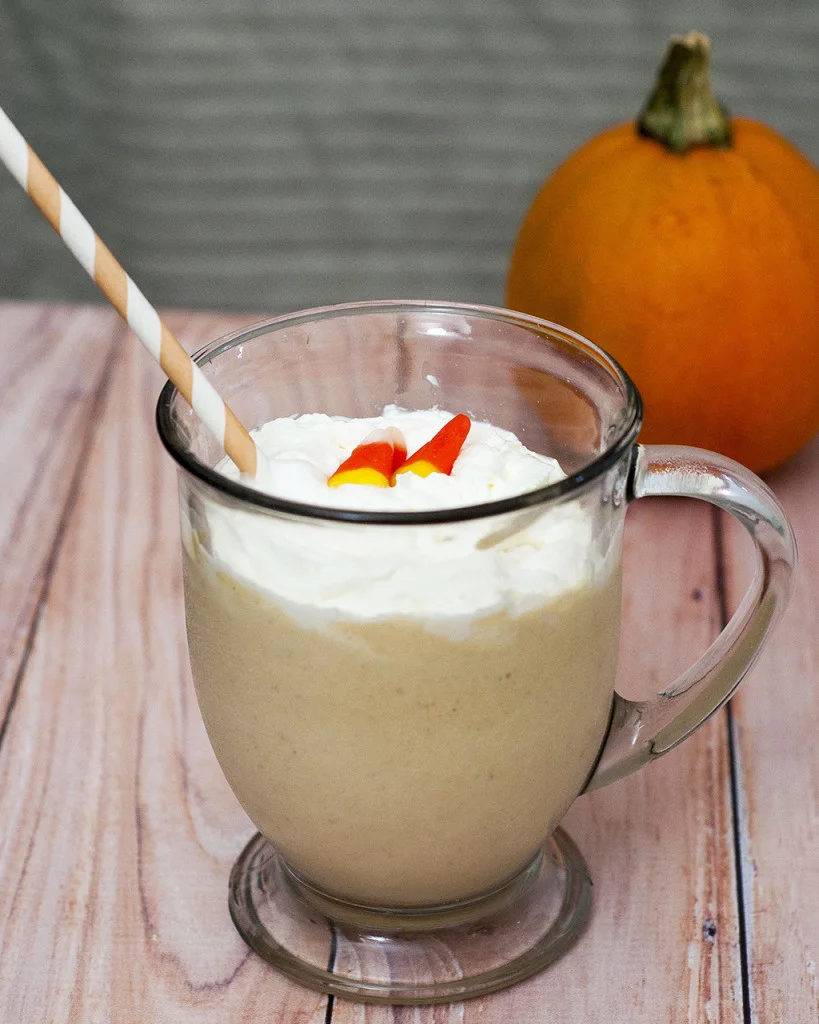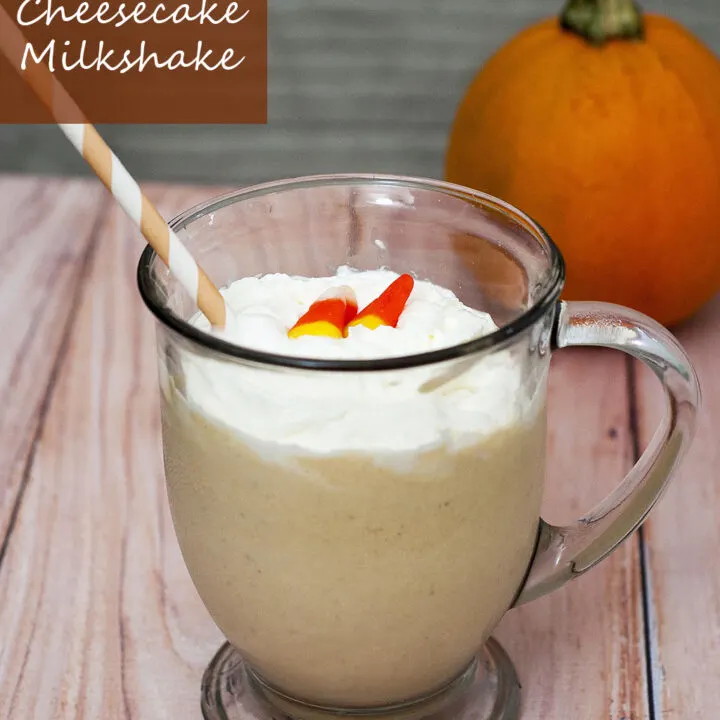 Pumpkin Cheesecake Milkshake
Ingredients
2 oz cream cheese, at room temperature
2 tablespoon pumpkin puree
¼ cup whole milk
¼ teaspoon ground cinnamon
⅛ teaspoon nutmeg
1 cup vanilla ice cream
Whipped cream, for garnish
Instructions
Place all of the ingredients except the ice ceram in a blender. Puree on high speed until well-blended.
Add the ice cream to the blender and puree until thick and smooth.
Pour into a glass, garnish with whipped cream, and serve immediately.
An original recipe by The Redhead Baker
#PumpkinWeek Day 2 Recipes: