This pumpkin tiramisu is a light and airy twist on the Italian classic. It's no-bake and best when made ahead, which makes it perfect for a holiday dessert!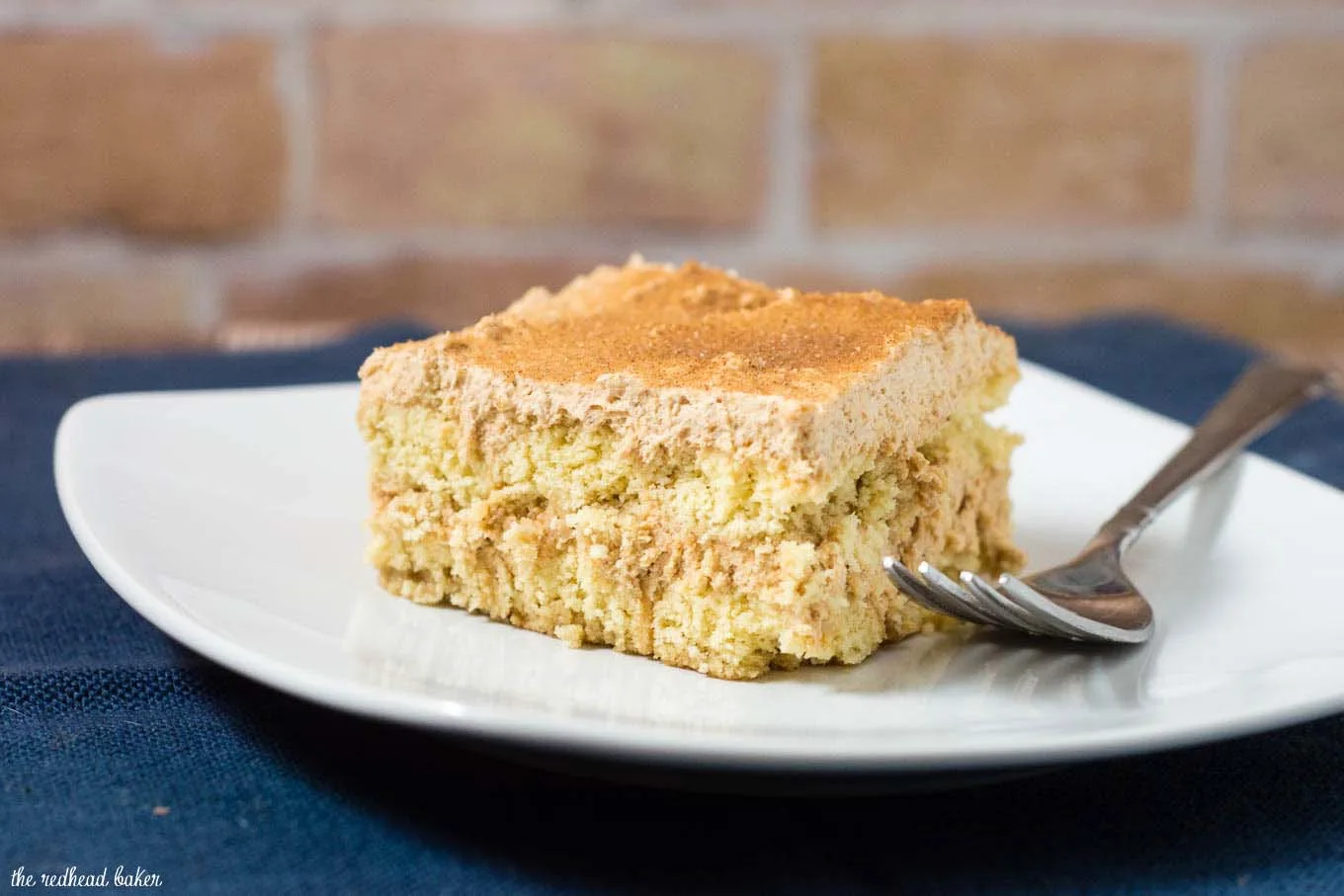 It's my favorite time of year — Pumpkin Week! I teamed up with a group of food bloggers to share all kinds of pumpkin recipes, including drinks, savory recipes, sweet recipes — even dog treats!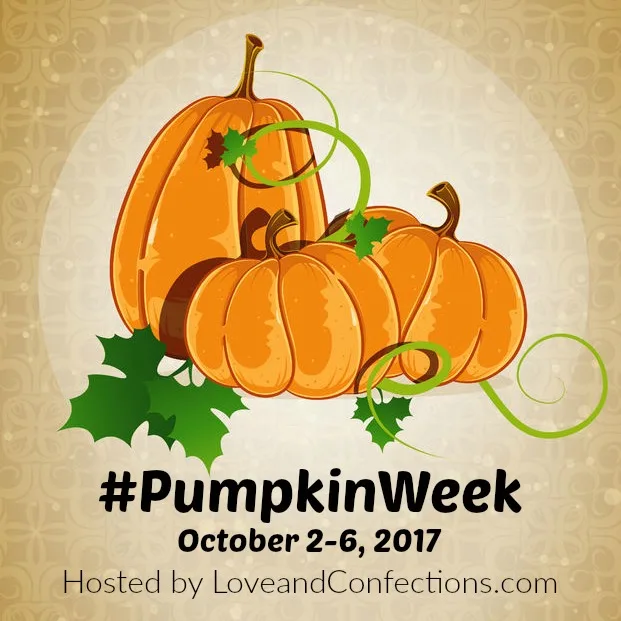 My final Pumpkin Week recipe is my most favorite: pumpkin tiramisu. I love all kinds of tiramisu: original, lemon-flavored, etc. If there is tiramisu on a restaurant dessert menu, you can be sure I'll order it.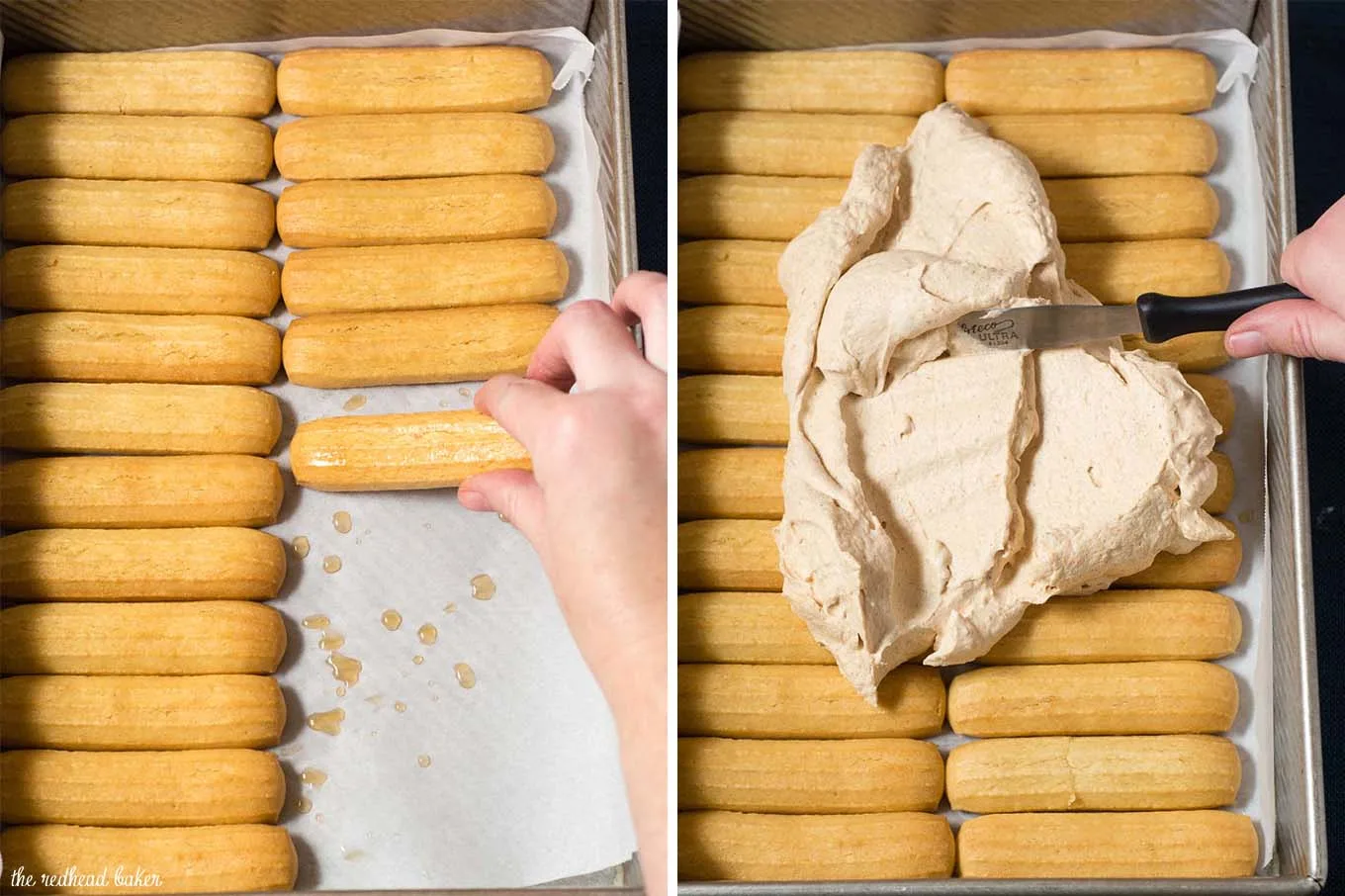 Unlike original tiramisu, however, this one doesn't contain raw egg, so it's safe for the immuno-compromised and pregnant women to eat. There's no need for an egg, because pumpkin acts like an egg in that it binds ingredients together and moistens the finished dish. Kids probably shouldn't eat this, because of the liqueur in the coffee mixture that the ladyfingers soak in. You can substitute hazelnut coffee syrup, but reduce the ⅔ cup of sugar to ⅓ cup.
Speaking of that liqueur, typically, tiramisu is flavored with marsala wine. In this recipe, it's swapped for hazelnut liqueur, which complements the pumpkin flavor better. And let me tell you, that soaking liquid smells SO GOOD while it's simmering.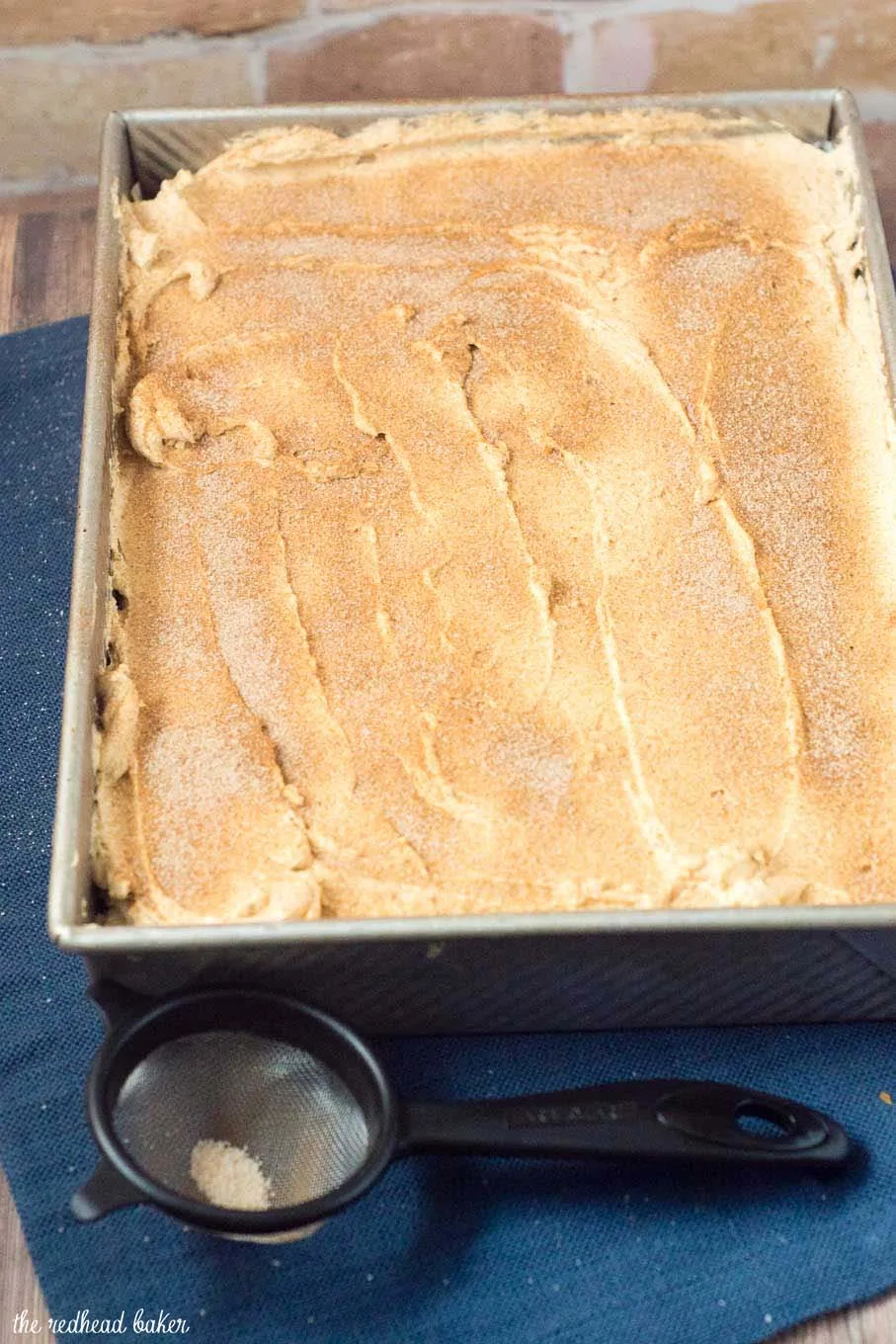 While original tiramisu is finished with a light sifting of cocoa powder or chocolate, this pumpkin tiramisu is coated in a light layer of cinnamon sugar. You could still go with the chocolate, if you prefer, but I prefer the cinnamon sugar.
This is a simply delicious recipe. The pumpkin cream is light and airy. My husband, who isn't a particular fan of pumpkin OR tiramisu, went back for seconds. Because it's no-bake, and best when made ahead, it's an ideal dessert for a large holiday meal, like Thanksgiving.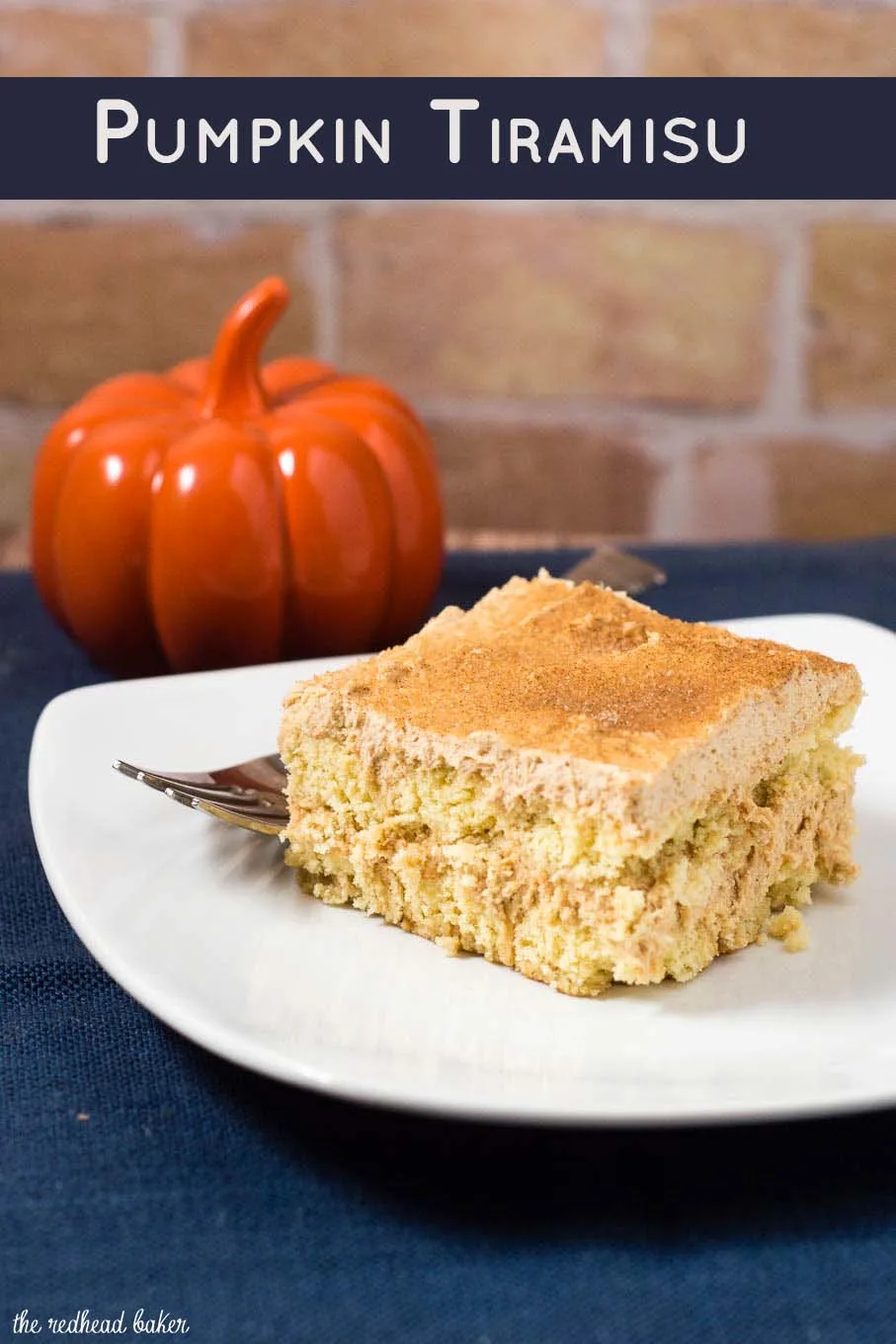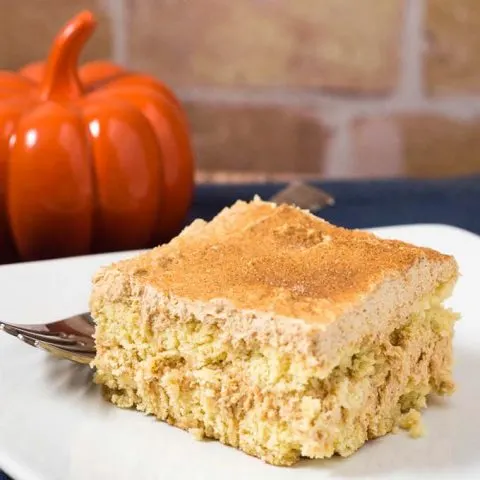 Pumpkin Tiramisu
Ingredients
For the soaking liquid
1 cup water
1 cup strong brewed coffee
⅔ cup sugar
⅔ cup hazelnut liqueur
For the pumpkin cream
16 oz mascarpone cheese
¾ cup canned pumpkin
8 tablespoon sugar, divided
1 ½ teaspoon ground cinnamon
½ teaspoon ground nutmeg
¼ teaspoon ground ginger
¼ teaspoon ground allspice
¼ teaspoon ground cloves
1 ¼ cups heavy whipping cream
For assembly
48 crisp ladyfinger cookies
1 tablespoon sugar
½ teaspoon ground cinnamon
Instructions
Line the bottom of a 13x9 baking pan with parchment or wax paper. Set aside.
In a small saucepan, combine the water, coffee, sugar and liqueur; cook and stir over medium-low heat until sugar is dissolved, about 3 minutes. You're just heating to dissolve the sugar, not to reduce the liquid. Transfer to a shallow bowl; cool completely.
In a large bowl, beat together the mascarpone cheese, pumpkin, 6 tablespoons of the sugar and spices just until blended.
In a small bowl, beat cream until it begins to thicken. Add the remaining 2 tablespoons of sugar; beat until soft peaks form. Fold into the pumpkin/mascarpone mixture.
One at a time, dip 18 ladyfingers into coffee mixture, long enough to absorb some of the liquid, but not so long that they start to fall apart. Allow excess liquid to drip off. Arrange in a single layer in the prepared dish. Spread with half of the pumpkin/cheese mixture with an offset spatula. Repeat with 18 more ladyfinger cookies, then the remaining cream.
Mix sugar and cinnamon; sift over the top of the tiramisu. Refrigerate, covered, at least 8 hours or overnight.

Here are today's #PumpkinWeek recipes:
Pumpkin Drink Recipes:
Savory Pumpkin Recipes:
Sweet Pumpkin Recipes:
Other Pumpkin Recipe: