This post is sponsored by Rodelle. All opinions are my own. This post also contains affiliate links. When you make a purchase through an affiliate link, I get a small percentage of the sale.
Naturally gluten-free flourless chocolate cake is rich, dense, and has intense chocolate flavor. Top with whipped cream, ice cream or fruit sauce.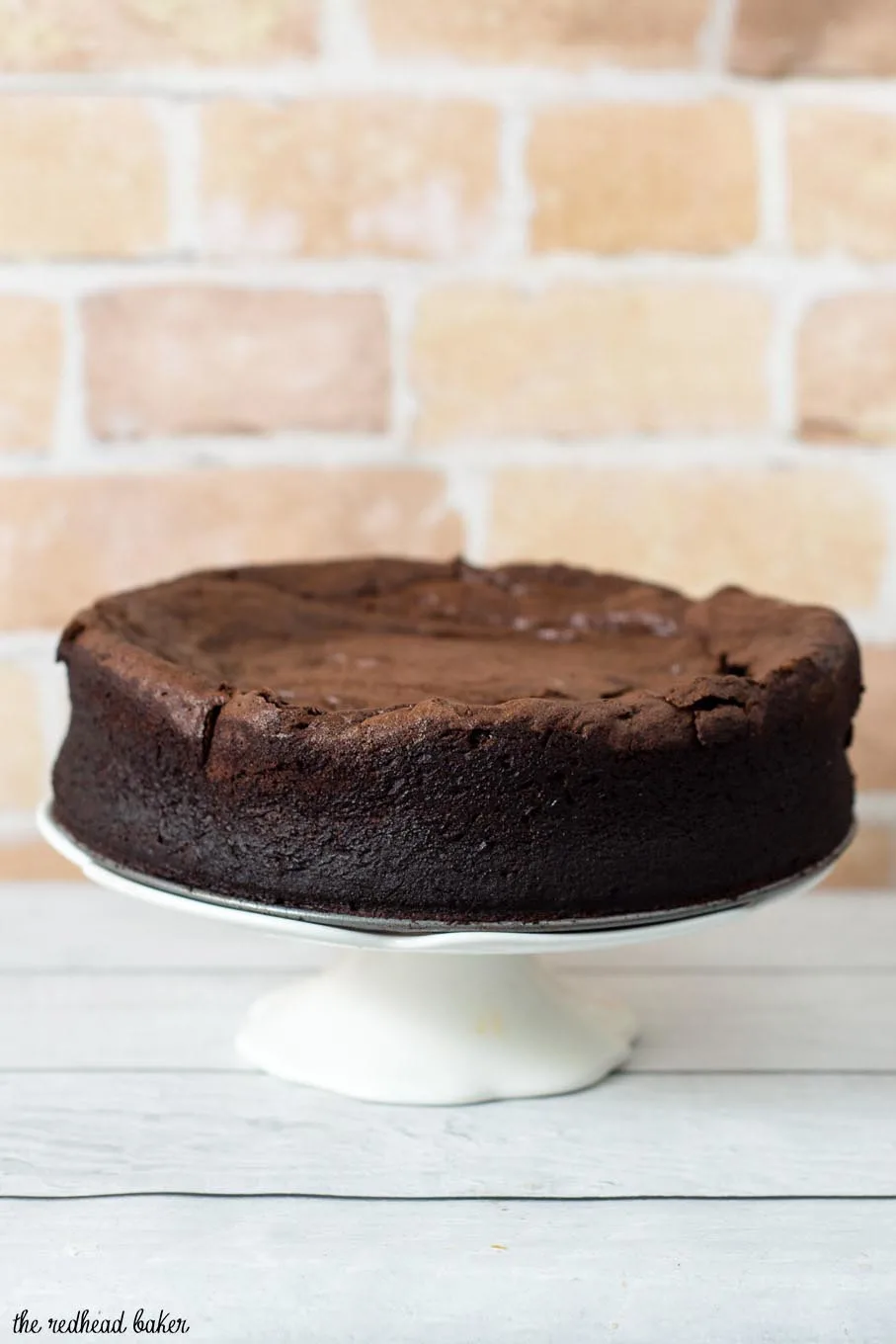 Today is one of my favorite days of the year, because it is the official start of #Choctoberfest. This is the third annual food blogger celebration of all things chocolate, made possible thanks to our gold sponsor Imperial Sugar and the other sponsors listed below.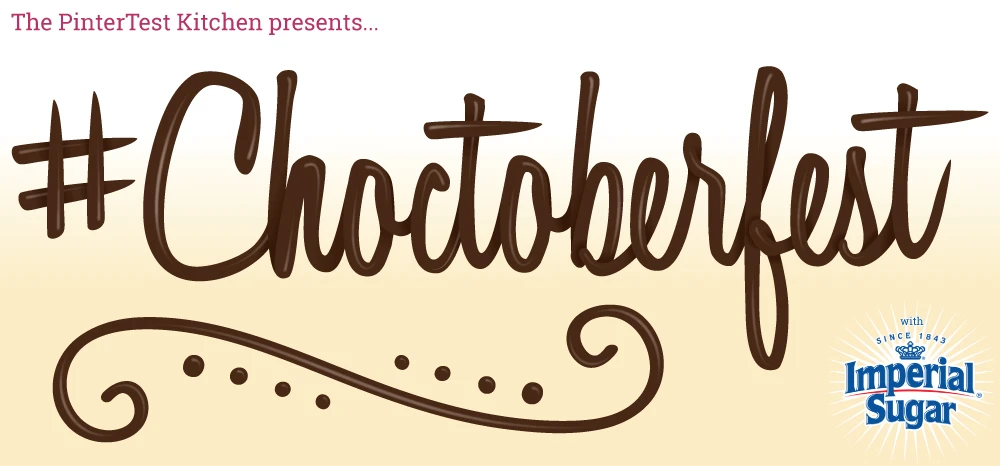 Over 70 bloggers are participating in #Choctoberfest 2017 and will be posting 200+ chocolate recipes over the next week. Keep your eyes peeled, visit any of the blogs listed below, or use the #Choctoberfest hashtag on Instagram, Twitter, and Facebook to follow along. You can also check out our #Choctoberfest Pinterest board, where we post chocolate recipes all year long.
You can also enter to win our #Choctoberfest prize pack. Thank to our amazing sponsors who are contributing the following items for the prize:
This prize pack is valued at over $450! To enter, simply follow participating sponsors and bloggers using the below giveaway widget.
Stay tuned to see the delicious recipes bloggers have cooked up using Imperial Sugar and Barlean's products. Thank you also to Davis Chocolate and Rodelle for being #Choctoberfest shoutout sponsors! Watch Instagram and Facebook to find out more about about their chocolate products.
Here is a complete list of all the bloggers participating in #Choctoberfest 2017, so you can see the recipes they are posting throughout the week:
The PinterTest Kitchen ♥ Fix Me a Little Lunch ♥ Savory Moments ♥ Crumbs in my Mustachio ♥ House of Nash Eats ♥ Bake It With Love ♥ That Recipe ♥ Hardly A Goddess ♥ Cooking With Carlee ♥ A Kitchen Hoor's Adventures ♥ Body Rebooted ♥ Cindy's Recipes and Writings ♥ The Redhead Baker ♥ Faith, Hope, Love, & Luck Survive Despite a Whiskered Accomplice ♥ Sweet Coralice ♥ Seduction in The Kitchen ♥ Cooks&Books&Recipes ♥ Everyday Eileen ♥ Under My Apple Tree ♥ Family Around The Table ♥ Bottom Left of the Mitten ♥ The Spiffy Cookie ♥ Fairyburger ♥ Join Us, Pull up a Chair ♥ Jonesin' For Taste ♥ Jane's Adventures in Dinner ♥ Take Two Tapas ♥ Jennifer Bakes ♥ The Unlikely Baker ♥ Hostess At Heart ♥ Karen's Kitchen Stories ♥ Kate's Recipe Box ♥ Kelly Lynns Sweets and Treats ♥ Wildflour's Cottage Kitchen ♥ Chocolate Slopes ♥ Little House Big Alaska ♥ Makes, Bakes and Decor ♥ 2 Cookin Mamas ♥ That Skinny Chick Can Bake ♥ Books n' Cooks ♥ Mildly Meandering ♥ Living Ideas ♥ Restless Chipotle ♥ Get the Good Stuff! ♥ The Weekday Gourmet ♥ An Affair from the Heart ♥ West Via Midwest ♥ Cookie Dough and Oven Mitt ♥ The Bitter Side of Sweet ♥ Cookaholic Wife ♥ Daily Dish Recipes ♥ For the Love of Food ♥ The Saucy Southerner ♥ Cook's Hideout ♥ By the Pounds ♥ Tramplingrose: Cooking, Baking & Ranting in Small-Town South Dakota ♥ Sarah Cooks the Books ♥ Chef Sarah Elizabeth ♥ Fantastical Sharing of Recipes ♥ Sarah's Bake Studio ♥ The Pajama Chef ♥ Frankly Entertaining ♥ Long Distance Baking ♥ Palatable Pastime ♥ The Freshman Cook ♥ The Food Hunter's Guide to Cuisine ♥ A Day in the Life on the Farm ♥ Wendy Polisi ♥ Tampa Cake Girl ♥ My Southern Sweet Tooth ♥ Canning and Cooking at Home ♥ Full Belly Sisters ♥ SuperSizeGuy.com ♥ Our Good Life ♥ The Life Jolie
Flourless Chocolate Cake
Flourless chocolate cake is a rich, decadent, intensely chocolate dessert. There is no flour in it at all, so as long as the rest of your ingredients are gluten-free (such as Rodelle Dutch processed cocoa powder), it's safe for those with Celiac disease, no specialty flours needed!
The cake's texture and structure comes from whipped egg whites, which are folded into a mixture of melted chocolate, cocoa powder, beaten egg yolks, and butter.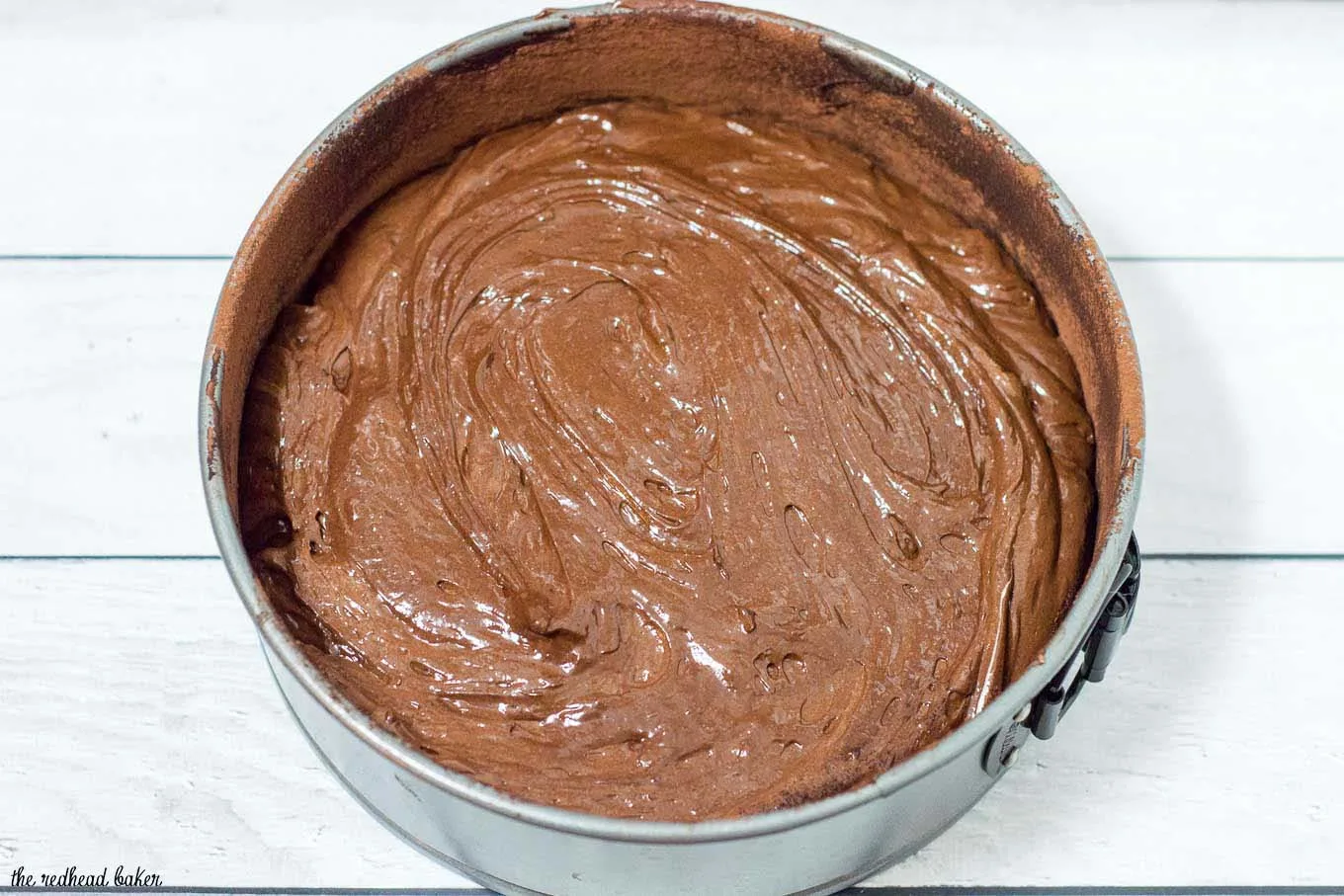 I highly recommend separating your eggs as soon as you take them out of the refrigerator. They separate better when cold, and this helps ensure you don't get any yolk in your egg whites. If there is any fat in your egg whites (or in the mixing bowl or on your beaters), then the egg whites won't whip to their fullest potential.
Since chocolate is the star of this recipe, use the highest quality chocolate you can find and afford. I recommend one that is between 60 and 64% cacao.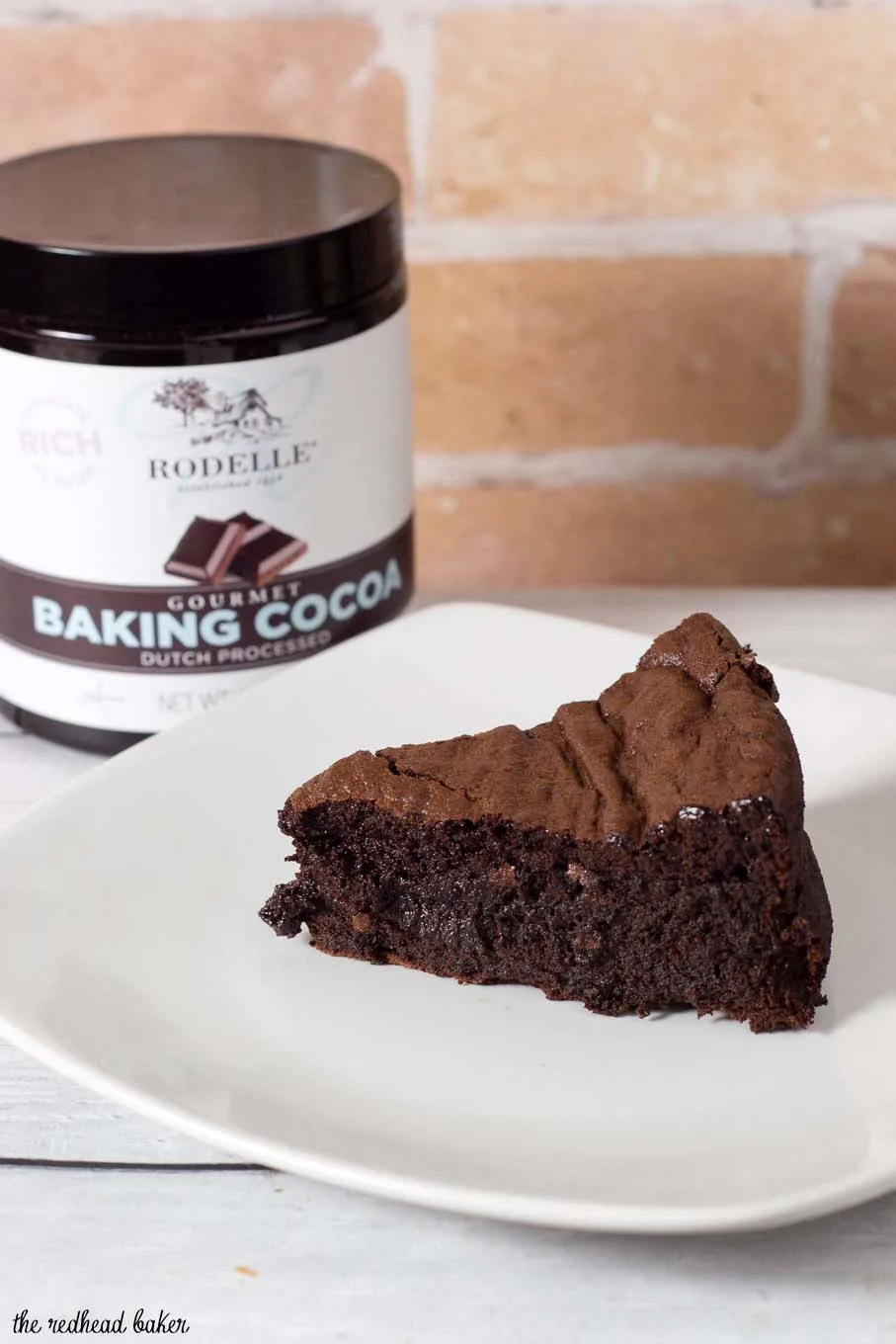 In addition to chocolate, this recipe also calls for Dutch processed cocoa powder. What is Dutch processed? It is cocoa powder that is washed with a potassium carbonate solution that neutralizes cocoa's acidity. What does that mean? The resulting product has a smoother, more mellow flavor. In particular, Rodelle contains antioxidants, dietary fiber and calcium, and is kosher, too.
Dutch processed cocoa can be substituted for natural cocoa powder, but if your recipe calls for baking soda, you'll need to substitute baking powder instead, which can be a bit tricky, as you need two to three times the amount of baking powder as baking soda, which can affect the taste of your baked product.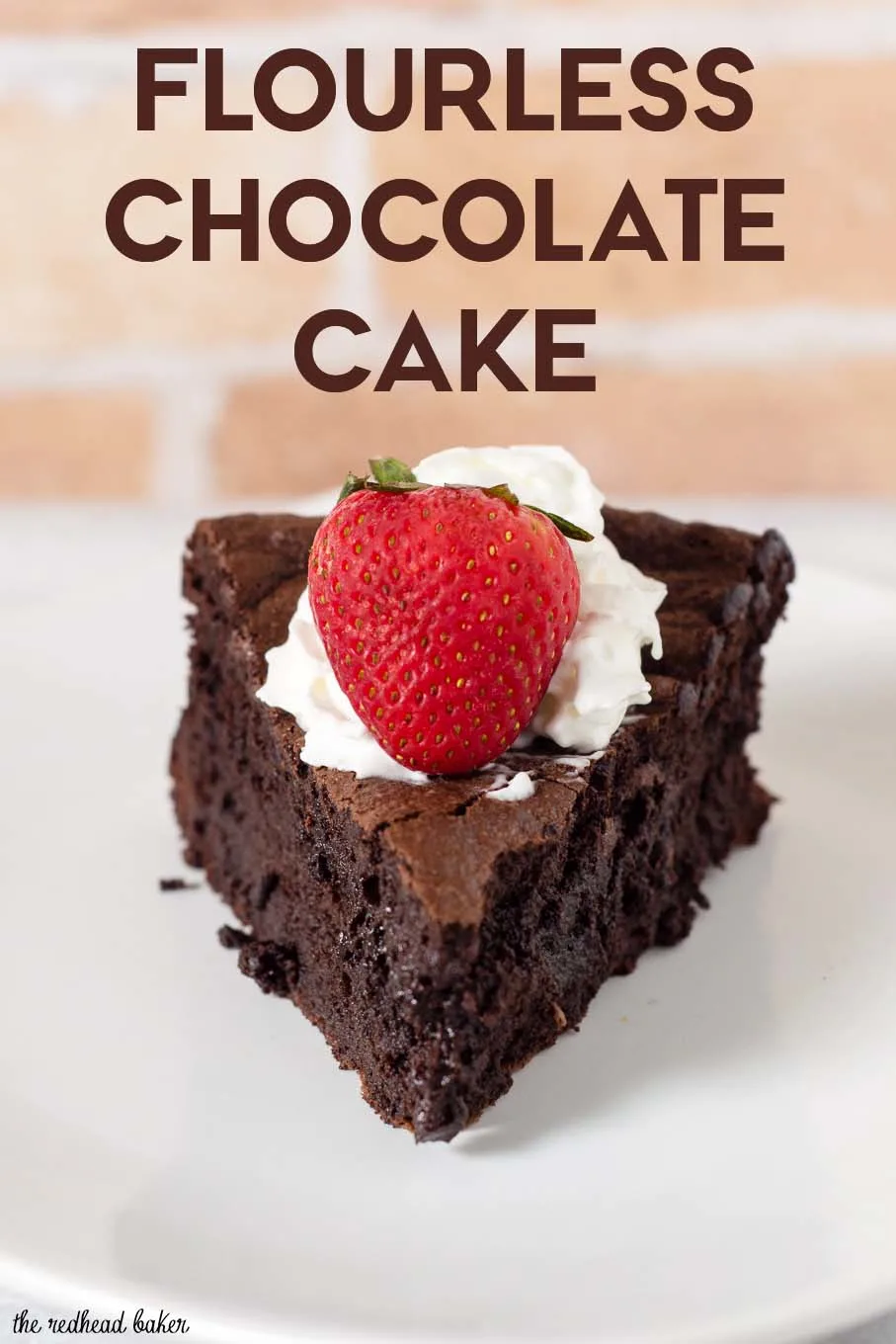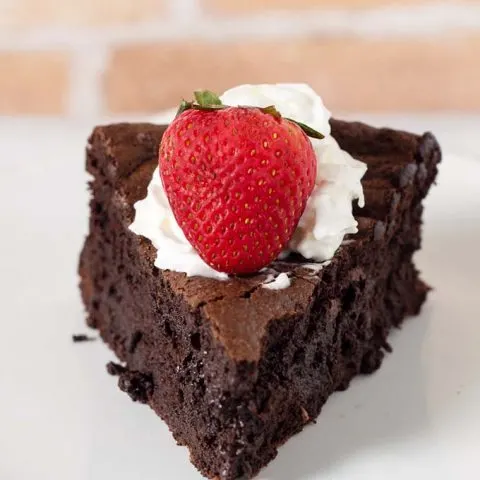 Flourless Chocolate Cake
To make this recipe, you will need an 8-inch springform pan, three mixing bowls, a fine-mesh sieve, an electric mixer, a wire whisk, a silicone spatula and a cooling rack.
Ingredients
For preparing the cake pan
1 tablespoon unsalted butter, room temperature
1 cup Rodelle Dutch processed cocoa powder, for dusting
For the cake batter:
10 ½ ounces bittersweet or semisweet chocolate, 50 to 64 percent cacao, finely chopped
10 tablespoon unsalted butter, room temperature
5 large eggs, separated
1 egg yolk
⅔ cup Rodelle Dutch processed cocoa powder
½ teaspoon espresso powder
¼ teaspoon salt
1 teaspoon vanilla extract
½ teaspoon cream of tartar
1 cup Imperial white sugar
For topping (if desired)
Whipped cream
Ice cream
Fruit sauce
Instructions
Preheat the oven: Preheat the oven to 350°F and position a rack in the center of the oven.
Spread 1 tablespoon of the softened butter over the bottom and side of an 8-inch springform pan and sift with 1 tablespoon cocoa powder all over the bottom and sides of the pan. Set aside.
Melt the chocolate: bring about an inch of water in a saucepot to a simmer. Place the chopped chocolate and butter in a clean, dry bowl. Set the bowl over the simmering water, ensuring the bowl of chocolate doesn't touch the simmering water. Melt the butter and chocolate, stirring occasionally, until smooth. Set aside to cool until just warm to the touch.
Whisk the egg yolks into the cooled chocolate mixture. Sift in the remaining cocoa powder, the espresso powder, and salt. Add the vanilla extract and whisk until completely combined. Set aside.
In the perfectly clean bowl of an electric mixer fitted with a perfectly clean whisk attachment, beat the egg whites at low to medium speed for about 15 to 20 seconds until foamy. Add the cream of tartar and beat at medium-high speed until soft peaks form (peaks that fall over when the beater is lifted).
Reduce the speed to medium and gradually add the sugar and beat until you've created glossy, stiff peaks that stand by themselves when you lift the beaters slightly. Keep a close eye on the egg whites as you beat them. If you beat them too much and they break down (they start to appear grainy and watery), you'll need to start over with new egg whites.
Whisk about a quarter of the whipped egg whites into the chocolate mixture. Then, with a silicone spatula, gently scoop the remaining egg whites into the batter. With the same spatula, fold the whites into the mixture by scooping them from underneath, along with some of the batter, and very gently turn the whole thing over; give the bowl a quarter-turn and repeat until just incorporated.
Gently scrape the batter into the prepared pan and smooth the top with a silicone spatula. Bake for 37 to 42 minutes, until the cake has risen ever-so-slightly in the center and is set enough in the center that it will not jiggle when the pan moves; the toothpick test will not work with this cake. Cool completely on a wire rack for at least 1 ½ hours (the cake will fall in the center as it cools). Remove the side of the pan and serve. Store any leftovers in the refrigerator.
Adapted from King Arthur Flour