If chocolate cheesecake is good, triple chocolate cheesecake must be better! Layers of semisweet, white and milk chocolate cheesecake on a chocolate cookie crust are topped with a rich chocolate glaze.
This post is sponsored by Imperial Sugar. All opinions are my own. This post also contains affiliate links. When you make a purchase through an affiliate link, I get a small percentage of the sale.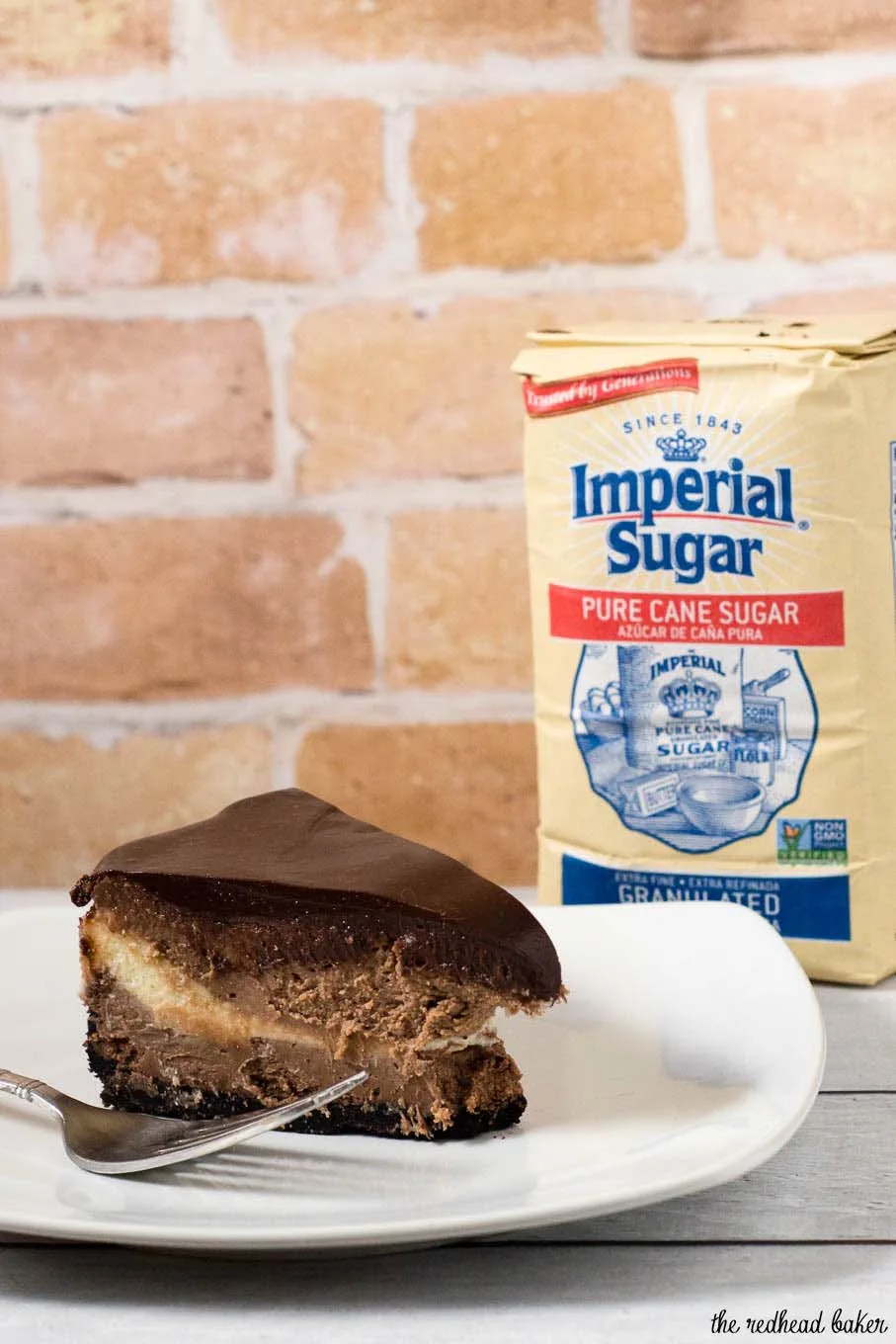 #Choctoberfest continues! Don't forget to visit Monday's post to read about the prizes and enter the giveaway! Today I'm sharing one of my favorite cheesecake recipes. After all, if chocolate is good, triple chocolate must be better!
Actually, with a chocolate cookie crust and a chocolate glaze on top, it's more like ... quintuple chocolate! Is quintuple a word? Well, if it's not, is now!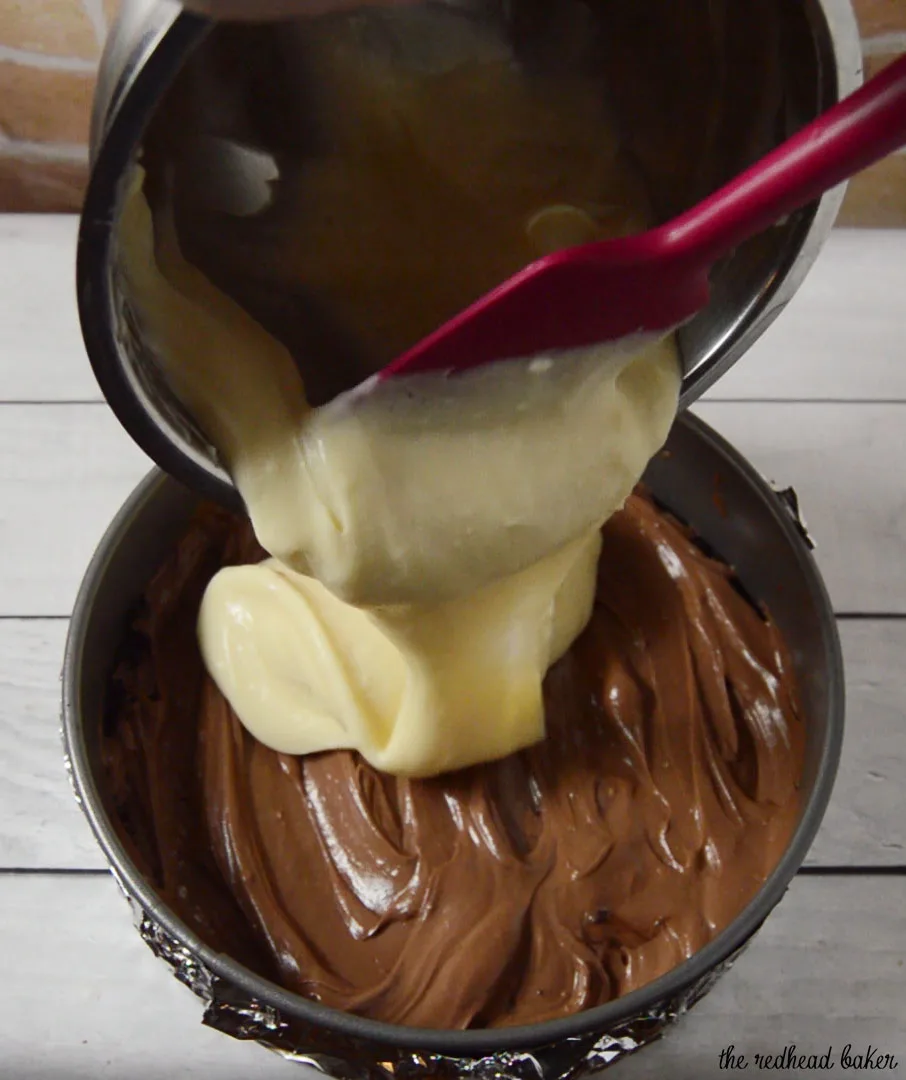 This cheesecake is comprised of three layers: one layer flavored with bittersweet chocolate, another flavored with white chocolate, and a third flavored with milk chocolate. Once the base cheesecake filling is mixed, it's divided into three bowls and the melted chocolate is whisked in.
So, yes, this recipe uses a lot of mixing bowls and utensils. Because we're dealing with chocolate, it's too risky to wash and reuse the same mixing bowl and utensils. One drop of water will make your chocolate seize, and you'll need to start over with new chocolate.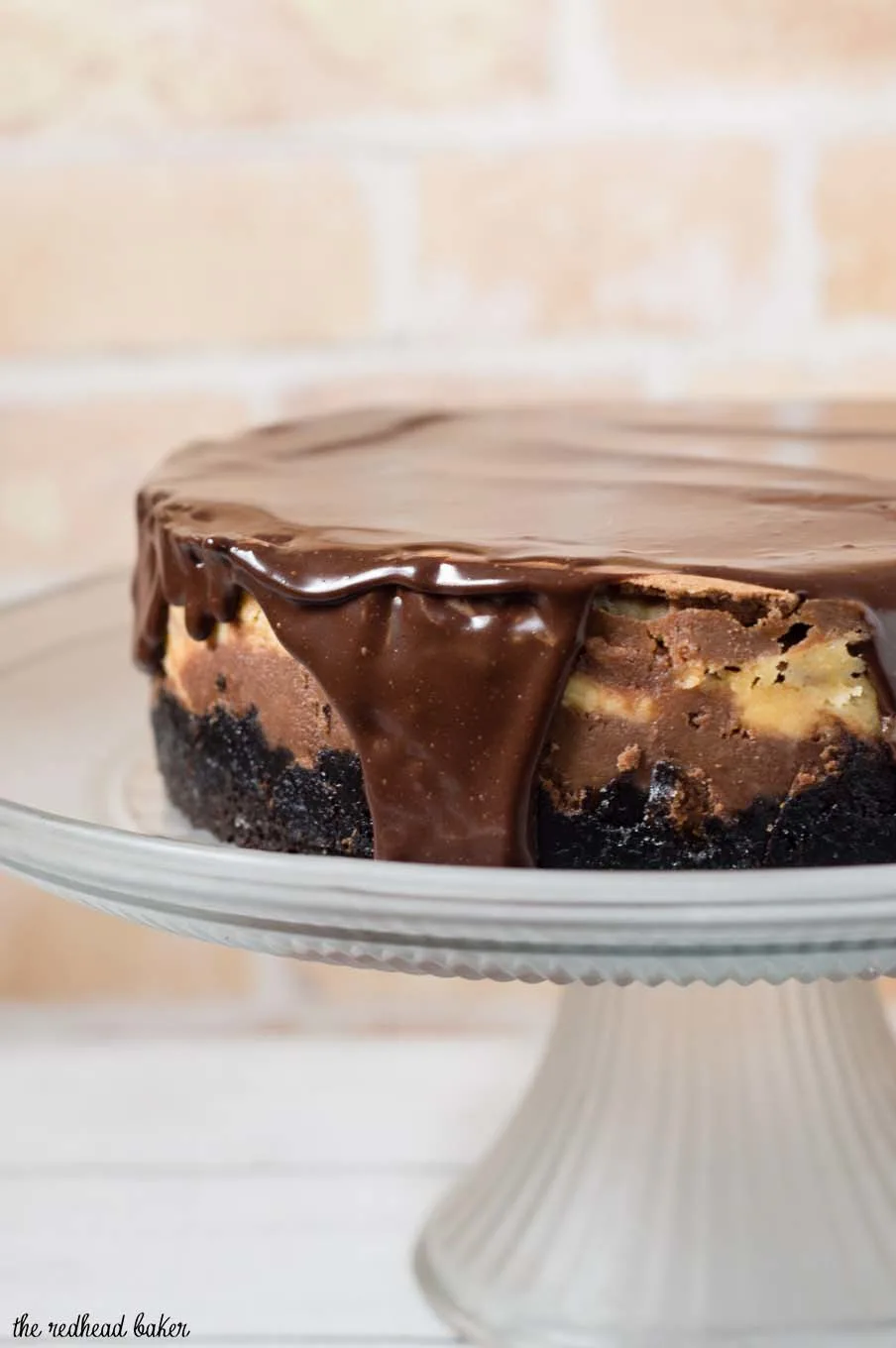 But the results are so very worth it. This dessert is so incredibly rich, only a small slice is enough to satisfy. If you don't want to scrape the cream filling out of the Oreo cookies, you can also substitute graham cracker crumbs. Substitute 15 full sheets of chocolate graham crackers, and proceed with the recipe.
You may notice that this recipes does not call for baking in a water bath, which I've insisted upon in other cheesecake recipes. That's because this cheesecake contains cornstarch, which prevents the egg proteins from over-coagulating, which results in a cracked cheesecake. A water bath won't hurt the cheesecake if you want to do it anyway, but it's not necessary.
Thanks to Imperial Sugar for sponsoring this post!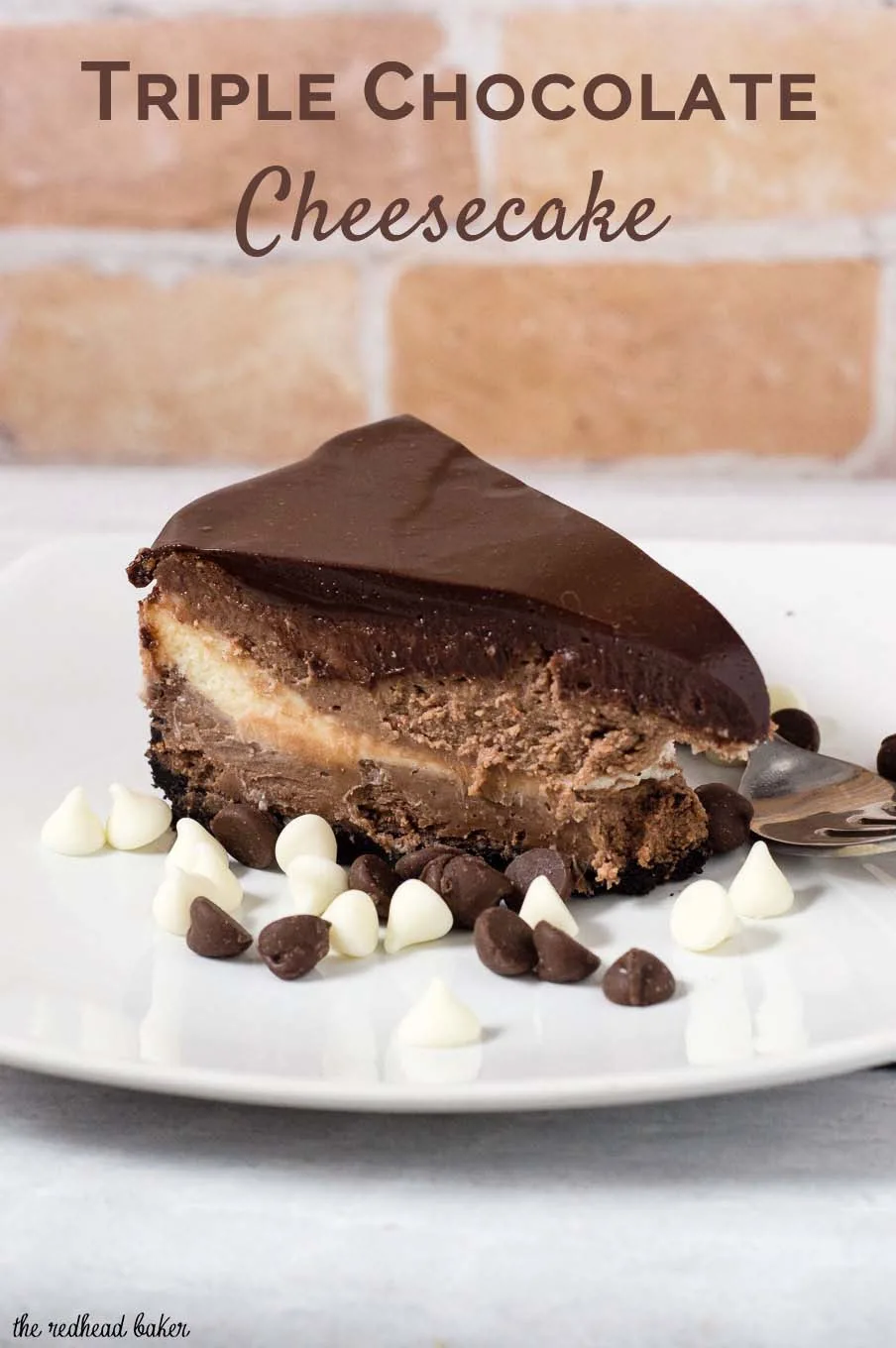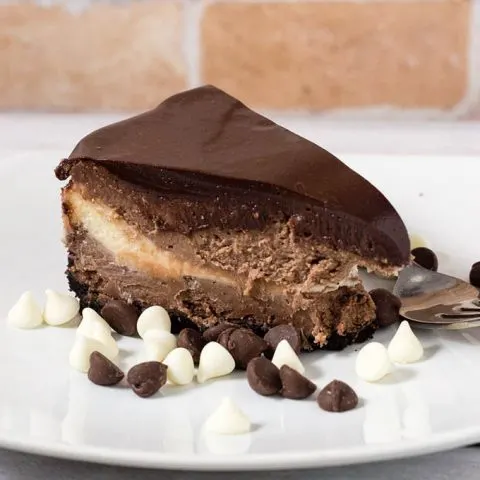 Triple Chocolate Cheesecake
Cook Time:
1 hour
15 minutes
Total Time:
1 hour
45 minutes
For this recipe, you will need: a food processor, an 8-inch springform pan, an electric mixer, three mixing bowls, three whisks, three silicone spatulas, and a cooling rack.
Ingredients
Crust
20 Oreo cookies, cream removed
2 tablespoon Imperial sugar
4 tablespoon unsalted butter, melted
Filling
24 oz cream cheese, room temperature
1 cup Imperial sugar
2 tablespoon cornstarch
3 large eggs, room temperature
½ cup sour cream, room temperature
1 tablespoon vanilla extract
4 oz milk chocolate, melted
4 oz white chocolate, melted
4 oz semisweet chocolate, melted
Glaze
1 cup heavy cream
10 oz bittersweet chocolate, chopped
Instructions
Wrap an 8-inch springform pan in tinfoil. Preheat oven to 350 degrees.
Place the cookie parts of the Oreo cookies and the sugar in the bowl of a food processor. Pulse until the mixture resembles fine crumbs. Add the melted butter, and pulse a few times until all the crumbs are moistened.
Press the crumbs into the bottom of the springform pan and about half an inch up the sides. Bake for 10 minutes, then remove to a wire rack to cool.
Make the filling: Beat the cream cheese, sugar and cornstarch in the bowl of a stand mixer fitted with the paddle attachment on medium speed until smooth, scraping down the sides and bottom of the bowl several times with a silicone spatula. With the mixer on low speed beat in the eggs, 1 at a time, scraping the sides and bottom of the bowl before adding the next egg. Add the sour cream and vanilla and beat until medium-low just until blended.
Divide the batter evenly (about 2 cups each) among 3 medium bowls. Stir the semisweet chocolate into 1 bowl of batter, white chocolate into another and milk chocolate into the third. Spread the semisweet chocolate batter onto the prepared crust in an even layer. Carefully spoon the white chocolate batter over bittersweet chocolate layer to cover; gently smooth with an offset spatula (do not let batters stir together). Spoon the milk chocolate batter over the white chocolate layer to cover; smooth with an offset spatula.
Bake for 1 ¼ hours or until set and center still jiggles slightly when gently shaken (cake should have pulled away from sides of pan; if not, carefully run a thin knife around edge of pan to release cheesecake). Cool in pan on a wire rack. Cover; refrigerate at least 4 hours or up to 2 days.
Chocolate Glaze: Remove the side of the springform pan. Place the chopped chocolate in a small bowl. Warm the heavy cream in a small saucepan over medium heat to scalding (small bubbles form at the edge of the pan). Pour the hot cream over the chocolate and let stand for 1 minute, then stir until smooth. Pour the glaze over the cheesecake, allowing it to drip down the sides.
Refrigerate just until glaze is set or, if chilled longer, let stand at room temperature 30 minutes before serving.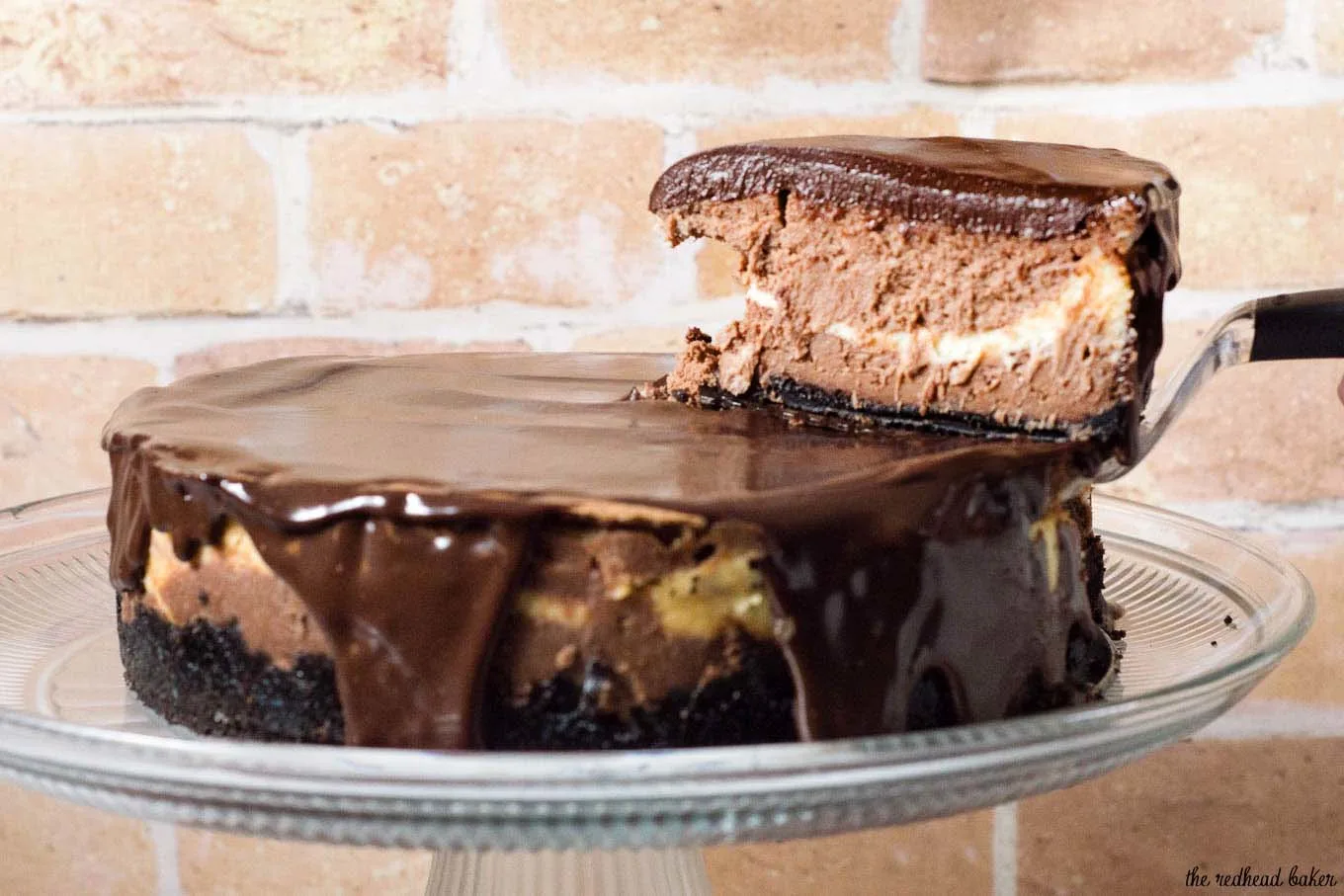 Don't forget to check out more #Choctoberfest recipes!