Enjoy the flavors of summer all year long with this easy raspberry peach jam. No peeling peaches required, and no pectin needed!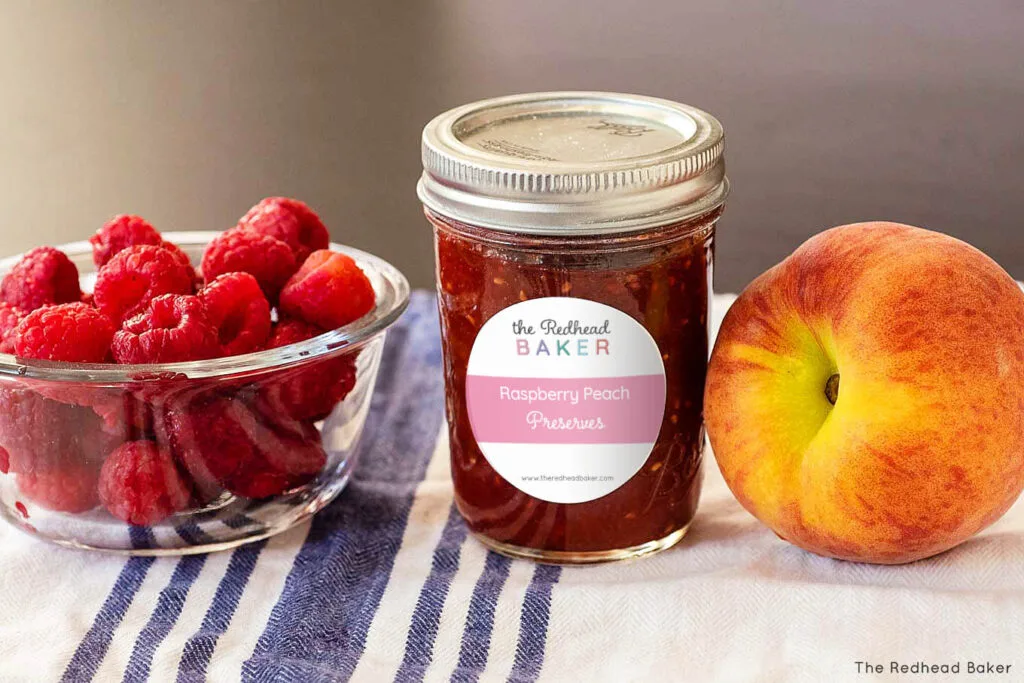 Raspberries are right up there with avocadoes in that they seem to go from peak ripeness to moldy if you look away for five minutes. I always seem to forget that when I see them on sale and stock up because my son loves raspberries.
Does that happen to you, too? If so, don't let them go to waste! Make this easy, delicious homemade jam. No specialty ingredients needed!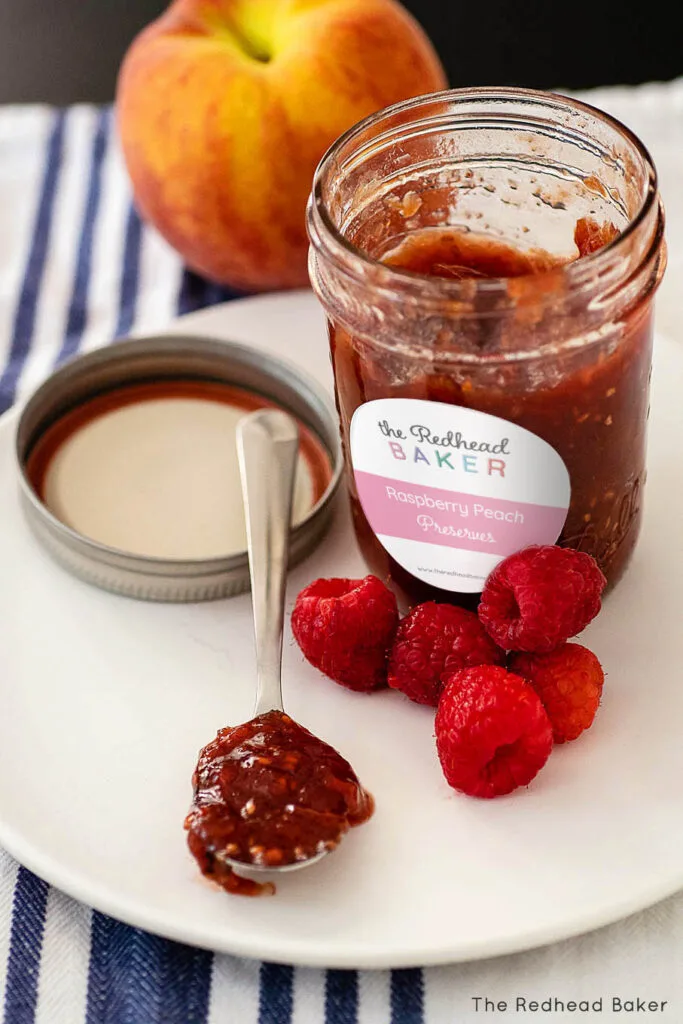 What is pectin and why doesn't this recipe need any?
A lot of homemade jam recipes call for pectin. It's a starch most often found in fruits and vegetables. It acts as a gelling agent, similar to, well, gelatin. But gelatin is made from animal parts, and pectin is completely plant-based.
Different fruits and vegetables have varying levels of pectin. Apples, plums, and citrus fruits, for example, are high in pectin; berries, peaches, tomatoes and most vegetables are low in pectin.
Even though both fruits in this recipe are low in pectin, no additional pectin is added because of the amount of sugar in the recipe. Pectin is available in powdered and liquid forms, and is available in most grocery stores.
How to Can in a Water Bath
You've seen me discuss water baths in the context of baking cheesecakes and custards. This is a bit different. To can in a water bath, you'll need a really big stockpot. I use my grandfather's old soup pot.
You'll also need canning jars with new lids. The glass jars and the bands can be reused, but the lids are only meant to be used once because once they've been heated and cooled, they won't be able to make the same strong seal again.
Before you begin cooking your jam, wash the jars, lids and bands in hot, soapy water. Dry them well and inspect them for nicks, cracks, etc. Any deformities can affect the quality of the seal, which means bacteria could get in, or the jars could even break during processing.
Fill your very large pot with water and set it over a flame to make it hot. You don't need it boiling yet, but you want to keep your glass jars hot. Introducing hot jam into cool jars can cause them to break.
You'll need some special equipment such as a canning funnel (a wide-mouth funnel that keeps the rims of your jars clear to ensure a tight seal), and jar tongs (to transfer the jars in and out of the water). A bubble remover is helpful, but in a pinch, something like a stir stick or even a chopstick (clean, of course) can be used to remove air bubbles.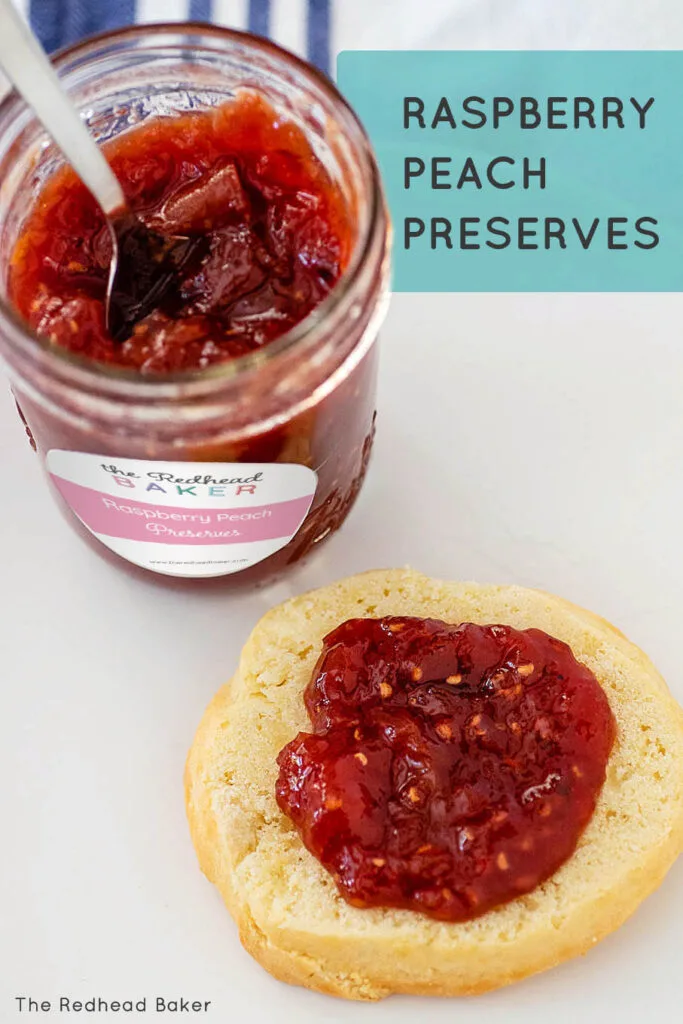 After processing the filled cans in the boiling water, they need to sit and cool, undisturbed for 12 to 24 hours. Sometimes I hear the flexible portion of the lid "pop" right away, sometimes it takes a few hours. The sound is when the flexible portion of the lid gets sucked down as air is forced out of the jar as the mixture cools.
Then, pop a label on your jars, and they can be shared with friends and family. Or, keep them all for yourself. I won't judge. I mean, this jam is good. Slather is on toast, a bagel, heck, I could just eat it out of the jar. I taste the raspberry up front, but get a nice flavor of peach at the end. It'll be a great treat in the middle of winter when fresh raspberries and peaches aren't around.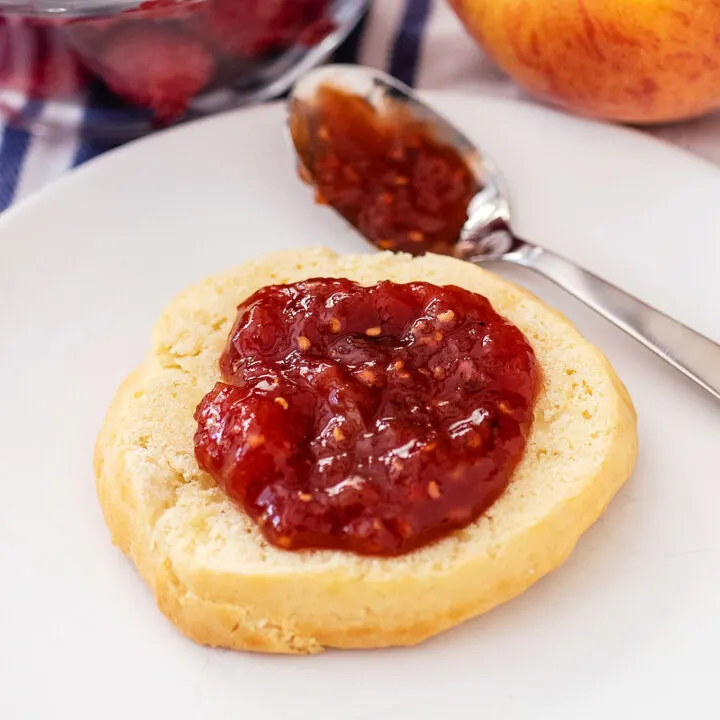 Raspberry Peach Jam
Enjoy the flavors of summer all year long with this easy raspberry peach jam. No peeling peaches required, and no pectin needed!
Ingredients
1 ½ lbs peaches, pitted and chopped
8 oz fresh raspberries
1 ½ cups sugar
3 tablespoon freshly squeezed lemon juice
Instructions
Prep your equipment. Wash three half-pint canning jars, as well as new lids and bands, in hot, soapy water. Dry them well and sit them on a clean cloth.
Fill a large stockpot with water, and bring it to a simmer. Place a trivet in the bottom. Add your canning jars to the hot water. The lids and bands can remain on the cloth.
In a large Dutch oven, combine the chopped peaches, raspberries, sugar and lemon juice.
Cook over medium high heat, stirring frequently, until the sugar dissolves and the fruit begins to release their juices.
Continue cooking. The mixture will start to reduce and thicken. As the mixture starts to thicken, test its readiness by dropping a spoonful onto a chilled plate. Tilt the plate. If the jam runs, it's not ready yet. If the mixture runs quickly, it's not ready yet. If it drips slowly, you're ready to start canning.
Use canning tongs to retrieve the jars, one at a time. Ladle some of the jam into each jar through a canning funnel, leaving ¼-inch of headspace at the top. Run a bubble remover or a chopstick around the inside edge of each jar to remove air bubbles.
Wipe the rim and threads of the jar with a clean, damp towel. Place a lid on top of the jar and apply the band, twisting just until finger-tight (as soon as you feel resistance while tightening, stop twisting).
Repeat with remaining jars and jam.
Bring the water in the stockpot to a full-rolling boil. Use the tongs to place the filled jars in the stock pot, ensuring that at least one inch of water covers the jars. Cover the stockpot with a lid, and let the jars sit in the boiling water for 10 minutes.
Remove the jars with the tongs, and place on a clean towel. Let sit for 12 to 24 hours. After that time, test the seals by pressing down in the center. If there is no flex, the jars are sealed, and can be stored for up to 12 months. If any of the seals flex, refrigerate the jar and use these first.
Recommended Products
As an Amazon Associate and member of other affiliate programs, I earn a small percentage from qualifying purchases.
Nutrition Information:
Yield:

16
Serving Size:

2 tbsp
Amount Per Serving:
Calories:

97
Total Fat:

0g
Saturated Fat:

0g
Trans Fat:

0g
Unsaturated Fat:

0g
Cholesterol:

0mg
Sodium:

1mg
Carbohydrates:

25g
Fiber:

2g
Sugar:

23g
Protein:

1g
I am not a certified nutritionist. This nutrition information is automatically calculated by third party software and is meant as a guideline only.
Wednesday Berry Week Recipes