I recently took a Caribbean cruise with my family on board Royal Caribbean's Oasis of the Seas, and I want to share my experience with you! This post is not sponsored in any way by Royal Caribbean.
I'm taking a break from recipes today to share our experience on our recent vacation!
At the end of August, my extended family (myself, my fiance, our son, my parents, my brother, my sister-in-law, my aunt and uncle and my three cousins) took a week-long Caribbean cruise onboard Royal Caribbean's Oasis of the Seas. This was my third cruise with Royal Caribbean, and to date, the largest of their ships I've cruised on.
Part 1: An Overview of the Ship and Our Stateroom
The Oasis of the Seas is an Oasis-class ship that, when it first sailed in December 2009, was the largest and longest cruise ship in the world (it's since been surpassed by its sister ship, the Harmony of the Seas). It has 16 passenger decks, and 7 distinct "neighborhoods," each with its own godmother: Gloria Estefan, Michelle Kwan, Dara Torres, Keshia Knight Pulliam, Shawn Johnson, Jane Seymour and Daisy Fuentes.
Some highlights:
Recreation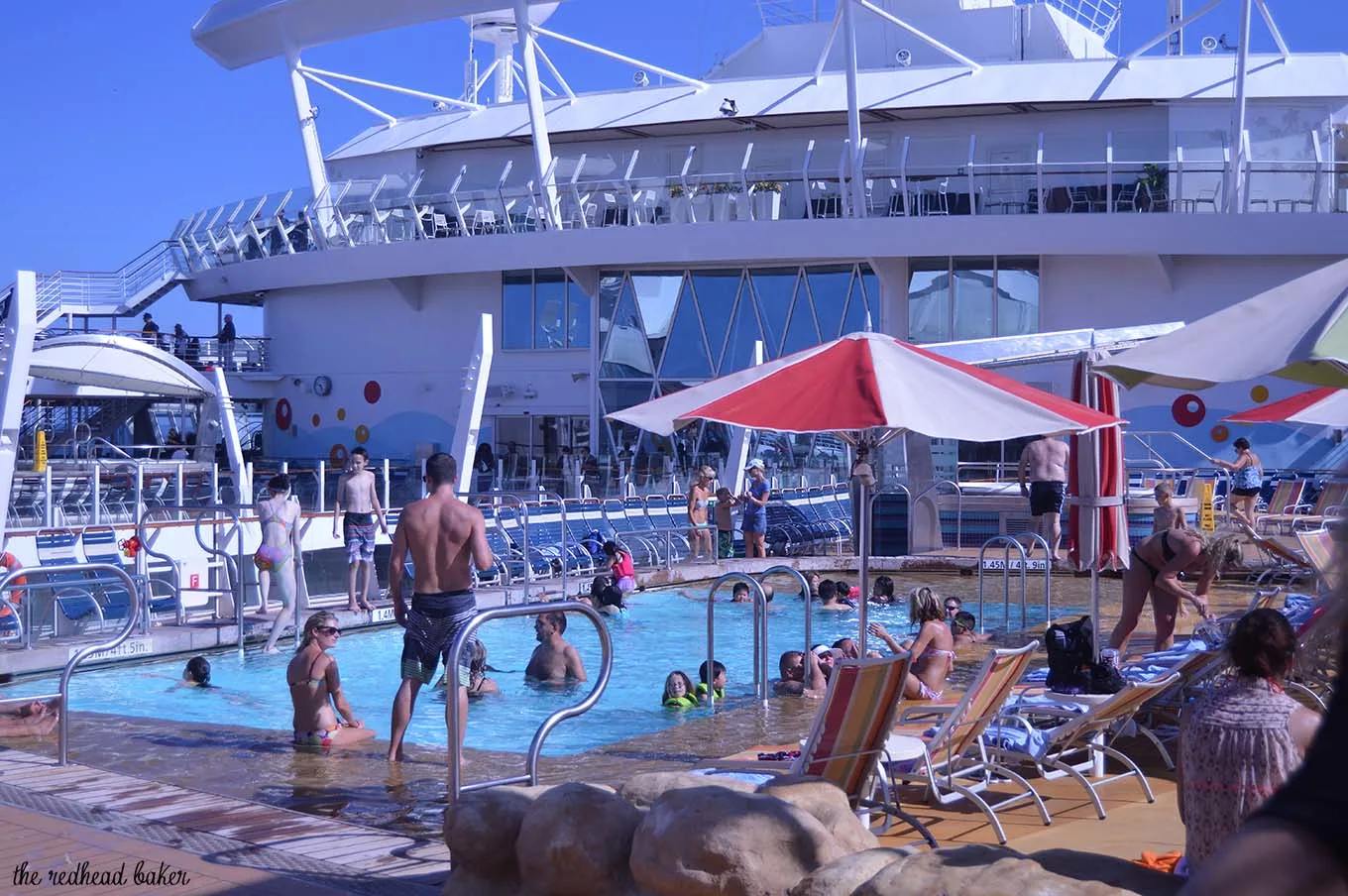 FlowRider surf simulator
Zipline
2 rock-climbing walls
9-hole miniature golf course
Full-sized basketball court
An ice-skating rink
... and more
Dining
Main dining room with three levels
Starbucks
Johnny Rockets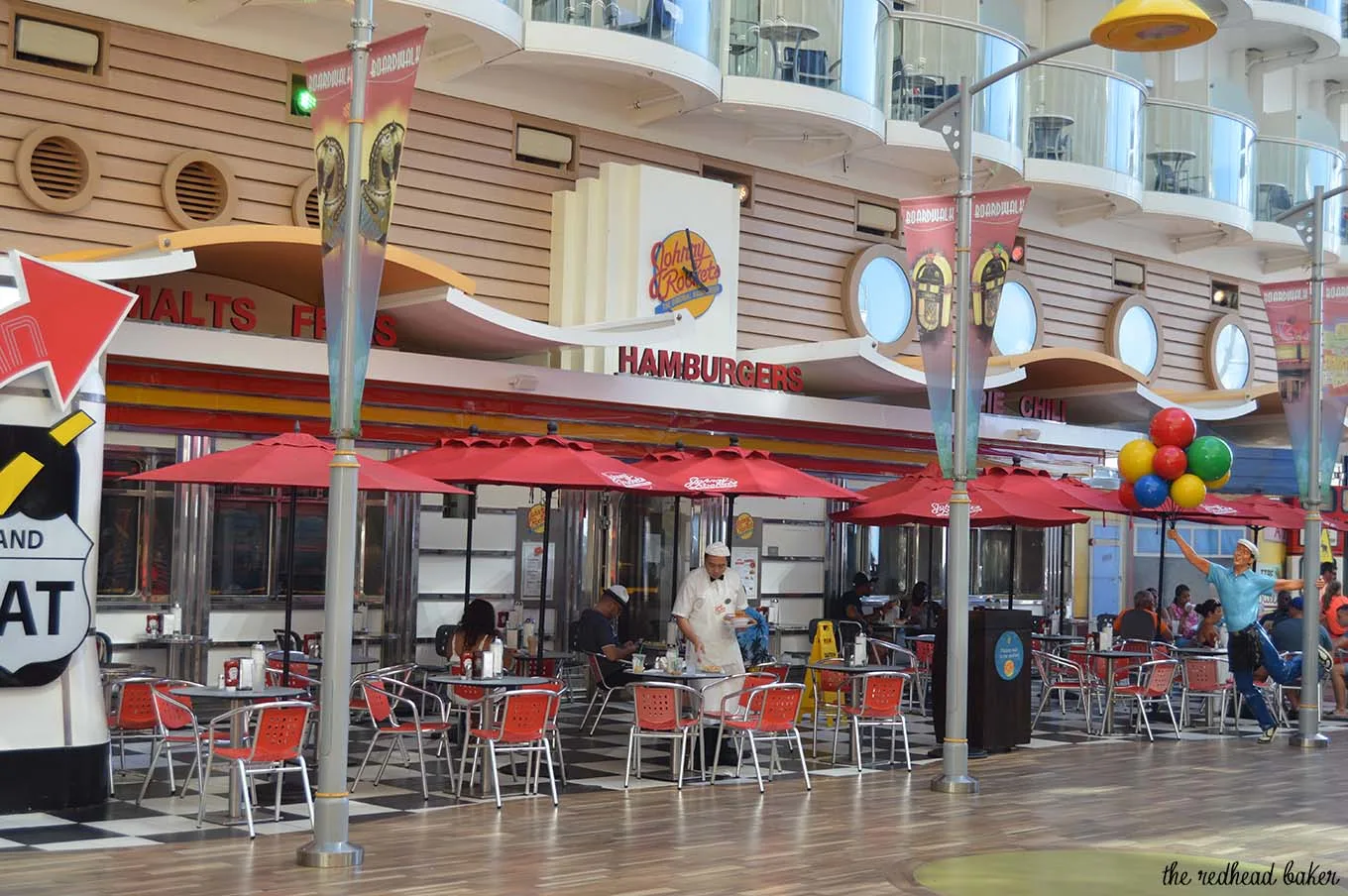 Chops, a steakhouse restaurant
Izumi, a sushi and hibachi restaurant
Sorrento's Pizza restaurant
Cups and Scoops on the Boardwalk, serving cupcake and Ben & Jerry's ice cream
Hot Dog Stand
... and more
For kids
H20 Kids Zone Splash Park on pool deck
A nursery for kids up to age 2
Adventure Ocean kids' club, with activities for Aquanauts (ages 3 to 5), Explorers (ages 6 to 8) and Voyagers (ages 9 to 11)
Programs and hangouts specifically for teens
A full working carousel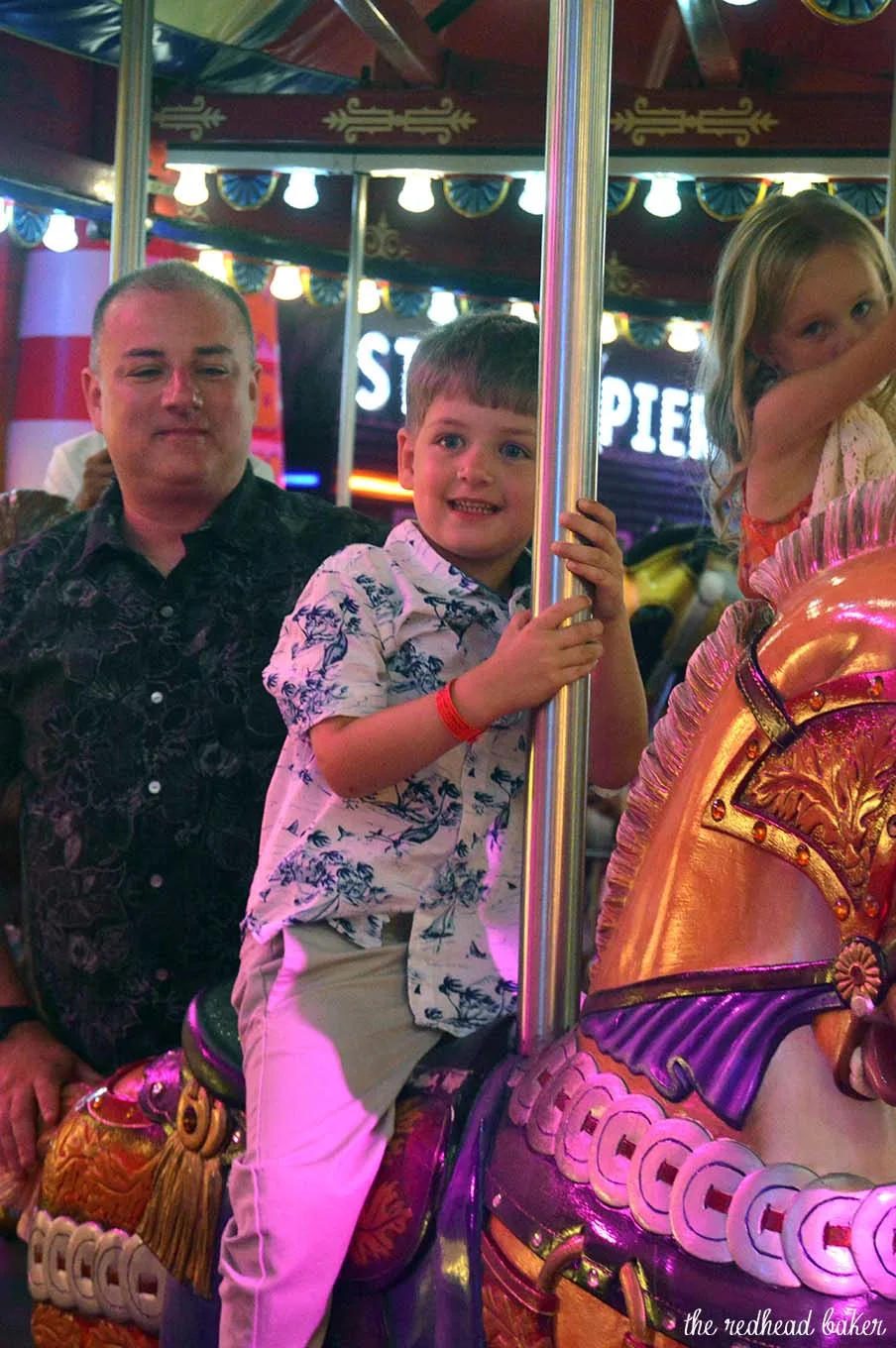 Entertainment
Diving show with Olympic-level divers and swimmers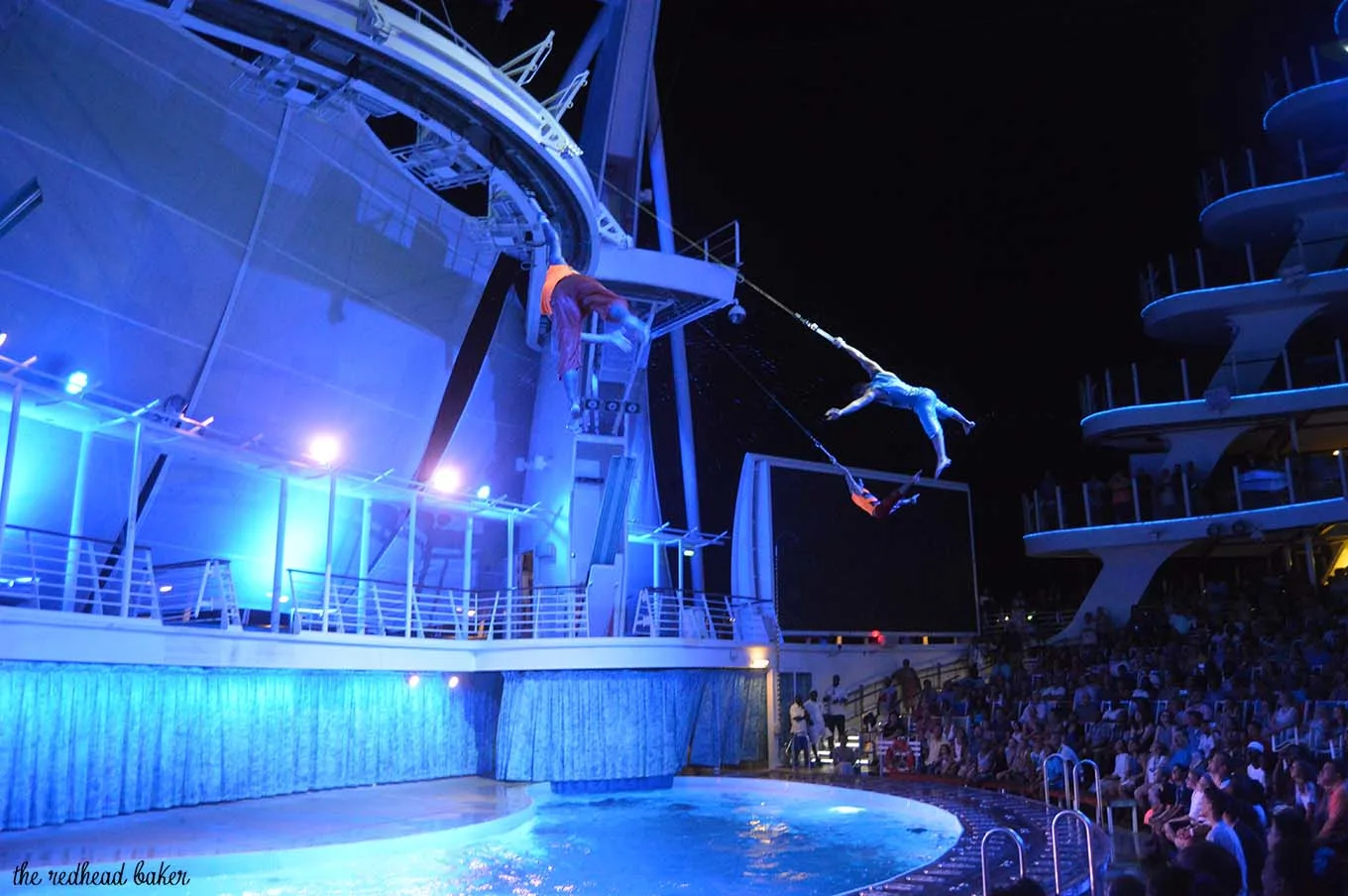 Musical shows
Comedy shows
Ice skating shows
... and more
Relaxation
Adults-only Solarium pool
A full-service spa and salon
I didn't experience HALF of what was on that list because there is SO MUCH to do. I need to book a second Oasis cruise!
We had a Superior Oceanview Stateroom with a Balcony on Deck 11. It was a decent-sized stateroom, as cruise ship rooms go, with a king-sized bed, a sofa that pulled out to a bed for our son, and a balcony with a table and two chairs. It had the typical closet-sized cruise ship bathroom with a shower stall, a closet with shelves, and desk/vanity area with more drawers and a mini fridge. When the sofa was pulled out to a bed, it was a tight squeeze to move around the room, but otherwise we were very happy with it.
Part 2: The Itinerary
Our planned itinerary was:
Day 1, Saturday, August 20: Embarkation Day
Day 2, Sunday, August 21: Nassau, Bahamas, with an excursion booked for Atlantis Aquaventure on Paradise Island
Day 3, Monday, August 22: At sea
Day 4, Tuesday, August 23: St. Thomas, USVI, where Dave and I planned to be married
Day 5, Wednesday, August 24: Basseterre, St. Kitts, with a dolphin-encounter excursion booked
Day 6, Thursday, August 25: At sea
Day 7, Friday, August 26: At sea
Day 8: Saturday, August 27: Return to Ft. Lauderdale
Saturday: We booked our flights and airport-to-terminal transfer through Royal Caribbean. Everything went extremely smoothly, no flight delays, no lost luggage, no delays in boarding the ship.
Sunday: We had a fantastic time at Atlantis Aquaventure on Paradise Island. Liam was really looking forward to the water slides, but he was too small to ride them (minimum height was 48 inches, he's only 42 inches). He was disappointed — until we found the kids' area. There was a huge climbing structure with several kid-sized waterslides he could ride, water cannons to shoot, and more. He was in heaven. Atlantis provided life vests for him to wear so he could swim on his own while closely supervised.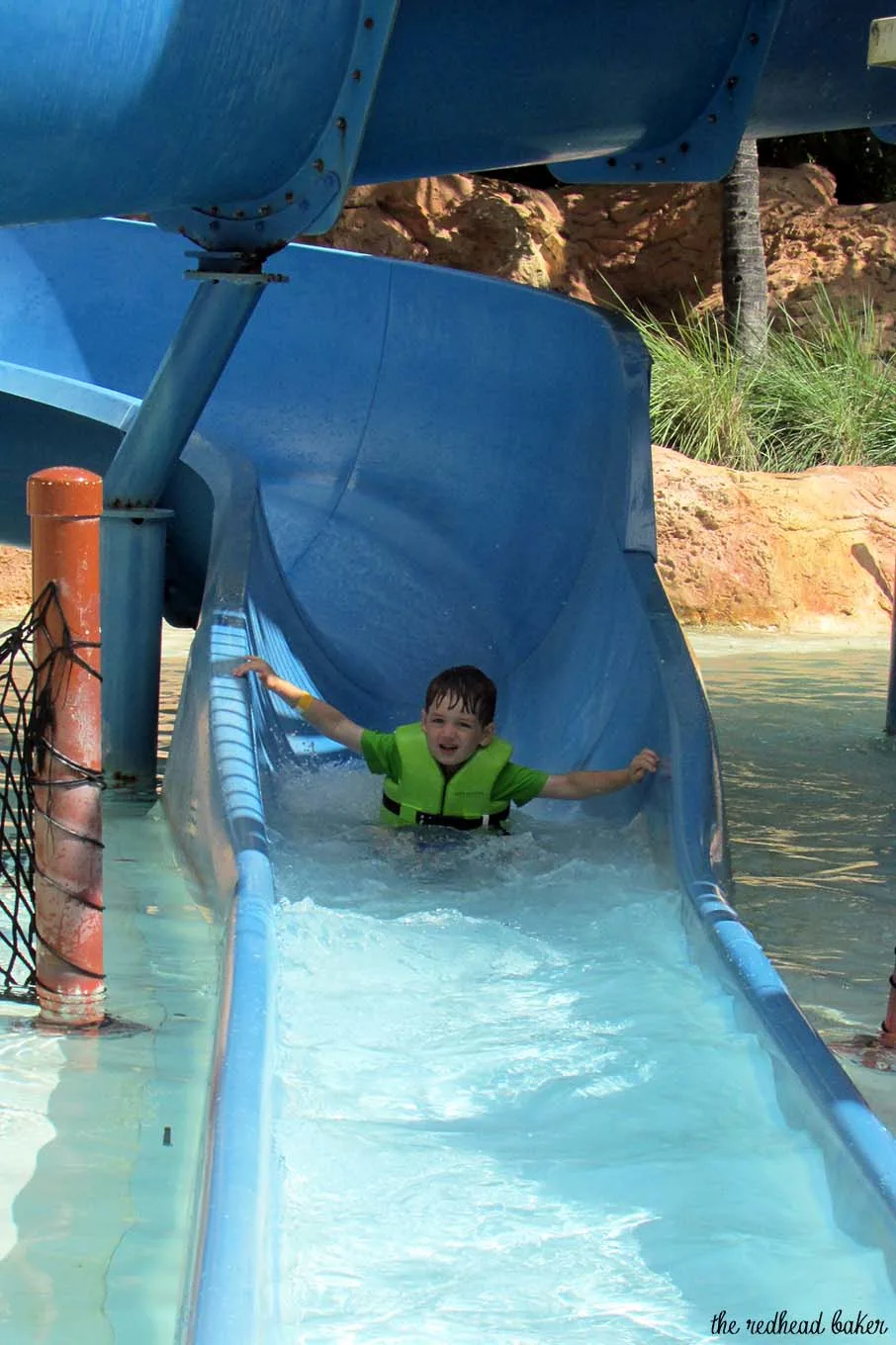 I took my 8-year-old cousin on one of the bigger waterslides where you ride in a tube. We rode a double tube, and the slide itself was mostly enclosed and nearly pitch-black. We splashed down into a shark tank! OK, we were in a tube surrounded by clear plexiglass, and THAT was surrounded by the shark tank. But it was really cool to come off the slide and see sharks and fish swimming all around us.
We were back on the ship by 1:30 p.m., and at 2 p.m., the ship departed the Bahamas. We went to the "beach" pool on Deck 15 until it was time to get ready for dinner. Some time that afternoon or evening, there was a medical emergency onboard (no one from our party) and the ship returned to the Bahamas.
Monday: We spent most of the late morning and afternoon at the pool. That afternoon, the captain made an announcement that due to the medical emergency the night before AND a tropical storm off the coast of St. Thomas, we would be skipping the ports of St. Thomas AND St. Kitts. We were very upset that our wedding would be canceled, though we understood that a medical emergency is more important. The captain also announced that we would be stopping in the ports of San Juan, Puerto Rico, and Royal Caribbean's private island of Labadee on the island of Haiti.
Tuesday: We spent the morning coordinating with the ship's wedding coordinator to have a symbolic ceremony aboard the ship. More on that later. We left the ship to see San Juan. We ran into a parade for the Puerto Rican gold medal Olympian, Monica Puig! What fun to watch. We shopped a bit, then returned to the ship.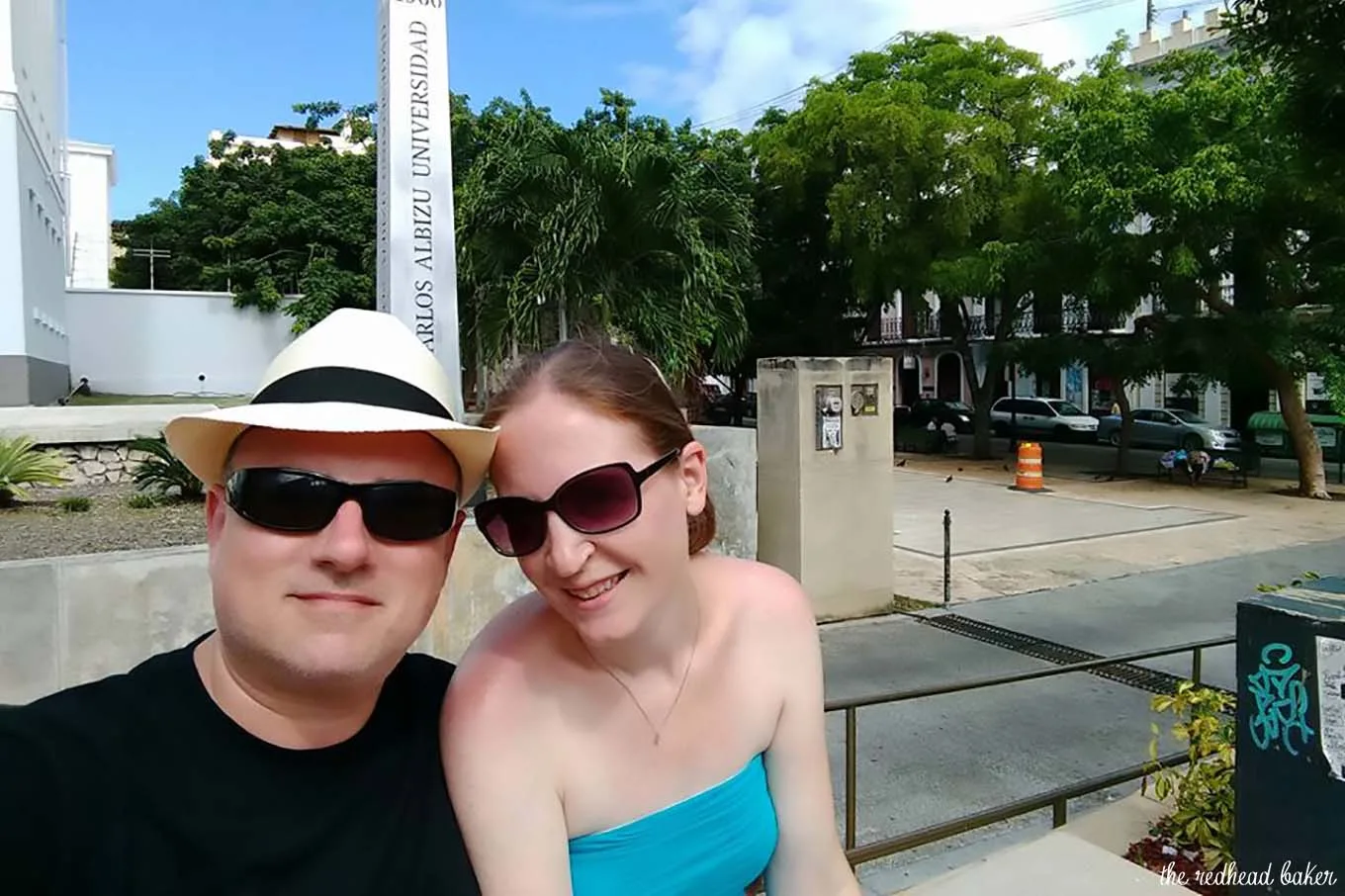 Wednesday: We had a heavenly couples massage (a big thank you to Royal Caribbean for the complimentary massage, as a way of making up for the loss of our real wedding ceremony), then spent some time at the pool.
Thursday: I had hair and makeup done at the ship's salon, and we had a symbolic (non-legal) ceremony in the ship's music lounge, Dazzles, on Deck 8. The coordinator provided a bouquet of silk flowers, a spread of delicious hot appetizers, and a chocolate cake covered in icing and fondant with gumpaste flowers. It was a lovely ceremony. We also spent a little over an hour with their photographer, Greffen, who got some fabulous photos. Here are some of my favorites:
After the ceremony, we changed into our bathing suits to visit the port of Labadee. My dad took my son and my two younger cousins to the Aqua Park, where they have inflatable equipment out in the water! It's anchored to the bottom, so it doesn't float away. There are giant slides, trampolines and other climbing structures. They were out there for an hour, and got quite a workout!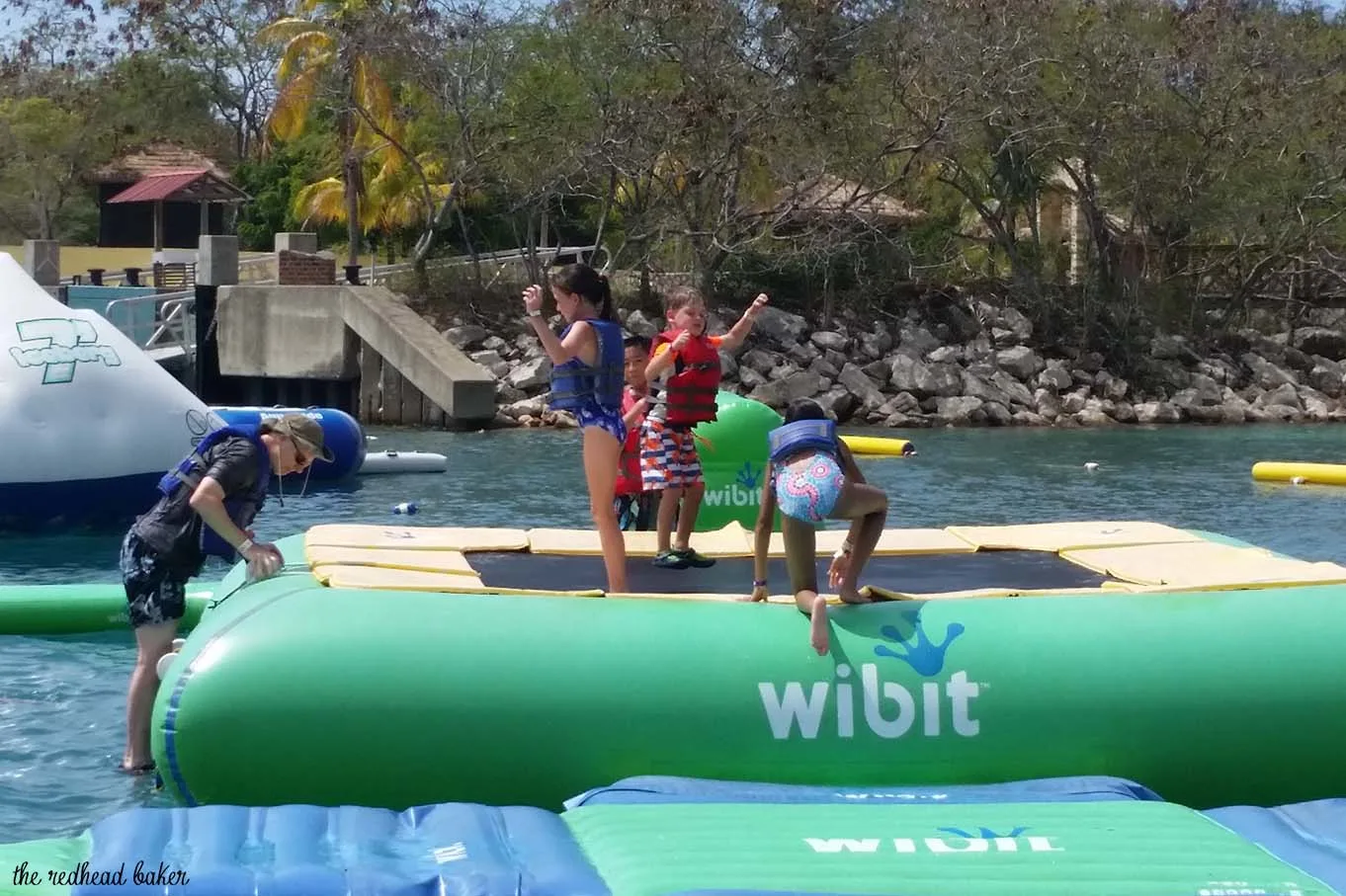 Friday: After a delicious "breakfast in bed" (which we ate on our balcony), again, compliments of the cruise ship to make up for missing our wedding in St. Thomas, we joined the rest of our family at ... you guessed it, the pool!
That night, after dinner, we went to the Royal Promenade on Deck 5 to watch the DreamWorks parade, with characters from How to Train Your Dragon, Shrek, and Madagascar. Liam has never seen any of those movies, but still enjoyed the parade.
Saturday: Debarkation. We spent $25 per person to sign up for luggage valet. Best $25 ever spent. You place your luggage outside your stateroom the night before debarkation day. The cruise ship transports it to the airport and checks it for you. They also check you in for your flight. Once you depart the ship and get to the airport, you can get right in line for security. We had a smooth flight back home.
Part 3: The Food
Breakfast
Our first morning, we ordered breakfast to be delivered to our stateroom, as our Aquaventure excursion in Atlantis left very early. The breakfast room service menu was very limited. I wish they had a bagel or something on there. All Liam would eat from that menu was yogurt and fruit.
The second morning, we ate in Johnny Rockets in the Boardwalk neighborhood on Deck 6. The restaurant is complimentary at breakfast, and has a nominal charge at lunch and dinner. They offer an omelet, French toast or pancakes at breakfast, with the typical sides of bacon, sausage, toast, etc. It was a nice breakfast, and Liam in particular enjoyed it.
The third morning, we ate toward the end of breakfast service at the Park Cafe in the Central Park neighborhood on Deck 8. It was, to put it mildly, a madhouse. There was a counter for bagels, and another for eggs, and there seemed to be one looping line that served both counters. That wasn't the case, and there was nearly a brawl when a woman thought a man was cutting in line to bypass the bagel line for the eggs.
The fourth, fifth and sixth mornings, we ate in the Solarium Bistro. It was very relaxing. It was rather quiet, and very easy to find a seat. It had a wide range of breakfast options.
Our seventh morning, we were served "breakfast in bed" as part of the Royal Romance package the ship enrolled us in after our wedding was canceled. We received a menu beforehand, which allowed us to choose eggs, French toast or an omelet. I thought it also indicated we'd get a fruit plate, a cheese plate, and a pastry plate, but we got a fruit plate EACH and a cheese plate EACH, but no pastry plate (the one I really wanted, LOL). We also got to choose from a mimosa or a bloody mary, as well as juices and coffee. It was brought to our room on a nice tray (not a cafeteria tray), and we ate it on our stateroom balcony.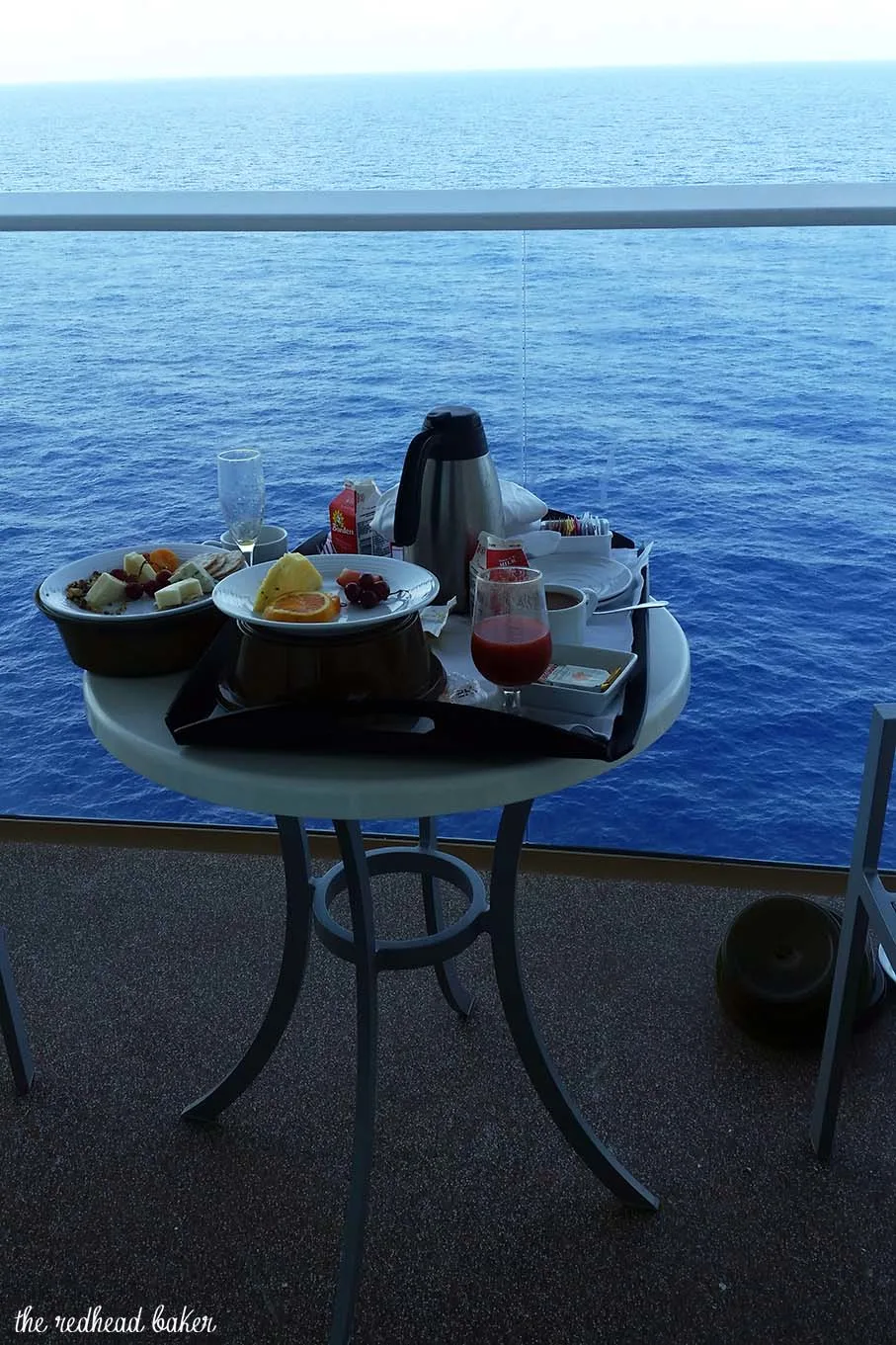 Complimentary breakfast is also served in the Main Dining Room, and in the Windjammer each day.
Lunch
Lunch was almost always poolside. There's a place called the Wipeout Cafe on the same deck as the pools, which has build-your-own burgers and hot dogs. The burgers are cooked and placed on a warming tray, with separate plates of toppings (lettuce, tomato, onion, etc.), and another plate to add cheese if you wish. The burgers were never warm enough to melt the cheese.
Other days, we sent two people down to the Royal Promenade on Deck 5 to Sorrento's. Each person requested 4 slices of plain and 4 of pepperoni and brought them back up to the pool deck.
Complimentary lunch is also served in the Main Dining Room and in the Windjammer each day.
Dinner
Most nights, we ate in the Main Dining Room. We were assigned to eat at 6 p.m., and there's another seating at 8:30. The earlier seating works better for families with kids.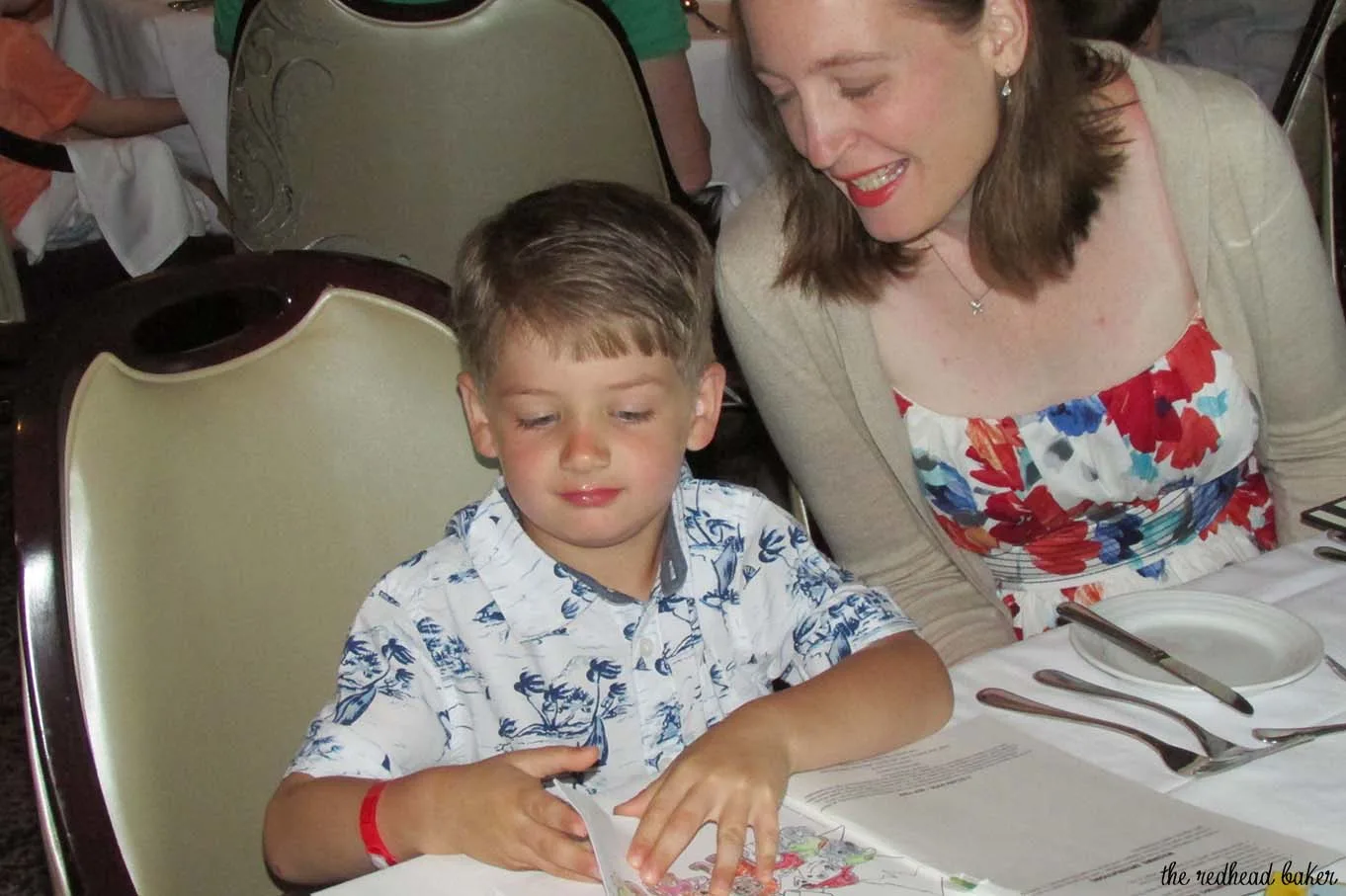 Each night, they had a kids' menu available if Liam didn't want anything from the regular menu. It had options like chicken tenders, a cheeseburger, pizza, pasta with marinara, grilled cheese, and steak. They also had appetizers for the kids, including a fruit plate, or raw veggies with dip.
Each night, there are "Chef's Inspirations" (which change daily) and "Classics" (stay the same throughout the cruise) for appetizers, main courses and desserts.
I had intended to take a photo of the menu each night of the cruise. After all, I knew I was going to share our experience on the blog, and it's a FOOD blog ... and I forgot.
I did find photos of the menus on Royal Caribbean blog, so you can see them here.
Saturday, I had lobster bisque, dry-aged beef, and creme brulee
Sunday, I had French onion soup, New York strip steak, and cheesecake
Monday, I had escargots, lamb chops, and chocolate cake
Tuesday, we ate at Chops Steakhouse. I had a crab-and-shrimp cake appetizer, filet mignon with truffled French fries, spinach and asparagus, and molten chocolate lava cake.
Wednesday, I had a burrata appetizer with tomatoes and basil, a broiled lobster tail, and ice cream-filled cream puffs
Thursday, I had coconut shrimp, braised pork, and creme brulee
Friday, I had escargots, salmon, and cheesecake
While the breakfast food ranges from standard to "are these really eggs?," and the lunch options are "meh" at best, the dinner food is delicious. I didn't have a single thing at dinner that I didn't like. Our waiter and assistant waiter were fantastic, and after the first night, they had a fruit plate ready for Liam as soon as we sat down, because we all know how well 4-year-olds do waiting for food, right?
Part 4: Reflection
It would be really easy to say our trip was ruined when our wedding was canceled. However, the Oasis of the Seas' wedding coordinator was very understanding, and did everything she could to make things up to us as best as she could. Other than that Monday we found out we were skipping St. Thomas, we had a fabulous time. The ship was clean, the Oasis of the Seas staff was beyond friendly and helpful, and the activities and entertainment were impressive. They met, and in some instances exceeded, my expectations given my past cruises with Royal Caribbean. We would not hesitate to book another Royal Caribbean cruise!