Having a well-stocked pantry, refrigerator and freezer doesn't mean much if you don't have the appropriate cooking tools. Now, like the ingredients, the hardware is going to depend on your cooking style. Why have a wok if you never make a stir-fry?
I'm also big on multi-taskers: cookware, bakeware and tools that perform more than one task. I don't need a garlic chopper, because I can either use my chef's knife, and my mini food processor.
I don't discuss specific brands here, because I don't have any experience comparing and contrasting specific equipment from each brand. Heck, my saucepans are hand-me-downs from my grandmother, I don't even know what brand they *are*!
I store most of my cookware on this pot rack, similar to this one: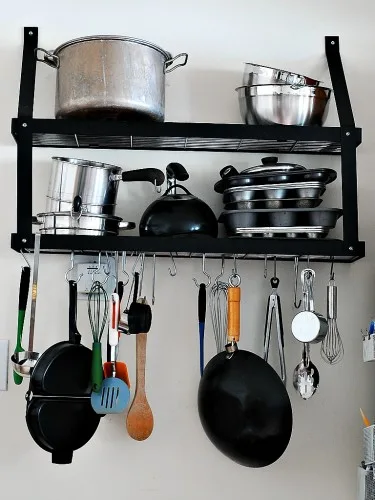 First, let's talk pots and pans.
Saucepans with lids: one small (2 to 3 quart) and one large (4+ quart), for making sauces, small batches of soup, boiling or steaming vegetables, cooking rice or other grains.
Stockpot (12- to 16-quart): for making homemade broth, cooking large amounts of pasta, or large batches of soups
Saute pan (straight sides) with lid: 10- to 14-inches, depending on the size of your family, for making one-pot meals, pan sauces, browning ground meat, etc.
Skillet (slanted sides), preferably oven-proof: 10- to 12-inches, for searing meat (stainless steel or cast-iron, but one of each is even better, if you can swing it)
Small nonstick skillet: for cooking eggs
Dutch oven: 5- to 6-quart, for soups, braising, stews, even baking bread.
Now, on to bakeware (most of which can be used in savory cooking as well). Most of my bakeware is stored on the lower shelves of an Ikea kitchen island (which no longer seems to be available. It's similar to this one, but ours has three drawers above the shelves).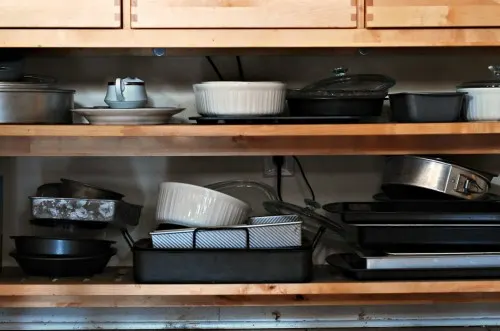 Baking sheets: at least two, I prefer the lipped half-sheet pans, 18x13 inches, for baking cookies, roasting vegetables, baking all kinds of meat, poultry or fish.
Baking pans (square): one 8x8 or 9x9, and one 9x13 pan, with two-inch tall sides, for brownies, sheet cakes, casseroles, or roasting meats
Baking pans (round): two round baking pans 8- or 9-inches in diameter for layer cakes
12-count muffin tin: for muffins, cupcakes, mini cheesecakes, mini quiches, etc.
9-inch pie plate: not only for baking pies or quiches, but also for dredging food in flour or breadcrumbs
9-inch springform pan: for cheesecakes, flourless cakes, pasta bakes, etc.
There are other things that are nice to have: the afore-mentioned wok, if you frequently make Asian dishes at home; a donut pan; oven-proof bowls (for French-onion soup, or individual pot pies); a large round cake pan (10 to 12 inches) for large cakes, and to use as a water bath if you make a lot of cheesecakes; a roasting pan; a 9x5 loaf pan for quickbreads; tube or bundt pans ... Really, the list is endless.
Next week: cooking tools!