This month is my turn to host What's Baking, a group organized by Jaida of Sweet Beginnings. I got to choose the theme, so in honor of St. Patrick's Day, I chose baking with Irish cream.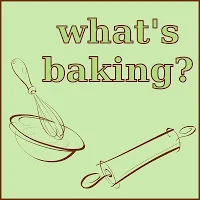 In the past, I've made a full-size Irish cream chocolate cheesecake. It's rich and full of Irish cream flavor, but I didn't want to make a full-size cheesecake without an occasion to share it. So, I decided to adapt it into mini Irish cream chocolate cheesecakes.
For the crust, I used Trader Joe's Chocolatey Cats Cookies for People, but you could also use chocolate graham crackers, or Oreos (cream scraped off). Why add sugar to the crust, when the cookies already contain sugar? The sugar will melt during baking and resolidfy when cooled, holding the crumbs together.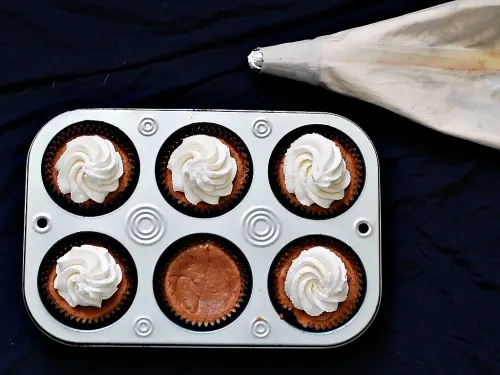 The key to getting a smooth, creamy filling is (1) room-temperature ingredients, and (2) beating to combine, but not to incorporate air. That means beating only as long as necessary to combine the ingredients, but on a medium-low speed.
The verdict? Delicious! Mine cracked during baking (I couldn't figure out how to put the muffin tin in a water bath), so but I remembered the wise words of my culinary instructor: "That's what whipped cream is for!" I added more Bailey's to the whipped cream, and didn't feel a smidge of guilt for downing two mini cheesecakes back-to-back.
Check back later this month to see all of the What's Baking — Baking with Irish cream recipes!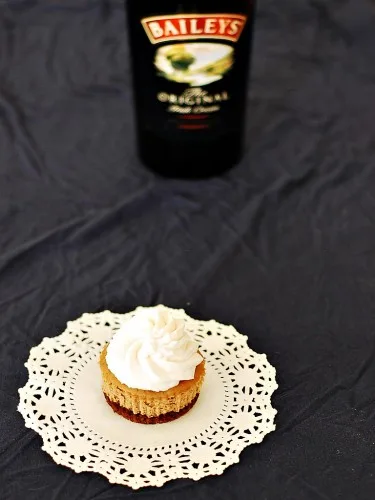 Mini Irish Cream Chocolate Cheesecakes
Adapted from AllRecipes.com
Ingredients
1 cup chocolate cookie crumbs
2 tablespoon powdered sugar
3 tablespoon unsalted butter, melted
2 (8-oz) package cream cheese, room temperature
⅔ cup white sugar
2 tablespoon unsweetened cocoa powder
2 large eggs
6 tablespoon sour cream
¼ cup Irish cream liqueur
1 cup heavy whipping cream, chilled
1 teaspoon sugar
2 tablespoon Irish cream liqueur
Directions
Preheat oven to 350 degrees. Line a 12-count muffin tin with foil liners.
In a small mixing bowl, combine the cookie crumbs, powdered sugar and melted butter. Mix until all of the dry ingredients are moistened.
Place a tablespoonful of cookie crumbs in each liner, and gently press with fingers into a flat crust. Bake for 5 to 10 minutes. Let cool completely on a wire rack. Increase oven temperature to 400 degrees.
In the bowl of a stand mixer, blend together the cream cheese, white sugar, and cocoa powder until evenly combined and smooth. Scrape down the sides of the bowl.
Add the eggs, one at a time, beating well and scraping the bowl between additions. Beat in the sour cream and the Irish cream on medium-low speed.
Scoop two tablespoonfuls of batter into each muffin well.
Bake at 400 degrees for 5 minutes, then decrease oven temperature to 250 and bake 15 to 20 minutes, until edges are set but center still jiggles slightly. Let cool on a wire rack for an hour, then refrigerate for at least four hours (overnight is preferable).
In the bowl of a stand mixer with the whip attachment, beat the heavy cream and sugar at high speed until stiff peaks form. Lower the speed to medium-low, and gradually add the Irish cream liqueur, and mix until fully incorporated (peaks may soften). Place a generous dollop on top of each cheesecake.