Strawberry shortcake cupcakes are an easy dessert that kids and adults alike will enjoy. Bake the cupcakes and macerate the strawberries ahead of time, then top with whipped cream and strawberries just before serving.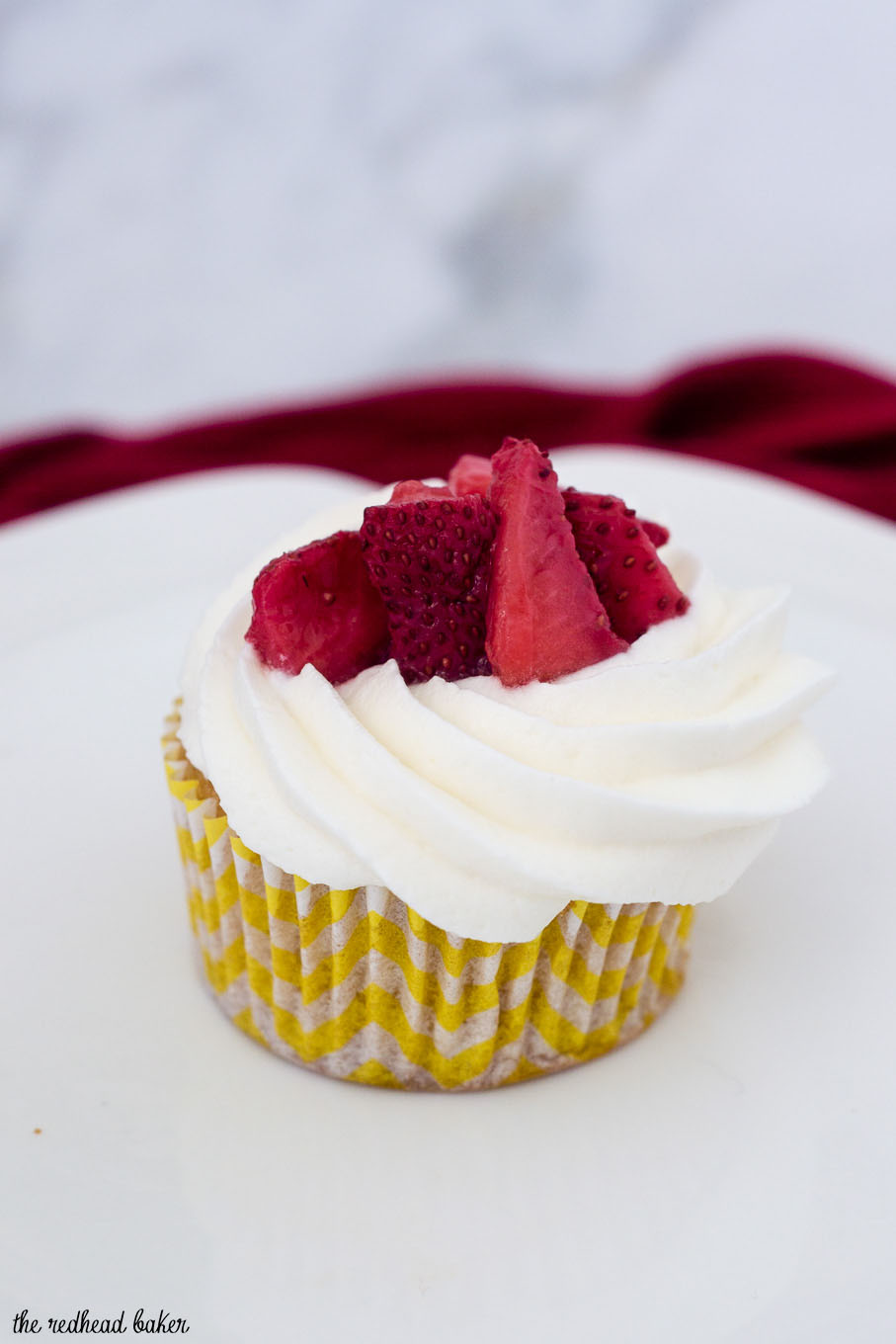 Strawberry shortcake reminds me of my maternal grandmother. It was at her house that I first had the dessert. I've mentioned in past posts that even when she was expecting four people for dinner, she'd have dessert for eight.
A strawberry shortcake cake was usually one of those desserts, particularly in the summer. They were usually store-bought, and while the cake and whipped cream were good, the syrup on the strawberries was usually sickeningly sweet.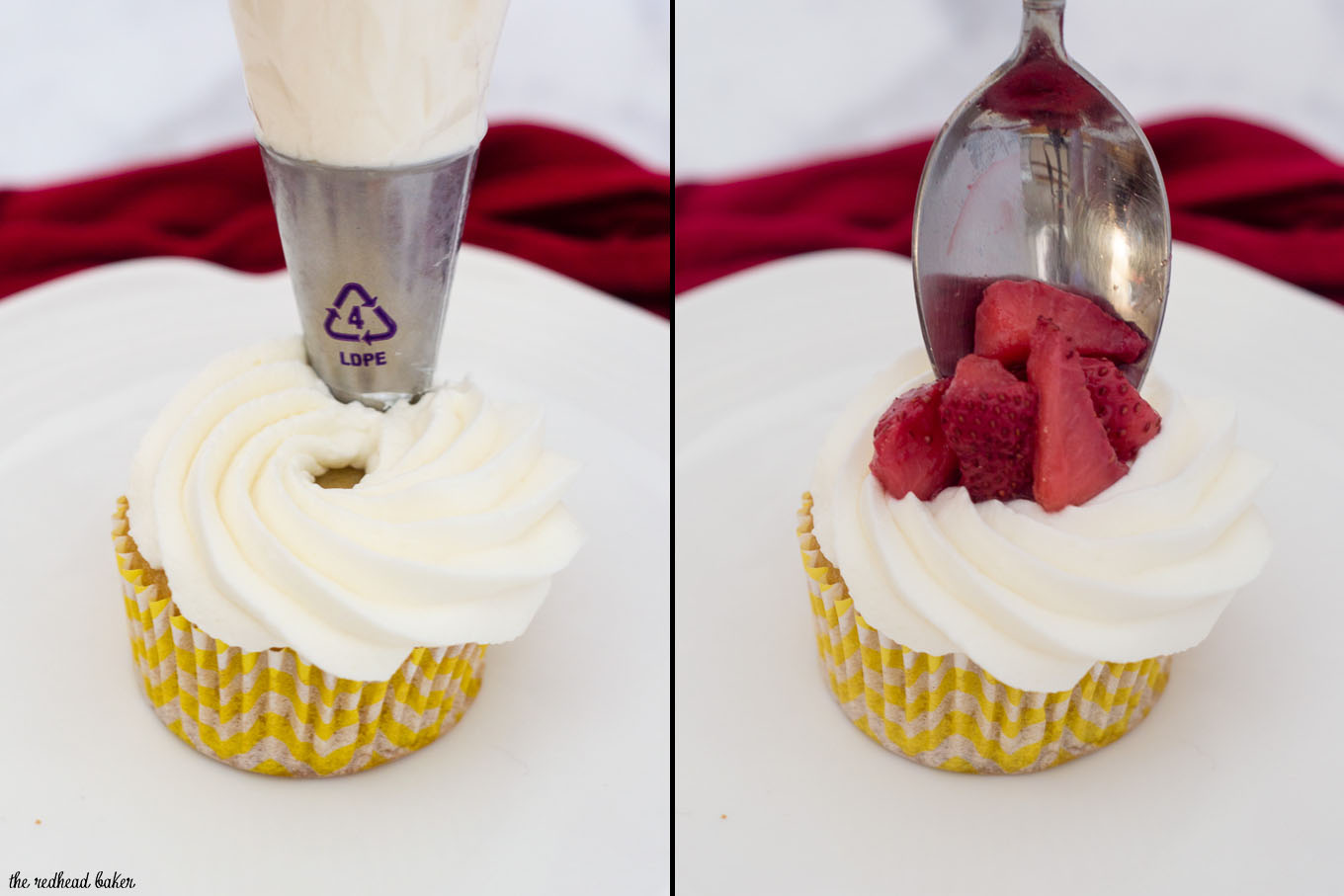 I found myself craving cupcakes recently, and thought about what flavor to make. Strawberries were on sale, so I decide on strawberry shortcake cupcakes. I'm sure I'm not the first person to "invent" strawberry shortcake cupcakes, but this is the version that I "developed" on my own using my favorite cupcake recipe (you can use your own favorite vanilla cupcake instead, if you want). They are so easy, and appealing to all ages.
Unless you're my son. After I finished photographing the cupcakes, he asked to eat one. I handed it to him, he took a bite, and told me he didn't like the frosting. I ask you, who doesn't like whipped cream?!? I already wonder how it is that he prefer fruity snacks over chocolate, now he doesn't like whipped cream??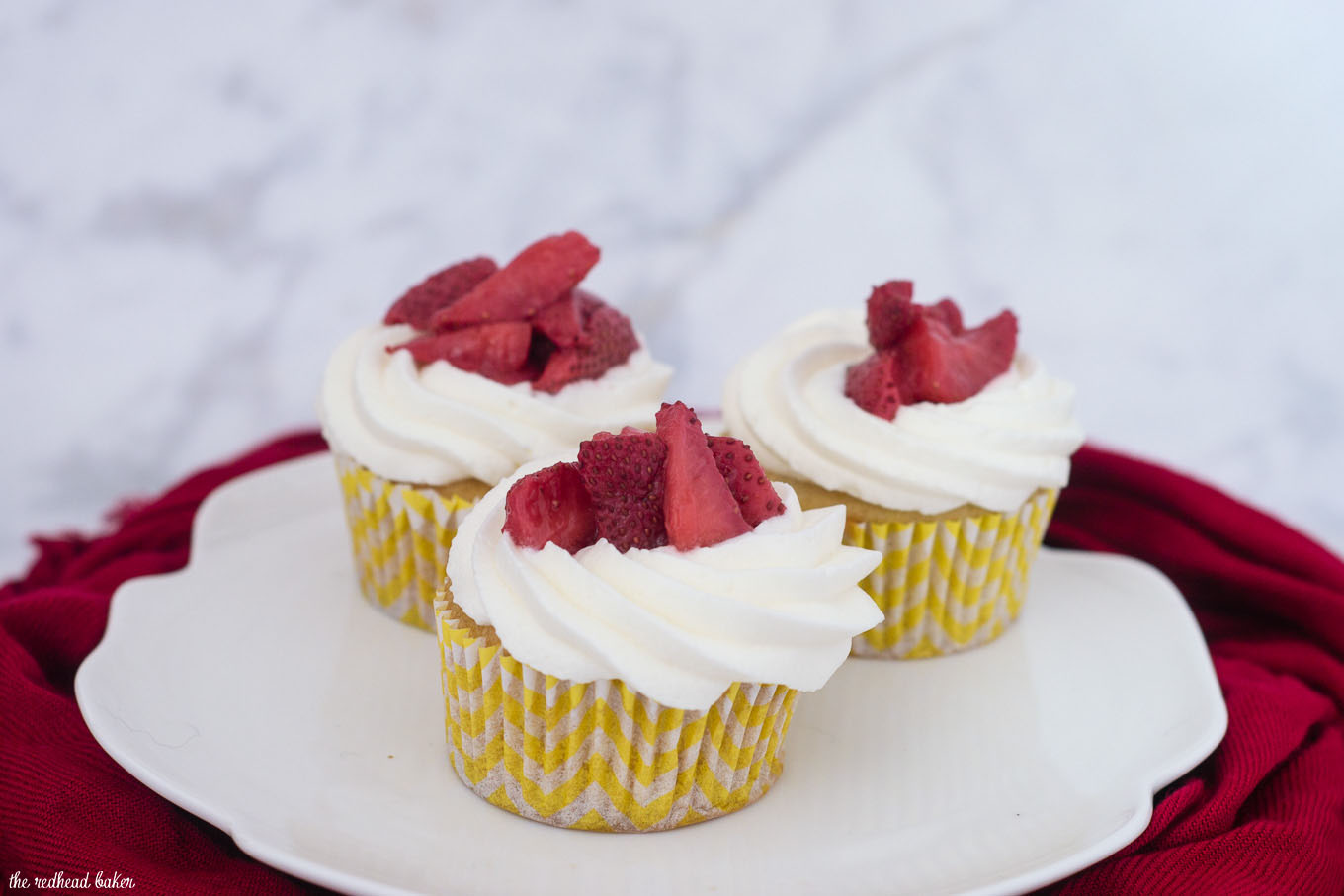 Unless you stabilize your whipped cream, I'd strongly recommend making the whipped cream and assembling the cupcakes just before serving. It shouldn't take too long, and chilling your bowl and whisk attachment before whipping the cream will help it go faster.
Having a piping bag and a star tip will make frosting the cupcakes much easier, but if you don't have those supplies, you can use the plastic sandwich bag trick: place the whipped cream in a sturdy plastic bag, and snip off a corner, then squeeze the whipped cream out of that corner. It won't have the pretty shape that it has from the star tip, but it will still taste delicious!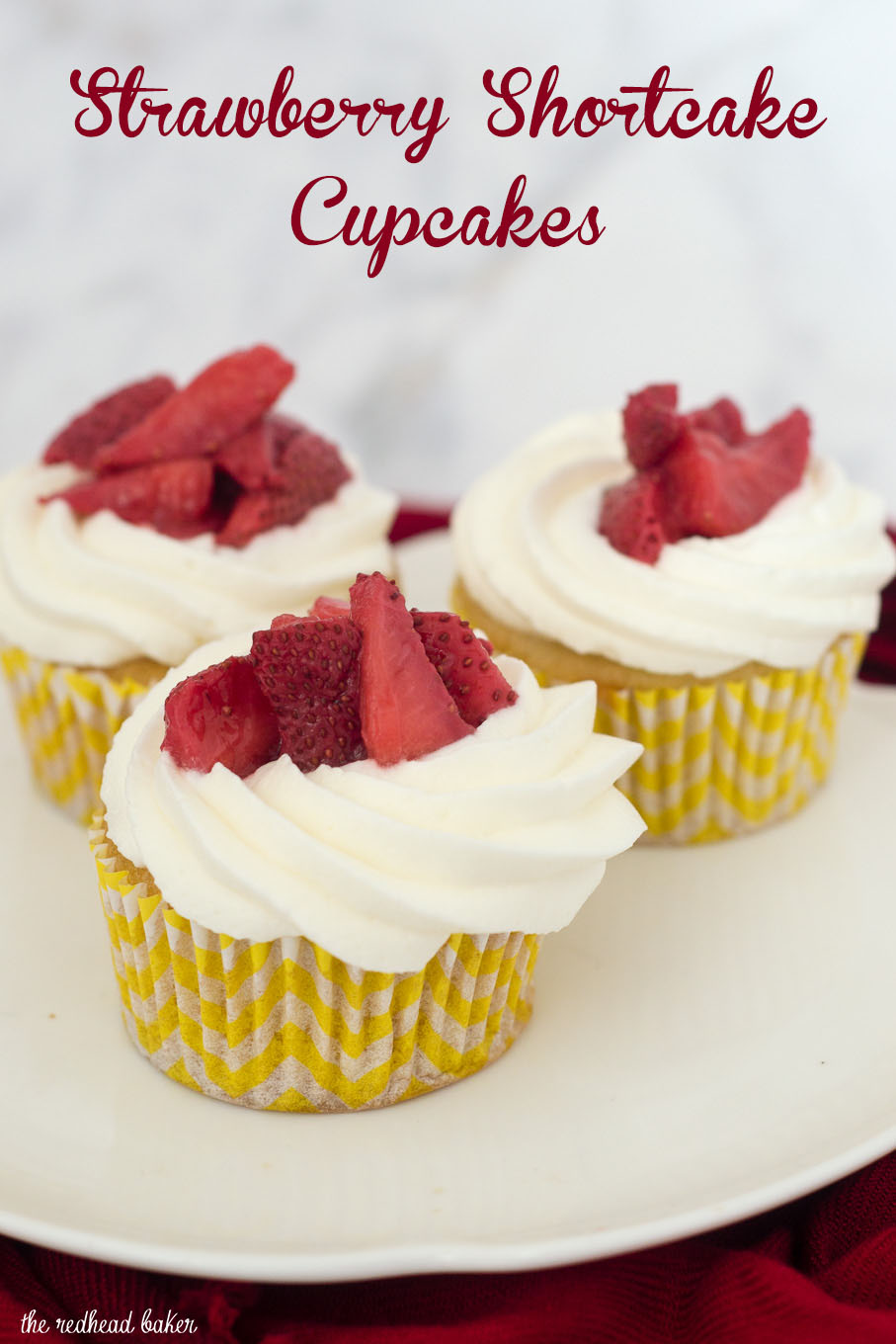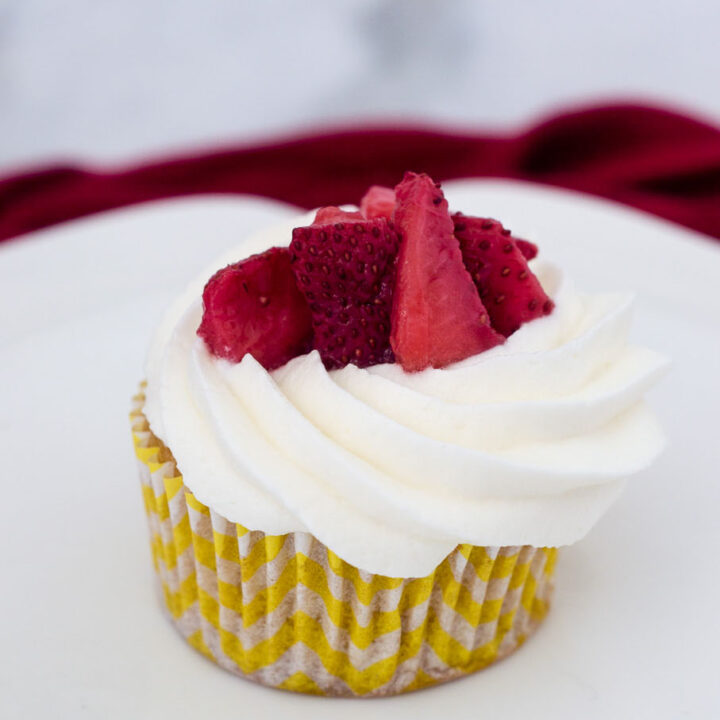 Strawberry Shortcake Cupcakes
Ingredients
For the strawberries:
1 ½ pounds strawberries, stemmed and quatered
5 tablespoon sugar
For the cupcakes:
2 cups cake flour
2 teaspoon baking powder
¾ teaspoon baking soda
¾ teaspoon salt
3 large eggs
1 ¼ cups sugar
2 teaspoon vanilla extract
¾ cup canola or vegetable oil
¾ cup buttermilk
For the whipped cream:
2 cups heavy cream, chilled
¼ cup sugar
2 teaspoon vanilla extract
Instructions
Placed the quartered strawberries in a bowl with the sugar. Toss to coat. Chill for at least 30 minutes.
Preheat oven to 350 degrees. Line muffin tins with paper cupcake liners.
In a small bowl, stir together the cake flour, baking powder, baking soda and salt.
In a mixing bowl, beat the eggs until frothy. Gradually add the sugar and beat for 2 minutes. Add the vanilla and oil, and beat 2 minutes. Scrape down the bowl.
Add one third of the dry ingredients and mix for 30 seconds on medium-low. Scrape down the bowl. Add half the buttermilk and mix for 30 seconds on medium-low, then scrape down the bowl. Add another third of the dry ingredients, and repeat mixing and scraping. Add the remaining buttermilk, repeat mixing and scraping, then add the last of the dry ingredients. Mix just until combined.
Divide the batter between the paper liners, filling each halfway. Bake for 14 minutes, or just until the edges start turning golden brown and the cupcakes are baked through. Remove from the oven and let cool in the pan for 5 minutes, then turn out and cool on a wire rack completely.
In a chilled stand mixer bowl with a chilled whisk attachment, whip the cream to soft peaks. Add the sugar and vanilla and whip to stiff peaks.
Fit a piping bag with an open star tip, fill halfway with whipped cream. Pipe a circle of whipped cream around the edge of each cupcake. Poke several holes in the cupcake with a toothpick. Spoon some of the strawberries and their reserved juices into the middle of each cupcake. The juices will soak into the holes created by the toothpicks.
Serve immediately.
Recipe by The Redhead Baker