Pina colada cupcakes are soaked in rum syrup, filled with pineapple, and frosted with coconut whipped cream. A delicious summer treat!
We're going nuts for coconuts today! Today's #SundaySupper event is hosted by Constance of Cosmopolitan Cornbread, and we're sharing recipes that feature coconut.
I've only recently started to acquire a taste for coconut, and I definitely prefer the taste when it's mixed in with other flavors, such as pineapple or lime.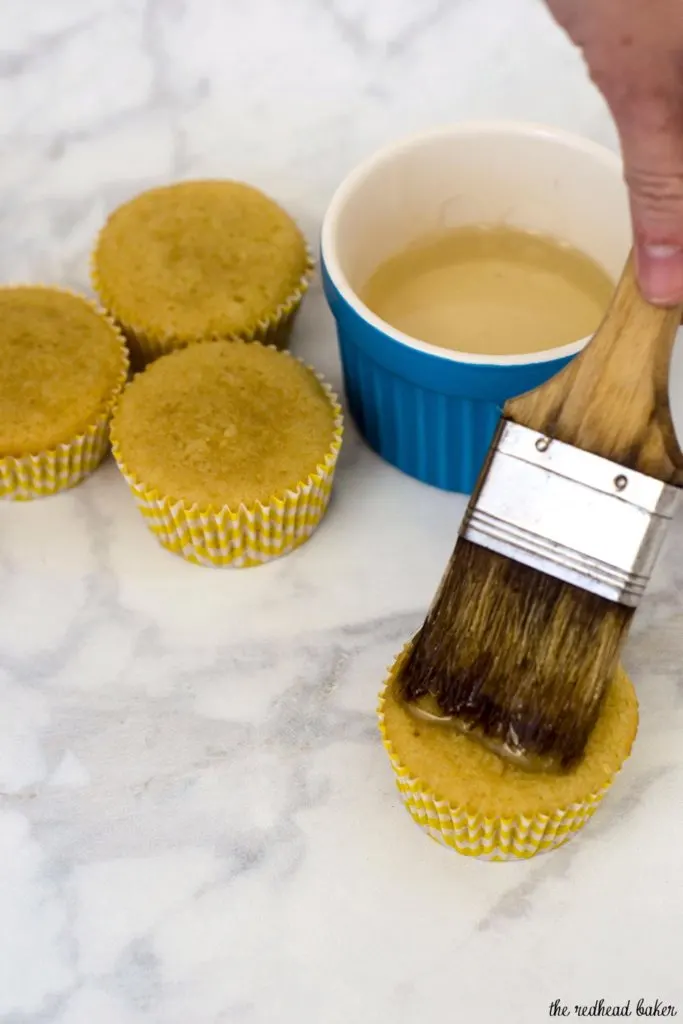 My favorite recipe featuring coconut is the pina colada cocktail, but I shared a recipe for that already. So, I thought a pina-colada-flavored dessert would be fun. There are several other recipes out there already, but this one is my creation.
It starts out with a simple vanilla cupcake. I've shared my favorite vanilla cupcake recipe below, but you can use your own preferred recipe. The cupcakes are brushed with a flavored simple syrup. This serves two purposes: the simple syrup keeps the cupcakes moist, even if you bake them several days in advance, and it imparts a subtle rum flavor.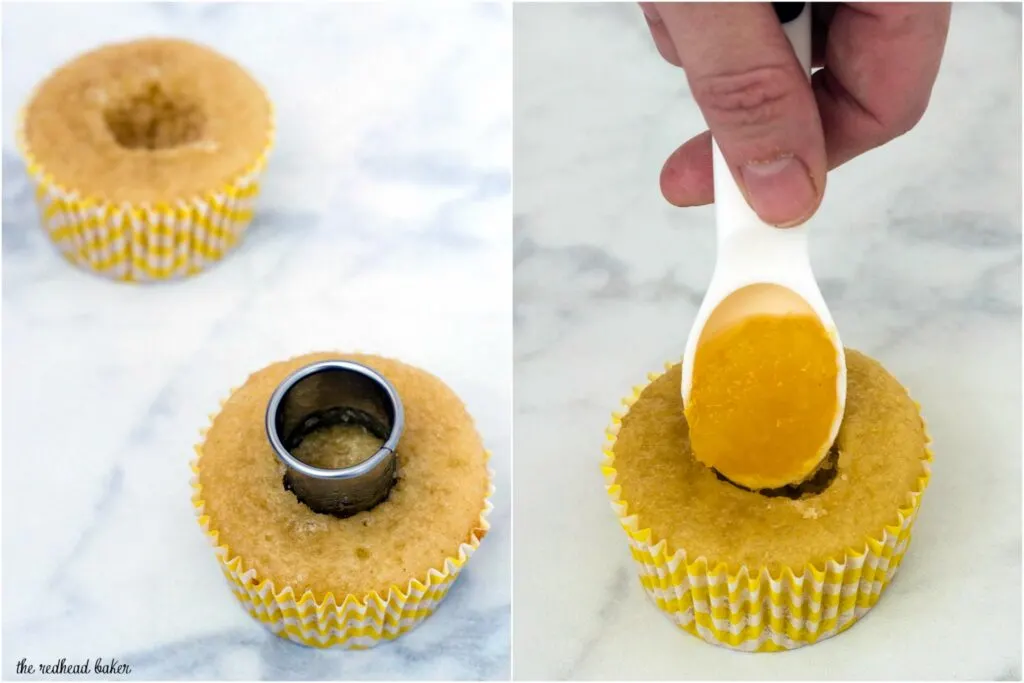 Use a small cookie cutter or a paring knife to cut a hole in the middle of the cupcake. Don't go all the way down to the bottom, or the sweetened pineapple filling will fall out when you remove the cupcake liner.
The recipe below may yield a bit more pineapple filling than you will need, depending on how large your cupcakes are, how big a hole you cut in the cupcakes, and how full you fill the hole. If you do have leftover filling, it's delicious when spooned over vanilla ice cream, or spread on toast.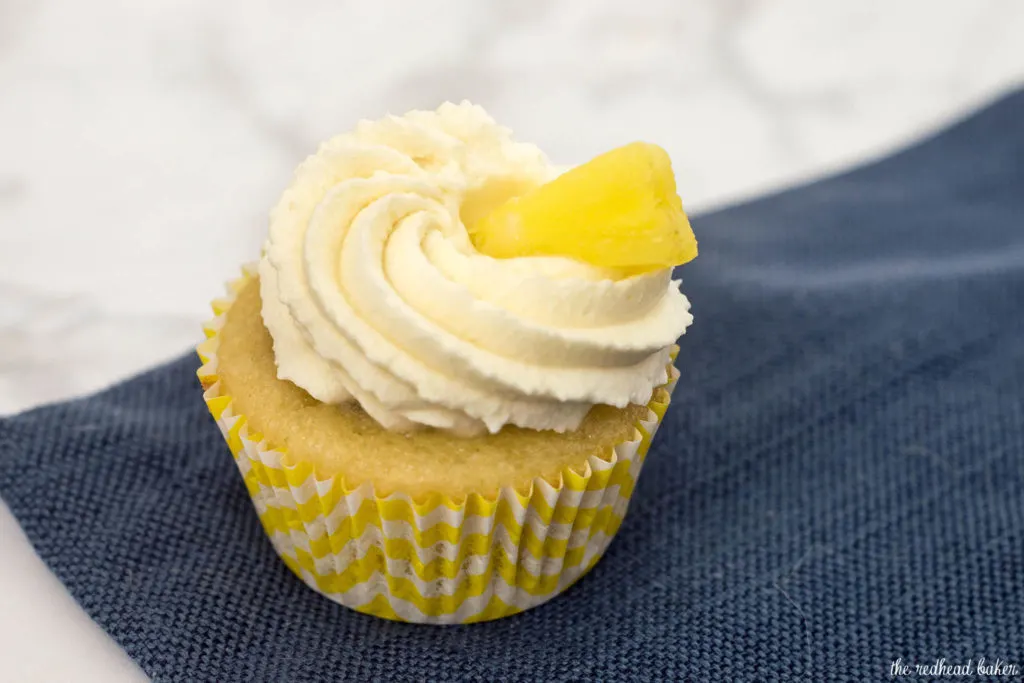 Finally, the frosting. I made a stabilized coconut flavored whipped cream. Stabilized whipped cream uses gelatin to keep the whipped from deflating as fast as it normally would, and keeps it from weeping in the refrigerator. This doesn't mean you can store your frosted cupcakes at room temperature ‐ they still need to be refrigerated.
Why not use coconut milk? If you are dairy-free, that is absolutely an option. In order to whip coconut milk, you need to chill it to separate the milk from the fat. Reserve the milk for another use and whip only the cream. However, each can yields only a small amount of cream, so you'd need several cans to get enough cream to frost cupcakes, which can be cost-prohibitive.
If you do need to use coconut cream for dietary reasons, the coconut whipped cream can be stabilized the same way as regular whipped cream.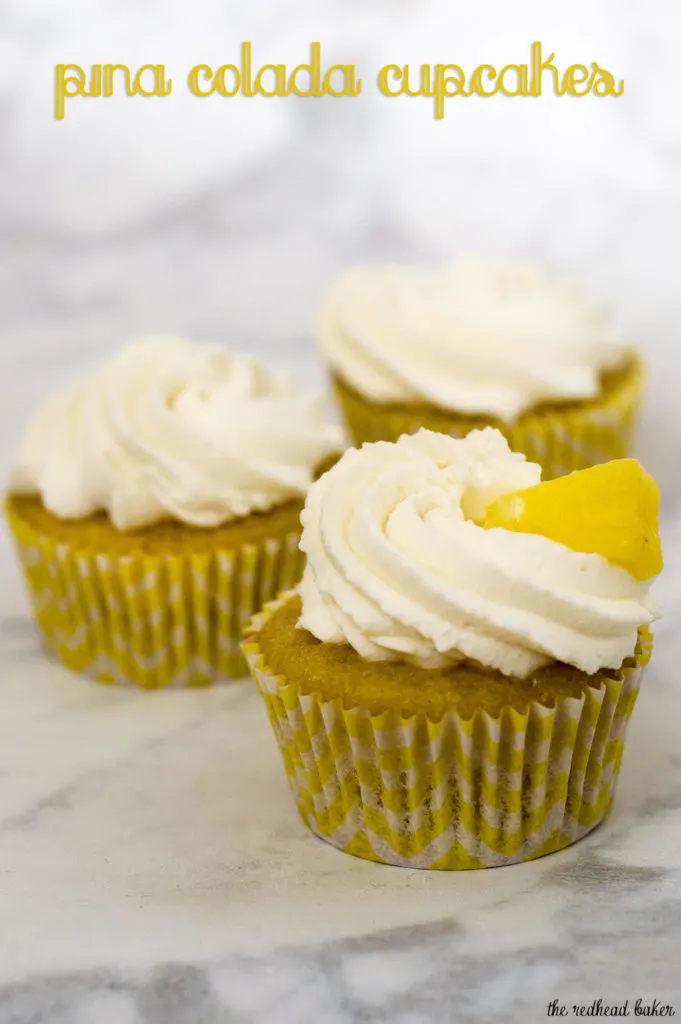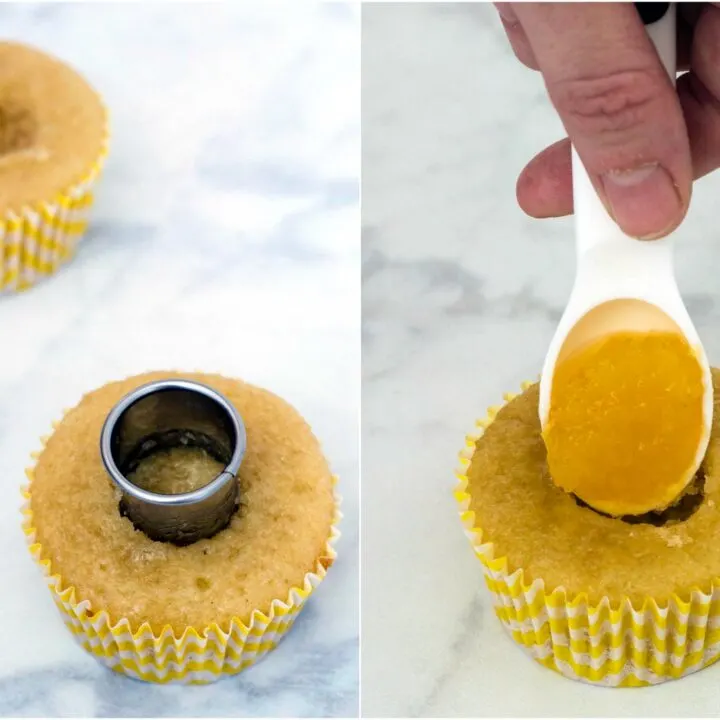 Pina Colada Cupcakes
Ingredients
For the cupcakes:
2.5 cups cake flour, 10 ⅝ oz or 300g
2 ½ teaspoon baking powder, 13 mL
1 teaspoon baking soda, 5 mL
1 teaspoon salt, 5 mL
4 large eggs
1 ½ cups sugar, 10 ½ oz or 297g
1 tablespoon vanilla extract, 15 mL
1 cup canola or vegetable oil, 8 fl oz or 237 mL
1 cup buttermilk, 8 fl oz or 237 mL
For the rum syrup:
1 cup sugar, 7 oz or 198g
1 cup water, 8 fl oz or 237 mL
2 tablespoon light rum or 1 ½ teaspoon rum extract, 30 mL, 7 mL
For the filling:
12 oz frozen diced pineapple, 680 g, not packed in syrup
⅔ cups water, 320 mL
¾ cups sugar, 255g
1 tablespoon lemon juice, 30 mL
For the frosting:
2 teaspoon unflavored gelatin
8 teaspoon cold water
2 cups heavy cream, chilled
1 cup powdered sugar
½ teaspoon vanilla extract
½ teaspoon coconut extract
Instructions
Preheat oven to 350 degrees. Line muffin tins with paper cupcake liners.
In a small bowl, stir together the cake flour, baking powder, baking soda and salt.
In a mixing bowl, beat the eggs until frothy. Gradually add the sugar and beat for 2 minutes. Add the vanilla and oil, and beat 2 minutes. Scrape down the bowl.
Add one third of the dry ingredients and mix for 30 seconds on medium-low. Scrape down the bowl. Add half the buttermilk and mix for 30 seconds on medium-low, then scrape down the bowl. Add another third of the dry ingredients, and repeat mixing and scraping. Add the remaining buttermilk, repeat mixing and scraping, then add the last of the dry ingredients. Mix just until combined.
Divide the batter between the paper liners, filling each halfway. Bake for 14 minutes, or just until the edges start turning golden brown and the cupcakes are baked through. Remove from the oven and let cool in the pan for 5 minutes, then turn out and cool on a wire rack completely.
Make the syrup: In a small saucepan, combine the sugar and water. Bring to a boil over high heat, then reduce and simmer for 5 minutes. Remove from the heat and stir in the rum or rum extract. Set aside to cool completely.
Make the pineapple filling: Combine the pineapple, water, sugar and lemon juice in a small saucepan. Bring to a boil, then reduce heat and simmer the mixture for 15 to 20 minutes, until the liquid is reduced to a thick syrup. Set aside to cool completely.
Brush the tops of each cupcake with some of the syrup and set aside to let it soak in. For stronger rum flavor, brush each cupcake a second time and allow it to soak in.
Using a small round cutter or a paring knife, cut a hole in the center of each cupcake, taking care not to cut all the way to the bottom. Fill each hole with a teaspoonful of pineapple filling.
Make the frosting: place the cold water in small microwave-safe bowl and sprinkle the gelatin over it in an even layer. Let sit for 5 minutes to bloom.
While it's blooming, place the heavy cream in the bowl of a stand mixer with the whisk attachment. Once the gelatin is completely set, place the bowl in the microwave and heat on high until gelatin turns melts, about 10 seconds.
Turn the mixer on high-speed to start beating cream. Beat for about 1 minute and then with the mixer on high, very slowly pour the melted gelatin in, in a small steady stream, trying to avoid the beaters.
Continue beating cream until you reach medium peaks. Add the sugar and extracts and continue beating until you have stiff peaks.
Spread or pipe the whipped cream onto the filled cupcakes. Store the cupcakes in the refrigerator until ready to serve.
Recipe by The Redhead Baker
Discover more #SundaySupper recipes featuring coconut!
Great Starts
Dive in with Sides and Appetizers
Coco-Nutty Main Dishes
"Col-lots-a" Desserts
Sweet to Sip Beverages