Mahi mahi tacos with mango salsa and avocado crema are a delicious, easy weeknight meal with lots of spice and summer flavor.
Do you ever get bored of dinner? I think one of the reasons I got so interested in cooking was because I was bored of baked chicken breasts, tacos, grilled steak and spaghetti. I ate the same thing over and over and over again.
Then I discovered all the different ways you could flavor a burger, and the millions of ways to prepare chicken breast and pork tenderloin. I discovered that I love chicken thighs even more than the breasts. I learned about different cuts of steak. I discovered that I loved fish. I discovered that fruit tastes DELICIOUS on meat.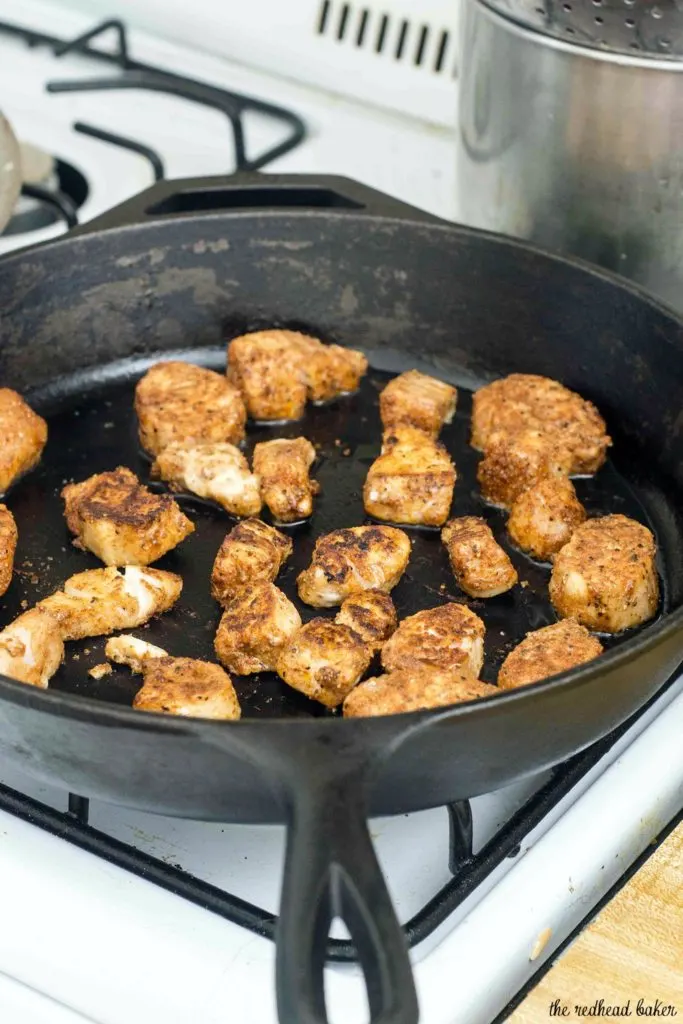 Dave jokes that the reason he loves me is because he never eats the same meal twice. He's only exaggerating a bit — more often than not, our dinner will be a new-to-us recipe rather than something I've made before. With SO MANY different things to eat and ways to prepare them, why eat the same thing over and over again?
Don't get me wrong, I'm not knocking anyone who enjoys eating a lot of the same food. If you have a staple recipe that you love and you enjoy preparing, by all means, eat it as often as you want. I find joy in discovering new recipes and get bored eating the same thing the same way over and over again.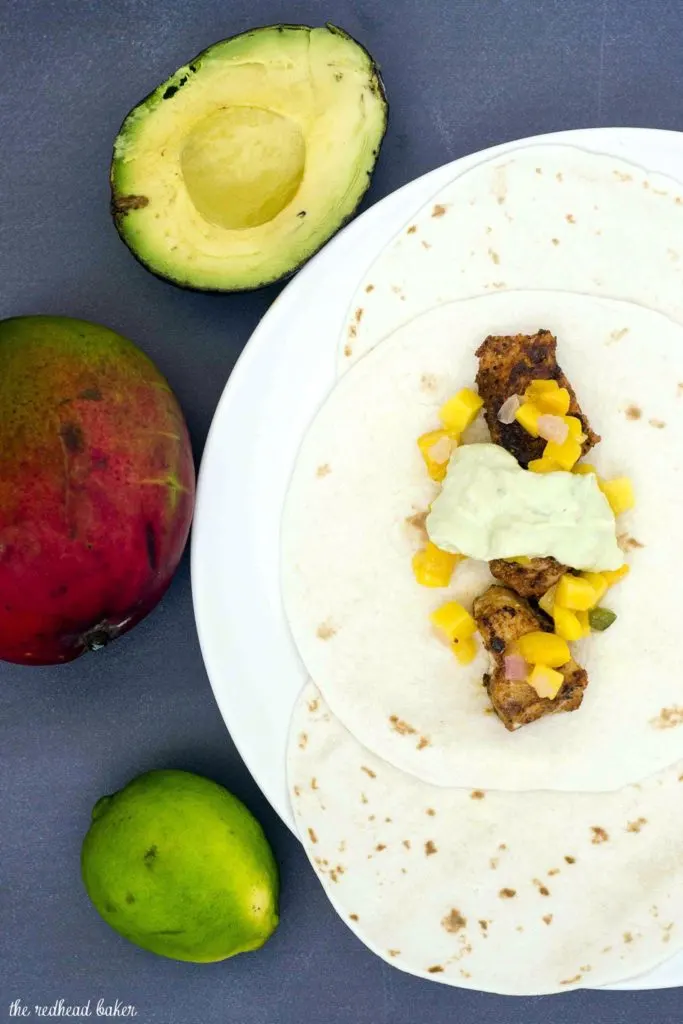 These mahi mahi tacos are something I've recently discovered. I think I had mahi mahi for the first time in the US Virgin Islands in 2001. I haven't had it since because I heard horror stories of trying to cook fish at home — rubbery over-cooked fish that sticks to the pan. Mahi mahi is a relatively firm fish, and by cutting it into chunks before cooking, there's little chance of it falling apart when you try to lift it out of the pan. Two minutes per side, and it's done. That's all the cooking required for this recipe. Seriously.
The other portions, the salsa and the avocado crema, can be made ahead and refrigerated. Making the salsa ahead is highly encouraged, even, as it allows the flavors of the salsa to infuse together. This is an unbelievably flavorful, easy summer weeknight meal. I hope you give it a try.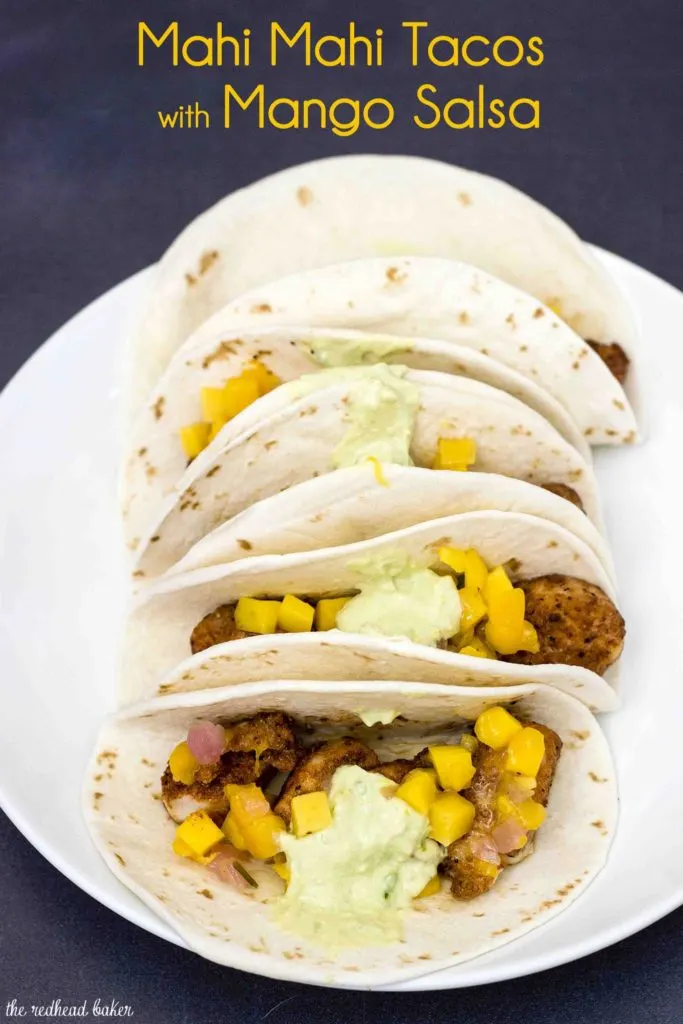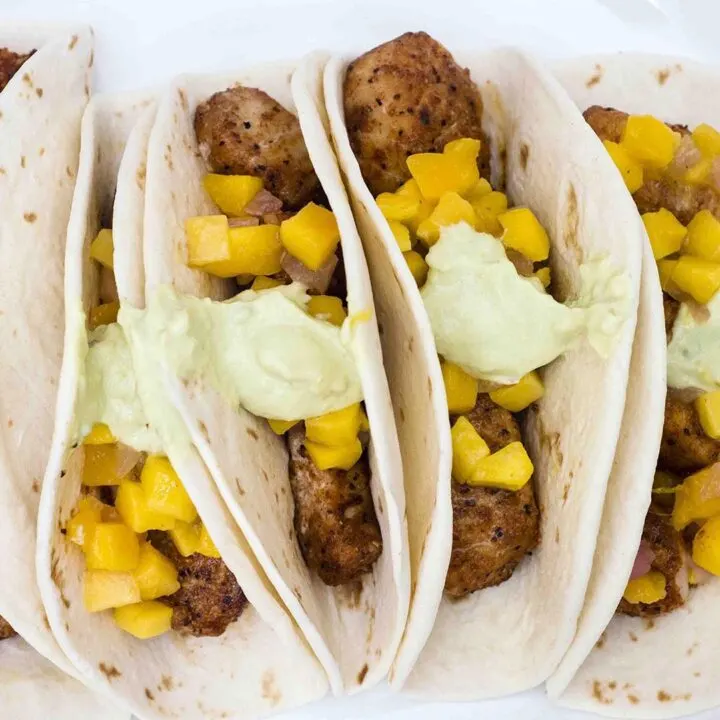 Mahi Mahi Tacos with Mango Salsa
Ingredients
For the mango salsa
1 mango, peeled and diced
½ cup peeled, diced cucumber
1 tablespoon finely chopped jalapeno
¼ cup diced red onion
1 tablespoon freshly squeezed lime juice
⅓ cup roughly chopped cilantro leaves
Salt and pepper
For the avocado lime crema
1 ripe avocado
1 cup sour cream
2 teaspoon . freshly squeezed lime juice
¼ teaspoon . kosher salt
For the fish
1 lb mahi mahi, cut into strips
1 teaspoon smoked paprika
1 teaspoon garlic powder
1 teaspoon kosher salt
½ teaspoon cumin
½ teaspoon pepper
2 tablespoon vegetable oil
Additional ingredients
8 taco-sized flour tortillas
Instructions
Combine the mango, cucumber, jalapeno, red onion, lime juice and cilantro leaves and mix well. Season with salt and pepper, to taste. Cover and refrigerate for up to 2 days.
Halve and pit the avocado and scoop the flesh into a bowl and mash until still slightly chunky. Add the sour cream, lime juice and salt. Blend just until smooth. Cover and refrigerate for up to 2 days.
In a small bowl combined the smoked paprika, garlic powder, kosher salt, cumin, and pepper. Stir to mix.
Pat the fish dry and rub spice mixture onto all sides of the fish.
Heat oil in a large cast-iron skillet or sauté pan over medium-high heat. Add fish to pan; cook 2-3 minutes on each side or until desired degree of doneness.
Warm tortillas according to package directions. Divide fish evenly among tortillas. Garnish with mango salsa and avocado lime crema and serve.
Recipe by The Redhead Baker