With flavors of pineapple, coconut, mango and lime, you'll transport yourself to the Caribbean with this easy tropical fruit salad.
My mom and I joke that we were born in the wrong country. We love tropical everything. Tropical flowers, tropical weather, tropical music, and especially tropical flavors. If you walked into my mother's basement, you'd think you'd been transported to the Bahamas. Turquoise paint on the walls, coral paint in the bathroom, and palm trees everywhere.
When I read that this week's Sunday Supper theme was tropical food, I really couldn't make up my mind. Should I make something with coconut? Something with pineapple? Something with mango? I finally decided to go super simple, and combine all the flavors in one delicious, easy fruit salad.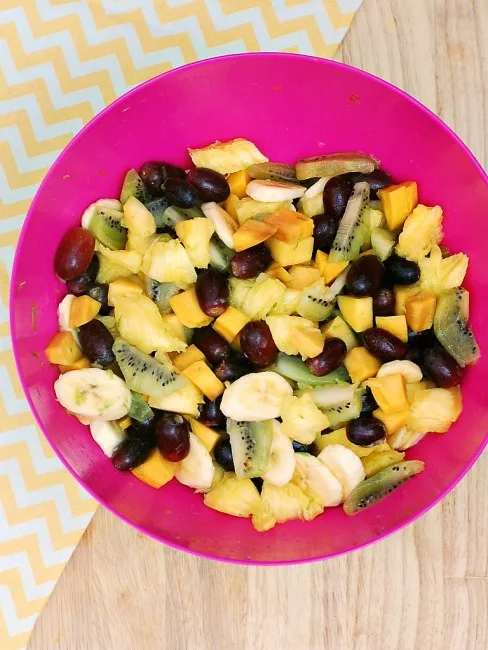 When I was a kid, my grandmother used to hollow out a watermelon to use as a serving vessel for fruit salad at family picnics. I decided to do the same with a pineapple to serve this fruit salad. One pineapple will not hold all of the fruit salad at once, and to be quite frank, it was HARD WORK to hollow out just one pineapple. If you serve this at a party, you'll need to keep the rest in a bowl nearby, or refill the pineapple as needed. Or you can skip the hollow pineapple altogether, and just peel and core the pineapple, and proceed with Step 4.
One tip: bananas oxidize (turn brown) after being cut. Leave those until last, and toss with a little lime juice before adding to the salad. Feel free to leave out any tropical fruits you don't like, and /or add in other tropical fruits, like oranges, papaya, or starfruit.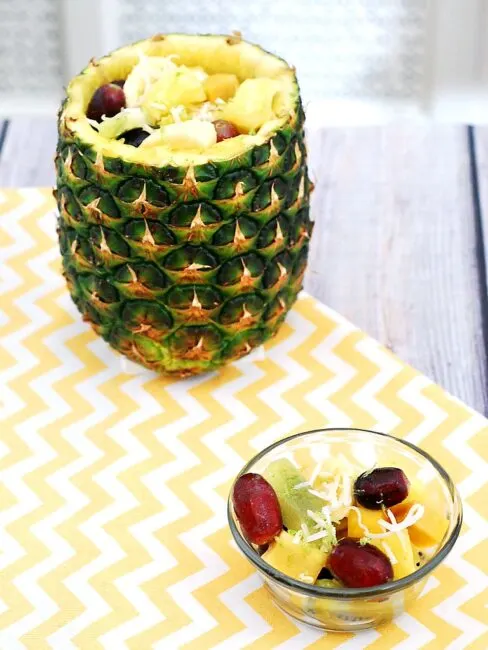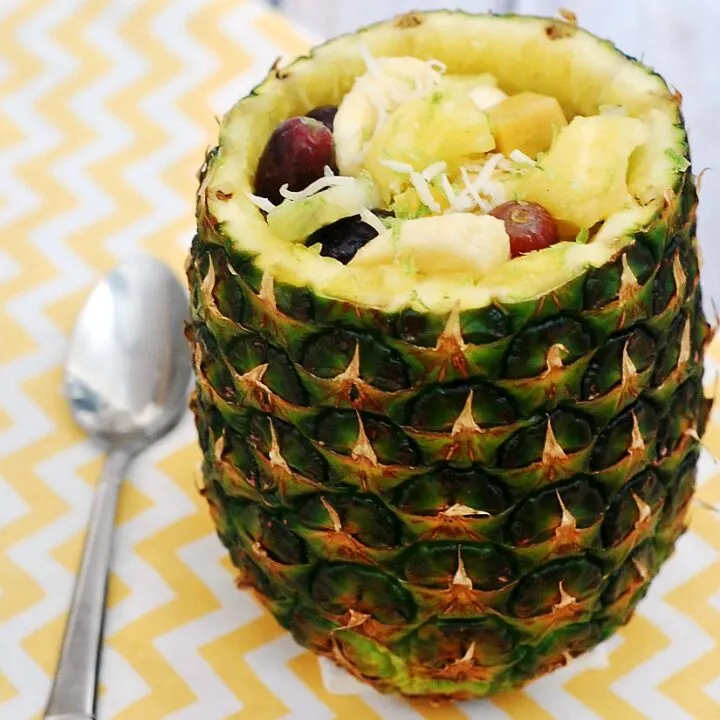 Tropical Fruit Salad
Ingredients
For the syrup:
1 ½ cups water
2 tablespoon sugar
¾ cup sweetened flaked coconut, 2 ¼ oz
For the salad:
1 pineapple
2 inch mangos, peeled, cored and cut into ½- chunks
3 inch kiwis, peeled, and cut into ¼- rounds or wedges
2 inch bananas, peeled and cut on the bias into ¼- rounds
2 cups red seedless grapes, halved if desired, about a pound
Zest of 2 limes
Instructions
Make the syrup: Place the sugar and water in a medium saucepan. Over high heat, bring to a boil, stirring occasionally. Once the mixture boils, stir in the coconut, remove the saucepan from the heat, and cover. Let stand for 30 minutes to 4 hours (the longer it sits, the stronger the coconut flavor).
Strain the syrup into a 2-cup measuring glass (or storage container, if not using immediately). Cool to room temperature, then refrigerate if not using immediately. Discard solids from the strainer. Syrup can be stored for up to a day before using.
Use a pineapple cutter to hollow out the pineapple, stopping about ¾-inch from the bottom. Remove the flesh, discard the core. Cut the flesh into 1-inch wedges.
Combine the pineapple, mango, kiwi, banana, and grapes in a large bowl. Pour the syrup over the fruit, then sprinkle on the lime zest. Toss to coat. Chill in the refrigerator if not serving immediately.
Syrup recipe from Food Network
Discover more Sunday Supper Tropical Recipes!
Tidbits and Pupus
Breakfast
Companions
Condiments and Sauces
Coolers
Main Event
Delectable Delights