Rich white chocolate peppermint bark ice cream is a delicious holiday treat, with bits of the popular Christmas treat mixed throughout the ice cream.
Unless you've been living on another planet for quite some time, you've probably heard of peppermint bark. But in case you haven't, let me first welcome you to Earth, and explain that peppermint bark is a layer of peppermint-flavored semisweet chocolate, topped with a layer of peppermint-flavored white chocolate, and topped with crushed candy canes.
It is everywhere at Christmas time, from grocery stores to upscale kitchenwares stores to even housewares stores! It makes a great hostess gift, and is pretty tasty eaten on its own.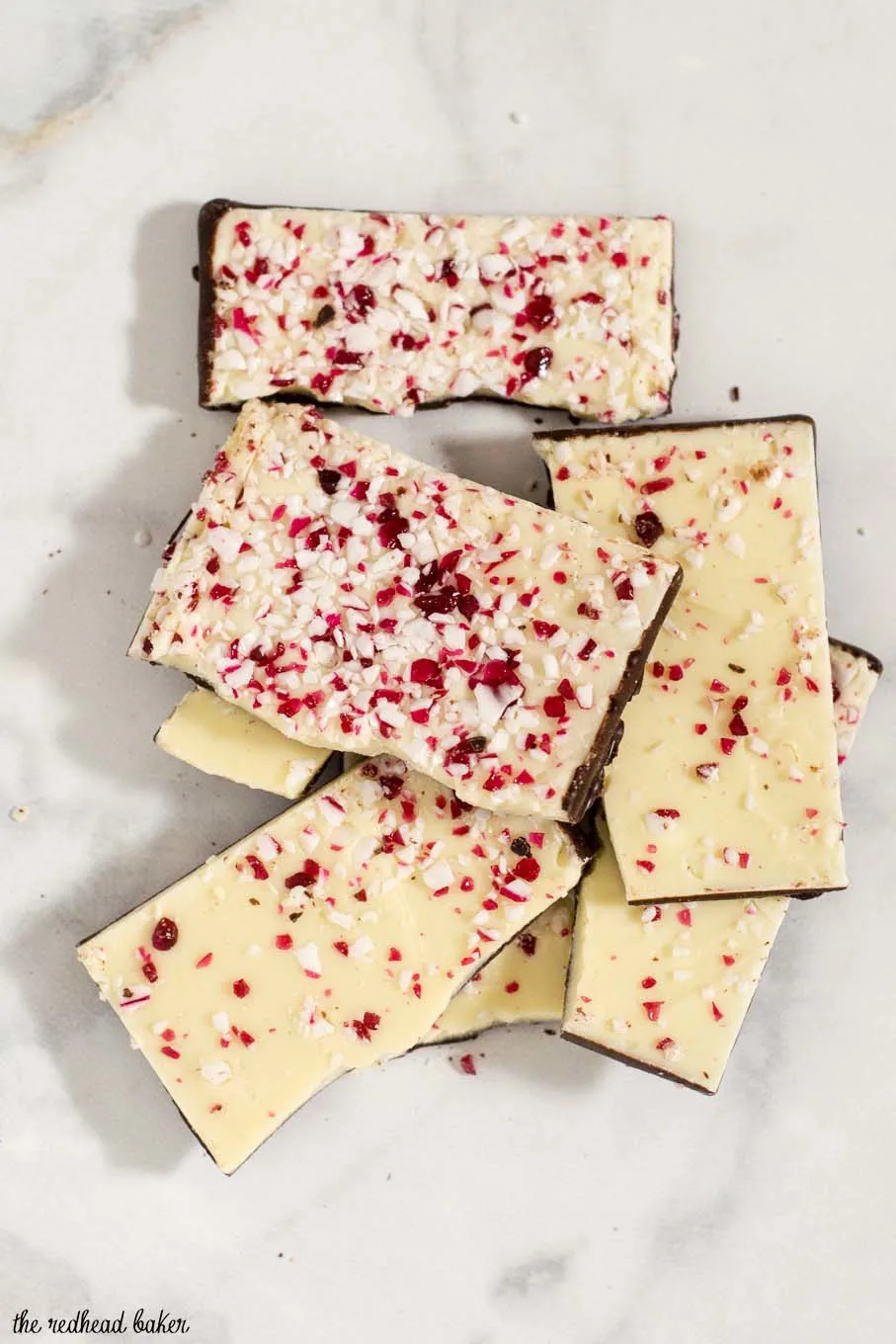 Sometimes, though, you get a package that has broken in transit. I wouldn't want to give broken peppermint bark as a hostess gift, and while I'd be happy to eat it myself as-is, I thought it might be fun to use it in a recipe. Plus, it's fun to crush the larger chunks of bark with the end of a rolling pin.
That recipe happened to be ice cream. Yes, ice cream at Christmas time. I can't be the only one who eats ice cream all year round, right? I origianally tried this with peppermint ice cream, and it was OMG WAY TOO MUCH PEPPERMINT! After tasting it, I felt like I had just brushed my teeth with an entire tube of toothpaste. Plus, Peppermint Peppermint Bark Ice Cream sounds silly.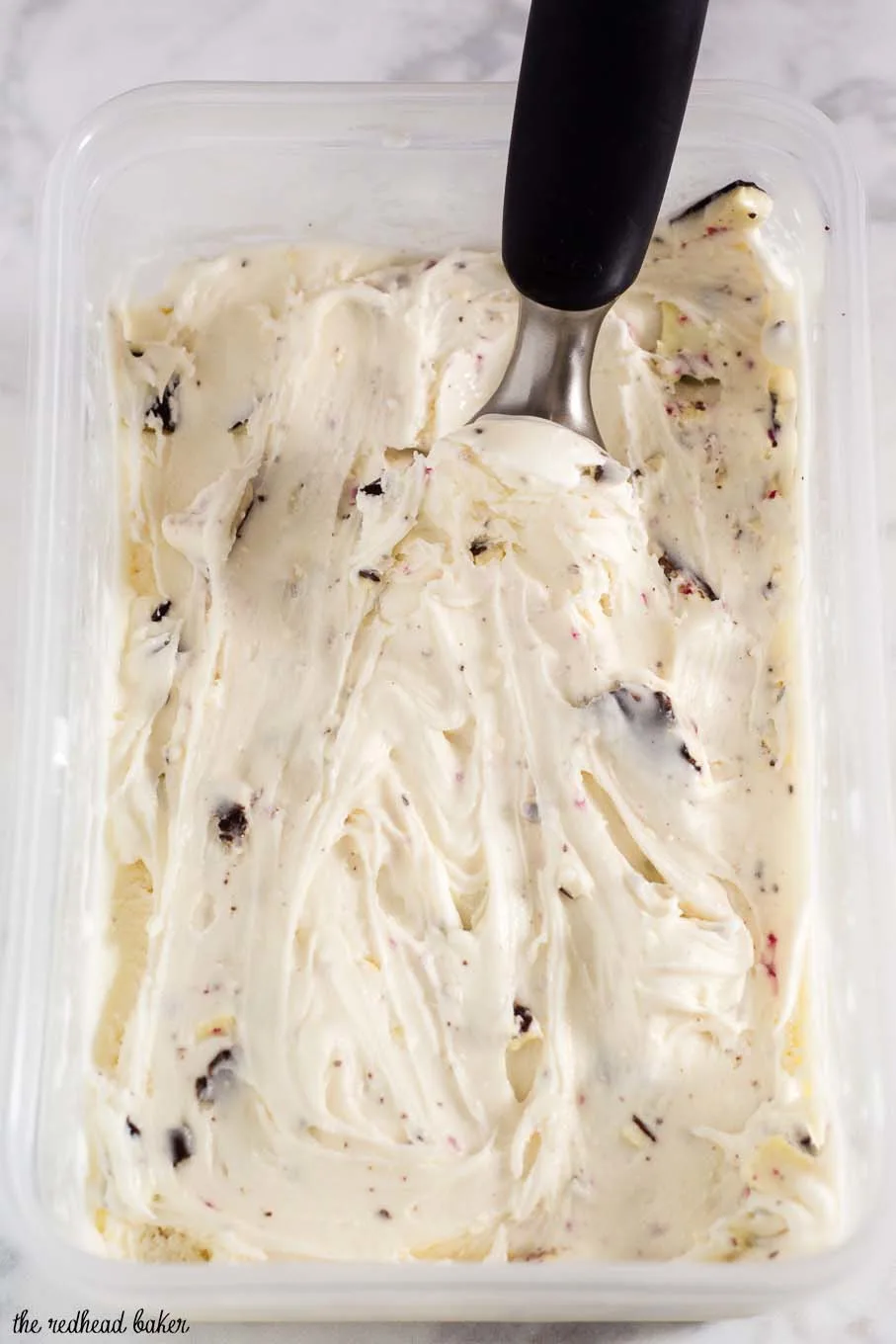 I tried again with white chocolate ice cream, and it is delicious. The peppermint from the bark gives just enough peppermint flavor to the ice cream. This would be nice with chocolate ice cream, too, and possibly even plain vanilla ice cream.
When crushing your peppermint bark, save a few larger chunks for garnish. If you don't have an ice cream maker that allows you to add mix-ins during churning, you can spread a layer of ice cream in your storage container, add a sprinkle of crushed bark, then another layer of ice cream, then another sprinkle of bark, and continue until you've used all the ice cream and all the bark.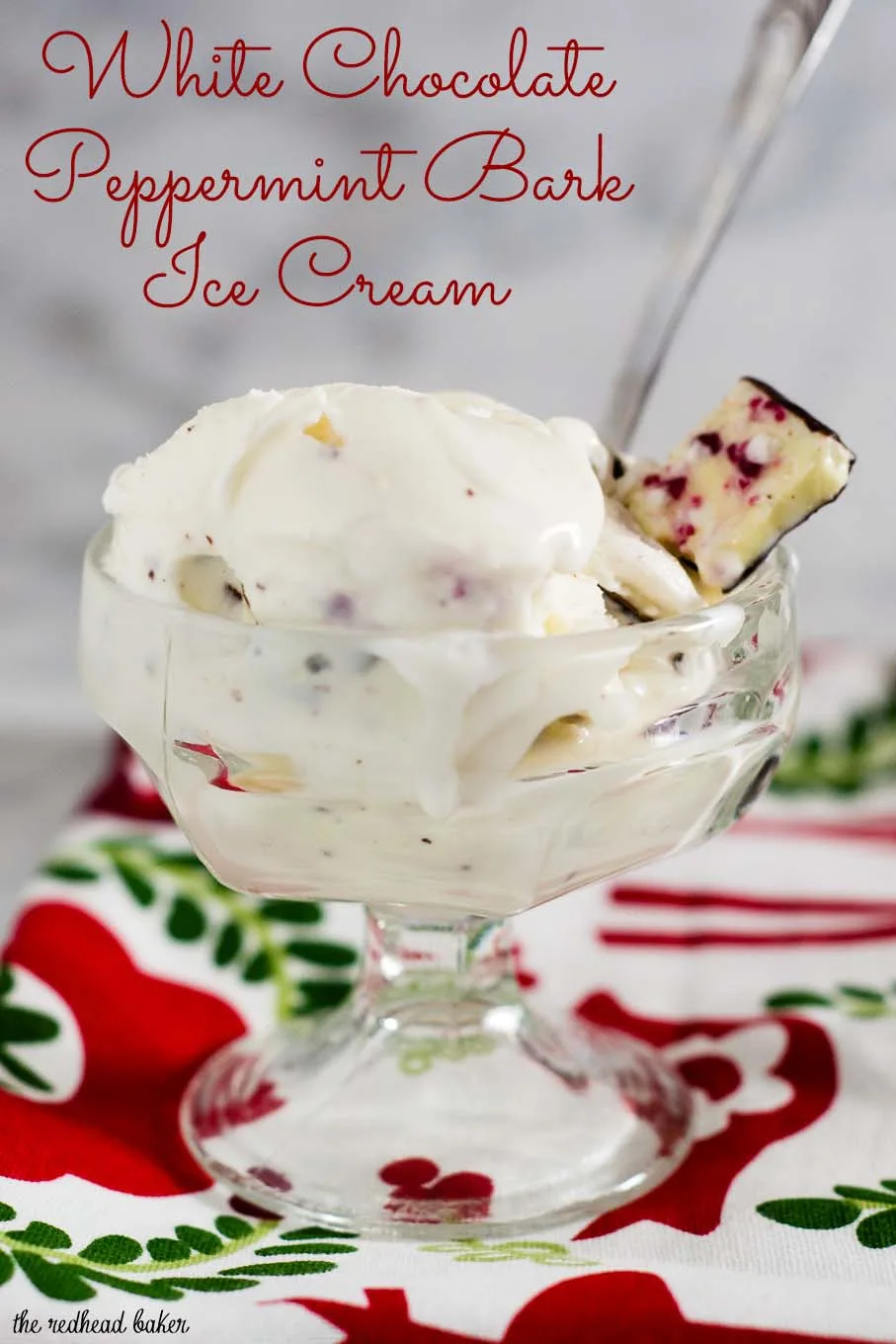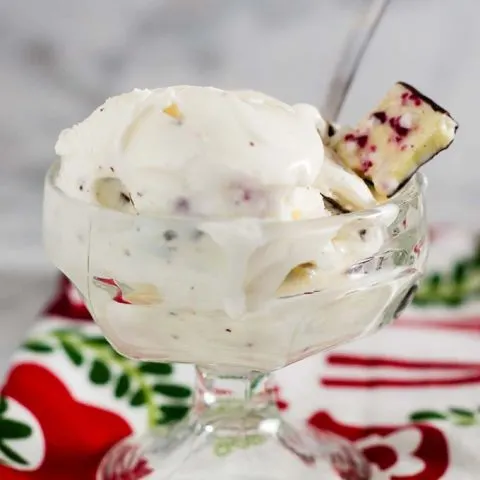 White Chocolate Peppermint Bark Ice Cream
Ingredients
1 ½ cups whole milk
1 ½ cups half-and-half
4 large egg yolks
½ cup sugar
8 ounces high-quality white chocolate, chopped
4 oz peppermint bark, crushed
Instructions
Combine the milk and half-and-half in a medium saucepan over medium heat to scald. While the milk mixture is heating, whisk together the egg yolks and sugar until thick and pale yellow.
Once the milk mixture has scalded (tiny bubbles form around the edge), pour about a half-cup of the mixture into the yolk mixture and whisk to combine. Pour that back into the saucepan, and heat until the mixture is thick and coats the back of a wooden spoon without dripping. Immediately remove the custard from the heat and place in an ice bath to stop the cooking.
Place the chopped white chocolate in a medium mixing bowl, place a fine-mesh sieve over top and pour the custard through the sieve over the chocolate (this strains out any cooked egg from your custard). Let sit for a minute, then stir until chocolate melts and is evenly mixed into the custard.
Place the mixing bowl in the refrigerator and chill for at least four hours, or overnight.
When ready, churn in your ice cream maker according to manufacturer instructions. During the last 5 minutes of churning, add the crushed peppermint bark to the ice cream maker to be churned into the ice cream.
Transfer the ice cream to a freezer-safe container. Place a piece of plastic wrap directly on the surface of the ice cream, then cover with the storage container's lid and place in the freezer to harden.
If ice cream becomes too hard to scoop, soften in the refrigerator for 30 minutes before serving.
Adapted from Serious Eats