Use up an overripe banana in these tender, delicious banana-oatmeal squares. These treats are low-fat, so it's okay to eat two!
Now that summer is here, if you were to visit our apartment, you'd probably be amazed at the amount of fruit in our kitchen. Currently, there are bananas on the table, a papaya ripening on a counter, and five or six kinds of fruit in the refrigerator. Yeah, only three people live here.
We usually consume all of the fruit before it goes bad, but once in a while we find a mushy strawberry or an extra-brown banana. The dogs get the strawberries and the bananas go in the freezer until I find something to do with them. I don't like wasting food.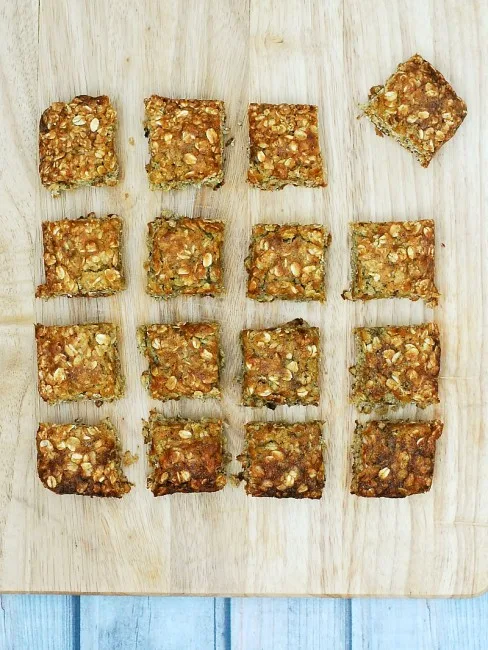 I like this recipe because it only requires one banana, and, well, it's not banana bread. Nothing against banana bread, but have you ever noticed that bananas get the short end of the stick when it comes to cooking with them? There are eleventy-billion kinds of recipes for most other kinds of fruit. Except bananas.
These squares are easy to make, low in fat, and very portable. The texture is more muffin-like than granola-bar-ish. They are quite moist. The oats make them surprisingly filling. I can eat one, walk a mile to daycare with Liam (okay, I walk, he rides in his stroller), walk back home, have a small snack and I'm good until lunch. Because they are moist, I wrapped them individually in plastic wrap and froze them. Pop them in the microwave for 10 seconds to defrost, then enjoy!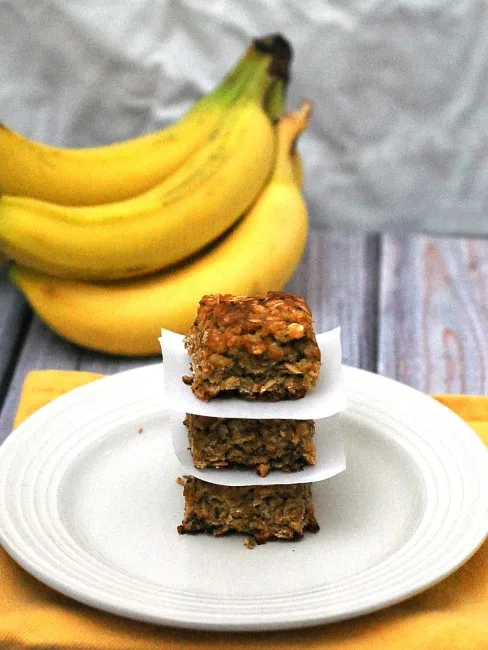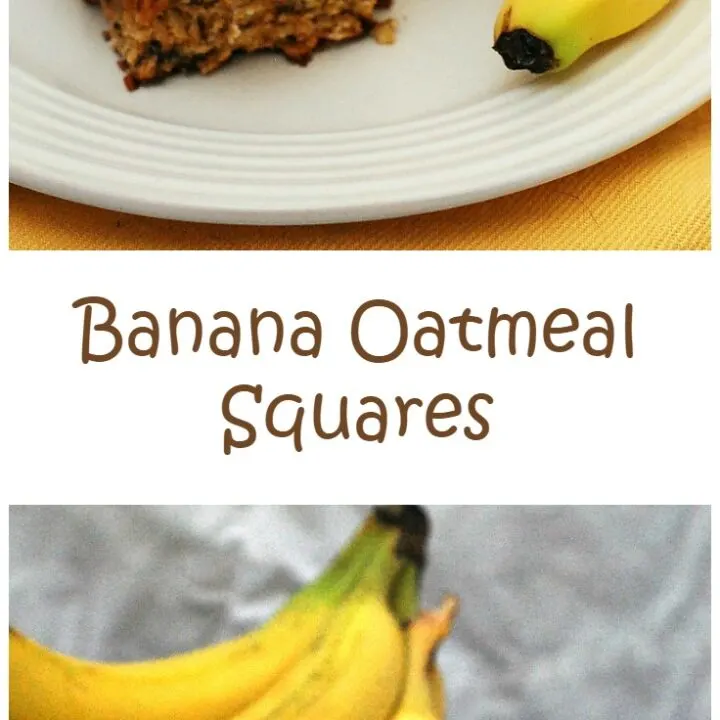 Banana-Oatmeal Squares
Ingredients
1 inch medium very ripe banana, broken into 1- chunks
½ cup light brown sugar, packed
¼ cup unsalted butter, softened
¼ cup sugar
1 teaspoon vanilla extract
½ teaspoon banana extract, optional
1 large egg
1 ¼ cups all-purpose flour
2 cups old-fashioned oats, not quick-cooking or instant
1 teaspoon baking soda
½ teaspoon salt
Instructions
Preheat oven to 350°. Line an 8x8 baking pan with parchment paper, letting it hang over two sides of the pan. Spray with nonstick spray.
Place the banana, brown sugar, butter, sugar, vanilla and banana extract (if using) in the bowl of a stand mixer. Beat with paddle attachment on medium speed until smooth. Add egg; beat until well-incoporated.
Combine the flour, oats, baking soda, and salt in a medium bowl, stirring with a whisk or fork to blend. Add the flour mixture to banana mixture in bowl all at once, then beat on low speed just until incorporated.
Spread the batter in an even layer in the prepared baking sheet. Bake at 350 for 25 minutes or until golden on top. Cool in the pan 2 minutes, then use the parchment overhang to lift out of the pan. Cool completely on a wire rack, then use a serrated knife to cut into 2-inch by 2-inch squares.
Nutrition Information:
Yield:

1
Amount Per Serving:
Calories:

135
Sodium:

198mg
Carbohydrates:

23g
Sugar:

11g
Protein:

3g
Adapted from Cooking Light
Nutrition information calculated with MyFitnessPal, and is for estimating purposes only. For more accurate nutrition information, consult a registered dietitian.