Grilled peach salsa adds a smoky sweet flavor to spiced chicken breasts. Use thin-sliced chicken breasts to cut down on cooking time.
I was thrilled to read "2015 Summer Cookbook: Farmers' Market Edition" in the June issue of Cooking Light. Why? They featured my local farmers' market, Headhouse Square. If you're in or near Philadelphia, this market is part of The Food Trust, a Philadelphia organization that aims to ensure that everyone has access to affordable, nutritious food. The Food Trust operates more than 25 farmers' markets in Philadelphia, most seasonal, but a few operate year-round. In addition to cash, the markets also accept food stamp, WIC, and Senior Farmers' Market Nutrition Program vouchers.
The Headhouse Farmers' Market takes place every Sunday from May through November from 10 a.m. to 2 p.m. at Headhouse Square, under something called "The Shambles." It's a covered but open-air shed built in the 1800s (restored in the 1960s) to allow merchants to sell goods. At the end of the shed is the "headhouse," an old fire station with an alarm bell, and a second-floor room for firemen's social gatherings. In addition to fresh fruits and vegetables, you can also purchase flowers; meat, poultry and fish; cheese and milk; eggs; ice cream; soups; bread; jams and jellies; fair-trade coffee; sometimes even wine or beer at Headhouse Farmers' Market.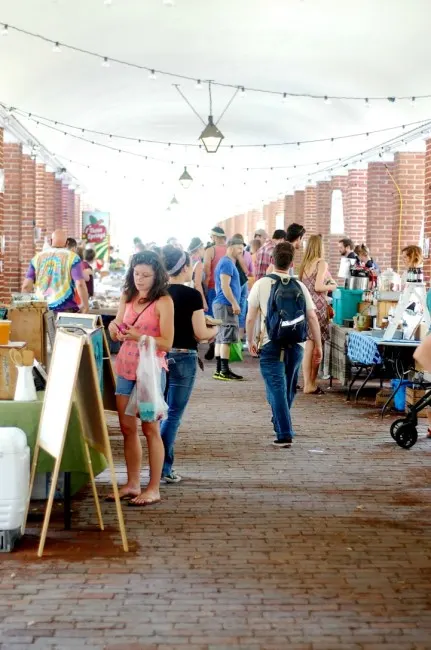 The best part (to me) — Headhouse is just a short half-mile walk from our new apartment. I love waking up on a Sunday morning, having breakfast, then grabbing a cup of coffee and heading over to see what's new at the market. The market is where I discovered black cherry tomatoes, and made the most delicious pizza margherita I've ever tasted. It's also where I got the fresh goat cheese for the Goat Cheese Ice Cream with Roasted Peaches.
In addition to featuring my favorite farmers' market, Cooking Light also included several recipes that include items found at the market. As soon as I saw the Spiced Chicken with Grilled Peach Salsa, I knew I wanted to try it. I got my peaches from Beechwood Orchards' stand, and I got purple scallions from Happy Cat Organic. If you can't find purple scallions, you can use the regular white ones.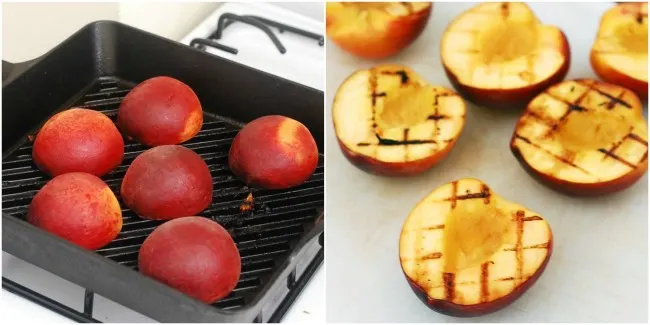 If, like me, you don't own an outdoor grill, you can use a cast-iron grill pan on your stovetop. If you don't own a spice grinder or mortar and pestle, take it from me, don't try to grind your spices in a mini food processor. It doesn't work. Just substitute already-ground spices. When a recipes calls for whole and you only have ground, the substitute is half a teaspoon of ground spice for each teaspoon of whole.
The combination of smoky and sweet was really delicious. By using thin-sliced chicken breast, I cut the cooking time down by half. In fact, you could even combine the salsa ingredients, except for the peaches, ahead of time, then grill the peaches and add them to the salsa after the chicken cooks. Whatever gets weeknight dinners on the table even faster, right?! Especially when you have small children underfoot in the kitchen.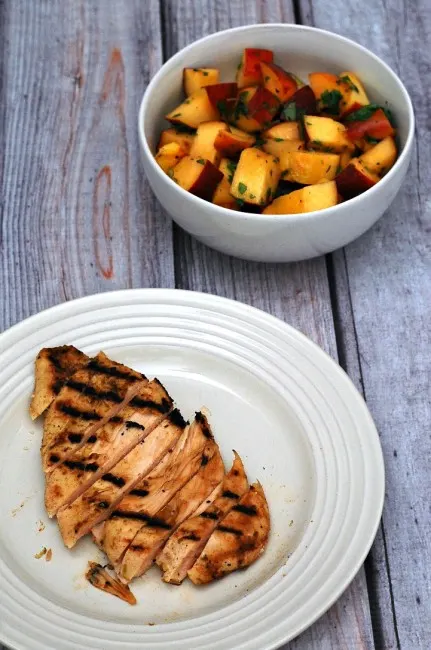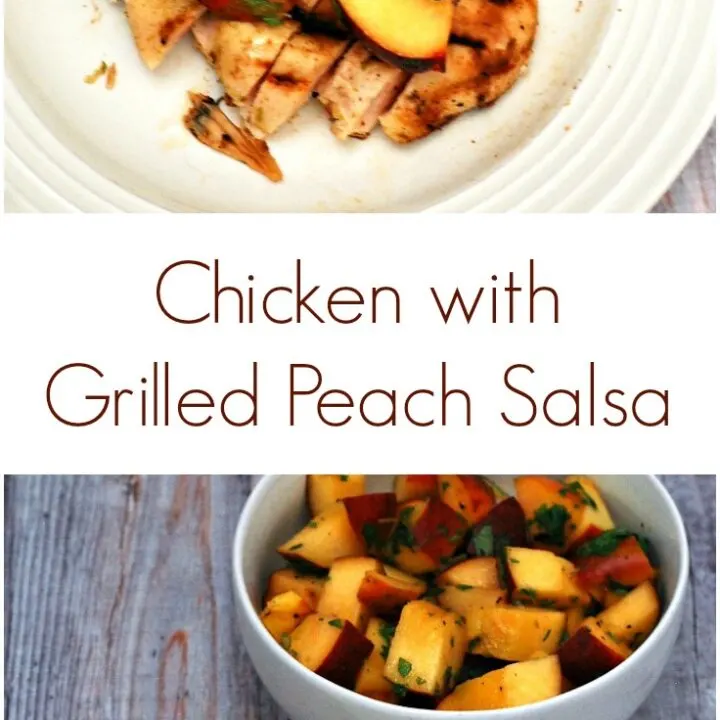 Chicken with Grilled Peach Salsa
Ingredients
1 ½ teaspoon cumin seeds
1 ½ teaspoon fennel seeds
1 ½ teaspoon coriander seeds
1 ½ teaspoon grated lime zest
¼ cup freshly squeezed lime juice, divided
4 teaspoon honey, divided
¾ teaspoon kosher salt, divided
½ teaspoon freshly ground black pepper, divided
1 ½ pounds thinly sliced boneless chicken breast
Cooking spray
3 ripe peaches, halved and pit removed
½ cup chopped cilantro
1 tablespoon extra virgin olive oil
2 purple scallions, purple and light green parts thinly sliced
Lime wedges, for serving
Instructions
Combined the cumin, fennel and coriander seeds in a small skillet over medium heat, and toast the seeds for 2 minutes, until fragrant, shaking the pan occasionally. Remove from the stovetop, and scrape the seeds into a spice grinder. Pulse until coarsely ground.
Remove 2 teaspoon of the spice mixture from the grinder to a large bowl. Add the grated lime zest, half of the lime juice, half of the honey, ½ teaspoon of the kosher salt and ¼ teaspoon of the pepper. Add the chicken breasts to the bowl, and toss with your hands to coat. Let the chicken stand at room temperature for 10 minutes.
Heat a grill pan over medium-high heat. Coat the pan liberally with cooking spray. Working in batches if necessary, add the chicken and cook for 5 to 6 minutes per side, until a thermometer registers 155 degrees F. Remove the chicken to a plate. Spray more nonstick cooking spray before adding more chicken to the grill pan. Tent the cooked chicken with foil to keep warm.
Once all the chicken is cooked, coat the grill pan with more cooking spray. Add the peach halves, cut side down, and grill for 3 minutes, rotating the peaches 90 degrees halfway through cooking if you prefer cross-hatched grill marks.
Remove the peaches to a cutting board. Cut into 1-inch cubes. Transfer the peaches and any accumulated juices to a large bowl. Add the remaining teaspoonful of spice mixture, as well as the remaining lime juice, honey, salt and pepper. Also add the cilantro, olive oil and sliced scallions, and mix well.
Slice each chicken breast across the grain into ½-inch slices. Serve one-quarter of the chicken slices per person with ½ cup of the peach salsa.
Nutrition Information:
Amount Per Serving:
Calories:

299
Saturated Fat:

1.6g
Cholesterol:

94mg
Carbohydrates:

22g
Fiber:

3g
Protein:

36g
Recipe and nutrition information by Cooking Light