Shortbread is such a versatile cookie. Basic, traditional shortbread has only four ingredients: butter, flour, sugar and salt. While delicious on its own, it can be flavored almost any way you like.
While some of my favorites include vanilla bean, and coconut, I decided to flavor mine with orange zest, and drizzle it with bittersweet chocolate.
Some things I learned in perfecting these cookies: if you're going to use dried orange zest instead of fresh, use the orange oil. Dried orange zest doesn't have as strong a flavor as fresh, and you almost can't taste the orange in the finished cookie. Orange oil is a very concentrated oil that comes from the rind of the orange, so it's measured by drops rather than teaspoons. Because you need so little, it doesn't affect the texture of the shortbread the way orange extract could.
I chose to drizzle the chocolate onto the cookies with a parchment paper cone. Instructions for making one are in this post. You can also drizzle it from the end of a spoon, but you need to use real chocolate, not melted chips, otherwise, it will be too thick to drizzle.
Alternatively, you could dip the ends of each cookie in melted chocolate, or "ice" one side of each cookie in melted chocolate with an offset spatula.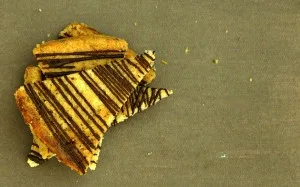 Bittersweet Chocolate Orange Shortbread Cookies
Slightly adapted from King Arthur Flour's Cookie Companion
Ingredients
8 ounces unsalted butter, softened
1 teaspoon salt
¾ cup sugar
3 tablespoon freshly grated orange zest
3 drops orange oil
2 ⅓ cups all-purpose flour
4 ounces bittersweet chocolate
Directions
Preheat the oven to 300 degrees. Grease two 9-inch cake pans with butter and set aside.
In a medium-size mixing bowl, beat together the butter, salt, orange zest, and orange oil until well-mixed and the butter is lightened.
Add the flour to the mixing bowl, and stir just until combined.
Divide the dough between the two prepared cake pans, and press into an even layer.
Bake the shortbread for 35 to 40 minutes, until the edge is just beginning to turn golden brown.
As soon as the pans are removed from the oven. Loose the edges of the shortbread from the pan with an offset spatula or knife. Wait for 5 minutes for the cookies to set.
Invert each pan onto a clean work surface. Using a pizza cutter, cut each disc into 12 wedges. Set cookies aside to cool.
While the cookies are cooling, heat an inch of water in a large saucepan to boiling. Chop the chocolate and place in a small mixing bowl.
Remove the saucepan from the heat, and set the bowl of chocolate over, but not touching, the hot water. Let the heat melt the chocolate, stirring occasionally.
Once fully melted, scrape the chocolate into a parchment paper cone, snip off a tiny corner, and drizzle over the cookies. Set aside until the chocolate sets.
Preparation time: 10 minutes
Cooking time: 35 to 40 minutes
Number of servings (yield): 24 cookies