My alarm (a.k.a., the toddler) goes off around 6:30 a.m. I groggily bring him into the bedroom to nurse (yep, almost 15 months and still going!). When he's finished, we head out to the kitchen for his breakfast.
Toddlers don't understand the concept of cooking. They know they are hungry, and why isn't there any food in front of me?!? What do you mean the frozen waffle takes time to toast??
The morning is a whirlwind of toasting waffles, cutting bananas, feeding dogs, coordinating schedules with The Mister, making coffee, and entertaining the toddler who wolfed down his food and is ready to play. It's a good hour or two after I've woken up before I sit down to eat my own breakfast. By that time, I'm rather feeling like a toddler myself. The last thing I want to do is wait for the butter to soften on the counter before toasting my English muffin or bagel.
So, when I was contacted by Land O Lakes to sample their Butter with Canola Oil, I was more than happy to accept. I've used their stick butter in my baking for many years, and they're a brand I recognize and trust. Their claim is that the butter is ready to spread, straight out of the fridge. Unlike other spreadable products, it contains only sweet cream, canola oil, and salt. I'm not a militant healthy eater, but I'll take a product with three familiar ingredients over others than can contain up to 15, most of which I can't pronounce, let alone tell you what they are.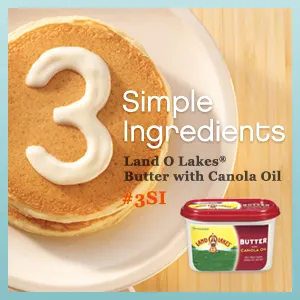 I was curious about how it would taste. I grew up on margarine, before the dangers of trans fats were discovered. I never did like the last or the mouth-feel. I had an assumption in my head that this butter with canola oil would taste and feel like margarine. I was happy to learn that it did actually taste and feel like butter. Personally, I would have preferred a bit more salt, but as promised, it was easy to spread, straight out of the refrigerator.
Land O Lakes also asked me to share some tips for saving time in the kitchen. Between caring for a toddler full-time, working part-time, and writing this food blog (not that being busy is exclusive to moms, employees, or well, anybody!), I do have a trick or two up my sleeve.
First, I've already shared my meal-planning strategy. It's so much faster to check the calendar and see what meal I've assigned, rather than stand in front of the refrigerator, looking at its contents and wondering what I could put together.
Secondly, once I get home from grocery shopping, I wash, chop and store all the vegetables needed ahead of time for the recipes I've chosen. For example, this week, I'm making roast chicken with butternut squash and potatoes tonight; crab cakes with roasted veggies on Wednesday; burgers with sweet potato fries on Thursday; and pork chops with roasted carrots on Friday. When I'm finished grocery shopping on Sunday, I will wash, peel, seed, and chop the produce needed for all of those recipes as soon as I get home. That way, as soon as I'm ready to cook during the week, most of the work is already done.
Third, I choose weeknight recipes that take 30 minutes or less to cook. Almost every cooking magazine and website has a section dedicated to quick and easy meals. I try to pick the ones that use the least ingredients, but pack a lot of flavor. It not only saves time (fewer ingredients = less prep), but it's also easier on the wallet! For side dishes, I often utilize packages of frozen vegetables, and add a small pat of Land O Lakes Butter with Canola Oil just before serving. They take just a few minutes in the microwave, and the 10-ounce packages are perfect for a family of three.
Fourth, I keep my kitchen organized. My frequently-used pots, pans, and utensils are sitting on or hanging from my pot rack. Items that can't go on the pot rack are in a drawer right next to my oven. They are easy to spot and easy to grab, unlike the lesser-used items that kept in the toddler-proofed cabinets.
And finally, our instructors in culinary school drilled into our heads: clean as you go! The soup you're cooking needs to simmer for 10 minutes? Wash the measuring cups and spoons! Pork tenderloin bakes for 20 minutes? Clean the cutting board and knives. Then there's less to clean up when the meal is finished.
Now, did I mention that the friendly folks at Land O Lakes offered a gift package for one of my readers to win? It includes multi-purpose spreaders, a cutting board, and a multi-tier oven rack!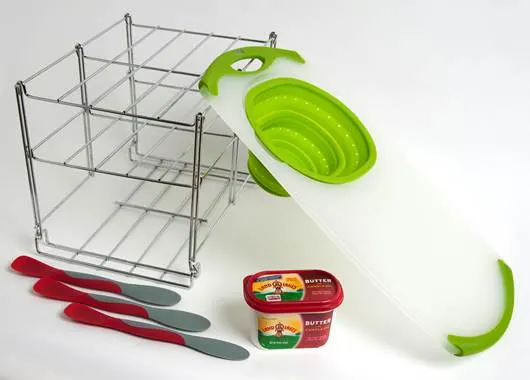 To enter the giveaway, you must leave a comment below, telling me your favorite quick and easy meal (just the recipe name or a short description).
You can earn up to four extra entries by:
– Leaving a separate comment that you like The Redhead Baker on Facebook
– Leaving a separate comment that you like Land O Lakes on Facebook
– Leaving a separate comment that you follow The Redhead Baker on Pinterest
– Leaving a separate comment that you follow Land O Lakes on Pinterest
Extra entries will only be counted if 1) the mandatory entry is completed and 2) each entry is left as a separate comment – your comment number is your entry.
Good luck!
The fine print:
- Maximum of five (5) entries per person.
- Giveaway ends at 12:01am EST on February 22, 2013.
- Winner will be selected by the random number generator on Random.org.
- Prize must be claimed within 7 days or it will be forfeited.
- Winning "extra entry" comments will be subject to verification.
- Giveaway is open to residents of the United States only.
- Official giveaway rules can be found here.
Disclosure: I received a coupon for a free product sample for Land O Lakes® Butter with Canola Oil for review purposes. All opinions regarding said product are my own. Land O Lakes also provided a gift package, including multi-purpose spreaders, a cutting board, and multi-tier oven rack to give away to my readers.
There were 66 total entries. The random number generator at Random.org chose comment #35. Congratulations to the winner, Stacey!