Bourbon adds great flavor to this peach ice cream. Roasting brings out more complex flavors in the fruit, which is blended with a brown sugar custard base.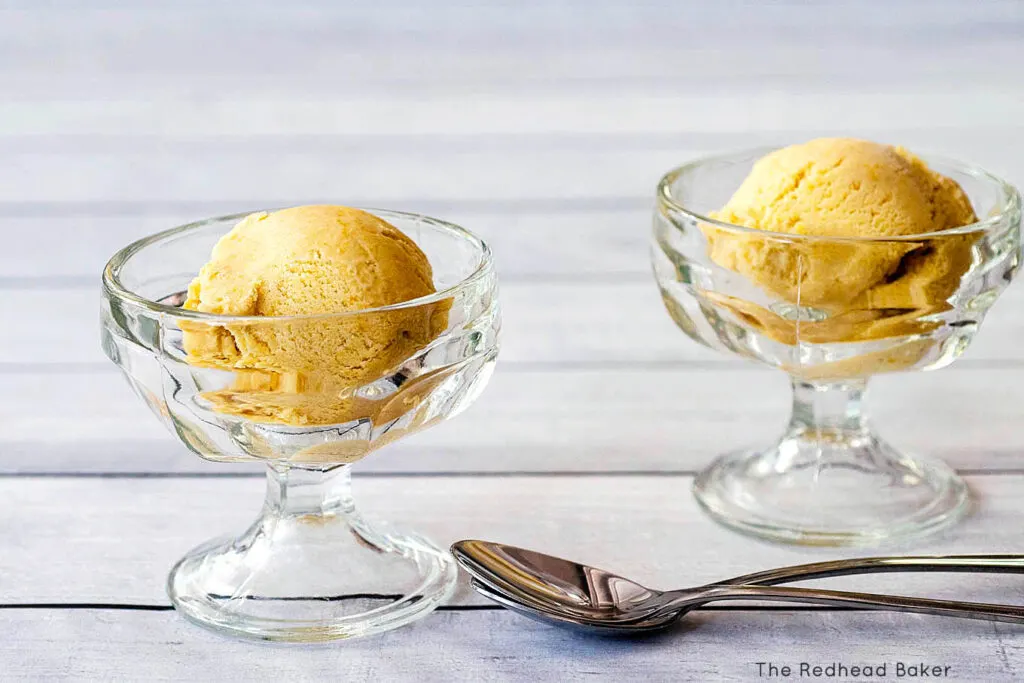 Inside Reading Terminal Market in Philadelphia, there is an awesome ice cream shop called Bassetts. They're America's oldest continually-operating ice cream company.
My first preference of ice cream is usually chocolate, but one day, I was in the mood to try something fruity. I opted for peach ice cream, and it was delicious, creamy, and intensely peach-flavored.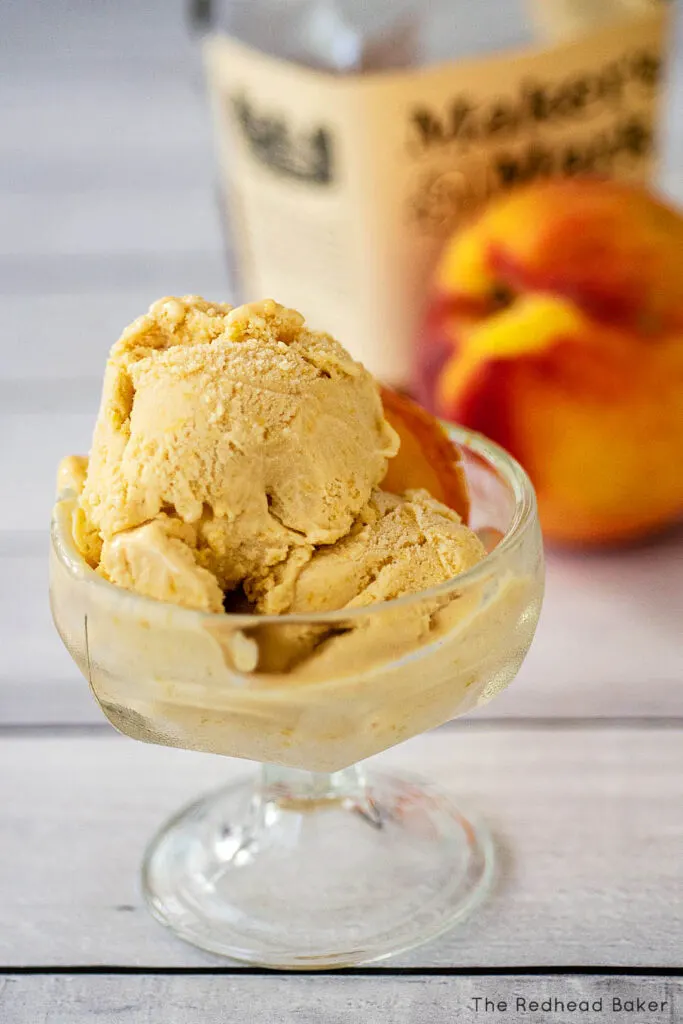 I've since discovered that although many companies make strawberry ice cream, or ice cream with chunks of fruit in it, it's very difficult to find peach ice cream in a store.
Then, I figured if I was going to try to make peach ice cream at home, I wasn't going to try and recreate Bassetts'. I've made roasted fruit ice cream before, and it was amazing, since roasting brings out even more complex flavors in the fruit.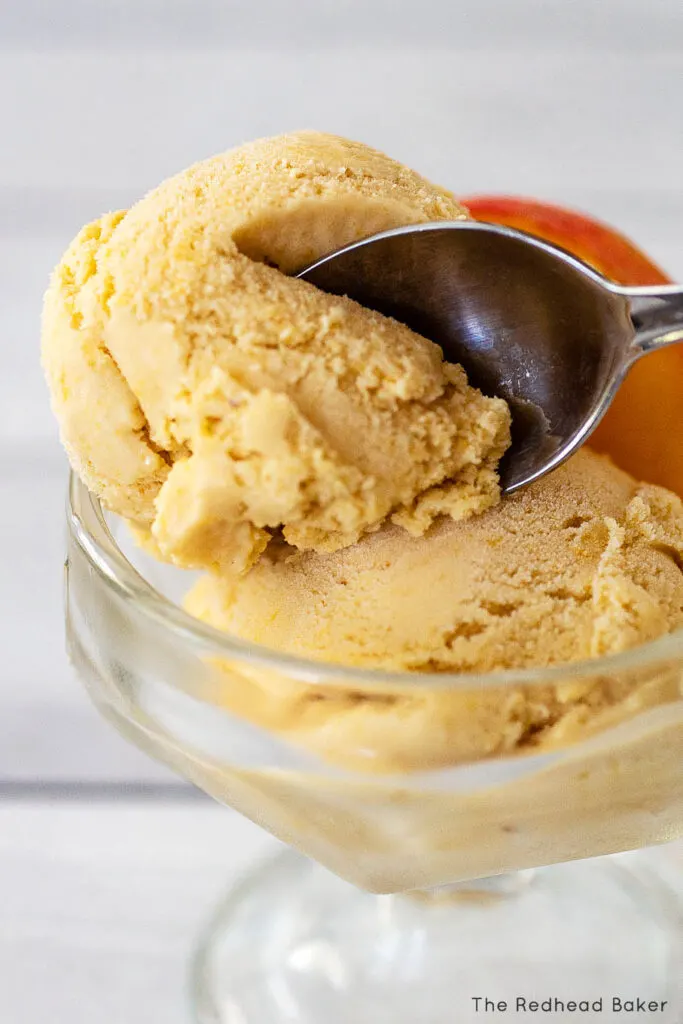 I added bourbon as well, for extra flavor, because it goes so well with peaches. Roasting also cooks out most of the alcohol, but you can also leave out the bourbon if you'd like, and use peach nectar or apple cider instead.
Once you've roasted your peaches, puree them in a blender, food processor or with an immersion blender. If you use a blender or food processor, you'll need to cool them down first, to prevent your appliance exploding.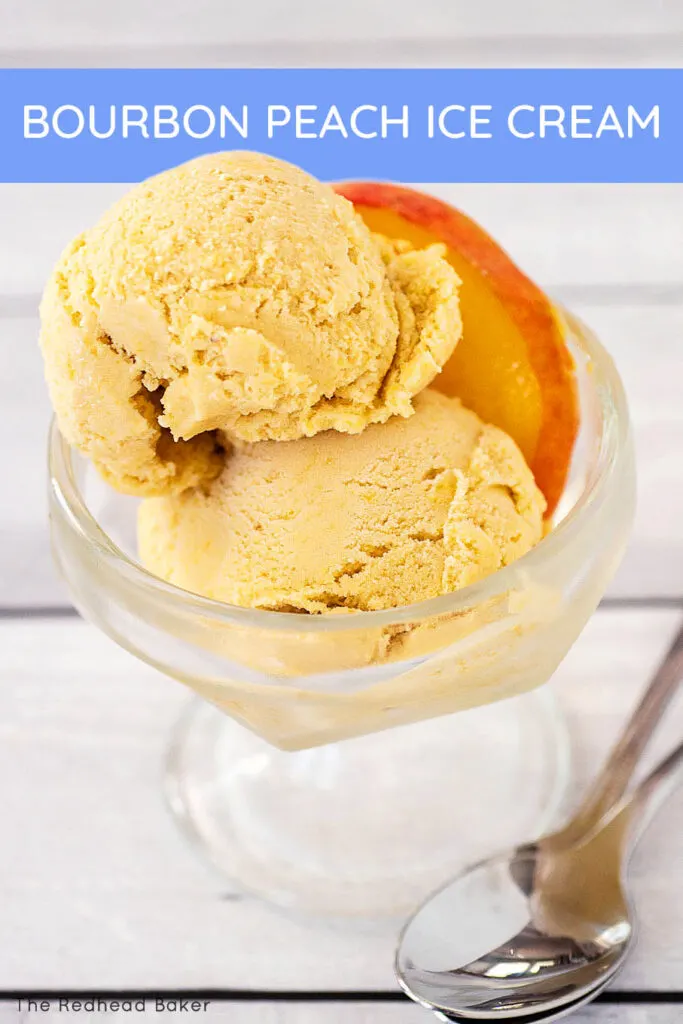 Cooking the custard is probably the trickiest part. You want to warm your milk and cream only to scalding. If you boil the liquids, you'll definitely cook your egg yolks instead of heating them. At the same time, you need to keep stirring your yolk and sugar mixture, because if you leave them sit after combining them, the sugar will absorb the water in the yolks, leaving them hard and clumpy.
Once you've tempered your yolks with the hot milk (tempering is the process of warming the yolks by slowly mixing in hot milk), the next tricky part is cooking the custard to the appropriate point called "nappe."
If the base is overcooked, the mixture will appear curdled. If it is undercooked, the ice cream won't churn properly. Nappe is the Goldilocks consistency (not too thick, not too thin), where if you run your finger across the back of the wooden spoon, the custard won't run into the finger mark. If you have a thermometer, the temperature you're aiming for is 170 degrees F.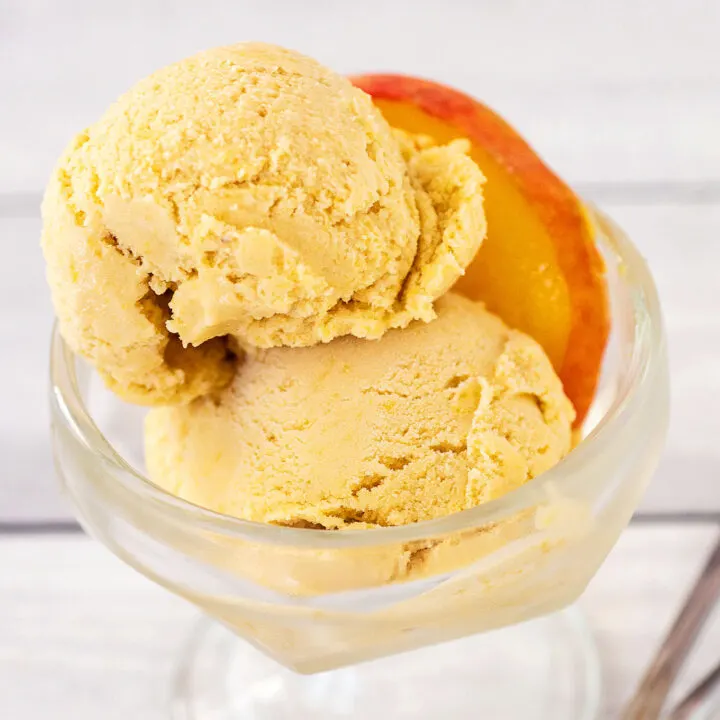 Bourbon Peach Ice Cream
Chilling Time:
1 day
4 hours
Total Time:
1 day
5 hours
Bourbon adds great flavor to this peach ice cream. Roasting brings out more complex flavors in the fruit, which is blended with a brown sugar custard base.
Ingredients
4 cups sliced peaches
6 tablespoon melted butter
⅔ cup bourbon
¼ teaspoon kosher salt
¼ cup light brown sugar
1 ½ cups whole milk
1 ½ cups heavy cream
1 tablespoon pure vanilla extract
¾ cup light brown sugar, divided
¼ teaspoon salt
5 yolks from large eggs
Instructions
Preheat oven to 400 degrees. Line a 9x13 baking sheet with tinfoil, spray with nonstick spray.
Spread the peach slices in an even layer in the prepared pan.
Whisk together the melted butter, bourbon, salt and brown sugar. Pour over the peaches, and toss to coat.
Roast for 20 minutes, stirring halfway through.
Let the peaches cool for 30 minutes, then transfer to a blender, and puree to desired thickness. I prefer mine completely pureed, some prefer to leave some small chunks.
Transfer the puree to a container and chill while you make the ice cream base (or up to 24 hours).
Combine the milk, heavy cream, salt and ½ cup of the sugar in a medium saucepan. Set over medium-low, and bring to scalding (when little bubbles form at the edge of the pan).
While the milk is heating, in a medium mixing bowl, combine the yolks and the remaining ¼ cup of sugar. Use a hand mixer to beat the mixture until it lightens in color and thickens. If the mixture thickens before the milk is scalding, turn the mixer to low, just to keep the yolk mixture moving.
Once the milk is scalding, while continuing to mix on medium-low speed, very slowly drizzle a ladleful of the hot milk into the yolk mixture. This will bring the temperature of the yolks up without scrambling them. Slowly drizzle in a second ladleful of hot milk.
Once the yolks are heated, pour the yolk/milk mixture into the saucepan of mik and cream. Stir with a wooden on spoon until the mixture thickens and coats the back of the spoon. You should be able to run your finger through the custard, and it won't run across the finger mark.
Pour the custard through a fine-mesh sieve to remove any scrambled yolk proteins (discard those). Stir in the vanilla extract, and the peach puree. Cool to room temperature, then cover with plastic wrap and chill for at least 8 hours.
Process in your ice cream maker according to manufacturers' directions. Transfer the churned mixture into a freezer-safe container and freeze for at least 4 hours before eating.
Notes
If you want to omit the bourbon, you can substitute peach nectar or apple cider.
Recommended Products
As an Amazon Associate and member of other affiliate programs, I earn a small percentage from qualifying purchases.
Nutrition Information:
Yield:

16
Serving Size:

1 (½-cup)
Amount Per Serving:
Calories:

227
Total Fat:

15g
Saturated Fat:

9g
Trans Fat:

0g
Unsaturated Fat:

5g
Cholesterol:

108mg
Sodium:

133mg
Carbohydrates:

17g
Fiber:

1g
Sugar:

16g
Protein:

3g
I am not a certified nutritionist. This nutrition information is automatically calculated by third party software and is meant as a guideline only.
More Ice Cream Social Recipes