Cherry cobbler is an easy dessert that takes advantage of fresh summer cherries. Serve warm, topped with cold whipped cream or ice cream.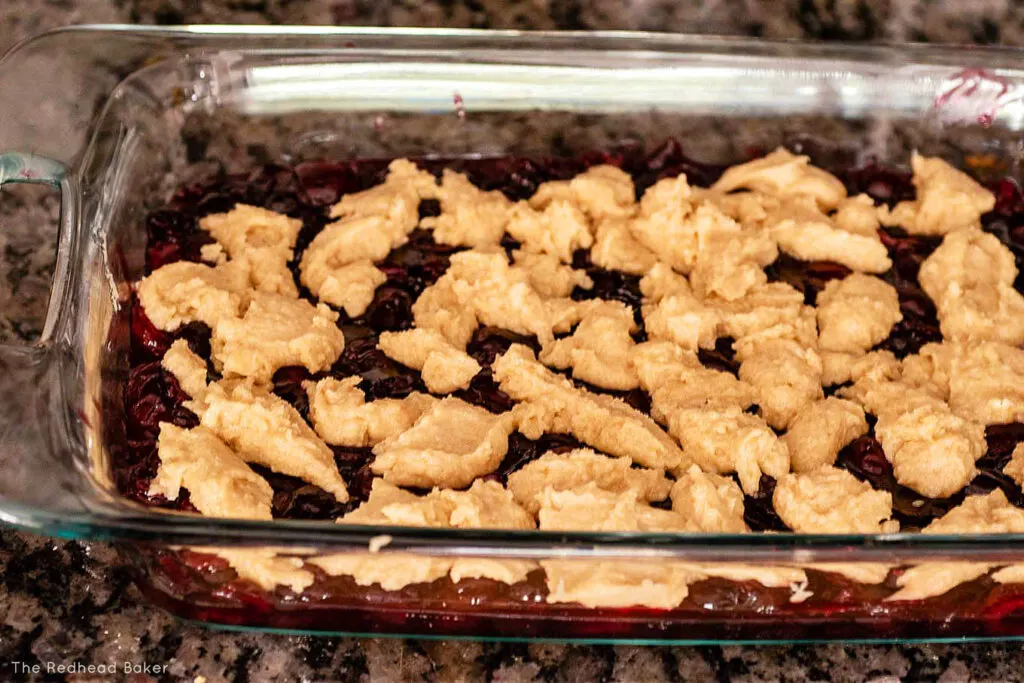 I'm a huge fan of chocolate, and I'll almost never pass up a chocolate dessert. Pretty much only if there's nuts in it. But some chocolate dessert recipes take a while to make, and I may not have all the ingredients on-hand.
But when it's hot out, nothing beats a plateful of warm cobbler topped with whipped cream or ice cream. If you have fruit in your fridge, I can almost guarantee you have everything you need to make a cobbler.
In fact, that's exactly how I came to make this cobbler! I had finished my meal plan for the week, including our 4th of July meal of Carolina-style BBQ burgers and fresh corn on the cob, and finished my grocery shopping.
But on the morning of July 4th, I realized I never planned a dessert, and what's a holiday, even during a pandemic, without dessert? Most grocery stores in the area were closed. But I had a bag of fresh cherries in the fridge, and everything I needed for a sweet biscuit topping in my pantry. Cherry cobbler for dessert!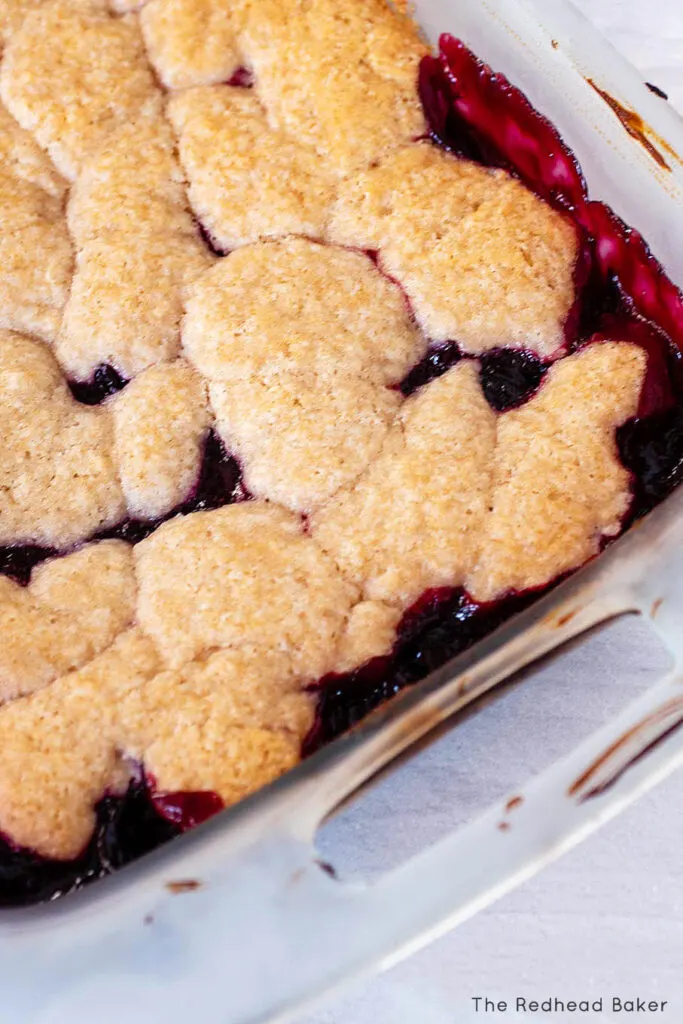 What Is Cobbler?
Cobbler is a fruit-based dessert very similar to a pie, except the "crust" is only on the top. The crust is also different than a pie crust. It's almost like a biscuit, and it's dropped by the spoonful on top of the fruit. When it bakes, the biscuits expand and form a top-crust that resembles a cobblestone street.
In the southern part of the United States, some people include a bottom crust on their cobbler, but that's the exception rather than the norm. Cobblers are also different from crisps and crumbles. Crisps usually have oats or nuts in their topping, and crumbles have more of a streusel-like topping.
Just like with actual biscuits, the key to a great cobbler topping texture is to cut the butter into the dry ingredients. I find it easiest to do this with a food processor. You can also freeze the butter and grate it, use a pastry cutter, or use your fingers, but this can cause the butter to warm up, so you have to frequently stop to chill the mixture.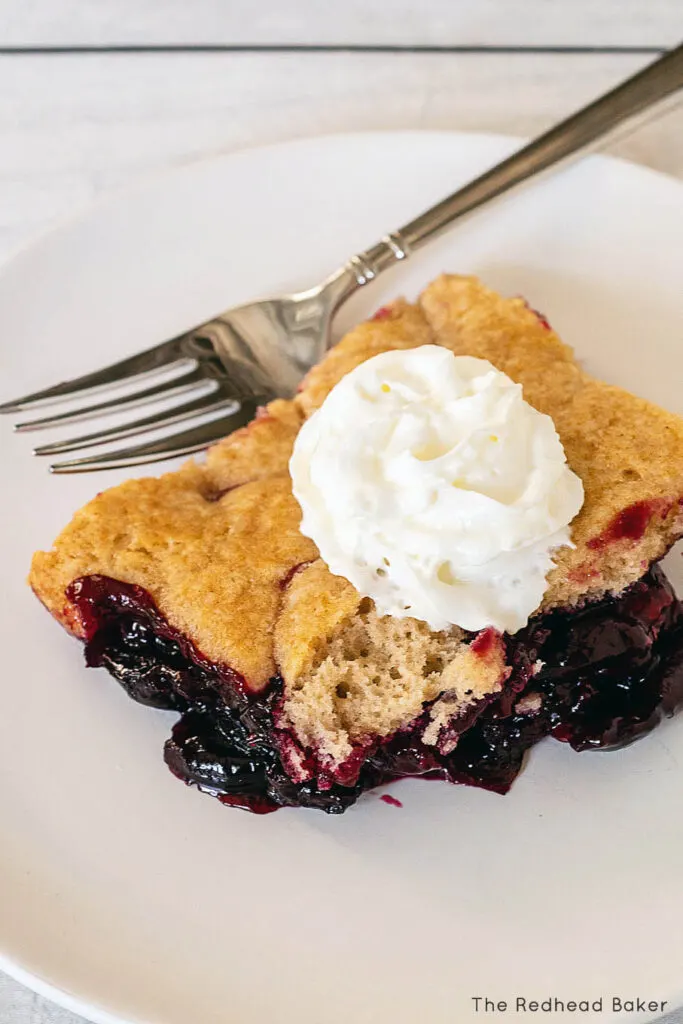 The cobbler's topping can also take the form of shortcake batter, traditional cake batter or even cookie batter, but my preference will always be the biscuit-like topping.
The biscuit topping can even be flavored to complement the fruit filling. The cinnamon-flavored biscuits in this recipe would also be delicious over peaches or apples.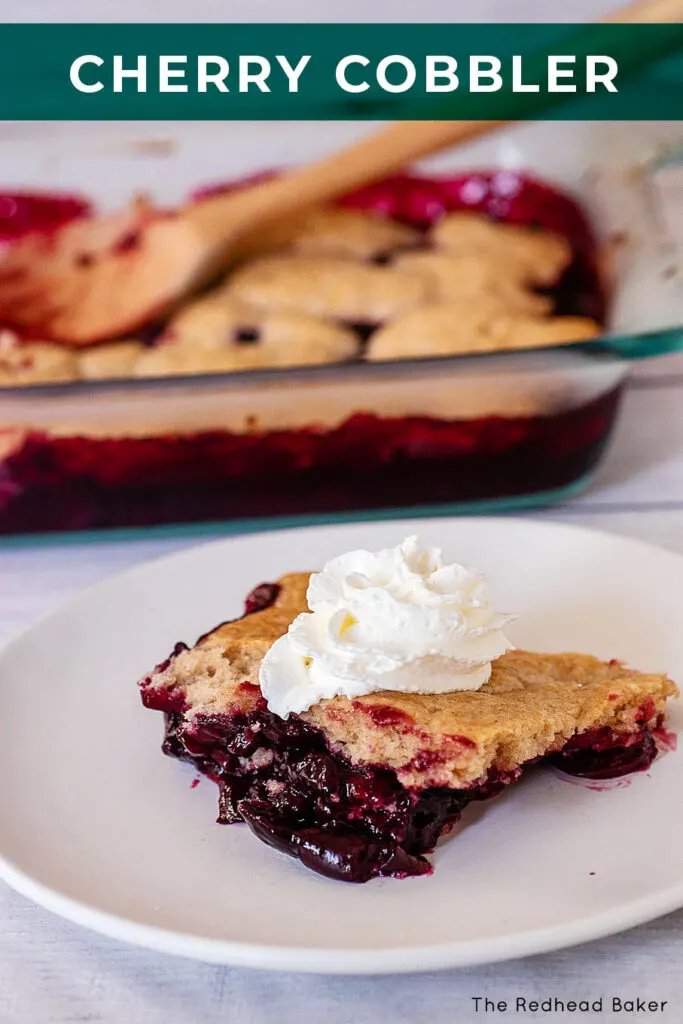 I know that the idea of pitting almost two pounds of cherries can seem daunting. Believe me, my wrist is still sore! But fresh cherries were what I had on-hand, and they weren't going last much longer in the fridge.
But it's also perfectly fine to use frozen, pre-pitted cherries for your cherry cobbler if you like! No need to even thaw them before cooking them in the Dutch oven. I recommend halving fresh cherries that you pit yourself because it's a good way to ensure that no pits have snuck by. Saves you from a sore tooth later on!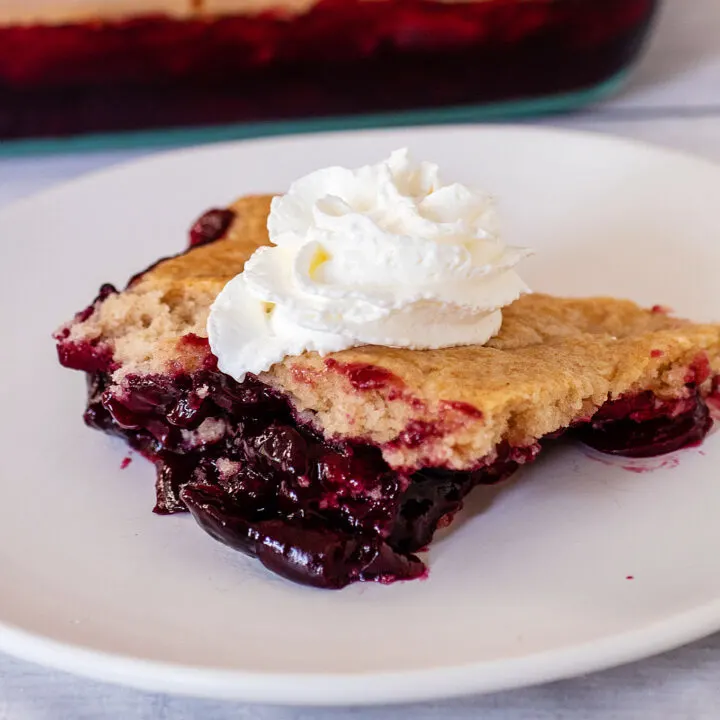 Cherry Cobbler
Cherry cobbler is an easy dessert that takes advantage of fresh summer cherries. Serve warm, topped with cold whipped cream or ice cream.
Ingredients
For the filling
5 cups (1 lb 12 oz/770 g) pitted sweet cherries, halved
⅔ cup (4.5 oz/133 g) sugar
2 tablespoon cornstarch
¼ teaspoon kosher salt
Juice of 1 medium lemon
1 teaspoon vanilla extract
¼ teaspoon almond extract
For the topping
1 cup (4.25 oz/130 g) all-purpose flour
½ cup (3.5 oz/100 g) sugar
1 teaspoon baking powder
¼ teaspoon salt
¼ teaspoon ground cinnamon
4 tablespoon (2 oz/56 g) unsalted butter, cold
⅓ cup milk
¼ teaspoon almond extract
Instructions
Place the cherries in a Dutch oven or other large saucepan.
Combine the sugar, cornstarch and salt. Add the saucepan and stir to coat the cherries.
Add the lemon juice, vanilla and almond extracts, and stir to combine. Set over high heat and bring to a boil.
Lower the heat to medium-low and cook for 5 minutes, stirring occasionally, until the juices have thickened and the cherries are softened.
Pour the cherry mixture into a 2-quart (11x8-inch) rectangular baking dish.
Make the topping: combine the flour, sugar, baking powder, salt and cinnamon in a food processor, pulse a few times to combine. Cut the butter into small cubes and add to the food processor, and pulse until the mixture resembles crumbs.
Transfer the mixture to a bowl. Combine the milk and almond extract, and add to the crumb mixture. Gently fold to combine.
Drop spoonfuls of the biscuit batter on top of the cherries. The drops don't have to touch, they will expand during baking.
Preheat the oven to 400 degrees. Once preheated, bake the cobbler for 18 to 20 minutes, or until the mixture looks light brown on top and the fruit juices are bubbling.
Cool slightly before serving, topped with ice cream or whipped cream.
Notes
You can use either fresh cherries (1 lb 12 oz after pitting) or unsweetened frozen cherries — no need to thaw!
Recommended Products
As an Amazon Associate and member of other affiliate programs, I earn a small percentage from qualifying purchases.
Nutrition Information:
Yield:

8
Serving Size:

1
Amount Per Serving:
Calories:

146
Total Fat:

6g
Saturated Fat:

4g
Trans Fat:

0g
Unsaturated Fat:

2g
Cholesterol:

16mg
Sodium:

276mg
Carbohydrates:

20g
Fiber:

1g
Sugar:

5g
Protein:

2g
I am not a certified nutritionist. This nutrition information is automatically calculated by third party software and is meant as a guideline only.
You might also like