Move over, cheese board! Meet the crepe board! Homemade French crepes and all the fillings: fruit, Nutella, lemon curd, and caramel!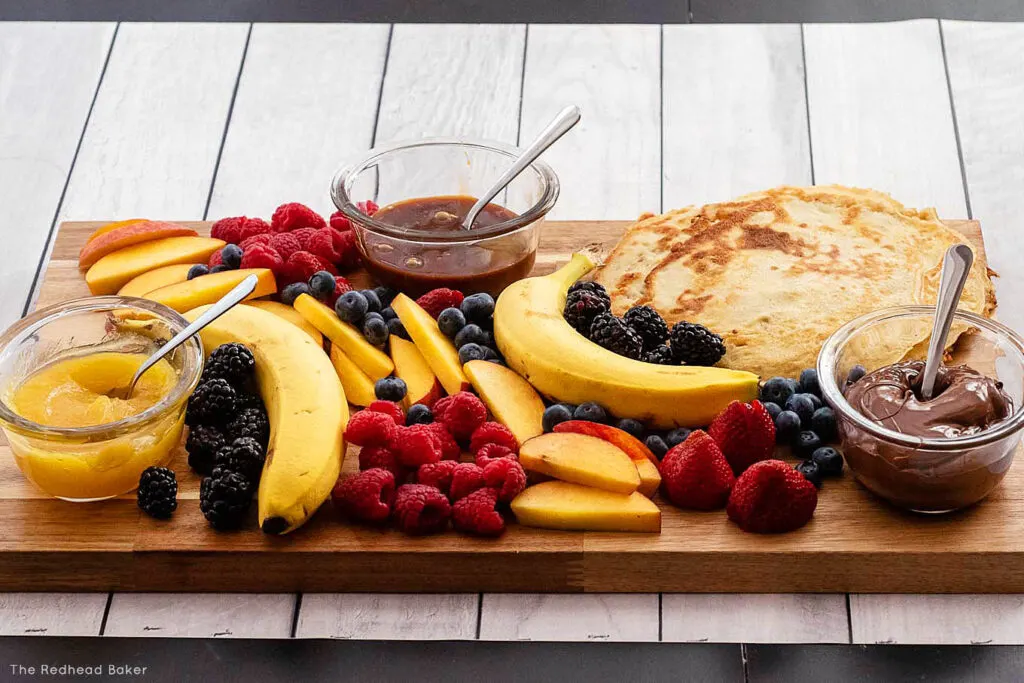 I was trained in the French style of cooking and baking, and part of that training was a 10-day trip to France, where I got to eat all kinds of authentic French dishes.
One of them was French crepes. Crepes are delicate pancakes, which are wrapped or folded around any kind of filling you can imagine! They can be enjoyed for breakfast, lunch, dinner or dessert!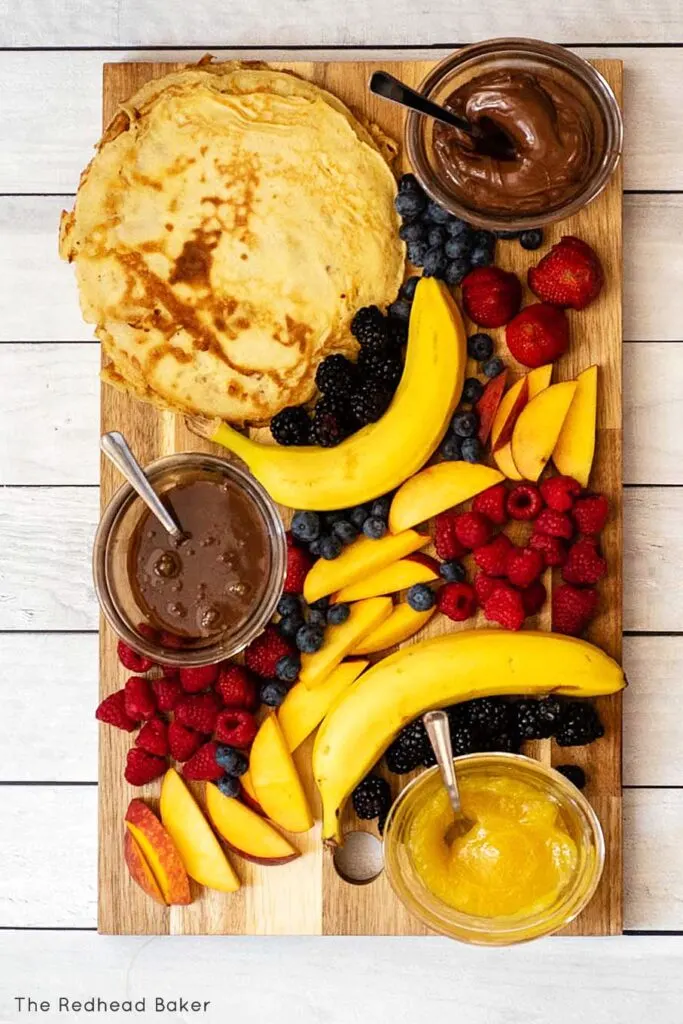 At the street fair, and at creperies in the United States, they use a specialty crepe pan, but for making these at home, no fancy equipment is needed. Just 7 commonly-used ingredients, a nonstick pan and a spatula.
In fact, mixing the batter is a snap! Since you want a really smooth batter, it mixes up in a blender! Then batter chills out in the fridge, so that the gluten relaxes and the flour gets really hydrated.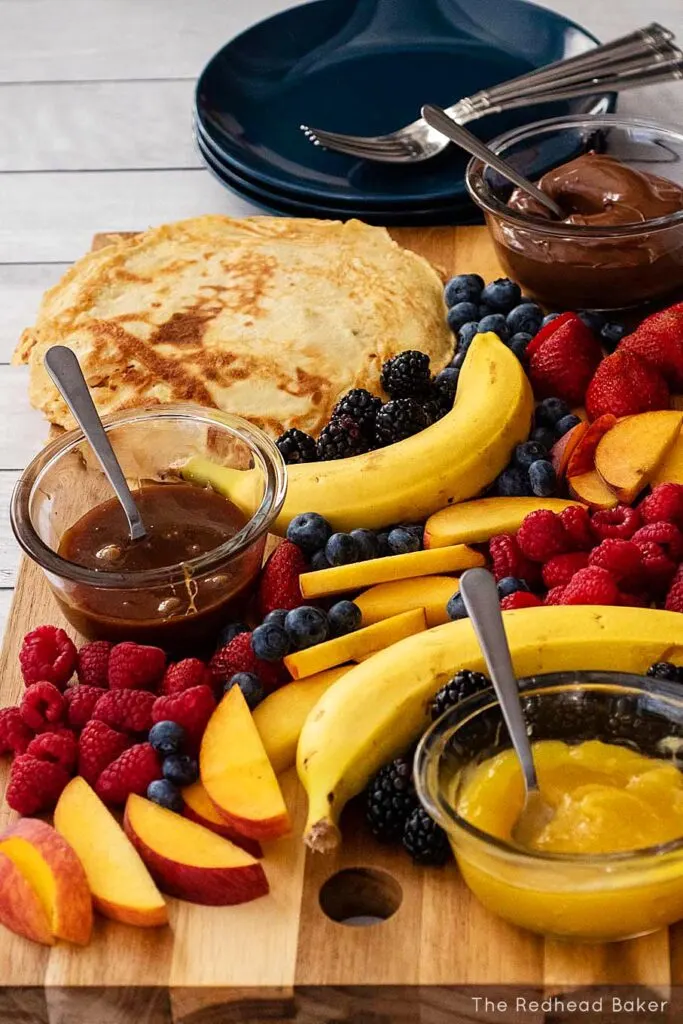 Crepes usually get their flavoring from the filling, but occasionally, the crepes themselves can be flavored, like my pumpkin crepes. The fillings can be sweet or savory. I made my crepe board all-sweet, but you can divide your board into sweet and savory halves.
Crepe boards are great for a crowd because your guests can grab a plate, grab a crepe and mix and match fillings to their heart's content! Crepes can be made a day ahead and stored in the refrigerator until you're ready to assemble your board.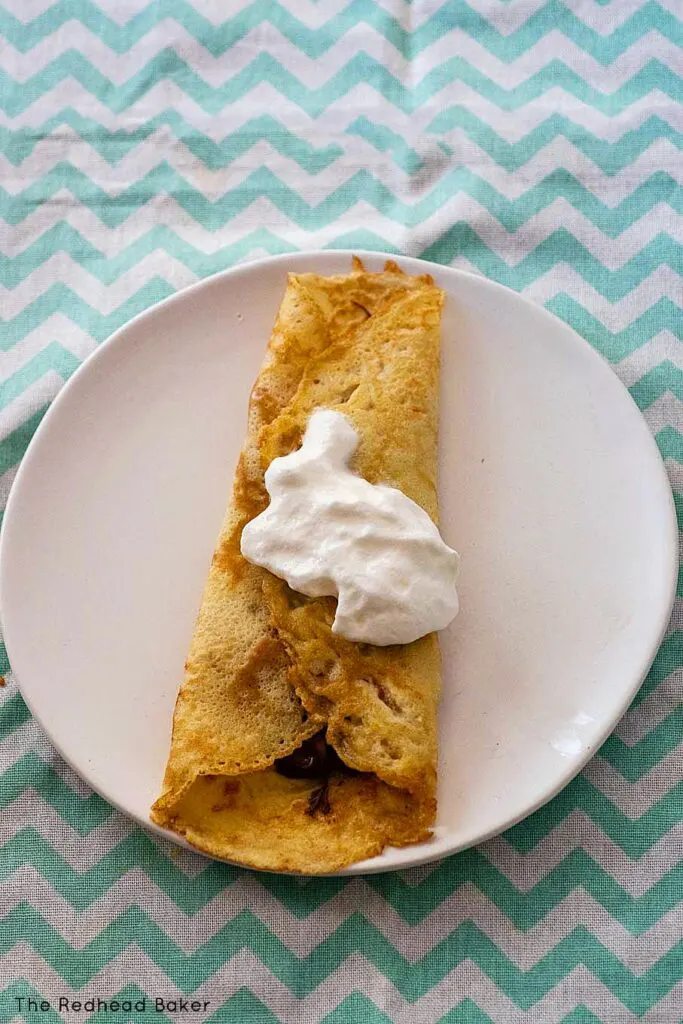 How does one fill a crepe? There are a few methods to choose from: the roll, where filling is spooned down the middle and the crepe is rolled around it. There's the foldover (illustrated above), which is a looser version of the roll, where the filling is spooned down the middle and the outer thirds are folded over on top.
There's also the classic crepes suzette fold, which is best suited for thinly sliced fruit and a thin layer of a spread like Nutella or fruit curd.
The key to great crepes is to keep them thin! If they are too thick, they have an unpleasant spongy texture, and they break when you try to roll or fold them.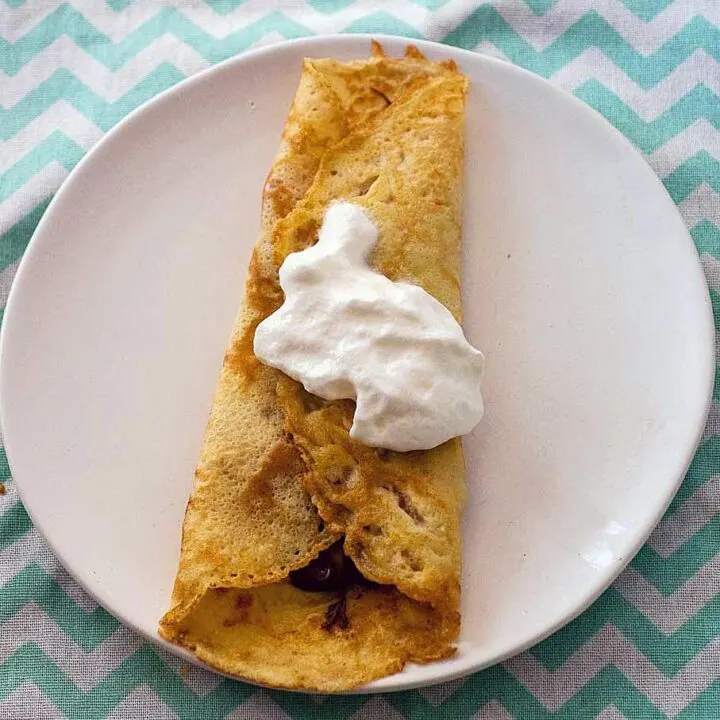 French Crepes
Total Time:
1 day
30 minutes
Crepes are like thin pancakes, which can be filled with countless combinations of fillings.
Ingredients
For the batter
1 cup all-purpose flour
Pinch of kosher salt
2 large eggs, at room temperature
¾ cup whole milk, at room temperature
½ cup water
1 teaspoon vanilla extract
3 tablespoons butter, melted and cooled slightly
For cooking the crepes
Instructions
Place the batter ingredients in a blender, and puree on medium-high speed for 20 to 30 seconds, until the mixture is smooth.
Transfer the batter to an airtight container and chill for 24 hours.
When ready to cook, heat a small (about 6 to 8 inches) nonstick skillet over medium-low heat.
Add 1 tablespoon of the melted butter to the skillet and tilt the skillet to coat it.
Add ¼ cup of the crepe batter and swirl to spread the batter into a thin layer around the pan. Cook for 1 to 2 minutes, until the top appears dry and the edges are just starting to turn light brown.
Gently flip the crepe and cook on the second side for 30 seconds to a minute.
Carefully slide the crepe onto a plate.
Repeat with remaining crepe batter, adding another tablespoonful of butter to the pan before adding more crepe batter. Place layers of wax or parchment paper between the crepes so they don't stick.
Serve with sliced fruit, Nutella, fruit curd, fruit preserves, caramel sauce, whipped cream or other fillings.
Notes
Crepes can be made a day ahead and stored layered between sheets of wax or parchment paper in an airtight zip-top bag.
Recommended Products
As an Amazon Associate and member of other affiliate programs, I earn a small percentage from qualifying purchases.
Nutrition Information:
Yield:

10
Serving Size:

1 crepe (no filling)
Amount Per Serving:
Calories:

183
Total Fat:

14g
Saturated Fat:

9g
Trans Fat:

1g
Unsaturated Fat:

5g
Cholesterol:

73mg
Sodium:

136mg
Carbohydrates:

11g
Fiber:

0g
Sugar:

1g
Protein:

3g
I am not a certified nutritionist. This nutrition information is automatically calculated by third party software and is meant as a guideline only.
More BrunchWeek Recipes
Beverages Recipes
Bread, Grains, and Cereal Recipes
Egg Recipes
Meat, Poultry, and Fish Recipes
Dessert Recipes