Traditional Danish pastry dough takes a long time, so this recipe uses a shortcut that produces buttery, flaky pastries with a sweetened cream cheese filling.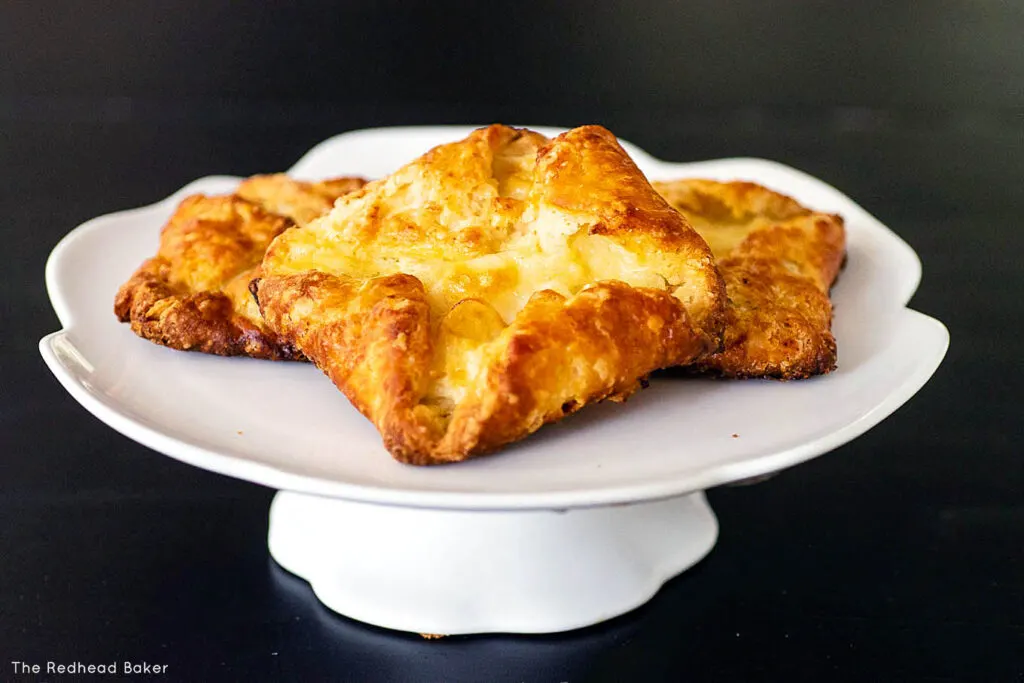 I have a big sweet tooth. At brunch, you can guarantee I'll have a stack of French toast, waffles or pancakes, plus fruit, and probably a pastry, too.
My favorite breakfast pastries are croissants, but I will never turn down a glazed cheese danish.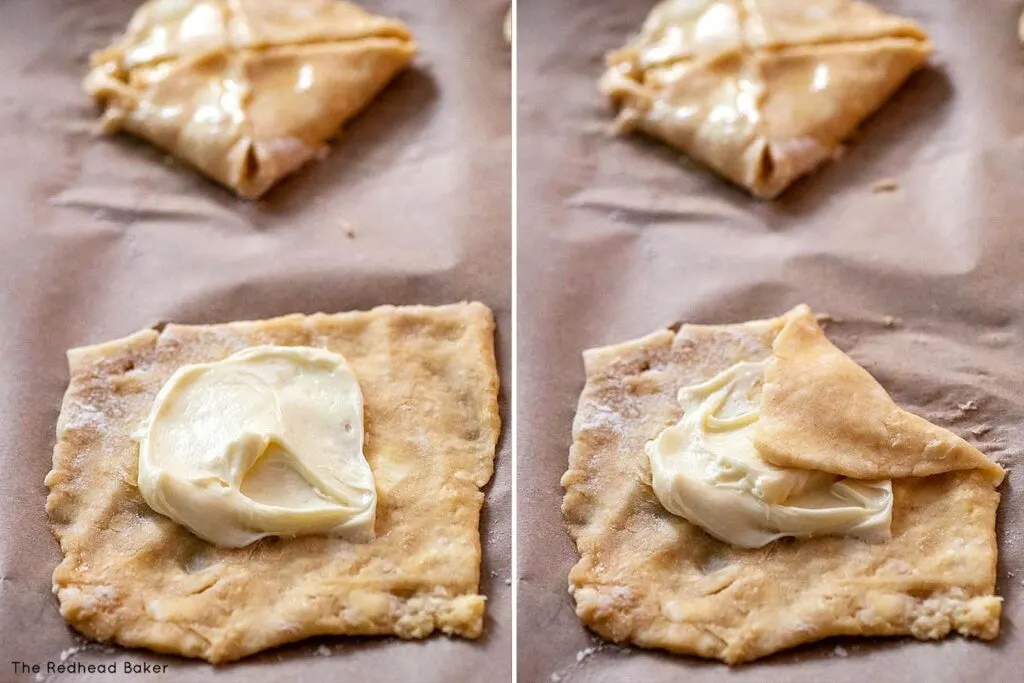 Danish pastries were actually created by Austrian bakers, who then brought them to Denmark, where they became very popular. Similar to croissants, they are traditionally made with a laminated yeast dough (where the dough is folded around the butter, rather than mixing the butter into the dough).
Laminated dough takes a while, and it's rather hard to roll the dough over the butter at home. Professional bakeries have a machine called a sheeter, which makes rolling out the dough much easier.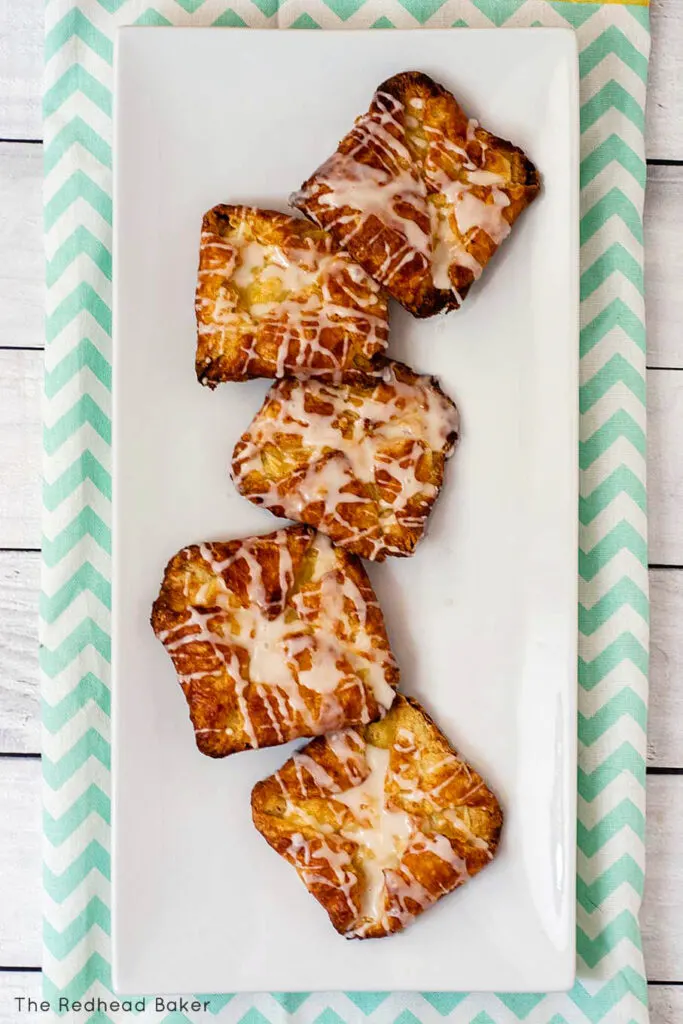 My shortcut method uses a process similar to making pie crust, where butter is cut into the dough. It still produces a tender, flaky dough, just not quite the same as traditional danish dough.
Cream cheese is not the only filling option for danish pastries, but it is my favorite. Other options include fruit jam, marzipan, or custard. The glaze is optional, but if you're going to indulge for brunch, why not go all out?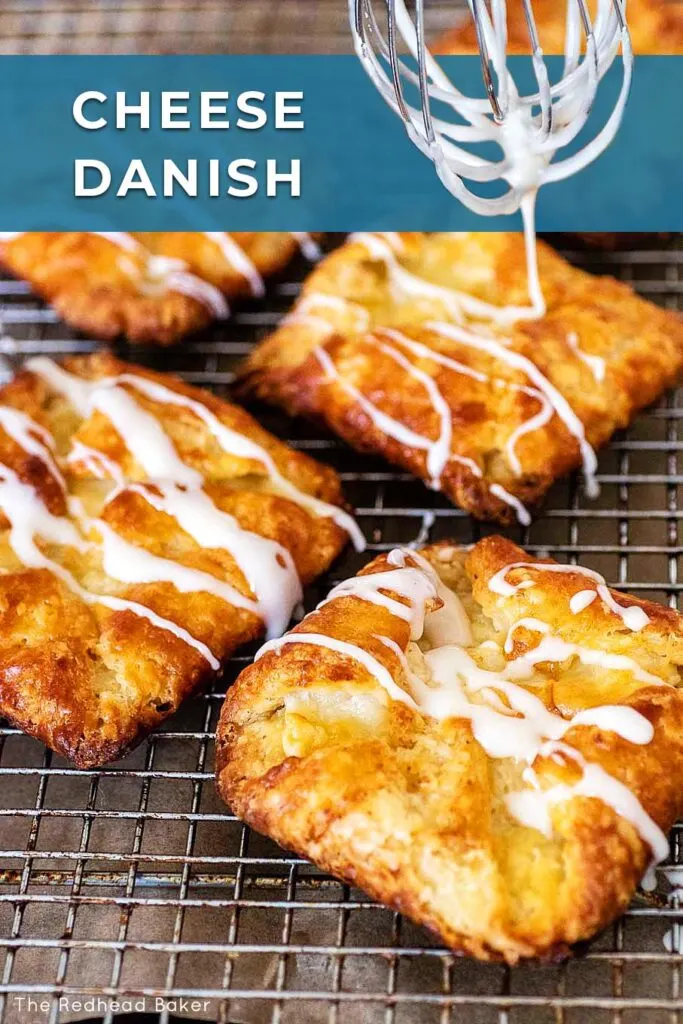 The pastries will keep for two or three days at room temperature in an airtight container, or up to a week in the refrigerator. Pastries can also be wrapped in foil, and frozen for up to three months. If you're going to freeze, I suggest not glazing them until ready to serve.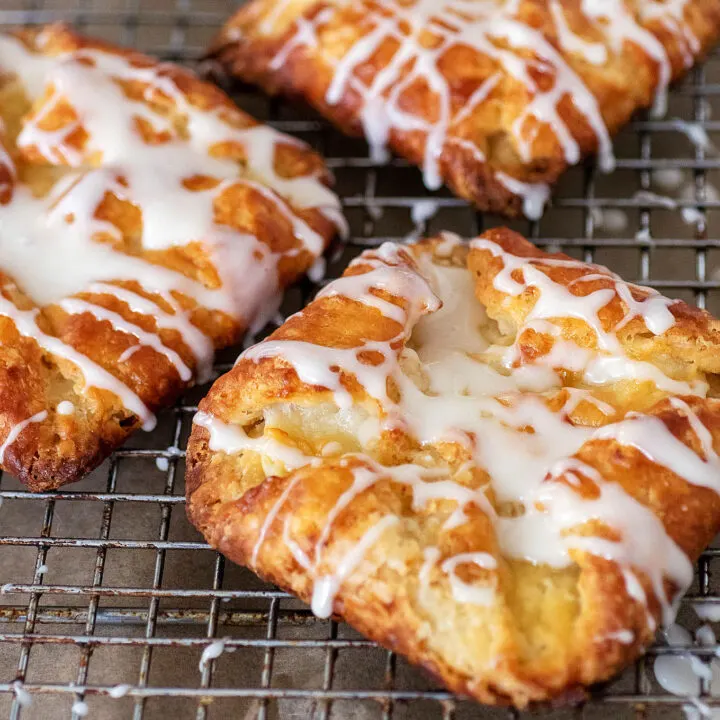 Cheese Danish
Total Time:
1 hour
36 minutes
Traditional Danish pastry dough takes a long time, so this recipe uses a shortcut that produces buttery, flaky pastries with a sweetened cream cheese filling.
Ingredients
For the dough
1 ½ cups (6.75 oz) bread flour
2 tablespoon brown sugar
2 teaspoon instant yeast
¾ teaspoon kosher salt
14 tablespoon (7 oz) unsalted butter, frozen
1 large egg
¼ cup half-and-half
½ teaspoon vanilla extract
For the filling
4 ounces cream cheese
2 tablespoon confectioners' sugar
1 large egg yolk
Pinch of salt
½ teaspoon vanilla extract
For the glaze
½ cup (2 oz) confectioners sugar
1 tablespoon whole milk
Instructions
In a large mixing bowl, whisk together the bread flour, brown sugar, yeast and salt.
Grate the frozen butter and toss it with the dry ingredients, using your fingers to work the flour into the butter until the mixture resembles small crumbs.
In a small mixing bowl, combine the egg, half and half and vanilla, and use a rubber spatula to fold the wet ingredients with the dry until the mixture forms large, moist clumps.
Scrape the dough onto a piece of plastic wrap and form it into a rectangle. Wrap it in the plastic, and chill for at least 1 hour, and up to 1 day.
While the dough is chilling, make the filling: in a mixing bowl, beat together the cream cheese, confectioners sugar, egg yolk, salt and vanilla.
Preheat oven to 425 degrees. Dust a clean work surface with flour, and roll the dough out to a 12-inch by 12-inch square. Use a pizza cutter to cut the dough into 9 smaller squares. Arrange the squares on two baking sheets.
Place a small dollop of filling (a little less than a tablespoonful) in the center of each square.
Fold each corner of each square in toward the middle.
Bake for 10 minutes. Rotate the pans 180 degrees, and switch the top pan to the bottom and vice versa. Reduce the oven temp to 375 degrees. Bake the pastries for 6 more minutes, or until baked through.
Cool the pastries on a wire cooling rack.
Whisk together the glaze ingredients. Drizzle over the cooled pastries and serve.
Notes
If you have a food processor, you can use that to complete steps 1 and 2. The butter should be cold, but doesn't need to be frozen.
Recommended Products
As an Amazon Associate and member of other affiliate programs, I earn a small percentage from qualifying purchases.
Nutrition Information:
Yield:

9
Serving Size:

1
Amount Per Serving:
Calories:

331
Total Fat:

25g
Saturated Fat:

15g
Trans Fat:

1g
Unsaturated Fat:

8g
Cholesterol:

125mg
Sodium:

413mg
Carbohydrates:

22g
Fiber:

1g
Sugar:

5g
Protein:

5g
I am not a certified nutritionist. This nutrition information is automatically calculated by third party software and is meant as a guideline only.
More BrunchWeek Recipes
Beverages Recipes
Appetizer and Salad Recipes
Bread, Grains, and Cereal Recipes
Egg Recipes
Fruit and Veggie Recipes
Meat, Poultry, and Fish Recipes
Dessert Recipes