When it's too hot to cook, these California-style turkey ciabatta sandwiches will fill you up without heating up your kitchen!
It's hard to believe that just six months ago, we were buried in snow. But summer is finally here, and making itself known. Now, I'm in NO WAY wishing for cold weather again, but with temps in the 90s around here, I don't want to turn on my oven or stand over a hot burner.
Sure, we could have gotten take-out, but that's not the most economical answer. I wanted something cold for dinner, and since someone vetoed my "ice cream for dinner" idea, I decided on sandwiches.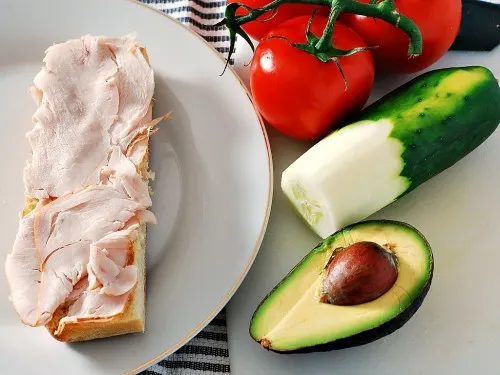 These California-style turkey ciabatta sandwiches are very easy to make, so full of flavor, and loaded with lean turkey and healthy veggies.
Our ciabatta loaf was a bit on the thick side, which made it a little hard to eat. Look for the thinnest loaf you can find, or flatten the bread between two foil-covered bricks (or other heavy, flat objects).
Serve these with a side of baked sweet potato fries, baked chips, or a salad.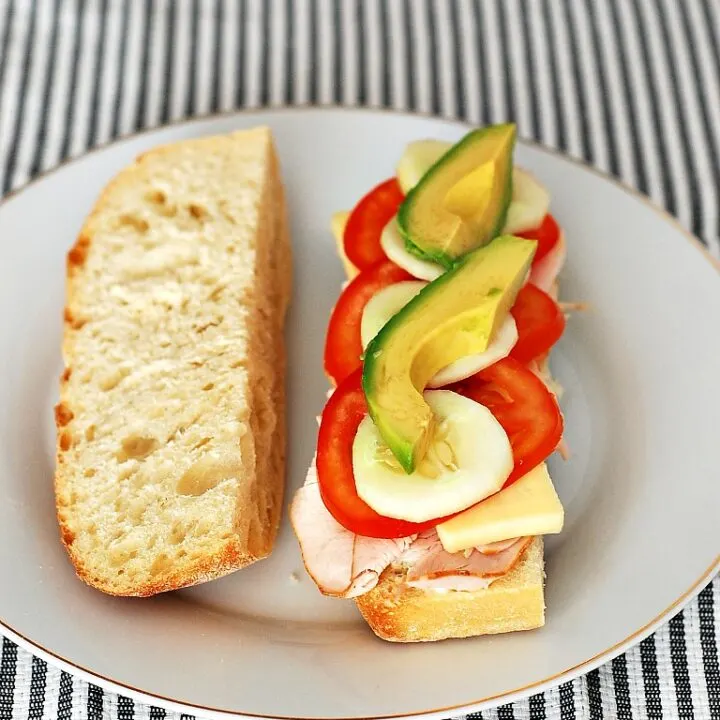 California-Style Turkey Ciabatta Sandwiches
Ingredients
1 loaf ciabatta bread
¼ cup mayonnaise
8 ounces all-natural deli-sliced turkey breast
4 ounces sliced Monterey jack cheese
1 ripe avocado, pitted and sliced
2 ripe tomatoes, sliced
1 cucumber, peeled and sliced
Instructions
Cut the ciabatta in half horizontally, then cut into fourths.
Spread a tablespoonful of mayo on the bottom half of each fourth of ciabatta.
Layer two ounces of turkey and one ounce of cheese on each sandwich. Next, divide the tomato, cucumber and avocado slices on each sandwich. Top with the second half of ciabatta bread.
Serve with your favorite sandwich side.
An original recipe by The Redhead Baker