Candy cane white chocolate cookies are not often found on Christmas cookie trays, but they should be! They're easy, delicious and festive.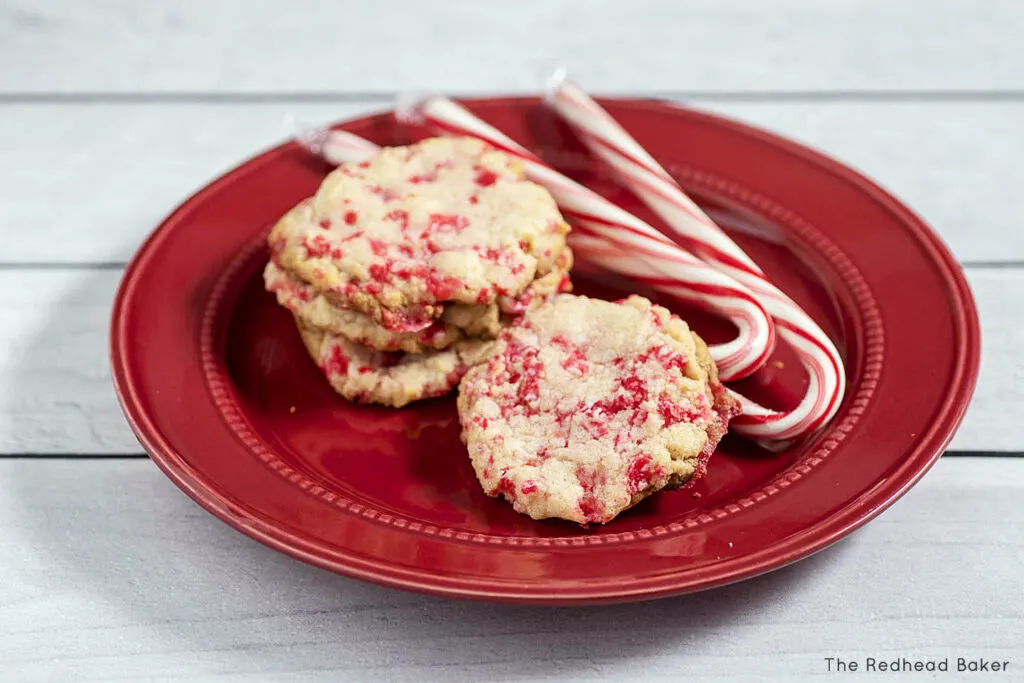 It's the most wonderful time of the year, and not just because of the sentiments of peace on earth and goodwill toward men. It's also CHRISTMAS COOKIE SEASON!
It's the one time of year where it's not only acceptable have multiple kinds of cookies bursting from containers and to eat cookies for breakfast, it's practically an expectation!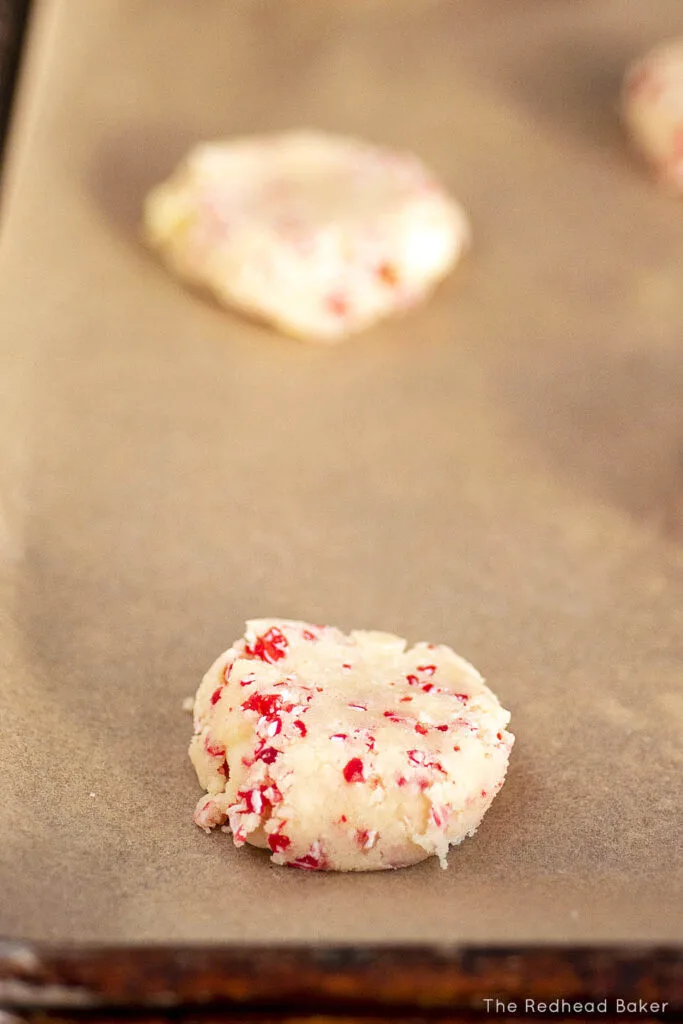 How to Make White Chocolate Peppermint Cookies
These cookies are not all that different from other drop cookies. You start by creaming together the butter and sugar. This doesn't mean just mixing them together for 30 seconds. This process takes a good two minutes, and you want the mixture to look fluffy and pale in color. The goal is to dissolve the sugar into the butter.
The next step is where this cookie differs from most other drop cookies: there's melted white chocolate in the cookie dough. White chocolate is very temperamental, and very prone to scorching, so be patient. If you're melting it in the microwave, make the bursts of heat short, no more than 20 seconds, and stir between each.
The recipe then continues as usual, beating in the egg and vanilla, and stirring in the dry ingredients and the mix-ins. Because of the melted white chocolate, this dough is very crumbly, so I strongly recommend using a cookie scoop to pack the dough together before depositing it onto the cookie sheet.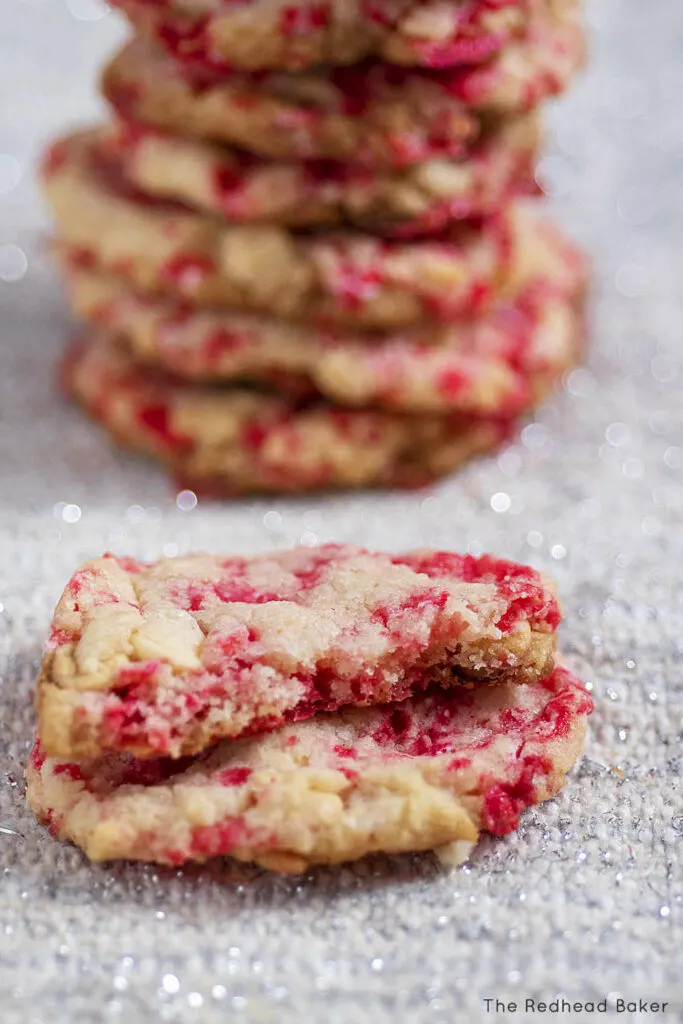 FAQs
Q: What are peppermint candy bits?
A: A lot of grocery and craft stores now sell bags of pre-crushed peppermint candies in the baking section. If you can't find pre-crushed peppermint candy, you can place twelve unwrapped candy canes in a large zip-top plastic bag. Seal, then give it several good whacks with a rubber-topped mallet or a rolling pin. Or, break them into pieces with your hands, and pulse them a few times in a food processor.
Q: One and a half teaspoons of kosher salt? Is that a typo?
A: Nope! Despite the amount of salt, these cookies don't taste salty. The salt helps enhance the white chocolate flavor.
Q: Can I melt white chocolate chips instead of chopped white chocolate?
A: Yes, you can. I prefer white chocolate bar because chips contain additional ingredients to help them keep their chip shape, so I more often have white chocolate baking bar on-hand, but if you have chips instead, go ahead and use 4 ounces of those.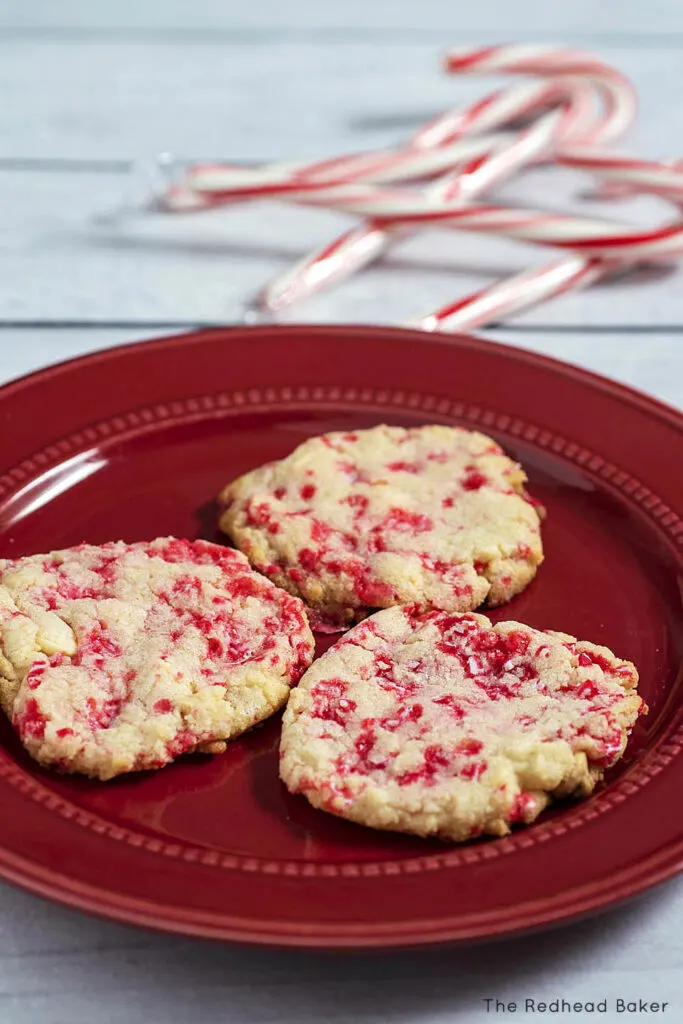 Q: How do I store these cookies?
A: Like other drop cookies, these can be stored between sheets of wax or parchment paper in an airtight container at room temperature.
Q: Can I freeze these cookies?
A: Absolutely! You can either scoop the dough, and freeze the unbaked frozen balls; or you can freeze the cookies after baking. Whether freezing unbaked balls of dough, or baked cookies, arrange them in a single layer on a wax- or parchment-lined baking sheet, and freeze overnight. Once frozen solid, transfer them to a freezer-grade zip-top plastic bag and store for up to 6 months.
Q: How do I bake frozen cookie dough?
A: You can bake the dough balls straight from the freezer without thawing. Place as many dough balls as needed on a parchment-lined cookie sheet, and bake in a preheated oven at 350 degrees. Just add an extra minute or two to the baking time.
I just love these cookies. They are different from the usual chocolate chip or oatmeal cookies, yet just as easy to make.
The white chocolate also makes them a pretty sturdy cookie, so they're probably hold up well to shipping, too. Sally's Baking Addiction has some great tips on preparing cookies for shipping.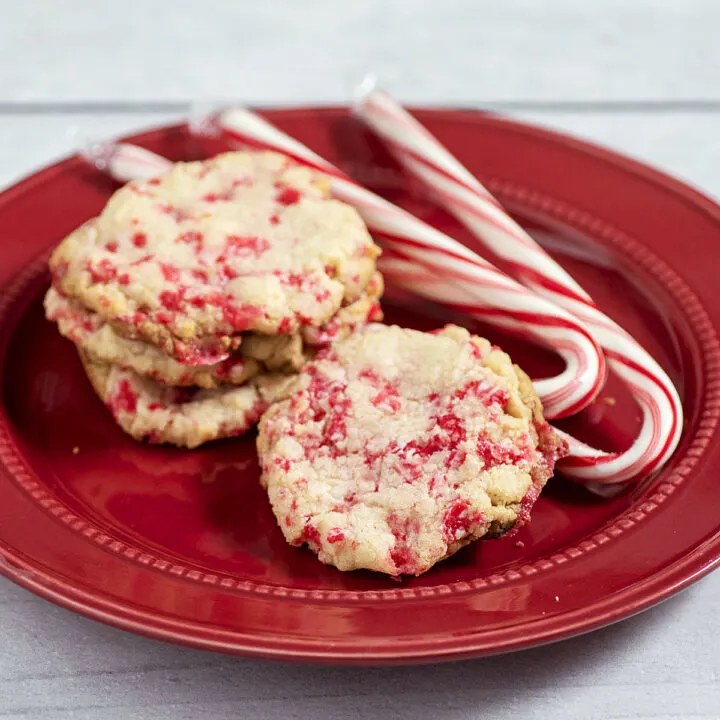 Candy Cane White Chocolate Cookies
Candy cane white chocolate cookies are not often found on Christmas cookie trays, but they should be! They're easy, delicious and festive.
Ingredients
4 ounces white chocolate, finely chopped
1 ¼ cups sugar
1 ¾ teaspoon kosher salt
1 teaspoon baking powder
½ teaspoon baking soda
8 tablespoon unsalted butter, softened but still cool
1 large egg
1 teaspoon vanilla
2 cups all-purpose flour
1 cup crushed peppermint candy bits
½ cup white chocolate chips
Instructions
Preheat oven to 350 degrees F. Line two baking sheets with parchment paper
Melt the chocolate: place the 4 oz of white chocolate in a clean dry bowl set over barely simmering water and stir until melted; OR melt the 4 ounces of white chocolate using three or four 15-second bursts on HIGH; stir between bursts to prevent scorching.
In a mixing bowl, cream together the butter and sugar for 2 minutes. Scrape the melted chocolate into the mixing bowl, and beat to incorporate. Scrape down the sides and bottom of the bowl, if using a stand mixer.
Beat in the egg, then the vanilla, and continue beating just until well combined. Scrape the bowl again.
In a small bowl, stir together the flour, salt and baking powder. Add the flour mixture to the cookie dough, and mix on low speed just until combined. Mix in the peppermint candy bits and the white chocolate chips on low speed.
Using a cookie scoop, divide dough into 2-tablespoon portions spaced 2 inches apart on the prepared baking sheets.
Gently flatten each piece of dough into a thick disk. Bake until puffed and firm around the edges, about 12 minutes. Do not use color as a guide, these cookies remain very pale even when fully baked. Cool directly on baking sheet for 5 minutes, then transfer to a wire cooling rack. Store in an airtight container up to 3 days at room temperature.
Recommended Products
As an Amazon Associate and member of other affiliate programs, I earn a small percentage from qualifying purchases.
Nutrition Information:
Yield:

32
Serving Size:

1 cookie
Amount Per Serving:
Calories:

148
Total Fat:

5g
Saturated Fat:

3g
Trans Fat:

0g
Unsaturated Fat:

2g
Cholesterol:

15mg
Sodium:

173mg
Carbohydrates:

24g
Fiber:

0g
Sugar:

16g
Protein:

1g
I am not a certified nutritionist. This nutrition information is automatically calculated by third party software and is meant as a guideline only.
Welcome to #ChristmasSweetsWeek 2020! Co-hosted by Terri from Love and Confections and Christie from A Kitchen Hoor's Adventures! What better way to celebrate the holidays than with food and fun? 21 bloggers from around the country have come together to share some of their favorite sweet Christmas recipes!! Deck the halls and get ready for very merry sweet treats, like fudge, cookies, Christmas morning breakfasts, layer cakes, cocoa, and more! Follow along on social media with our #ChristmasSweetsWeek hashtag. Happy Holidays!
Enjoy these #ChristmasSweetsWeek recipes from our bloggers:
Beverage Recipes
Easy Cranberry Mojito Recipe by Love & Confections
Frozen Eggnog Cocktail by A Day in the Life on the Farm
Breakfast and Baked Goods Recipes
Peppermint Mocha Muffins by Making Miracles
Orange Sweet Rolls by Sweet Beginnings
Candy and Fudge Recipes
Butterfinger Potato Chip Cookies by Palatable Pastime
Peanut Butter Truffles by A Kitchen Hoor's Adventures
Easy Homemade Christmas Crack Toffee by Blogghetti
Egg Nog Fudge by A Little Fish in the Kitchen Lemon
Candied Almonds by House of Nash Eats
Pastry and Dessert Recipes
Christmas Sprinkle Cookies by The Mandatory Mooch
Peppermint Fudge Cake by Simply Inspired Meals
Chocolate Peppermint Ice Cream Torte by An Affair from the Heart
Chocolate Covered Cherry Mice by The Spiffy Cookie
Carrot Cake Crinkle Sandwich Cookies by Bear & Bug Eats
Candy Cane White Chocolate Cookies by The Redhead Baker (recipe above)
Gingerbread Men Cookies by Kathryn's Kitchen Blog
Achu Murukku / Rosette Cookies by Magical Ingredients
Christmas Lights Rice Krispie Treats by For the Love of Food