This lobster bisque is pricey to make at home, but it's worth it for special occasions! Serve this decadent, creamy soup with crusty French bread for dipping.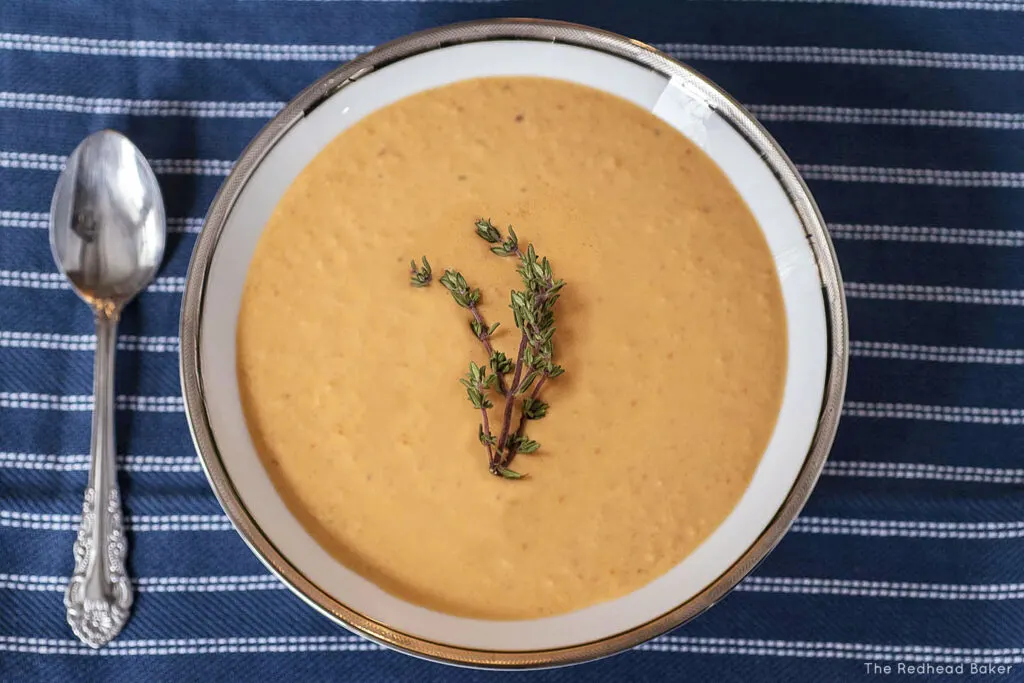 I love a thick, creamy soup on a chilly winter day. My absolute favorite is my creamy pumpkin soup, but for special occasions, it's this lobster bisque.
Yes, it is pricey to make this soup at home. But to make a guest feel special, it's worth it. If it's a small gathering, or a romantic dinner for two, you can halve the recipe.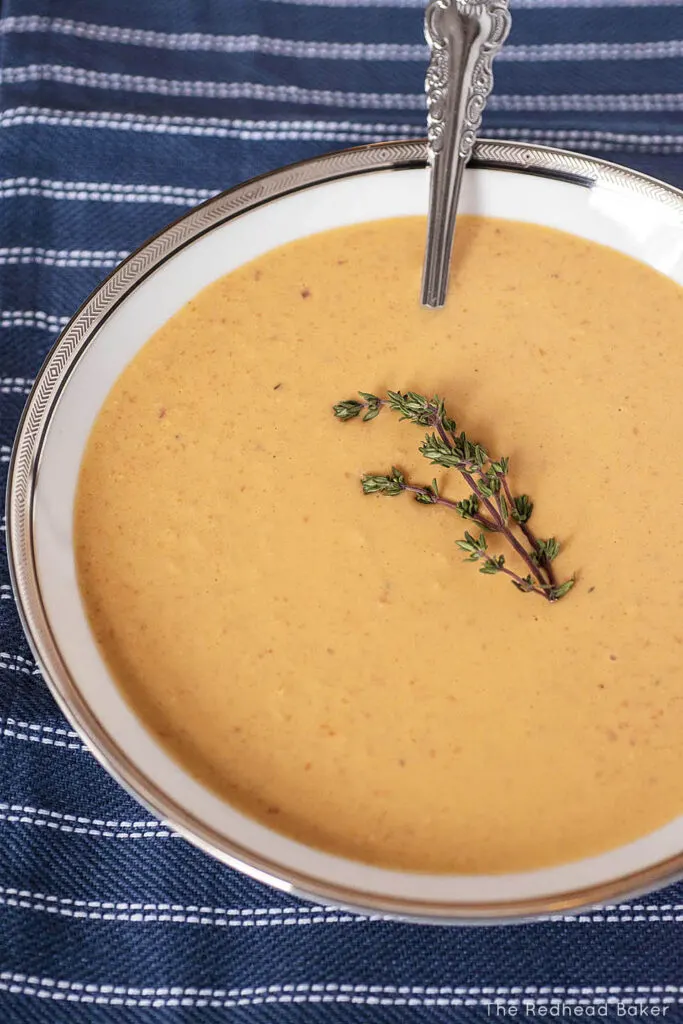 What makes a soup a bisque?
Traditional French bisque is a thick, creamy soup made with shellfish, such as lobster, crab, or even shrimp. Originally, bisque was thickened with a paste made from the leftover shells. Now you'll find variations that use vegetables, too.
Nowadays, bisque is thickened with tomato paste and flour, but that doesn't mean you should toss the shells! You can use them to make your own homemade lobster stock. If you won't be making stock right away, store the shells in a freezer-grade plastic zip-top bag in your freezer for up to 3 months.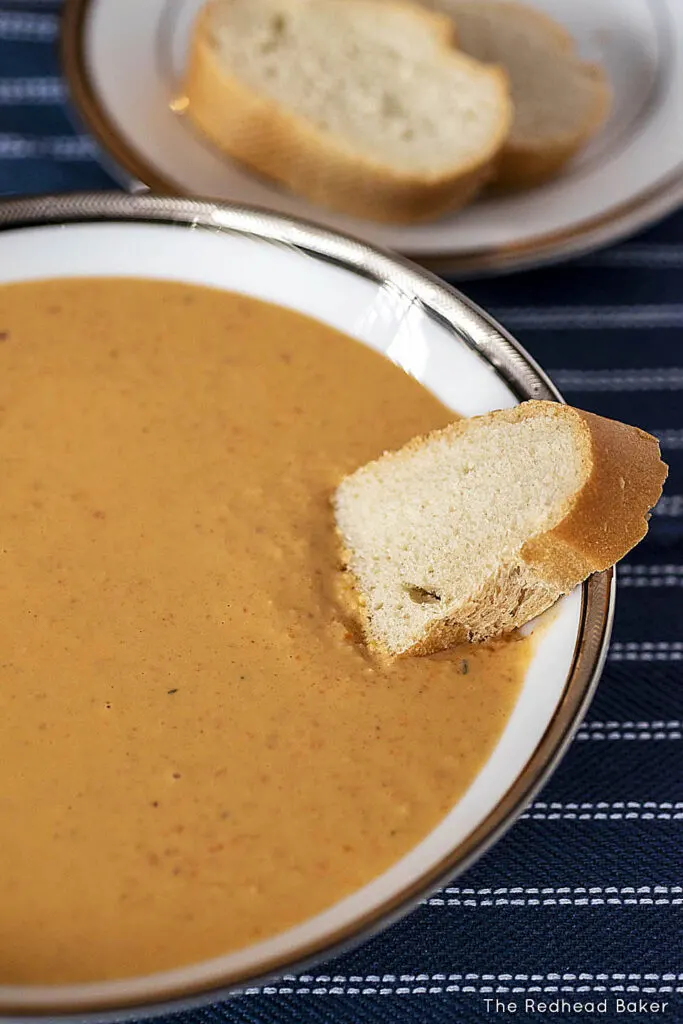 FAQs
Where can I find lobster meat without buying live lobsters?
I used frozen lobster tails. Some stores sell pre-cooked lobster meat in a vacuum-sealed package. You'll need to buy at least 16 ounces of lobster tail to get 12 ounces of lobster meat.
How do I get the lobster meat out of the shells?
Place the lobster tail upside-down, with the tail fan facing away from you. Use sharp kitchen shears to cut through the shell, then break in half and use your fingers to gently pry the meat away from the shell.
Can I make this ahead and freeze it?
I don't recommend it. Dairy soups don't reheat well from frozen, and can potentially curdle.
Can I use tomato puree instead of tomato paste?
No. Tomato paste is part of what thickens the soup. Tomato puree contains more water, and won't thicken the soup.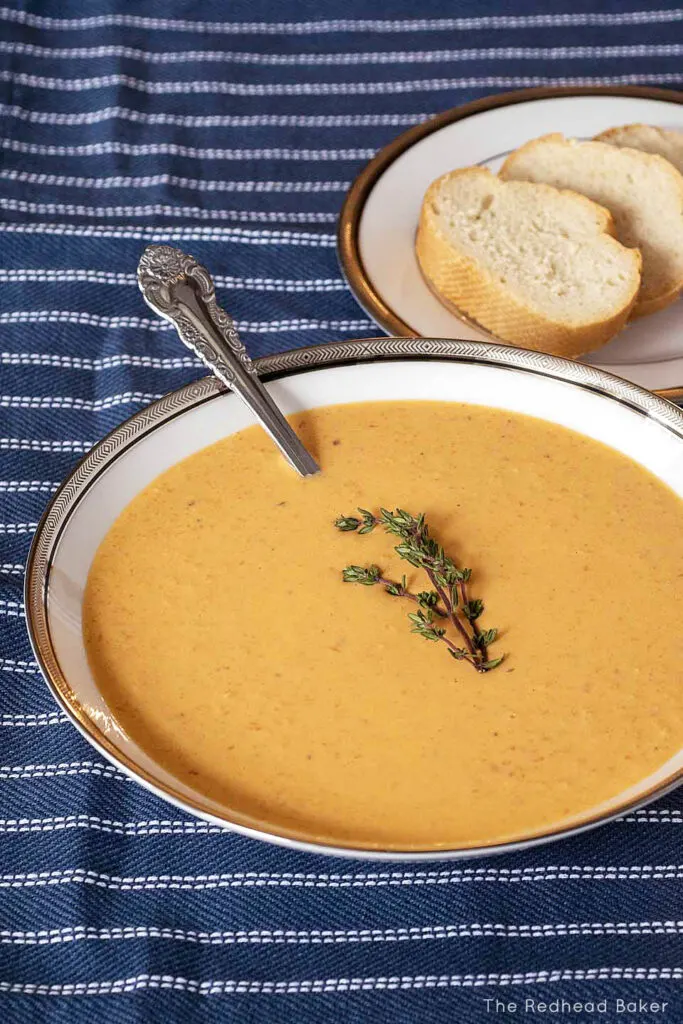 As far as technique goes, it's a pretty easy soup to make. I find having an immersion blender (affiliate link) makes pureed soups much easier and faster. If you need to puree in a blender or a food processor, you need to cool the soup first, because pureeing hot liquids in a covered container can cause it to explode.
You can garnish this soup with fresh thyme, chopped chives, or a sprinkle of chopped parsley, and serve it with a few slices of freshly-baked baguette for dipping.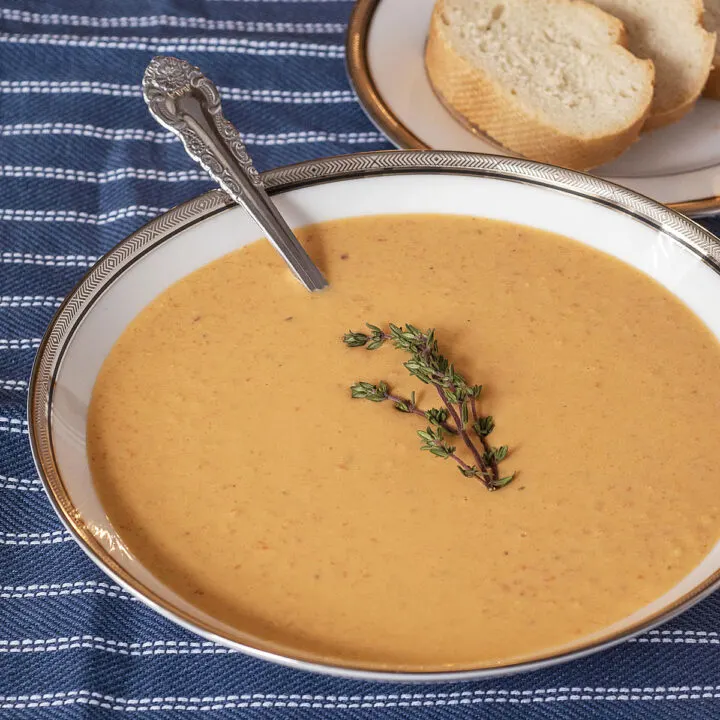 Lobster Bisque
Total Time:
1 hour
5 minutes
This lobster bisque is pricey to make at home, but it's worth it for special occasions! Serve this decadent, creamy soup with crusty French bread for dipping.
Ingredients
3 tablespoon unsalted butter
1 cup chopped white onion
1 cup chopped carrots
1 cup chopped celery
3 garlic cloves, grated
3 tablespoon tomato paste
3 tablespoon all-purpose flour
2 cups seafood stock
1 cup dry white wine
¼ cup brandy
12 oz chopped lobster meat
1 teaspoon smoked paprika
1 bay leaf
1 teaspoon fresh thyme leaves
¼ teaspoon cayenne pepper
1 cup heavy cream
Salt and freshly-ground black pepper
Instructions
Melt the butter in a large stock pot or Dutch oven over medium heat.
Add the onions, carrots, celery, garlic and tomato paste. Cook about 5 minutes, stirring frequently, until the onions are soft.
Add the flour, and stir to coat the vegetables in a paste. Cook, stirring constantly, for 1 minute.
Pour in the seafood stock, wine and brandy. Stir until all of the flour paste is dissolved.
Add the lobster meat, paprika, bay leaf, thyme leaves, and cayenne pepper. Bring the soup to a boil over medium-high heat, then drop the heat to low and cook the soup, uncovered for 30 minutes, stirring occasionally.
Take the soup off of the heat, and stir in the heavy cream. Taste, then season as needed with salt and pepper. Puree with an immersion blender (see Notes), and serve.
Notes
If you don't have an immersion blender, you can cool the soup, then puree it in a blender or food processor. Never puree hot soup in a blender or food processor.
Recommended Products
As an Amazon Associate and member of other affiliate programs, I earn a small percentage from qualifying purchases.
Nutrition Information:
Yield:

6
Serving Size:

1
Amount Per Serving:
Calories:

446
Total Fat:

24g
Saturated Fat:

13g
Trans Fat:

1g
Unsaturated Fat:

8g
Cholesterol:

149mg
Sodium:

478mg
Carbohydrates:

19g
Fiber:

2g
Sugar:

7g
Protein:

29g
I am not a certified nutritionist. This nutrition information is automatically calculated by third party software and is meant as a guideline only.
National Soup Swap Day 2021
Happy National Soup Swap Day! Today, I'm linking up with other bloggers for a virtual soup swap hosted by Kate's Recipe Box, and we're all sharing some tasty soup recipes to warm you up!