Get kids into the kitchen early to expose them to new flavors and healthy eating. This cherry-apple smoothie is so easy, even a preschooler can help!
Have you been through either the infant/toddler aisle or the kids' snack aisle at a local grocery store lately? Have you seen those pouches? Some are just fruits, some are just veggies, some are a mix of both, some are complete meals. I recently learned that some moms are REALLY opinionated on pouches.
Personally, I'm pro-pouch. Well, technically, I'm pro-whatever-makes-your-life-easier. I will happily hand my son a fruit/veggie mix pouch and watch him down it one breath rather than fight with him over dinner to eat one morsel of a carrot. He's happy; I'm happy.
The thing is, as is with all convenience items, they can get expensive. I try to stock up when they're on sale, and ration them to make them last, but then I wondered why I didn't just make them at home.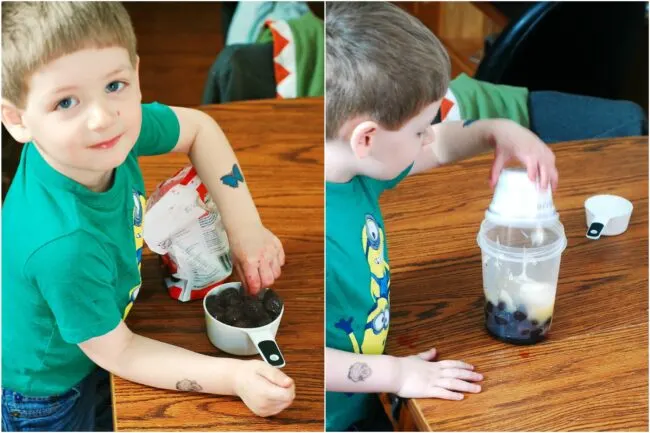 Making them at home doesn't solve the "what do I pack for an easy snack at the playground" dilemma. But when he's playing at home and wants a pouch, he and I can easily whip up a homemade version of his favorite flavor combos, saving the "real" pouches for times I need the convenience factor. (FYI, there are reusable pouches on the market, but for a variety of reasons, we're not buying them right now).
At this stage (Liam is almost 3.5 years old), I did the measuring and blending, and he did the pouring (and the sampling — have to make sure the ingredients are good!). Older kids can measure and pour on their own and have an adult do the blending. My favorite part of having Liam helping me in the kitchen is the sampling. He's exposed to new flavors because he loves sampling as we go along. And studies have shown that kids are more likely to taste the final dish when they've had a hand in making it. I'm really excited that Cooking Light magazine has a recipe in each issue that is labeled "Kids in the Kitchen."
The nutrition information estimated below (calculated with MyFitnessPal's recipe calculator) assumes you use a 5.3-oz single-serve container of nonfat Greek yogurt. As always, these numbers are just estimates; if you need a true calculation of nutrition, consult a qualified professional.
The consistency of this smoothie is on the thinner side, so if you prefer it thicker, use more yogurt. Unlike baking, smoothie-making is more of an art than a science; feel free to adjust amounts to your preference.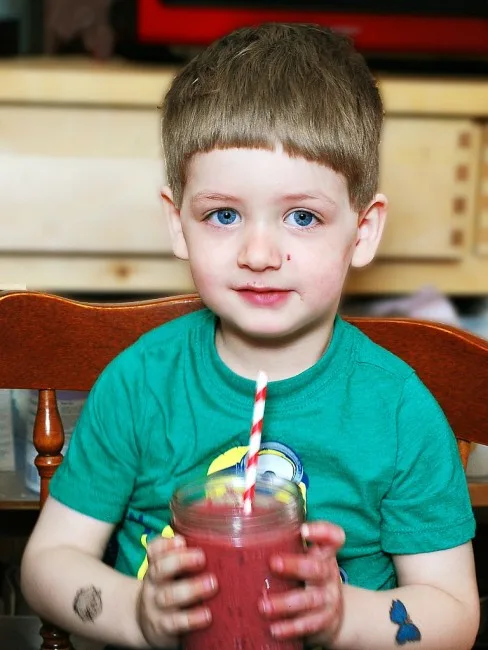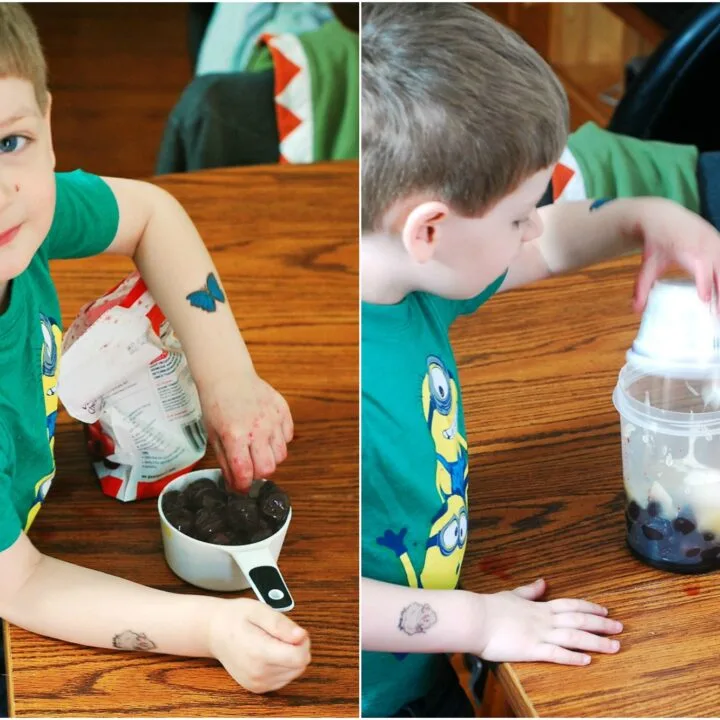 Cherry-Apple Smoothie
Ingredients
1 cup frozen pitted dark sweet cherries, thawed
½ cup unsweetened applesauce
1 oz container low- or non-fat vanilla yogurt, 5.3, Greek or traditional
Instructions
Place all ingredients in a tall 32-oz container, or the carafe of a blender.
Puree the ingredients with an immersion blender, or a counter-top blender until smooth.
Divide into two 8-oz cups and serve. Refrigerate any remaining smoothie.
Nutrition Information:
Yield:

8
Amount Per Serving:
Calories:

121
Carbohydrates:

25g
Sugar:

15g
Protein:

7g
An original recipe by The Redhead Baker