French onion grilled cheese stuffs the best flavors of the soup into a delicious sandwich. Compensation was provided by Gallo Family Vineyards via Sunday Supper, LLC. The opinions expressed herein are those of the author, and are not indicative of the opinions or positions of Gallo Family Vineyards.
April is National Grilled Cheese month, aka The Best Month Ever. Grilled cheese has been one of my favorite comfort foods for as long as I can remember. The perfect grilled cheese sandwich is crisp on the outside, and stuffed with ooey gooey melted cheese on the inside. Gallo Family Vineyards has invited the Sunday Supper Movement to share their favorite grilled cheese recipes, and pair them with Gallo wines.
I can still remember coming inside after playing in the snow, cheeks rosy red and hands frozen, to see my mom waiting for me with a bowl of soup (chicken noodle) and a grilled cheese sandwich. My dad would try to sneak a few slices of tomato, or deli ham into my grilled cheese, but I was a purist (or, according to Dad, "boring"). I just wanted bread and cheese.
As I've grown older, I've discovered that adding new flavors to grilled cheese isn't such a bad thing (yep, Dad, you were right). Sure, there are times I crave a traditional white-bread-and-American grilled cheese sandwich. But the flavor possibilities with this sandwich are endless.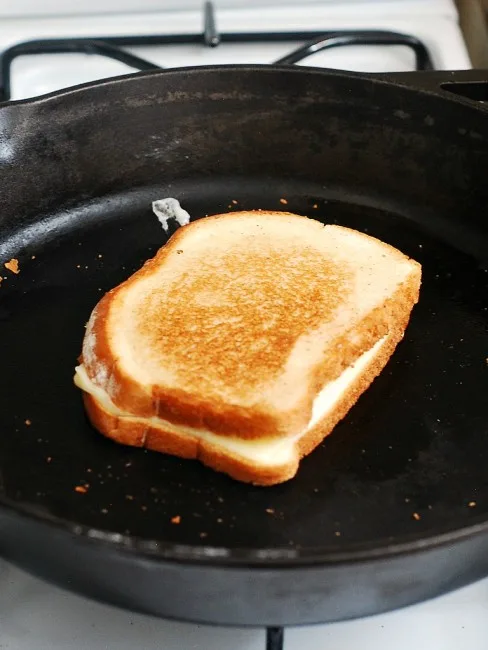 The first flavored grilled cheese sandwich I ever made was Brie and pear. You can also pair manchego and ham; mozzarella with basil and tomato; taleggio and fruit chutney; cheddar and roast beef; even Brie and chocolate for a slightly sweet sandwich. I could go on and on! But I'm getting hungry, and I have a recipe to share with you.
This particular sandwich is a nod to my favorite soup of all time: French onion. Caramelizing onions brings out the sweet side of the onion. Standard yellow onions work well for this sandwich, because they actually contain more natural sugar than "sweet" onions (which only taste sweet because they have fewer sulfur compounds).
The key to a great grilled cheese sandwich (and caramelized onions, come to think of it) is "low and slow". You can't rush this sandwich, or else you'll end up with a burnt outside and un-melted cheese inside. Not tasty. You can make the caramelized onions up to a day ahead of time, and refrigerate them. Warm them in a separate saucepan just before you start making your grilled cheese sandwiches.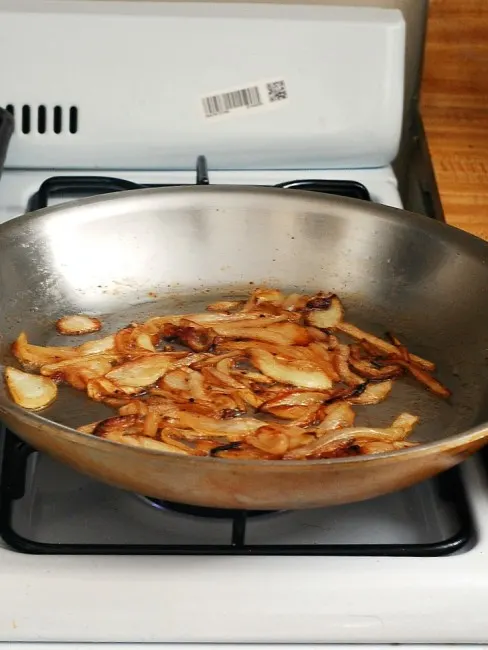 The most commonly-used cheese for French onion soup is Gruyere, but others use Comté, and some even use fontina. The best cheeses for a grilled cheese sandwich are obviously ones that melt well. You add flavor by mixing in a fresh or aged crumbly cheese, but the primary cheese should be a good melting cheese.
Preheat your skillet (I like cast iron for this) or griddle over medium-low heat. Some swear by melting butter on the cooking surface, but I've always spread it on the bread itself. Go beyond basic white sandwich bread, and try slices of sourdough, or Italian ciabatta bread. Don't go for anything with large holes on it, or else your cheese will ooze right out. I prefer a white or wheat bread labeled "hearty" or "country," which is cut thicker than standard sandwich bread, and doesn't collapse when I spread the butter on it.
The beefy onion flavor of this sandwich pairs beautifully with Gallo Family Vineyard's Merlot. This full-bodied red wine stands up to the rich flavors of the sandwich. I served these sandwiches with a small cup of rich tomato bisque. If you're a white wine fan, use a Gruyere cheese in the sandwich and pair with Gallo's Sauvignon Blanc – it complements the nutty cheese well.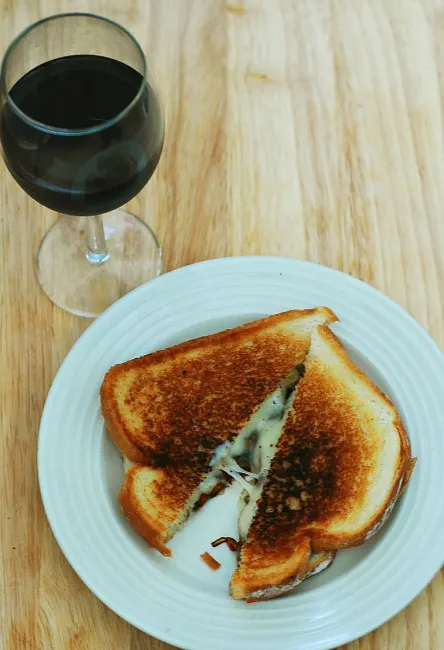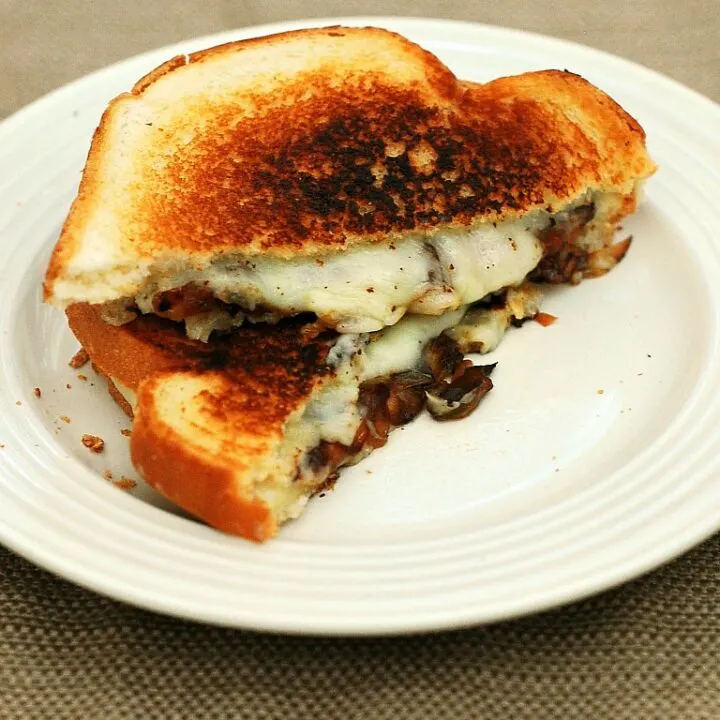 French Onion Grilled Cheese
Ingredients
1 tablespoon unsalted butter
1 tablespoon olive oil
1 inch large yellow onion, cut into ¼--thick vertical slices
Salt and pepper
2 tablespoon beef stock
¼ teaspoon dried thyme
8 slices hearty white bread
Salted butter, at room temperature
8 oz fontina or gruyere cheese, sliced or coarsely shredded, or a mix of both
Instructions
Heat the unsalted butter and olive oil in a large skillet over medium-high heat until the butter melts. Use a pastry brush or tilt the skillet to spread the fat around and ensure the whole surface is coated. Season the onions with salt and pepper, and add to the skillet in an even layer. Cover the skillet with a tight-fitting lid and reduce the heat to medium-low. Cook the onions for 10 to 15 minutes, stirring occasionally, until softened and translucent.
Uncover the skillet and continue cooking the onions another 25 to 30 minutes, stirring often, until caramel-brown in color and very soft, almost mushy.
Pour the beef stock with over the onions, at the same time using a spatula to scrape up any bits stuck to the bottom of the skillet. Sprinkle the thyme as well as more salt and pepper over the onions, and continue cooking until beef stock reduces by half.
Remove the onions from the heat and keep warm (or, if making the onions ahead of time, cool to room temperature before storing in the refrigerator in an airtight container).
Heat a griddle or cast iron skillet over medium heat. Spread salted butter all over one side of two slices of bread.
Lay one slice of bread, butter-side down, in the skillet. Spread 1 ounce of the cheese evenly over the bread. Top with caramelized onions, and another ounce of the cheese. Top with the second slice of bread, butter-side-up. Cook until the bread is golden brown on the bottom (2 to 3 minutes).
Flip and cook another 2 to 3 minutes until the bottom of the sandwich is golden brown and the cheese is melted. Serve hot.
Adapted from Food Network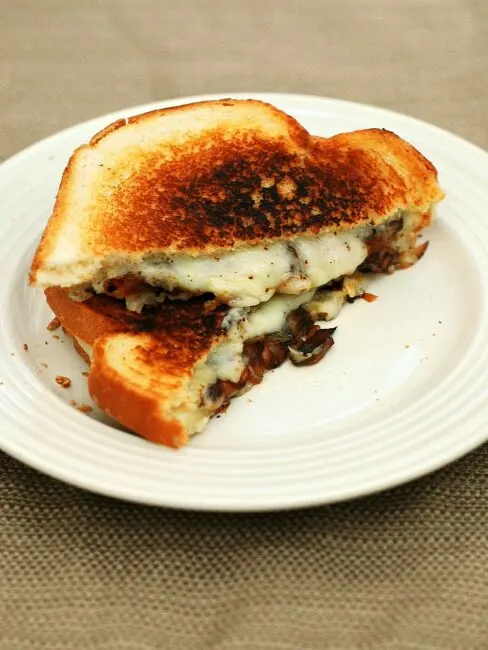 Discover more delicious grilled cheese recipes!