Once you taste homemade chocolate pot de crème, you'll never make chocolate pudding from a boxed mix again!
So, you just made a triple batch of those cherry chocolate chip meringue cookies, right? And now you have three egg yolks hanging out in the refrigerator. What do you do with them?
Do yourself a favor, and make this chocolate pot de creme. "Pot de crème?? What the heck is that??", you say. Pot de crème translates to "pot of cream." It's a type of custard. "So, it's chocolate pudding?" you ask. It's similar. The chocolate pudding you're probably thinking about is called a "stirred custard," and is made on the stovetop (or a boxed mix) and thickened with starch. Pot de crème custards are baked in a water bath in the oven, and thickened with egg yolks.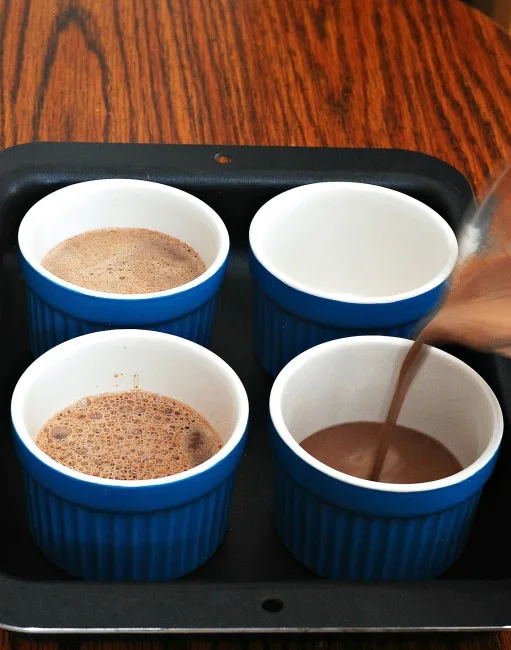 As convenient as boxed pudding mix is, once you taste chocolate pot de crème made from scratch, you will never go back to the mix. Baked custards are very easy to make — if you can stir, you can make baked custard. The rich, deep flavor of chocolate pot de crème just can be matched by boxed mixes.
If you plan to make chocolate pot de crème at home, plan ahead. It does need to refrigerate overnight, so plan to make it the day before you want to serve it. Serve with a garnish of whipped cream, fresh berries, a sprig of mint, and/or chocolate shavings. Your friends and family will be impressed, but they don't need to know how (little) effort these take!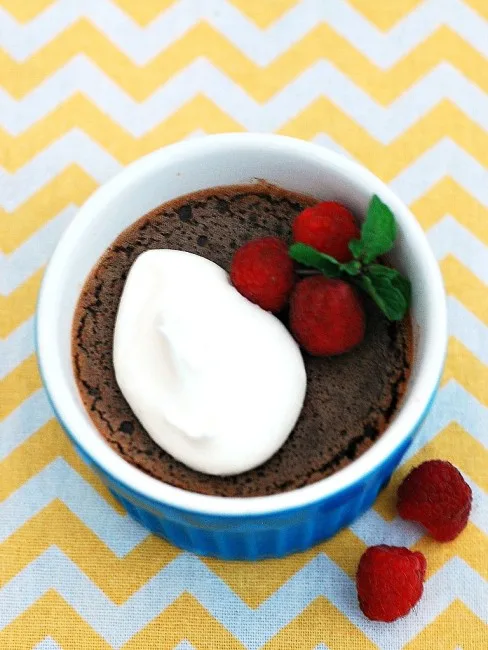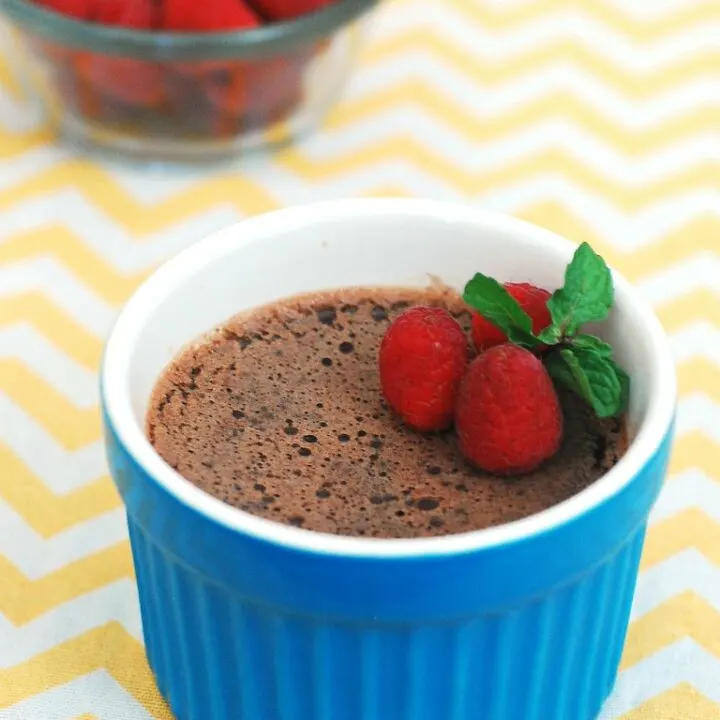 Chocolate Pot de Crème
Ingredients
8 ounces 70% bittersweet chocolate, finely chopped
2 ½ cups milk
1 ½ cups heavy cream
Salt
6 large yolks
3 tablespoons granulated sugar
¼ teaspoon vanilla
Boiling water for the water bath
Garnishes: sweetened whipped cream, raspberries, mint sprigs
Instructions
Preheat oven to 325 degrees. Place six 6-ounce ramekins in a 9x13 roasting pan.
Place the chopped chocolate in a large mixing bowl. Set aside.
Place the milk, heavy cream and salt in a stainless steel saucepan set over medium heat. Bring the mixture just to a boil, then immediately remove from the heat.
Pour the hot milk mixture over the chocolate. Let sit for a minute, then whisk until the chocolate is completely melted and incorporated into the milk mixture.
In a smaller mixing bowl, whisk together the egg yolks and the sugar until slightly thickened and the yolks lighten in color.
Very slowly drizzle about a quarter of the hot chocolate mixture into the egg yolks, then pour the yolk mixture back into the rest of the chocolate mixture. Strain the mixture through a fine-mesh sieve, then divide into the six ramekins.
Very carefully pour boiling water into the roasting pan, carefully avoiding getting water in the custard mixture. Set the roasting pan in the oven and bake the custards for 30 to 35 minutes, until just barely set (mixture should still jiggle when you gently shake the roasting pan).
Remove the ramekins from the roasting pan and cool to room temperature on a cooling rack. Then transfer the ramekins to the refrigerator and chill at least 4 hours or overnight.
Garnish ramekins with a dollop of sweetened whip cream, raspberries and a mint sprig, then serve.
Recipe adapted from The Restaurant School at Walnut Hill College