Cherry chocolate chip meringue cookies are sweet and tart, studded with delicious bits of chocolate. If you like the ice cream, you'll LOVE the cookies!
It's sometimes hard to come up with recipes to share with you. I get in a rut of cooking at home, and our dinners are pretty much, "throw some herbs on the chicken and heat up a steam-in-the-bag veggie."
This particular recipe actually came to me as I was perusing the ice cream aisle in the grocery store. I was trying to decide between cookie dough ice cream and cherry chip ice cream. And my brain thought, "Hey, cherry chip cookies!"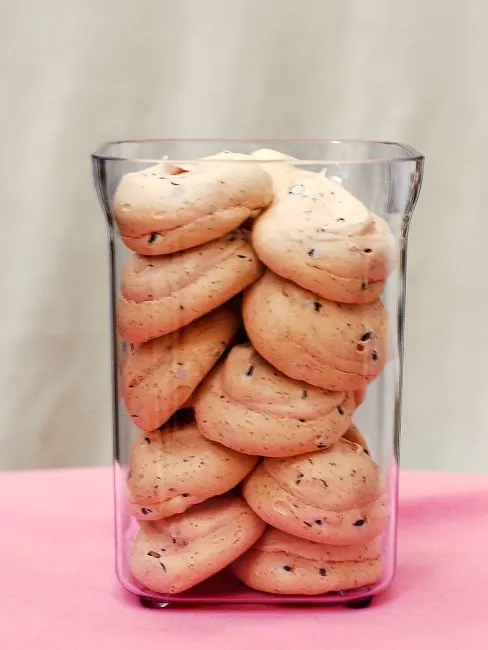 It took a while for these cookies to come to fruition because freeze-dried cherries seem to be the one fruit that grocery stores do NOT carry. At least not in my area. I searched four different grocery stores, and a specialty market. I searched the snack aisle, the canned fruit aisle, the produce section, and the bulk bins.
They are available online, but shipping prices were ridiculous unless you have an Amazon Prime account (which I don't). A friend offered to buy a bag with her Prime account and have them shipped to me. And so, I made cookies for you.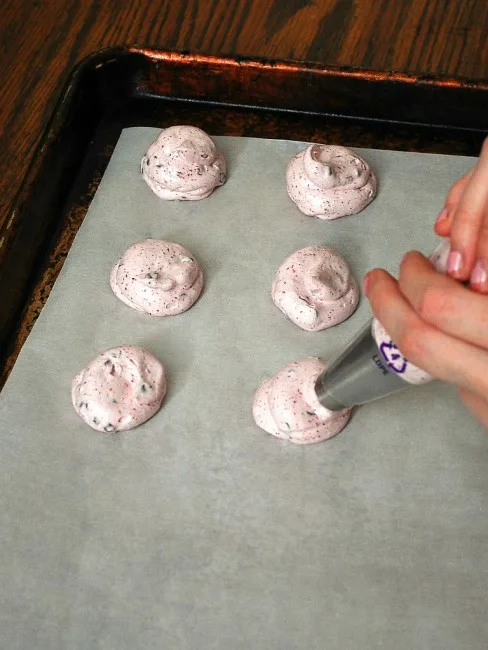 I've posted about meringue cookies before. Meringue is not technically difficult, but it is finicky. Make sure your bowl and whisk attachment are 100% spotless, and bone-dry. Set your egg whites on the counter and let them come to room temperature before beginning the recipe. Chilled whites equal less volume in your meringue.
There are three "stages" of meringue: soft peaks, medium peaks, and stiff peaks. You're aiming for stiff peaks, where the peaks formed when the beater is inverted do not fall over (see photo below).
If at all possible, avoid making meringue on rainy or very humid days. In order for meringue to stay crisp, it must dry out while baking, and humidity makes that very hard. And finally, if you don't have a pastry bag with a large round tip, you can scoop the meringue with a medium cookie scoop, or just drop the meringue by the tablespoonful onto the baking sheets.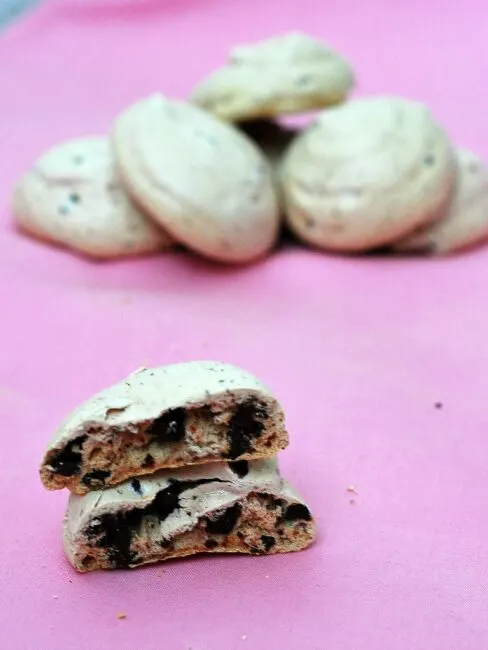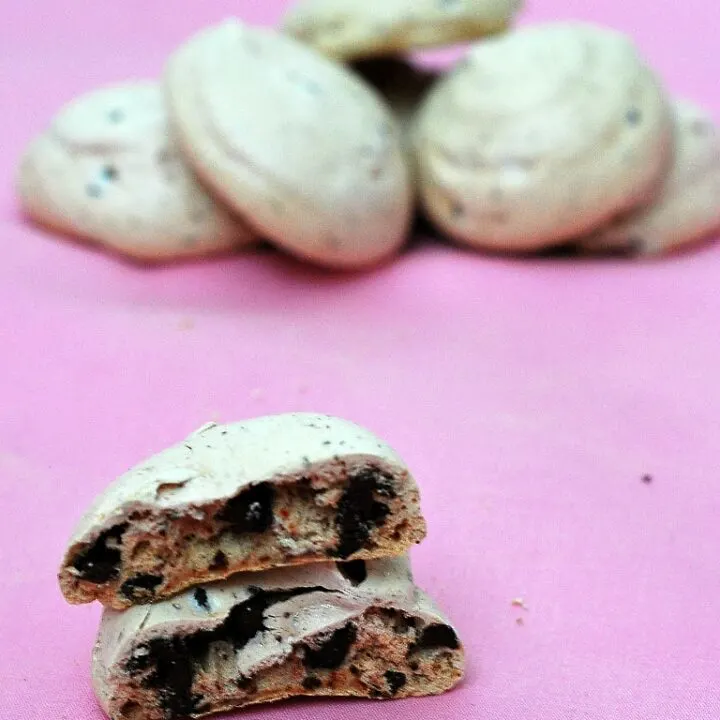 Cherry Chocolate Chip Meringue Cookies
Ingredients
1 oz freeze-dried cherries
2 large egg whites, at room temperature
Pinch of table salt
½ cup sugar
½ teaspoon vanilla extract
¼ cup mini semisweet chocolate chips
Instructions
Preheat oven to 200 degrees. Line two sheet pans with parchment paper. Set aside.
Place the freeze-dried cherries in a mini food processor. Pulse until a fine powder forms.
Place the egg whites in a clean, dry bowl of a stand mixer along with the pinch of salt. Whip on high speed with the whisk attachment until foamy.
Gradually add the sugar, then the vanilla, and continue whipping on high speed until shiny and stiff peaks form that do not fall over when the beater is raised.
Remove the bowl from the stand mixer. Sift the cherry powder over the bowl, discard any large chunks left in the sifter. Gently fold the cherry powder into the meringue until no white streaks remain. Add in the chocolate chips and fold again until evenly distributed.
Scrape the meringue into a large pastry bag fitted with a large open tip. Pipe walnut-sized mounds of meringue onto the prepared baking sheets.
Place the sheets in the oven and bake for 1 hour. After 1 hour, rotate each pan 180 degrees and switch the positions of the baking sheets (top to bottom and vice versa). Bake for another hour, or until the cookies lift easily off of the parchment paper.
Remove the cookies from the baking pans and allow to cool completely on a wire rack. Store in an airtight container at room temperature for up to 2 weeks.
An original recipe by The Redhead Baker