Spring leeks star in this quick and easy pasta dish. Mushrooms and sauteed bacon add contrasting flavors and textures.
Weeknight meals make life so much easier. Recipes that I can prep on the weekend and dive into cooking on a weeknight are ever better.
This particular recipe is a family favorite. I've made it several times, and I can't believe it's taken me so long to share it with you. The March Weekday Supper theme of "Green" presented the perfect opportunity. Green could be interpreted as "spring," or literally "green food." Leeks fit both interpretations.
Leeks are related to onions and garlic. They have a mild onion-y taste. They look like long stalks, dark green at the top, fading to white at the bottom. Though leeks have only recently become popular in the U.S., they have been consumed for centuries in Wales, where the vegetable is one of the national emblems.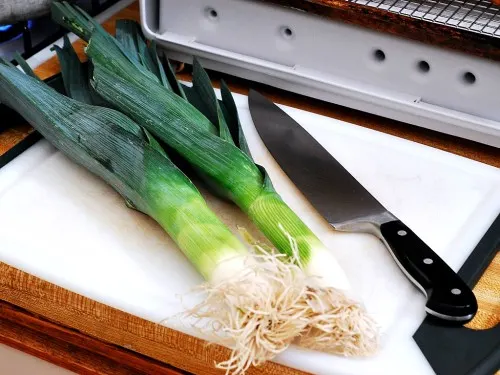 Look for leeks in the fresh produce section of your local grocery store. They are usually in the chilled area, near the fresh herbs and organic produce. Choose leeks that are straight and firm, not yellow, bruised or cracked. I generally rinse leeks both before and after slicing, since, as a root vegetable, dirt can get between the inner layers. Once sliced, you can store these in an airtight container in the refrigerator.
If you can't find rigatoni, you can use any short variety of pasta, such as penne, cavatappi or ditalini. I change up the extras in this dish each time I make it. I use different colored peppers, or zucchini, or leave out the mushrooms, or change up the cheeses (asiago instead of pecorino, for example) — it's a very adaptable recipe.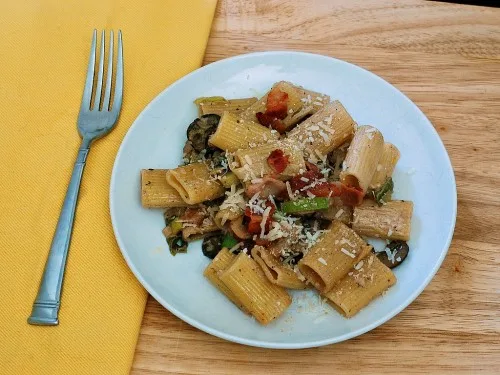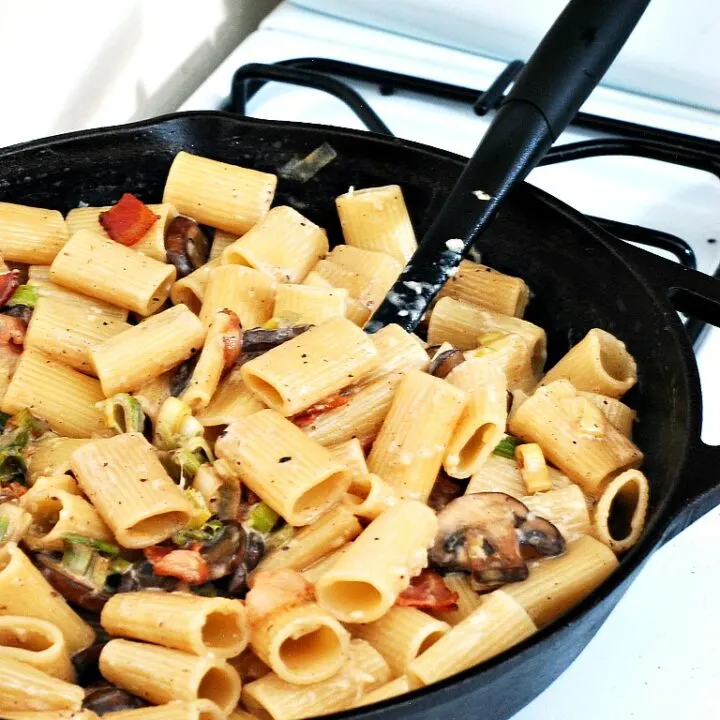 Pasta with Leeks and Bacon #WeekdaySupper
Ingredients
Generous palmful of kosher salt
12 oz rigatoni or other short pasta, such as cavatappi or penne
8 oz bacon, cut into ½-inch pieces
8 oz sliced baby bella mushrooms
2 large leeks, thinly sliced and rinsed well, white and light green parts only
½ inch medium red bell pepper, seeded and cut into 1- strips
Salt and pepper
¾ cup half-and-half
¼ cup grated parmesan cheese, plus more for topping
¼ cup grated pecorino romano cheese, plus more for topping
Instructions
Bring a large pot of salted water to a boil. Add the pasta and cook as the label directs to al dente. Reserve 1 cup of the cooking water before draining the pasta.
While the pasta is cooking, place the bacon in a large skillet set over medium heat, stirring occasionally, until crisp, about 8 minutes. Remove with a slotted spoon and drain on paper towels. Do not drain the skillet.
Add the mushrooms to the skillet and cook until softened, about 5 minutes. Add the leeks and bell pepper to the skillet. Season with ½ teaspoon each salt and pepper and cook, stirring occasionally, until soft, about 3 minutes. Add the half-and-half and cook until it begins to thicken, about 2 minutes.
Add the pasta back into the skillet along with the parmesan, pecorino, and half of the bacon. Season to taste with salt and pepper; toss to coat, adding enough of the reserved pasta cooking water to loosen any stuck-together pasta. To serve, top with the remaining bacon, more parmesan and pecorino.
Adapted from Food Network Magazine
Be sure to stop and check out the rest of the Weekday Supper posts!